For affiliate links and as an Amazon Associate I earn from qualifying purchases.
Today I have a tasty gluten-free slow cooker recipe for you. A recipe for chicken wings. But not just any chicken wings, Gluten-Free Garlic Teriyaki Chicken Wings.
The ingredient of the week for Diane's Friday Foodie Fix is garlic. When I saw Diane's announcement last week, I immediately thought of a recipe that Stephanie had posted on A Year of Slow Cooking—20 to 40 Clove Garlic Chicken. The recipe got terrific reviews.
Submitted by one of her readers, it called for chicken pieces and 20 to 40 cloves of garlic (obviously), plus an onion, olive oil, salt, paprika, and pepper. I only had some chicken wings in the freezer. But, we like chicken wings and I thought they'd work really well in this recipe.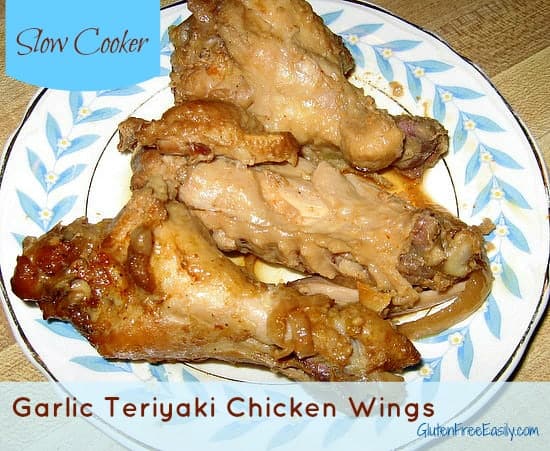 The usual way I make chicken wings is to start out by marinating them in a small amount of gluten-free soy sauce. (I don't use much soy sauce because in general, I have concerns about soy's health effects, but every now and then I use a small amount. Or I use gluten-free tamari sauce or coconut aminos.) So I decided to marinate the wings for this recipe as well.
Soy sauce contains more than enough sodium; therefore, I omitted the salt from the original recipe.
For paprika, I decided to use smoked paprika. I know you true foodies have been using this ingredient for years, but I only recently purchased some to try. I've been loving the flavor it adds!
Last, to complement the soy and create a teriyaki flavor, I needed to add some sweetness. Often brown sugar is used in teriyaki sauce and while I love the texture that brown sugar provides, being a beekeeping family, honey is our "go-to" sweetener. And, I thought honey would go well with the garlic.
These wings turned out very well—delicious and juicy. The flavors worked together very nicely. However, I will make them slightly differently next time.
For example, I did not drain the soy sauce after marinating the wings, but I wish I had. I like a drier chicken wing and if you leave out any additional liquid per Stephanie's original recipe, I believe you will get that. So, I've adjusted the recipe accordingly.
I also used less garlic than the original recipe as my husband is not as much of a garlic fan as I am. That was also the reason I used minced garlic … because it's slightly less potent than garlic cloves. Minced garlic is also what I always have on hand.
I originally planned to place these Garlic Teriyaki Chicken Wings over quinoa using a bit of the sauce to serve over both. However, hubby had taken a long nap and I wasn't very hungry, so we just enjoyed the wings by themselves.
Still, we have some leftovers for lunch tomorrow. Nice!
Slow Cooker Garlic Teriyaki Chicken Wings Recipe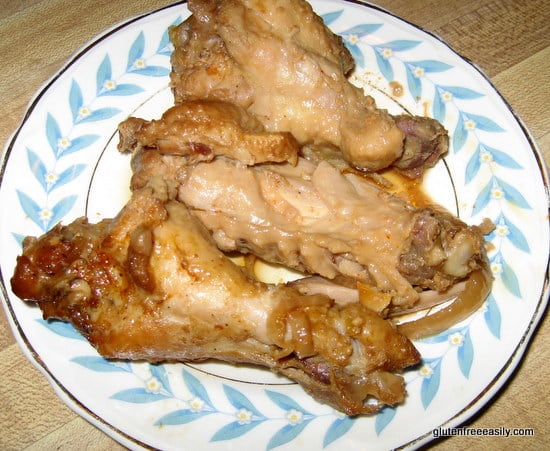 Yield: 2 1/2 pounds
Slow Cooker Garlic Teriyaki Chicken Wings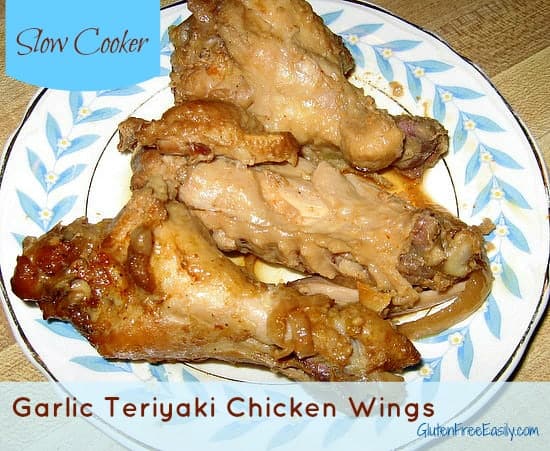 The classic 20- to 40-Clove Garlic Chicken recipe applied to chicken wings in one's slow cooker with a teriyaki vibe added. Nice!

Prep Time 5 minutes

Cook Time 6 hours

Inactive Time 8 hours

Total Time 14 hours 5 minutes
Ingredients
2 1/2 pounds chicken wings (if frozen, thawed, rinsed, and drained)
1/3 cup of gluten-free soy sauce, tamari sauce, or coconut aminos
1 medium onion, sliced fairly thin
1 tbsp olive oil
2 tsp honey
¾ tsp smoked paprika
1/2 tsp black pepper
7 tsp minced garlic OR 14 garlic cloves, peeled, but intact
Instructions
Place chicken wings in bowl and pour soy sauce over them. Marinate for as much time as you have available, even overnight. (I marinated mine for 5 hours, but you can marinate for far less time. I'd suggest at least two hours if your time is short.) Then discard soy sauce.
Place onion slices on the bottom of the crockpot. (I used a 4-quart round crockpot.)
In very large bowl, add olive oil, honey, paprika, black pepper, and garlic, mixing ingredients together. Add chicken wings and toss all together until chicken wings are coated.
Pour all into crockpot, on top of the onion.
Do not add water.
Cover and cook on low for 6-8 hours, or on high for 4-6 hours.
I cooked these chicken wings on low for 6 hours, then kept them warm for another hour.
Notes
If you decide to cook other, larger chicken pieces, you will probably need the longer cooking time shown.

The ingredients label on the store brand (Food Lion in this case---our only local choice) of frozen chicken wings shows chicken wings and seasoning solution. I've contacted Food Lion before and was told that the seasoning solution is water and salt. I believe that information because I do fine with these wings and eat them fairly often. Please ensure gluten-free status of all ingredients to your own comfort level.

If you are serving more than two, semi-hungry folks, you'll want to double, or even triple, this recipe.

Adapted from Stephanie O'Dea, A Year of Slow Cooking

Originally published May 15, 2009; updated February 13, 2002.