For affiliate links and as an Amazon Associate I earn from qualifying purchases.
Today's post is a mix of good stuff—Crockpot Jambalaya (aka Slow Cooker Jambalaya), awards, music, and more. A few weeks ago, I shared my delight with you all at receiving my first two blog awards. Today, I am tickled to share that the lovely Anali invited me to write a guest post on celiac for her terrific blog, Anali's First Amendment.
It was a challenging assignment and I could have written a lot more, but you all know me, isn't that always the case? LOL As those of us in the gluten-free community know though, celiac is a serious subject. It doesn't quite fit into "the box" as neatly as we'd all like, and it's a topic that merits thorough discussions.
At least 3 million people have celiac disease and at this time about 97% of them remain undiagnosed. Please read the post and share it with anyone who may find it helpful. Thanks so much, and my sincere thanks to Anali for giving me the opportunity to reach more readers who may be impacted by celiac disease in some way.
Now … jambalaya. Jambalaya, jambalaya. Don't you just love saying that word? I know I do. That particular combination of consonants and vowels with the emphasis on the third syllable is just right.
Say the word and immediately, you're not only thinking of the fabulous dish with all its flavors, but also the heat and smells of bayou country and hearing the sweet sounds of Zydeco music. If you're lucky, you've actually listened to some great Zydeco music. My absolute favorite Zydeco musician is Terrance Simien.
Terrance hails from Mallet, LA and was featured with the Mallet Playboys (his band at the time) in the movie, The Big Easy. For years, he used to play in our area every few months. We, and many of our friends, packed into a local nightclub. It was always standing room only and a hot and sweaty experience, but it was entirely worth it.
Zydeco music has an energy and sound all its own and Terrance is a sweetheart of a guy and an incredibly talented musician. Now, Terrance's group is more aptly named The Zydeco Experience. If you haven't already, you absolutely must hear him live one day.
An intimate venue would be ideal because not only does their sound and passion come through better, but you might just luck out and get called up on stage to play the frottoir (think washboard-type instrument worn like body armor—don't worry … no domestic duties required). By the way, Terrance and his band won a Grammy for best Zydeco or Cajun music album last year–very well deserved.
Now back to that jambalaya. Both the word and the dish are just fun and, sometimes, even sexy—thinking of Terrance or perhaps Ellen Barkin (and The Big Easy, back in the day). But, I digress a bit.
Jambalaya … the dish itself is as great to eat as the word is fun to say. Wikipedia says that jambalaya is a Louisiana Creole dish—"the New World Version of the Old World dish, paella." Creole cooking is known to blend various influences, such as French, Mediterranean, Spanish, African, and American.
Sometimes jambalaya is called Cajun, and while it seems there were once major differences between Creole and Cajun cooking, now the labels are used fairly synonymously for dishes. I was surprised to learn there are three versions of jambalaya—red, brown, and white.
I visited my wonderful and beautiful friend, Linda, last spring. She doesn't live in Louisiana, but close enough. She lives in Fairhope, Alabama, on Mobile Bay.
Linda relocated there from my neighborhood and has absolutely loved the vitality and beauty of Fairhope. It has a thriving arts community with warm, friendly people. In addition, it's incredibly charming and picturesque, as evidenced by the fact that it is often being featured in Southern Living magazine.
Linda picked me up at the airport and then drove us around the area, briefly showing me some of the highlights of her everyday life. When we finally opened the door to her new home, a fabulous aroma greeted us. She looked at me, smiled, and said, "jambalaya" and pointed to her crockpot. I grinned. Oh, how I do love that word "jambalaya" as well as the dish itself.
Linda, who is also gluten free, modified a recipe that she'd found in Better Homes and Gardens. When I made it on my own once back at home, I adjusted it a bit more.
The original recipe was naturally gluten free, so no modifications needed to be made in that regard. However, I often modify this dish to whatever I have on hand.
I also adjusted the seasonings recently and added a small amount of coconut milk. I love adding coconut milk to tomato-based recipes. It takes the tomato factor down a notch and adds just enough creaminess to really enhance the resulting recipe.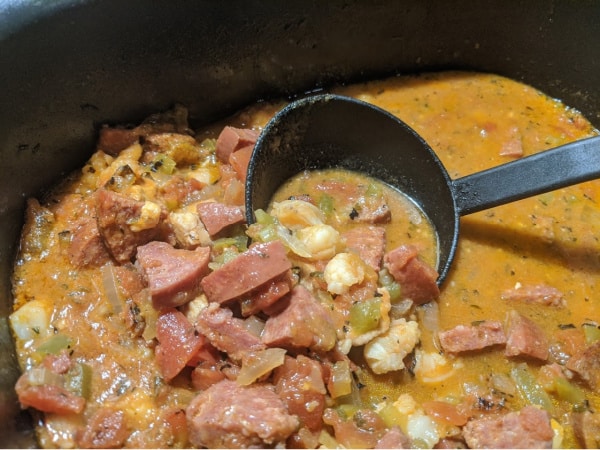 The beauty of jambalaya is that it's such a versatile dish. It readily adapts to different meats, seafood, and vegetables. You can even make a vegetarian version if you like. The original version called for smoked sausage and shrimp. I decided to add chicken as well.
Incidentally, shrimp dishes are often served gluten free easily (gfe!). Steamed shrimp (just be sure they are not steamed in beer—yes, it does happen) and shrimp Norfolk are two of my favorite options for dining out. (Usually, any Norfolk dish is just seafood that has been broiled in butter with safe seasonings, but always check on the gluten-free status of the seasonings, and sometimes—but, rarely—bread crumbs are added so also verify all the ingredients in the dish.)
In fact, Shrimp and Crab Norfolk was my meal when we dined at our favorite local waterfront restaurant on Mother's Day. My dessert was crème brulee—another gfe option when prepared safely … yum.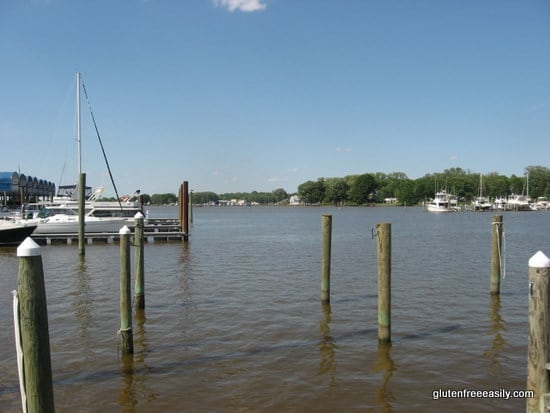 My entire visit with Linda was a treat last year, with being greeted by the smell of jambalaya as the best possible welcome. I've made my version many times since.
It's now a favorite of my support group, too. And, because it's another slow cooker recipe, it makes life just a bit simpler, and more economical. I heard today in a cost-saving segment on TV that you can operate your slow cooker for 8 hours for 10 cents! Impressive savings, huh?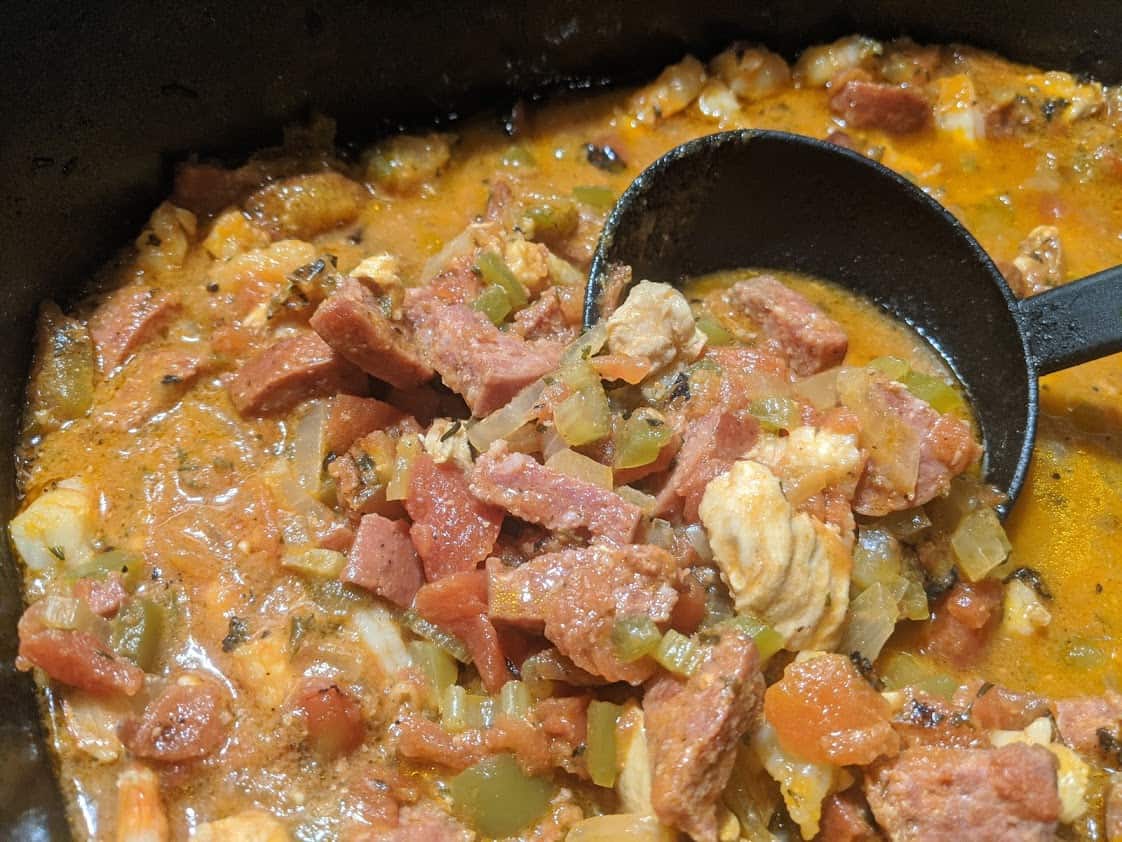 The part I like just as much though is the negligible heat in the kitchen. That pesky air conditioner had to be run for a while today, and I just don't like it. Crockpot meals (and grilling, of course) can help tremendously by not adding to the heat this time of year.
We are headed to our mountain property in the morning–our favorite retreat, with less heat and humidity. Hope everyone has a wonderful Memorial Day weekend! Let's remember those we've lost in service to our country and spend special time with our family and friends—always the best way to spend any holiday, I think.
Jambalaya … what do you like to add to your version?
Gluten-Free Crockpot Jambalaya Recipe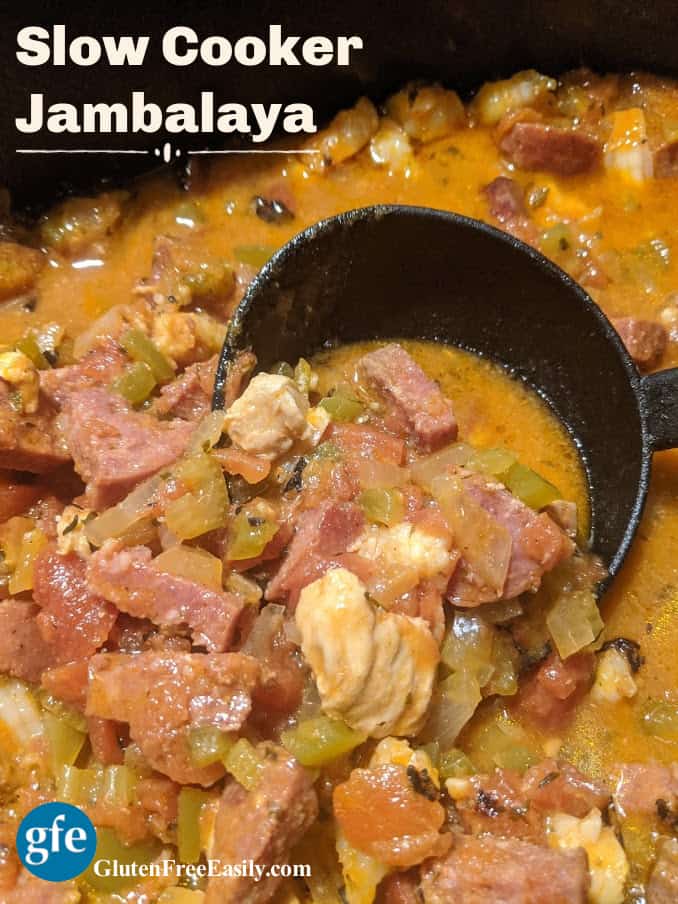 Yield: 8 servings
Crockpot Jambalaya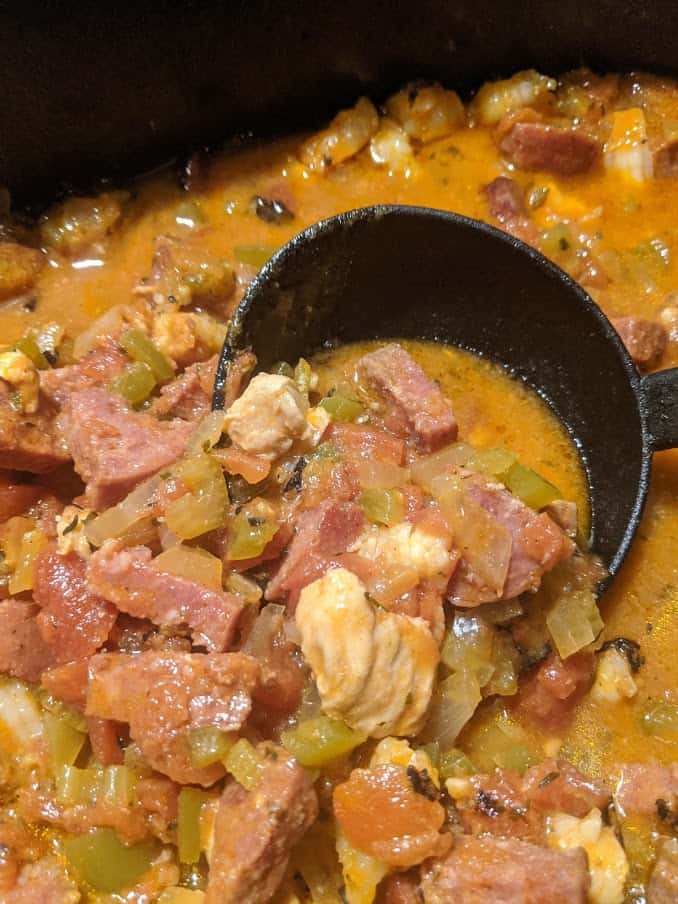 Using your slow cooker to make jambalaya is such an easy and flavorful way to make it. Walk in the door to the amazing smell of this dish. You only have to add some shrimp and rice during the last hour of cooking. Then serve and enjoy!

Prep Time 10 minutes

Inactive Time 7 hours

Total Time 7 hours 10 minutes
Ingredients
Part 1
1 large onion, chopped
1 medium green bell pepper, chopped
2 to 3 ribs celery, chopped (about 1 cup or so)
8 oz smoked sausage or summer sausage, sliced and quartered (ensure it's gluten free)
2 boneless chicken breasts or boneless chicken thighs, cut into smallish pieces
1 can (28 oz) diced tomatoes in juice, not drained (or one 14-oz can diced tomatoes and one 14-oz can of V-8—for extra zestiness)
2/3 cup wine (any kind) or gluten-free chicken broth
1/2 cup canned coconut milk (not light); optional, but preferred
6 cloves garlic, chopped (or equivalent minced)
1 tsp dried thyme leaves
1 tsp paprika (I really like smoked paprika in this recipe)
1/2 tsp sea salt
1/2 tsp pepper
1 tsp hot pepper sauce
2 bay leaves (optional, but they do add a lot of flavor)
2 tbsp chopped fresh parsley (optional, or dried, 2 tsp)
Part 2
1 cup uncooked Minute brown rice (or 1 ½ cups cooked brown rice, white rice, or quinoa); see notes
1 lb peeled, deveined raw or cooked medium-sized or larger shrimp, chopped
Instructions
Mix all ingredients EXCEPT shrimp, parsley, and rice in a 3 1/2-qt or larger crockpot. Cover and cook on low 6 to 8 hours until vegetables are tender. The mixture will still look a bit soupy, but will thicken once you complete the next step.
Stir in rice; cover and cook 15 minutes or until done. Then stir in parsley and shrimp (uncooked shrimp will cook in about 5 minutes). Remove bay leaves.
Notes
Adapted from a Better Homes and Gardens recipe. Updated 7/16/20.

While Minute rice clearly doesn't have the nutritional value of cooked full-grain brown rice or white rice, I still have issues with some whole grain products, so it works better for me. Quinoa works better as well so that's also an option.

You can also cook the rice (or quinoa) separately and serve the jambalaya over it in a bowl.

If I will be cooking the jambalaya while I am at work and will be gone longer than 8 hours, I prepare everything in the crockpot the night before, so I don't have to rush in the morning (and so it is not overcooked by the time I get home from work). The cold ingredients guarantee a slightly slower start. I follow this approach even with my crockpot that switches from cooking to warming to avoid overcooking. When I am making this dish for a crowd, I cut the sausage slices in half and cut the shrimp into smaller pieces to ensure that they get distributed properly in all servings. If you'd like a bread serving to accompany your jambalaya, either gfe cornbread or popovers work well.

Originally published May 23, 2009; updated October 12, 2021.