For affiliate links and as an Amazon Associate I earn from qualifying purchases.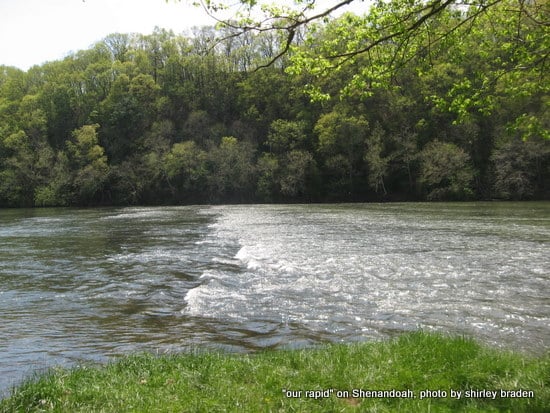 I'd planned to have this post up on Sunday, but at the last minute we decided a bike trip to our mountain property, which we love so much, was a better idea than hanging around the house. The photo above is of "our" rapid on the Shenandoah River and the one below if of our "bike" (those are my husband's riding chaps on the seat). It was a great, relaxing trip, but brutally hot. On the way back, we stopped at a favorite restaurant and had a great meal. I ordered the chicken salad plate, which turned out to be a yummy chicken salad (the recipe included red grapes—love that!) served over salad greens with cucumbers and a tahini-based dressing. I ate every morsel, drank my tall glass of ice water, and felt re-energized (for a bit). As we continued home with temperatures on the way down, one bank thermometer showed 96 degrees—yikes! I'm sorry to admit that I experienced fanny fatigue fairly early on this trip—that was disappointing. I guess I'm out of practice! I better start "training" (i.e., riding weekly), so I'll be ready for our annual motorcycle trip later this summer!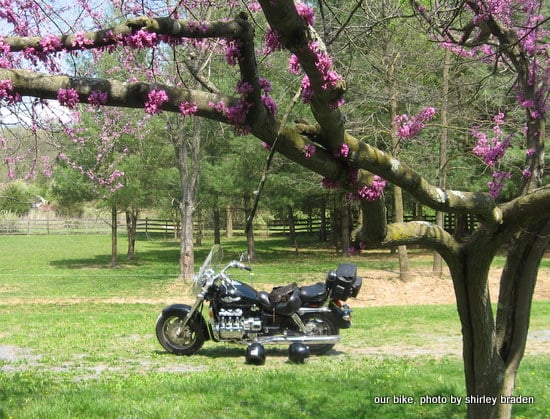 As I mentioned in a previous post, Anali (Anali's First Amendment) honored my blog with the Premio Dardos Award recently.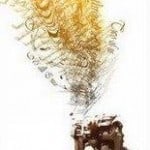 As she stated on her blog, "Premio Dardos means "prize darts" in Spanish. It is given for recognition of cultural, ethical, literary, and personal values transmitted in the form of creative and original writing." Per the rules, I am selecting 15 blogs. Granted, 15 is a lot, but there are so many wonderful blogs that I read, it's actually hard to narrow it down that much. The criteria for the award fits most every blog I read; that's exactly why I read them. Without a doubt, these blogs make my life better … most making me laugh, many sharing the gluten-free philosophy, some educating me, and some challenging my beliefs. There are also many equally wonderful blogger awards, so, recipients, please don't feel obligated to carry on this Premio Dardos award. If you'd simply like to place it on your sidebar, then please do so, but again don't feel obligated to do even that. (Guilt is a waste of precious time, in my opinion. Well, unless, of course you can use it successfully to motivate your children. LOL … kidding … sort of.) Those of us who blog are all busy sharing our particular passions via writing posts, making terrific food, taking stunning photos, engaging in awareness projects, and, of course, just doing the drill of living our daily lives—an award can be a very neat thing or it can mess up the works a bit. Here are my choices, and, just FYI, these are not all gluten-free blogs. Also, Anali's First Amendment is not included because she has already received the award. Thanks again, Anali!
By the way, I had another very pleasant surprise today … Z, awarded me with the Lemonade Stand Award on her From This Point Forward blog. This award goes to blogs that show great attitude and gratitude—love that concept. : – )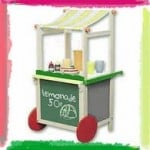 Since there are blogs I didn't get to recognize here for the Premio Dardos awards, I may do another post soon to recognize other worthy blogs with the Lemonade Stand Award. Thanks, Z!
Premio Dardos Award Selections:
A Year of Slow Cooking ~ Stephanie committed to cooking in her crockpot every single day for a year starting in January 2008. Obviously, her year is long over, but while she's diversifying to other activities, she still shares a great crockpot recipe about once a week. She's charming and funny, and her recipes are easy and usually very economical. Dust off your crockpot! (I tend to use my crockpot more in the winter, but it makes sense to use it during the summer to keep the heat down in the kitchen. You can even plug it in on an enclosed porch, so no heat in the kitchen at all! 🙂
Banana Coconut Gal (This site is no longer active.) Coconut Gal is a sweetheart. She shares her experiences living with Eosinophilic Gastroenteritis—a rare gastrointestinal condition that really limits her food choices. Yet, she remains strong and positive and shares some terrific, easy recipes like BaNilla Nut Ice Cream. Go check that recipe out … you know you want some!
The Brian Williams Tie Report Archives Nance entertains me Monday through Friday critiquing NBC anchor Brian Williams' tie choices. A high school English teacher, she can cut to the quick for a poor selection of Mr. Williams or take a nice cravat to even higher levels. It's all in good fun, but Nance offers excellent commentaries.
Compost Studios (This site is no longer active.) Veronica is an outstanding writer, but there's much more to V-grrrl (as she's also fondly known) than that. As her blog's name suggests, she is always re-inventing herself through prose, poetry, art journal pieces, or photography.
Elana's Pantry ~ While I don't make all of Elana's recipes, I do appreciate them all for their simple elegance. Plus, I envy her photography skills! Her recipes require few ingredients, but the ingredients used are just the right ones to offer the best combination of delicious and nutritious. Some will surprise you with their ingredients … like the Purple Velvet Torte. Look forward to an adaptation of one of Elana's salmon recipes (three ingredients) on my blog soon. For baking, Elana uses high-quality almond flour, almost exclusively, as her new cookbook demonstrates.
Gluten Free for Good ~ Melissa is a food expert. Seriously. Her day job (or maybe it's 24/7) is nutritional therapy and exercise science. And, she really practices what she preaches. That sounds boring, but Melissa is far from boring! She always injects humor, joy, and beauty in her educational and entertaining posts.
Gluten-Free Kay ~ Kay tickles me (and others) with her zest for life and terrific sense of humor. She shares her and her animals' adventures (domestic and wild) on her Leaning Tree Farm. Gluten intolerant and diagnosed with other food intolerances as well, she often makes recipes that are naturally gluten free using food she has grown herself.
Gluten-Free Gobsmacked ~ Kate is warm and sweet, and makes some fantastic gluten-free food. Her blog posts are a bit sparse as of this writing because she and her husband just adopted a daughter! They are over the moon with happiness, but probably more than a little sleep-deprived these days. Check out her last few posts on the joy of bringing her new daughter home and look forward to the day when she's back blogging for us. I'm thinking that will come once her little one is sleeping more and life has settled into more of a routine, but I'm happy she's enjoying this very special time.
Gluten-Free Steve ~ Steve is a good guy. Unlike me, he is a person of "few words." 😉 He shares recipes, his experiences eating out, food product reviews, and lots more. I recently made his lemon sponge cake and it was light and delish.
La Tartine Gourmande ~ Bea has a beautiful food (gluten free) and photography blog. Now she has her darling baby girl, Lulu, to teach all about food. She's sharing their experiences in posts and pics. La Tourtine Gourmande is a "feel good" blog. Every time I go to Bea's site, I leave a happier person.
No Gluten, No Problem ~ Pete and Kelli share so much valuable information in their frequent, concise posts … including recipes, restaurant reviews, product reviews, and discussion topics (e.g., how are food beliefs like religious beliefs? I loved that one). They also have a new cookbook, Artisanal Gluten-Free Cooking, coming out in a few months.
Noble Pig ~ Cathy shares her love of food and wine, and what's on her mind. She and her husband are in the process of relocating to Oregon and opening a winery—no small task there. I wake up each morning to find a new post from Cathy. Usually, they're recipes that have me wanting to lick the screen. Many are naturally gluten free, and others I've easily converted to gluten free, like these Katharine Hepburn brownies.
The Spunky Coconut ~ Kelly is a ray of sunshine. Her dishes are gluten free, casein free, sugar free, and often raw. If you look at the pictures of her dishes, you won't be able to tell that. Plus, I'm certain that every one of them is delicious. Her homeschooling journal shares the tales of her approach with her two daughters. I always love reading what's going on with Kelly and her family.
The W.H.O.L.E. Gang ~ Diane's enthusiasm for healthy eating (including gluten free and dairy free) is infectious. With her Friday Foodie Fix event, she's bringing everyone "on board." Her ecologically-minded perspective is an added benefit of reading her blog.
Whole Life Nutrition (now Nourishing Meals) ~ Ali constantly amazes me with her healthy, but delightful gluten-free, dairy-free, egg-free (and more) recipes. She and husband, Tom, both with strong nutritional backgrounds, have one cookbook in print, The Whole Life Nutrition Cookbook, and another one in the making. Ali, a former personal chef, is testing recipes and seeking input for this new cookbook as we speak. Ali and Tom have four young children, including twins. How does she do it all and do it all so well? Again, Ali amazes me.
I am so grateful to you worthy 15! Hope everyone reading will check out these great blogs when you get a chance!
Shirley
Not just gf, but gfe!