For affiliate links and as an Amazon Associate I earn from qualifying purchases.
Do you know that expression "kill two birds with one stone"? If you are not familiar with it, please don't take me literally. At our house, we all enjoy birds (the kind outside our windows these days, but we raised happy finches for years) and would never harm one. But, I totally believe in the philosophy of satisfying more than one task/need with a single solution.
I am all about doing things easily and not devoting time to multiple tasks. So the other day, I was thinking of a way that I could come up with a recipe that would work for both Diane's Friday Foodie Fix using asparagus (the ingredient of the week) and Naomi's Go Ahead Honey It's Gluten Free canapé theme. Naomi urged participants to go for true canapés—little one-bite size morsels. Asparagus doesn't make one think of bite-sized morsels, but the asparagus sold in our grocery store is diminutive for asparagus and if I made the recipe appealing enough, wouldn't one want to eat it in one bite? My husband has an ongoing professional position where he deals with legal code and over the years he has repeated to me many times that one must look at the intent of the code. With that in mind, my "intent" is that this recipe will be a one-bite, maybe one-and-a-half bite (pushing two-bite?), canapé. So, I hope Naomi will accept it in the spirit that is intended.
Initially, I started thinking about Diane's bacon-wrapped avocados. (And, I'm still thinking about them and wanting one! Maybe this weekend for our house guest …) Specifically, I pondered bacon-wrapped asparagus, but that idea didn't seem too feasible. The asparagus spears in my mother-in-law's garden are usually thick and tall/long enough to be wrapped in a piece of bacon, but the asparagus spears at the store (the ones I would be buying) are far too small. The bacon would smother it. (I know it's hard to believe for those of us who enjoy our bacon, but sometimes too much bacon really can really be an undesirable thing. LOL) Heading into the grocery store, I really had no idea how I was going to prepare the asparagus. All I knew was that I was going to prepare it for these two fun blog carnivals and serve it to my girlfriends for dinner as a canapé. But, first, I needed to pick up some Swiss cheese for my husband. Right there beside the Swiss cheese was prosciutto. Hmmm, delicious prosciutto … thinner, leaner, and a little more subtle than bacon, but still offering sweet and salty smokiness. I grabbed some.
At home later as the girls straggled in from work, I peeled off a piece of prosciutto from the packaging. While it was definitely much thinner than a slice of bacon and actually an ideal thickness for wrapping, the width overwhelmed the dainty spear. So I unwrapped the spear and pulled my kitchen shears out to cut the piece in half lengthwise. Then I rewrapped the spear. Ah, that was just right … even uncooked, it looked delicious. So I continued wrapping spears with prosciutto. One friend asked, "Shirley, are you wrapping prosciutto around asparagus?" "Yes, I am." I replied enthusiastically. "Yum" was her response. (Again, that was before we had eaten them.) When I had used up all the prosciutto, I still had half of the pound of asparagus left. I decided to cook that on the same baking sheet but with the spears drizzled in olive oil and sprinkled with cayenne pepper.
The "hot and spicy" roasted asparagus would be a nice contrast to the pork tenderloin with maple glaze that I was serving. It seems like for everything I roast in the oven these days (chickpeas, Brussels sprouts, etc.), I set the oven to 450 degrees and cook for 15 – 20 minutes. That approach worked well with the asparagus, too. Both the prosciutto-wrapped and the hot and spicy version were done in 15 minutes. I set the hot and spicy ones aside under cover momentarily, and placed the canapé asparagus spears on the counter to take a good photo before we ate them. They were absolutely photogenic. (Can asparagus be photogenic? Well, the answer is irrelevant … this asparagus was!) For once, waiting to get good pictures worked out as the spears cooled just enough to eat while I was snapping the shots. But, then we tried them. Out. Of. This. World. We all agreed they were absolutely divine and when was the last time you picked up an asparagus spear with your fingers? Okay, I admit we eat asparagus with our fingers all the time when we are camping 😉 … but usually not when dining at home. The prosciutto wrap gives some nice little structure to the asparagus spear, which makes for easy pick-up with your fingers and instant devouring. If you happen to be finicky about such food sharing (and are not among family or close friends—if that makes a difference to you), put out little appetizer forks or some type of skewers for everyone. But, really it's a quick bite or two and then you're done—there's no real time or need for skewering. These are canapés—remember? They are meant to be picked up and enjoyed without utensils. They are so incredibly good, and I was very pleased with myself for coming up with the two-ingredient canapé. However, full disclosure: I later googled prosciutto and asparagus and it seems like tons of folks have been doing some variation of prosciutto-wrapped asparagus forever! So, I'm not quite as clever as I thought. Rats. Isn't that always the case? LOL But, no recipe was exactly like mine. In comparison to a similar recipe I found, I didn't use olive oil on my canapés (even leaner prosciutto provides enough fat in my opinion), plus, I used a higher temperature for roasting and no seasonings (again, not needed). Anyway, gluten-free and dairy-free, these canapes are fabulous.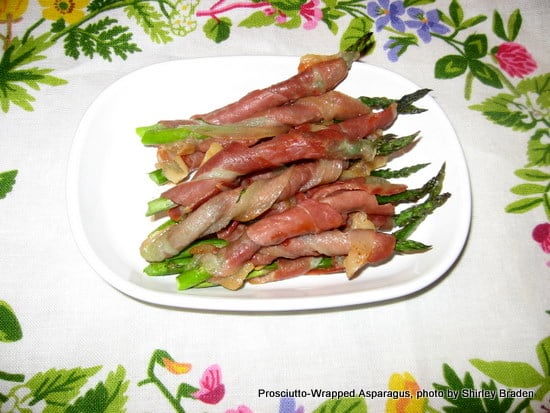 As we enjoyed the canapés, we sipped our beverages. There was Chateau Morrisette's Blushing Dog (a lovely Virginia wine, which my friend, Veronica, had brought to the Valentine's Day party) and Georges Duboeuf Pinot Noir (a French wine that "Fred" brought—beautiful and fruity). There was also sparkling grape juice for our favorite teetotaler of the group. Then we moved on to the actual dinner: Kathi's great salad (she made it while I finished cooking), pork tenderloin with maple glaze (if you haven't tried it yet, you should … this is an amazing dish), pan-baked Parmesan potatoes (a twice-baked taste without the work), the hot and spicy asparagus, and sourdough bread (NOT gluten free—brought by Vivian for the gluten eaters). After dinner, we sat and chatted for a bit. Then, it was time for dessert.
Cathy at Noble Pig had shared a recipe for Katharine Hepburn (KH) brownies on her site a while back. Because the recipe called for only ¼ cup of all-purpose flour (i.e., flour containing gluten), I knew it would be easy to duplicate gluten-free by replacing the all-purpose flour with the same amount of gluten-free flour mix and adding just a pinch of xanthan gum. I was right. These brownies are rich, fudgy squares—absolutely delicious. (Cathy's version calls for walnuts. I actually prefer these brownies "plain" because the chocolate doesn't compete with the walnuts, and the plain ones cut "cleaner" and have the perfect texture, too.) I served a few of the KH brownies—cut into canapé-size bites for sampling—as a prelude to the very fine chocolate ice cream that Fred's husband had made for us. The brownie bites were met with sounds of approval and quickly disappeared. Eventually, we moved on to the ice cream. With the ice cream, I served more KH brownies these cut into regular-sized squares. Some made their way into the bowls of ice cream. Delish! No whipped cream needed.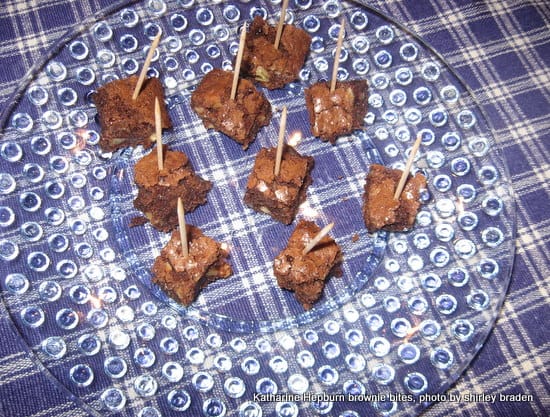 It was a delicious evening, on so many levels. Aren't the times spent with true friends the best times ever? The next day we exchanged emails in rapid fashion saying how wonderful our evening was, thanking each other for contributions to the meal, and just sincerely counting the blessings of our friendship. There's no doubt that all of us who share such friendships are extremely fortunate and are better for them, but read more here (if you like) about the actual health values of such friendships. (I've recently discovered this blog, Happy Healthy Long Life, and have really been enjoying the positive perspective shared.)
Finally, what's your favorite canapé? If you're a fellow blogger, make a gluten-free canapé, write a post, and share with everyone, by submitting your link to Naomi. (The deadline is tomorrow, Saturday, April 25. If you miss this one, the Go Ahead Honey It's Gluten Free carnival continues each month with a different theme and host. I'll be hosting one month this summer.) Or perhaps you have a favorite asparagus recipe that's gluten free … post it and submit your post to Diane's Friday Foodie F ix using the widget on her site (those are due today, but if you want to join the fun later, be sure to check each Friday to see which ingredient Diane has picked for the following week's FFF. Next week's ingredient is strawberry.). Even if you can't post a gluten-free recipe for either of these carnivals, please go and enjoy the entries—-there's always some really good stuff at each site! : – )
Happy Friday!
Shirley
Not just gf, but gfe!