For affiliate links and as an Amazon Associate I earn from qualifying purchases.
Gluten-Free Katharine Hepburn Brownies are rich, buttery, fudgy goodness!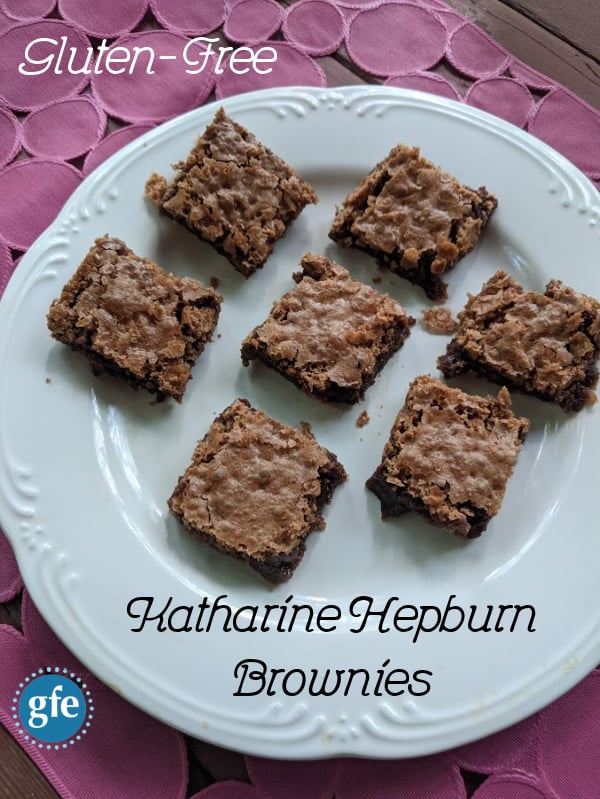 You are going to love these brownies, folks!
There are lots of celebrity-created recipes on the interwebs now. Some impress; some do not.
Trust me, Katharine Hepburn's brownies impress!
The fact that these brownies contain very little flour means that the top of these brownies have a little bit of a crispy and crackly factor but the insides stay soft and fudgy.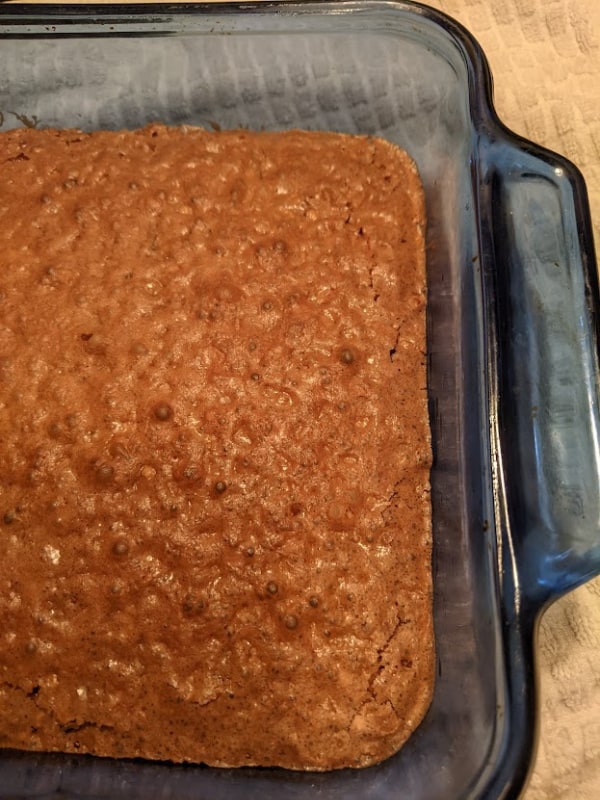 While Katharine Hepburn left our world long ago (at the age of 96 in 2003), I am so glad she left behind her stellar brownie recipe, and of course all her amazing movies. Plus, even more of a legacy as you'll learn if you read even a little bit about her. th
It seems that she originally shared her brownie recipe in an August 1975 interview with Ladies' Home Journal.
Her recipe was shared in Saveur magazine much later and in an even later article on PBS's The History Kitchen that largely focused on the exchanges that Katharine had with her New York neighbors, Heather Henderson and her father.
Part of the story was that Heather's dad reached out to Katharine to ask her to urge Heather to stay in school at Bryn Mawr. Another part was that after Katharine had been in a car accident, Heather and her father took her brownies.
Apparently, Katharine harshly critiqued their brownies and gave Heather her brownie recipe as well as some other simple but sage advice on leaving college and living her best life. Heather summarized Katharine's advice as:
Never quit.
Be yourself.
Don't put too much flour in your brownies.
I first learned about Katharine Hepburn's recipe from Cathy of Noble Pig. She shared Katharine Hepburn's gluten-full brownies on her site many years ago and also mused about Hepburn's best movies and what her words might have been on her simple but divine brownie recipe.
In this post, I recounted how I had shared them as part of dessert for a gluten-free dinner with my dearest girlfriends. Because we were having another dessert as well, I cut the brownies into bite-sized chunks and made them finger food.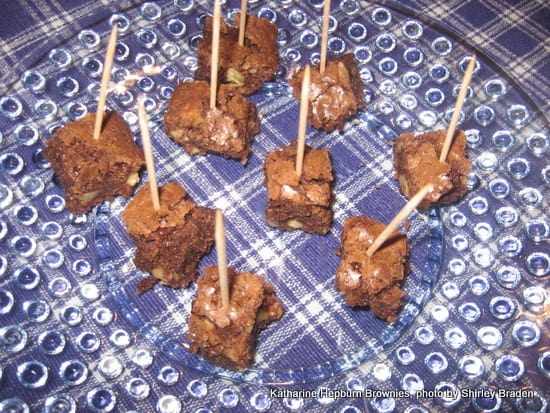 Initially, I had commented to Cathy: "Terrific recipe to convert to gluten free." And with only a quarter cup of flour required, it really was an easy recipe to convert to gluten free!
You all know that with my gfe approach, I love recipes that are naturally gluten free. But I'm also quite fond of baked goods that can be made gluten free by simply subbing in some gluten-free flour mix.
It's not always a given that subbing in gluten-free flour mix for wheat-based gluten-full all-purpose flour (aka "regular" flour) will work. However, recipes that use much less flour are almost always made successfully. And easily.
You know how I love all things Gluten Free Easily!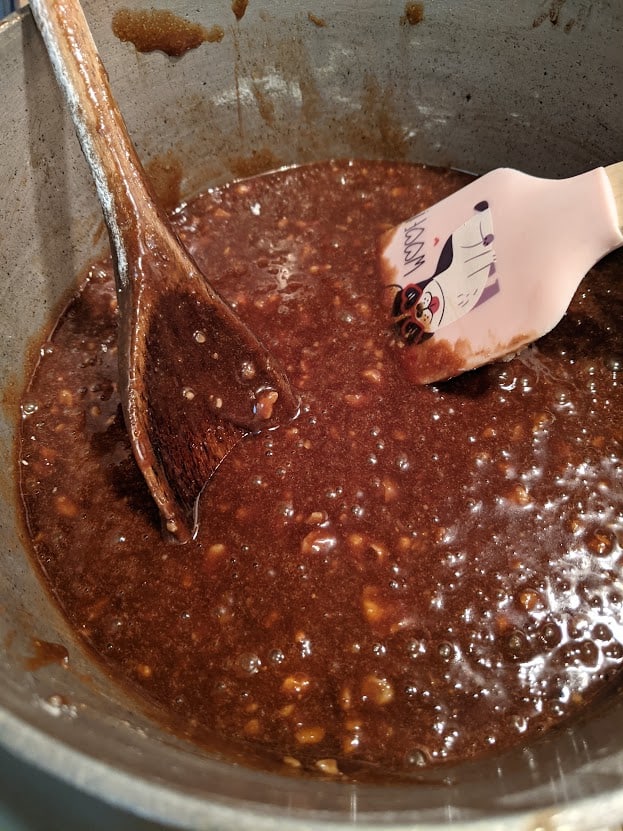 After I made these brownies the first time, I reported back to Cathy on Noble Pig about my success with the gluten-free version of the recipe and also offered my own thoughts on Katharine's movies.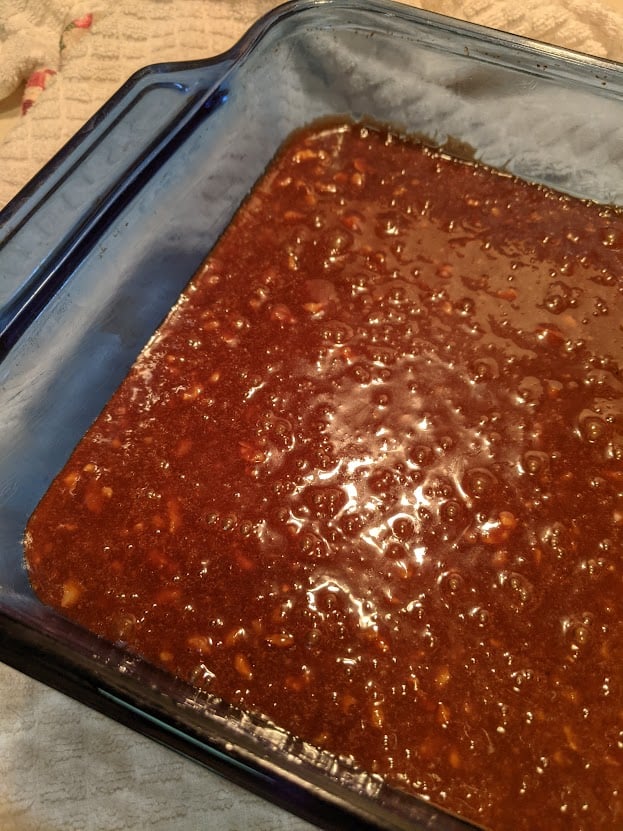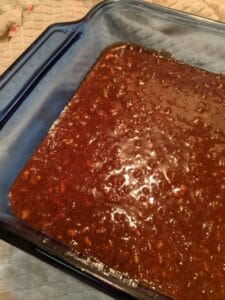 "I finally made these today and they are incredible! I made them for my BIL who does not eat nuts in baked goods, so I left those out and shortened the baking time a bit. The secret is to let them cool properly before cutting … which is a HARD thing to do. LOL They were easy to convert to gluten free by just replacing the AP flour with my gluten-free flour mix and adding a little xanthan gum. Thanks so much for this recipe!
Btw, my favorite Katharine Hepburn movie was Desk Set, where Bunny (Hepburn) runs the reference library and answers all sorts of questions far better than any contestant on Jeopardy. Spencer Tracy comes in as the engineer/ efficiency expert with computers, which ultimately can't compete with Bunny and her staff."
The first time I made them, I did add a pinch of xanthan gum but every time since I have made them without xanthan gum. And these brownies work just fine with gluten-free flour mix and without xanthan gum added.
My Two-Ingredient Gluten-Free Flour Mix does not include xanthan gum. I simply add xanthan gum to a recipe at the time of baking if it is needed.
However, if you have a gluten-free flour mix that includes xanthan gum, it will still work just fine in these gluten-free Katharine Hepburn brownies.
When I make these brownies with chopped walnuts, I think oh, these brownies are my favorite! When I make these without chopped walnuts, I think oh, this version is my favorite!
LOL But it's true.
I do believe that when made without walnuts, these brownies cut a bit cleaner. Plus, your friends who don't like nuts (or can't eat nuts) in their baked goods will be grateful you left out the walnuts.
As I said above, it's best to let these brownies cool completely before cutting. That said, yes, I do cut out a tiny corner piece to sample myself as I am waiting for the pan to cool.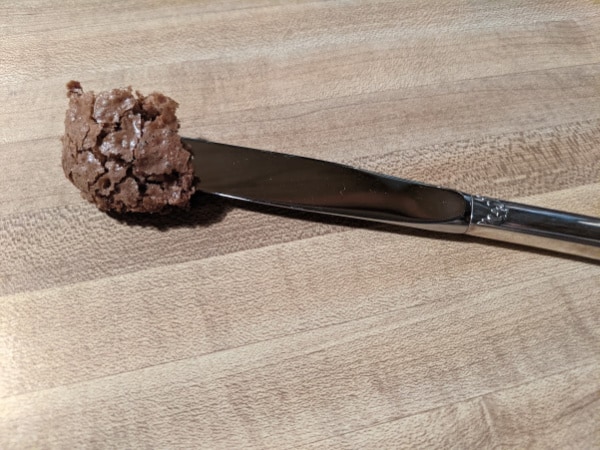 And sometimes I go back for another tiny corner piece. But finally, the brownies are cool enough to enjoy!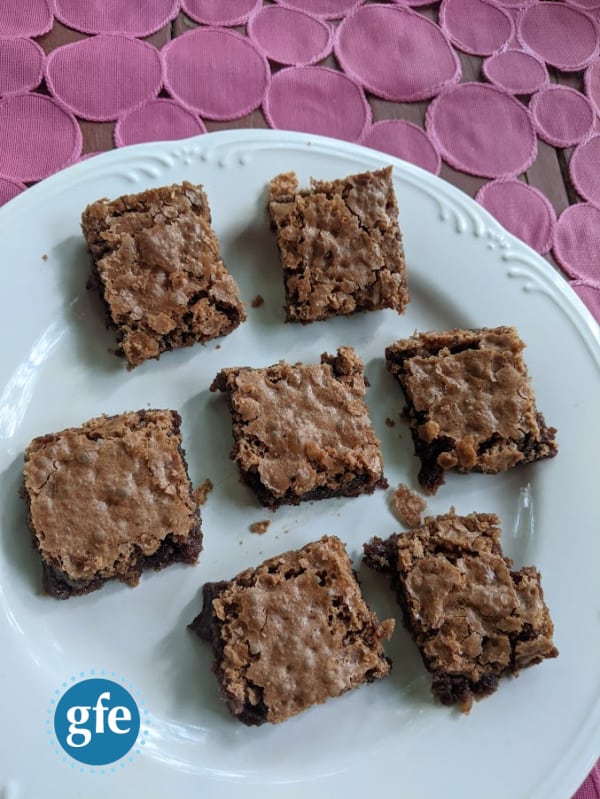 More Gluten-Free Brownie Recipes You Should Check Out!
~ Banana-Nut Chocolate Chip Brownies (Grain-Free)
~ Big and Rich Gluten-Free Brownies
~ Double Chocolate Peanut Butter Chip Brownies
~ Flourless Brownies (Nut Free)
~ Flourless Triple Nut Brownies
~ Peanut Butter Chocolate Chip Brownies
~ Salted Caramel Shortbread Brownies
Gluten-Free Katharine Hepburn Brownies Recipe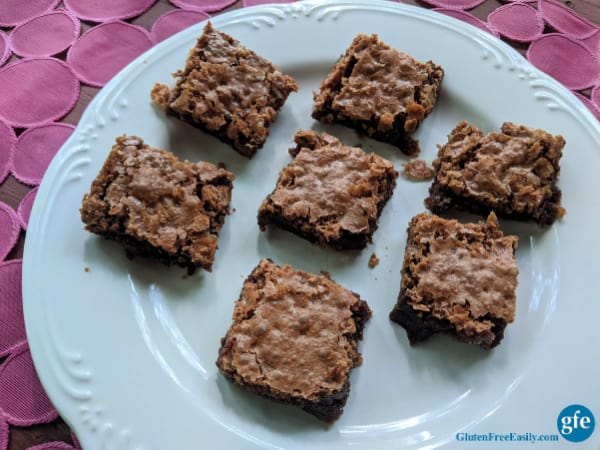 Yield: 16 brownies
Gluten-Free Katharine Hepburn Brownies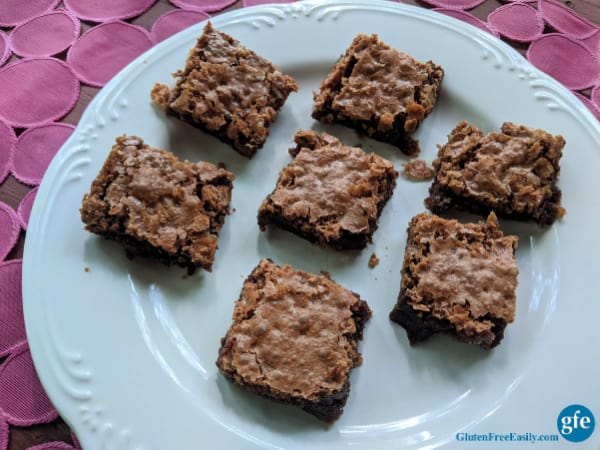 These gluten-free Katharine Hepburn brownies are made with very little flour, which results in rich, buttery, fudgy goodness!

Prep Time 10 minutes

Cook Time 40 minutes

Total Time 50 minutes
Ingredients
1/2 cup unsalted butter (or dairy-free butter equivalent, such as soy-free Earth Balance), plus more for greasing baking dish
2 ounces good quality unsweetened chocolate (broken into pieces)
1 cup granulated sugar
2 eggs, beaten
1/2 teaspoon vanilla extract
up to 1 cup chopped walnuts, optional
1/4 cup gluten-free flour mix (I used my Two-Ingredient Flour Mix; see notes)
1/4 teaspoon salt
Instructions
Preheat oven to 325F degrees.
Prepare an 8″ x 8′ baking dish by greasing it with butter first and then lining it with parchment paper or greasing and spraying the baking dish very well. (I simply spray mine heavily with EVOO spray but if you use parchment paper, it is easier to lift out the brownies and cut them after they've cooled.)
In a medium to large saucepan over low heat, melt butter with chocolate, stirring.
Remove the pan from the burner and stir in granulated sugar until fully incorporated.
Stir in eggs and vanilla extract, stirring until smooth.
Add walnuts, gluten-free flour mix, and salt; stirring until ingredients are fully incorporated.
Pour the batter into the prepared baking dish and spread evenly (if necessary).
Bake for about 40 minutes or until a toothpick inserted in the center comes out clean.
Cool completely.
When cooled, cut into the number of servings you want and serve. I have cut these brownies into bite-sized pieces (as shown above) when serving with other desserts and larger more traditional-sized brownies when serving them as the only dessert.
Notes
Adapted from Katharine Hepburn.

Although no xanthan gum is required for this recipe, if you use a gluten-free flour mix that contains xanthan gum, the brownies will still turn out just fine.

The recipe in the PBS article stated that ½ cup cocoa powder could be substituted for the 2 ounces of unsweetened chocolate but no other changes to the recipe were made. Normally when cocoa is substituted for unsweetened chocolate, it's 3 tablespoons of cocoa powder plus 1 tablespoon butter, shortening, or oil for every ounce of unsweetened chocolate. In this case, the amount of cocoa powder is less than normal and there was no mention of adding additional butter to the recipe. When
I try this substitution, I will report back. Please do the same if you give it a go!





Shirley
Not just gf, but gfe!
Originally published May 25, 2023.