For affiliate links and as an Amazon Associate I earn from qualifying purchases.
I don't know why it has taken me so long to create these gluten-free Banana Nut Chocolate Chip Bars. Wait, I mean gluten-free Banana Nut Chocolate Chip Brownies.
And by that I mean the idea of these bars had never entered my mind before yesterday. But they are super easy to make, unbelievably good, and another way to use up my never-ending supply of bananas! What's not to love, right?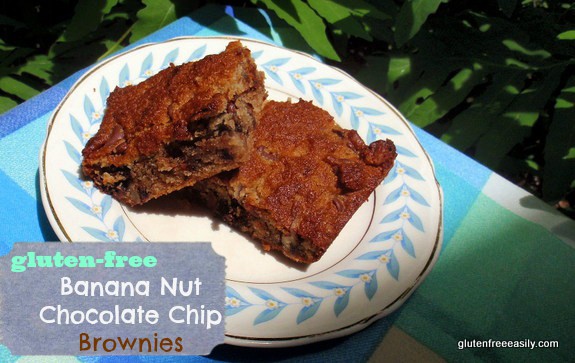 This recipe was actually inspired by my Pumpkin Pecan Chocolate Chip Bars. Well, eventually.
You see I started out wanting my Brown Sugar Chocolate Chip Cookies (with dairy or without dairy) to share with mom and dad. Then I decided that I didn't really want to make cookies because several baking sheets of cookies would take longer than my "allotted" time and would also heat up the house too much.
Plus, I wanted grain-free cookies and I haven't yet made a grain-free version of either of those cookie recipes. Because of the desired grain-free factor, I thought of my Pumpkin Pecan Chocolate Chip Bars.
The key to that recipe is my homemade Pumpkin Butter. I knew I could substitute mashed banana for the pumpkin butter, but mashed banana doesn't have the thickness of pumpkin butter, so I decided to add a little coconut flour to help with the thickening.
See how my mind works! In this case, that whole sequence was a good thing as the results were just as good as I'd hoped!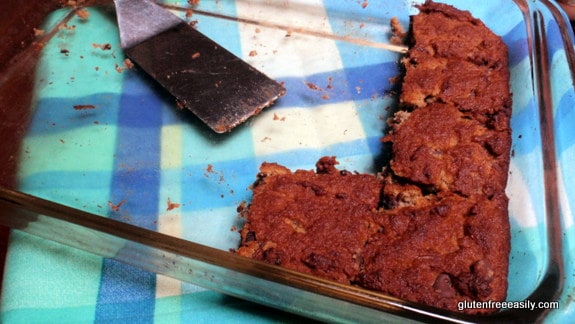 Like many great desserts—and really good recipes in general—these brownies are even better the next day. The flavors meld, the chocolate chips stay amazingly soft—and well, the chocolate chips in this recipe after baking are just luscious frankly—and these brownies stay moist and delicious.
Despite only two-thirds of a cup of chocolate chips in this recipe, the brownies seem to be practically overflowing with chocolate chips. Because the chocolate chips literally melt in your mouth, these brownies offer a pretty significant chocolate effect. The banana flavoring is actually very light in comparison.
Mom and Dad and even Mr. GFE kept calling these treats "brownies." So that's why I also ended up calling these goodies gluten-free Banana Nut Chocolate Chip Brownies.
In my opinion, none of us is wrong on that but please bake them and let me know if you think that label is merited!
More Gluten-Free Brownies You Should Definitely Check Out!
~ Double Chocolate Peanut Butter Chip Brownies
~ Salted Caramel Shortbread Brownies
~ Vegan Brownies with Marshmallow Fluff
Gluten-Free Banana Nut Chocolate Chip Brownies (Grain Free, Too) Recipe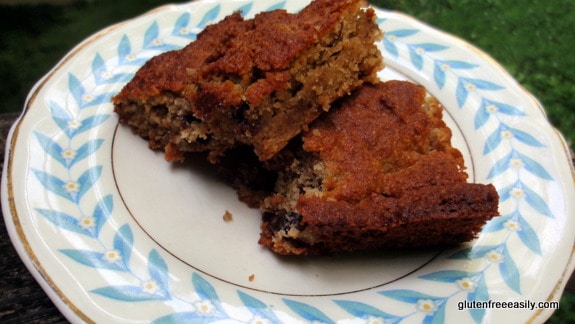 Yield: 16 brownies
Gluten-Free Banana Nut Chocolate Chip Brownies (Grain Free)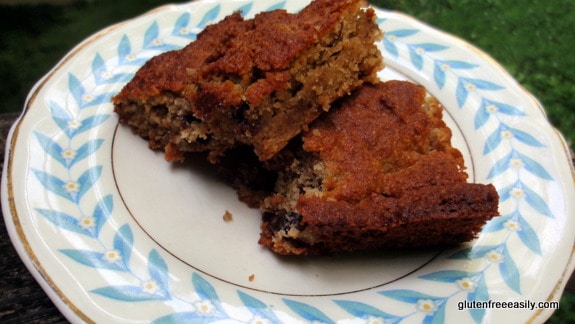 These gluten-free Banana Nut Chocolate Chip Bars are so good that they earn the "brownie" label!
Ingredients
2/3 cup brown sugar (or coconut sugar)
½ cup butter, melted (or slightly less coconut oil, liquefied)
2 large eggs
½ cup very ripe banana, mashed (average size banana)
1 tbsp vanilla extract (measurement amount is not a typo)
2 cups almond flour (I don't recommend Bob's Red Mill)
2 to 3 tbsp coconut flour, sifted
1 tsp baking soda
¾ tsp salt (or sea salt)
2/3 cup nuts, chopped (I used pecans for the version shown); optional
2/3 cup gluten-free chocolate chips
Instructions
Preheat oven to 375F degrees. Lightly grease 9 x 13 baking dish.
Add eggs to large bowl. Beat gently with wooden spoon.
Add almond flour, brown sugar, melted butter, vanilla extract, baking soda, and salt, mixing well until ingredients are fully incorporated.
Add 2 tablespoons of coconut flour. Let batter rest a few minutes. Batter should thicken so that it's thicker than cake batter and be more like what you would expect bar/brownie batter to be. If it doesn't thicken enough, you can add up to 1 tablespoon more of coconut flour. Be careful. Just add a little at a time as coconut flour is so absorbent. You don't want your batter to be too thick and end up with super dense, dry treats.
Stir in nuts and chocolate chips.
Using spatula, add batter to baking pan spreading until the batter is even.
Bake about 20 minutes until golden brown. Check for doneness with a toothpick, if needed.
Cool in pan at least 15 minutes before cutting, preferably longer. Store loosely covered.
Originally published July 1, 2014; updated January 3, 2022.