For affiliate links and as an Amazon Associate I earn from qualifying purchases.
Since I'm a lover of pretty much all things pumpkin, I have always wondered about Pumpkin Butter, but have never tried it. Until now. I have a new love. Slow cooker pumpkin butter.
Pumpkin butter is naturally gluten free, of course. Naturally gluten-free foods (and recipes made from them) are my favorites and focusing on them first and foremost is the backbone of my
gfe
approach.
See my incredibly easy Pumpkin Butter recipe below and then read on to get a bonus pumpkin recipe in today's post in my Pumpkin Pie Plus … series.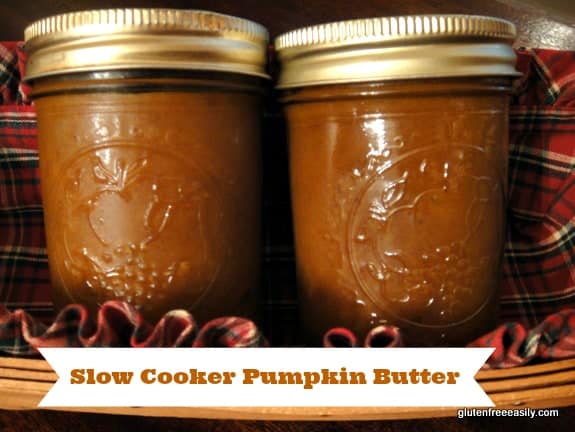 Refrigerated jars of this pumpkin butter make great fall or holiday gifts. (I'm giving a jar to one of my girlfriends today as part of her birthday present.) Giving jars of the refrigerated version as gifts means that you can happily recycle well-cleaned, appropriately sized jars.
A small jar for the newspaper lady (who always puts your newspaper in a bag when it's raining) or a large jar for Aunt Harriet (who always gets you confused with your sister), or vice versa—you decide. Remember to include instructions on the label or gift tag indicating that the pumpkin butter must be refrigerated right away.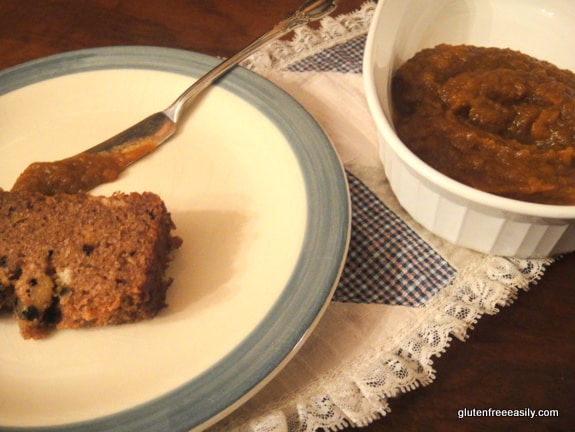 For this recipe, I used my 4-qt crockpot and it was about half full. A bigger crockpot could not be used for this recipe as written—i.e., the same ingredient measurements; the recipe amounts would have to be doubled or tripled.
Doubling or tripling the recipe would allow you to use a larger slow cooker if that's the only size you have, plus it would allow you to make enough for several gifts. Also, a bonus of using my large slow cooker is that it has both an automatic shutoff and warm mode whereas my smaller slow cookers do not offer that feature.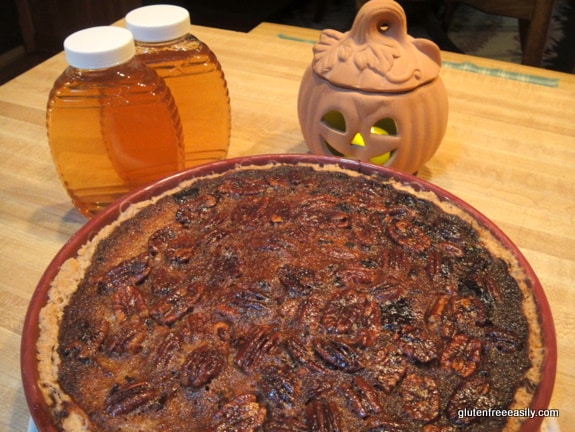 You Say Pumpkin, I Say Cushaw …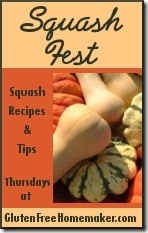 What's that you say? Am I dissing you? No, not at all! Cushaw is a squash, not a put-down expression.
To be clear, cushaw is my absolute favorite squash. In fact, most of the time when a recipe calls for pumpkin puree, I actually use cushaw squash puree. I talked about cushaw when I guest posted for Squash Fest over at Gluten-Free Homemaker's site. I actually use cushaw most of the time when I make my Pumpkin Pecan Pie.
This pie is Mr. GFE's new favorite. He says it's tied for #1 pie with my Crustless Coconut Pie. But, the Crustless Coconut Pie has been tops for many years now, so this high ranking from a newcomer is huge!
I have to agree with him though. This pie is excellent. It has the delightful pecan factor (without the super syrupy sweetness that many find unappealing in a classic pecan pie) and the cushaw (or pumpkin) goodness that we all love. (We loved it with or without the Honey Cinnamon Whipped Cream that was doing double duty for smoothies and pies this week.)
I think you'll be impressed by this pie. And not just by the filling. Moi, the queen of flourless and crustless, actually made a crust for this pie.
Okay, I confess it's my Never-Fail No-Roll Press-In Pie Crust, the kind you mix in the pie plate and then press down with your fingers. Yes. Seriously.
You didn't think I was going to do a bunch of work chilling dough and using my rolling pin, did you? (You know me better than that, right?) Now go check out my Pumpkin Pecan Pie.
Slow Cooker Pumpkin Butter Recipe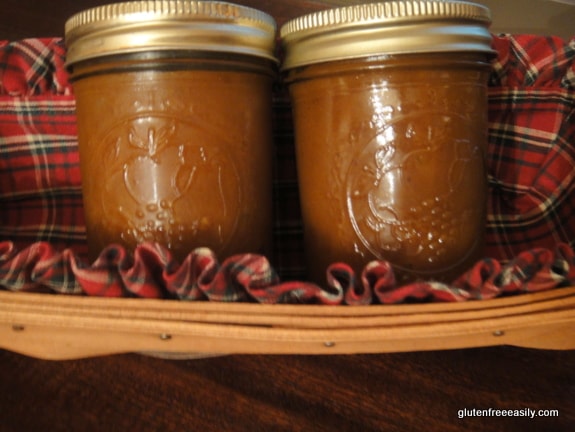 Yield:
Slow Cooker Pumpkin Butter (Naturally Gluten Free)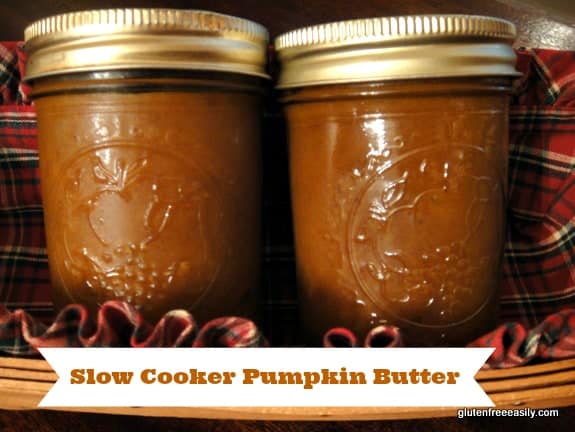 Pumpkin butter is one of those delightful concoctions that comes in a Mason jar and is often purchased at roadside stands and craft fairs. Guess what? You can easily make it yourself in your slow cooker. This slow cooker pumpkin butter is actually kind of magical in its velvety smooth goodness. Plus, it's naturally gluten free.
Ingredients
Two 15-ounce cans pumpkin or scant 4 cups fresh pumpkin puree
1 tsp cinnamon
½ tsp ground cloves
½ tsp ground ginger
½ tsp allspice
½ tsp nutmeg
1 cup honey (I used raw honey from our bees; see notes for alternative sweeteners--such as maple syrup--and their measurements for vegan options)
Pinch of sea salt
Instructions
Mix ingredients together well in a large bowl and transfer to slow cooker.
Cook on low for 6 hours or longer. If some liquid remains at the end of the cooking time, remove lid of slow cooker and continue cooking for another 30 minutes to an hour, so that the excess liquid can evaporate.
Let cool and store in refrigerator.
Notes
If you're prefer to make on the stove top: Mix ingredients together well in a heavy pot and cook over low heat, stirring constantly. Cook until thick (i.e., the consistency of any fruit butter, like apple butter). Let cool and store in refrigerator.
I'm sure two teaspoons of pumpkin pie spice could be used in place of this recipe in place of the individual spices if necessary.
Honey should never be given to children under 1.
Either maple syrup or agave nectar can be used instead of honey, but both are thinner than honey. Therefore, I recommend using 3/4 cup of maple syrup and about 7/8 cup of agave nectar (no 7/8 cup measure is needed; just use a one-cup measure and use fill it slightly less than full).
I cooked my pumpkin butter for 6 hours in the slow cooker and then an additional 2 hours just because I wanted it super thick. I left the lid off for the last half hour of cooking so extra liquid could evaporate. (I've read that as long as you are cooking on low in a slow cooker that's working properly, you almost can't overcook pumpkin butter.)
Note that canning pumpkin butter (or any mashed/pureed winter squash) is not considered safe.
Because the raw honey acts as a natural preservative, this pumpkin butter will keep for up to 6 months in the refrigerator. Let me know if yours lasts long enough to test that out. I know ours won't.
I plan to use mine on bread, like the Classic Pumpkin Bread from yesterday's post, as well as for savory dishes. Need to jazz up a chicken breast? No problem. Spread some pumpkin butter on it the last few minutes of cooking or right out of the oven or off the grill. How about a pork tenderloin made with pumpkin butter? That might make me push my Pork Tenderloin with Maple Glaze to the side, or perhaps I can just substitute pumpkin butter every time maple syrup is called for in the recipe. Now that's an idea!
Adapted from recipe from celiac listserv; author unknown
Recapping This Week's Pumpkin Pie Plus Series:
Monday~ Pumpkin Pie Smoothie with Honey Cinnamon Whipped Cream
Tuesday~ Making Pumpkin Puree and Some Well-Tested Recipes
Wednesday~ Classic Pumpkin Bread
Today~ Pumpkin Butter Plus Pumpkin Pecan Pie
Originally published October 28, 2010; updated September 28, 2021.