For affiliate links and as an Amazon Associate I earn from qualifying purchases.
I've never been shy about professing my love of all things pumpkin, so with Halloween here today and Son all grown up (mostly!), I'll recap my gfe pumpkin recipes and share a new one with you. Gluten-free Pumpkin Pecan Pie.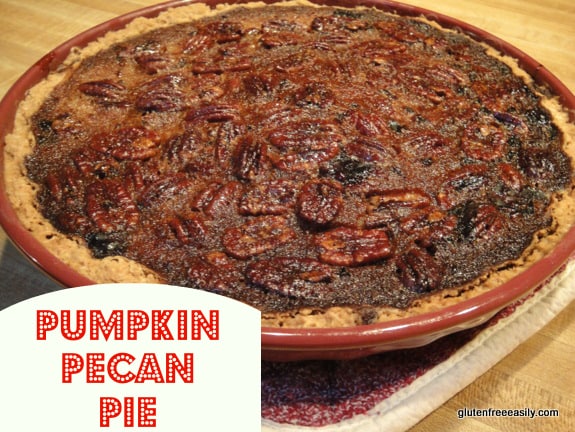 All in all, I'm sharing thirteen pumpkin recipes. Ooh, unlucky thirteen—scary! (I love black cats, too.) Then I'll share some of the best gluten-free treat recipes around right now from my other gluten-free blogger buddies.
Use these recipes for last-minute creations or make them in the next week or so before things really get scary with the approaching holidays. (You know the ones. If you are already doing a countdown, please do NOT tell me about it. We have Halloween and Thanksgiving to enjoy first.) Happy Halloween, all!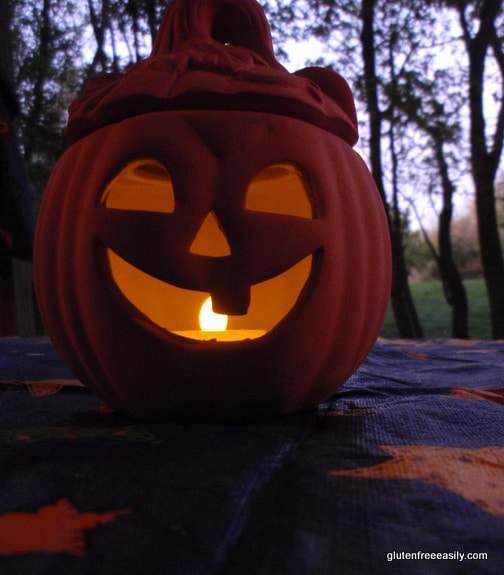 ~ My Original Crustless Pumpkin Pie ~ This recipe was my first foray into crustless pies. I've never looked back! Readers have successfully made all sort of variations, even egg free! (Read the comments on the post.)
~ My Best Ever Crustless Pumpkin Pie ~ Sometimes when you adapt recipes to be dairy free as well as gluten free, they turn out even better than the original! This recipe actually came from a gfe reader, Raye Ann, and I will be forever grateful.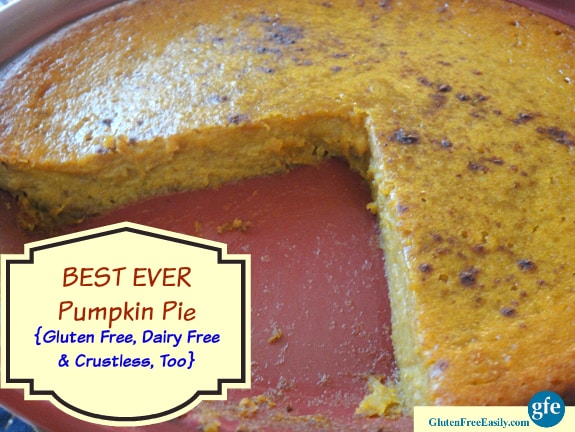 ~ Pumpkin Pie Smoothie with Honey Cinnamon Whipped Cream ~ This smoothie was created for those times when you want the taste of pumpkin pie, but you're "afraid" to make a pumpkin pie. You know what I'm talking about. You have no guests in sight and you're afraid to be alone with a silky pumpkin pie. The obvious solution to your dilemma is this smoothie.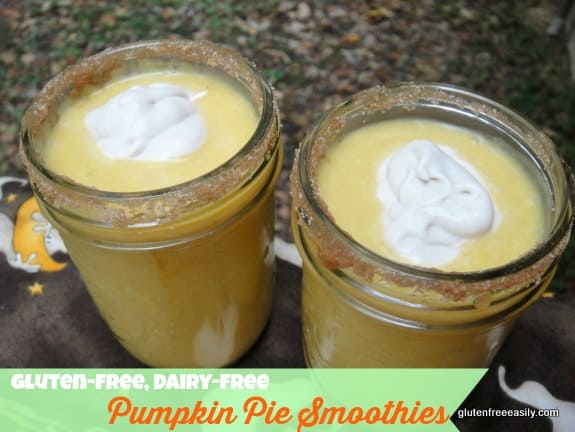 ~ Pumpkin Butter Pecan Chocolate Chips Bars ~ These bars work for all type of lifestyles (e.g., gluten free, dairy free, refined sugar free, paleo, primal, vegan) and they are so darned good. Warning: One bar may lead to another. (Hmmm … that sounds like the title of a country music song.)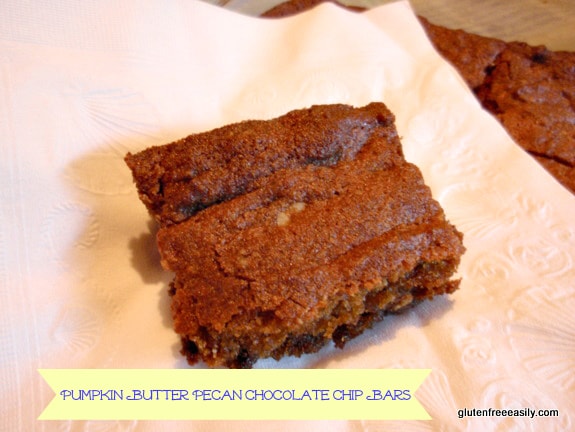 ~ Easy Pumpkin Squares ~ The quintessential solution for "I need something for an event in an hour; what can I make quickly that's really good?" All that's needed is a half cup of pumpkin puree and other basic ingredients you'd have on hand. Delicious stress relief.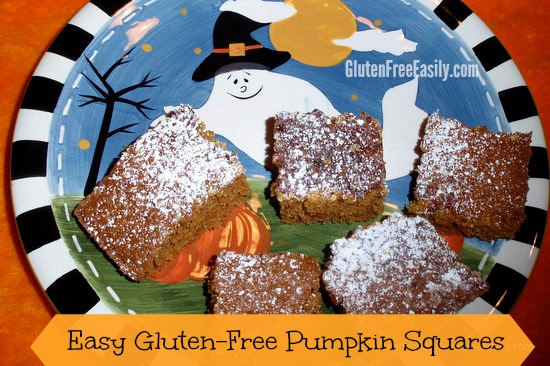 ~ Pumpkin Butter~ Life should not be about regrets, but please tell me why I spent over five decades of my life not knowing how easy it is to make pumpkin butter and how fabulous it tastes. Sigh. So much lost time. Don't let this happen to you!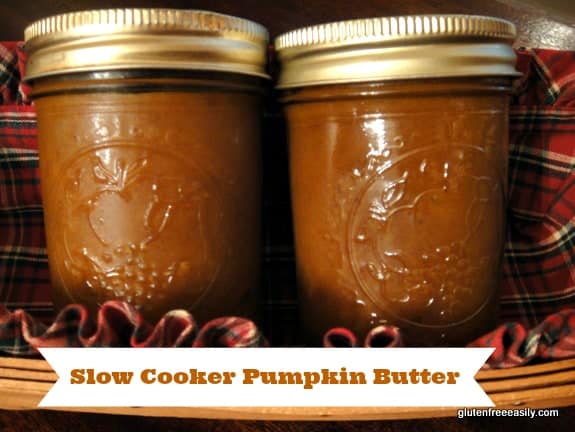 ~ Classic Pumpkin Bread~ What can you do with the pumpkin butter? You could spread it on pumpkin bread!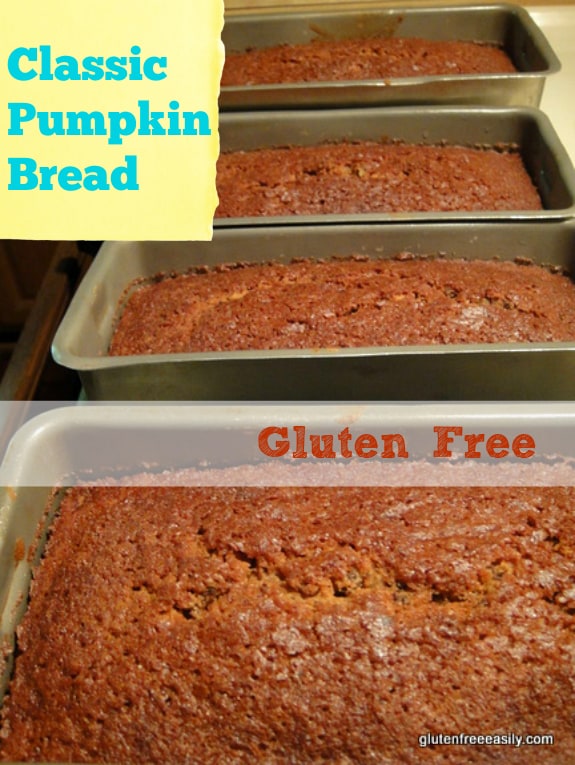 ~ Pumpkin Butter Salsa Chicken ~ Or you could mix pumpkin butter with salsa and spread it on chicken. Yep, that pumpkin butter works for savory, too. I told you. It's versatile stuff! Plus this post has a little discussion on the power of cooking/food from one of my favorites, Michael Ruhlman. If you really want to know how to take your cooking skills to a new level, you'll want to get his new book, Twenty.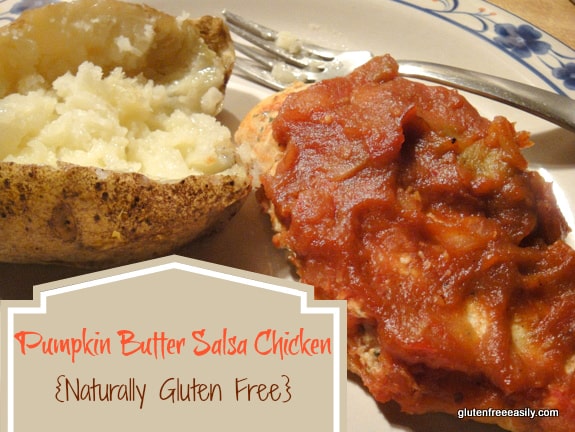 ~ Velvety Coffee-Free Pumpkin Spice "Latte" ~ I've enjoyed a mug of this gluten-free, dairy-free latte several times now and it never disappoints. I love it made with almond milk. Heather (Gluten-Free Cat) made it with So Delicious coconut milk and turned it into Iced Latte. See details in her comment.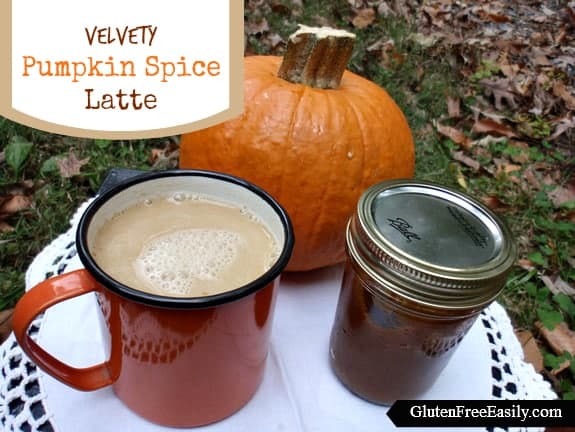 ~ Veronica's Pumpkin Soup ~ Yes, another savory and sweet way to use pumpkin. I'm so grateful to my friend Veronica for sharing this recipe!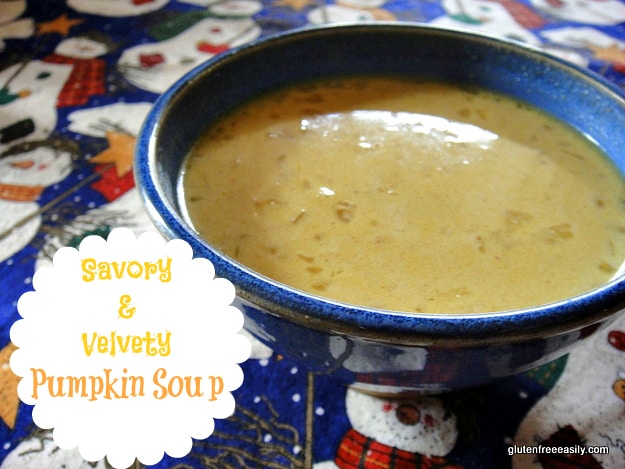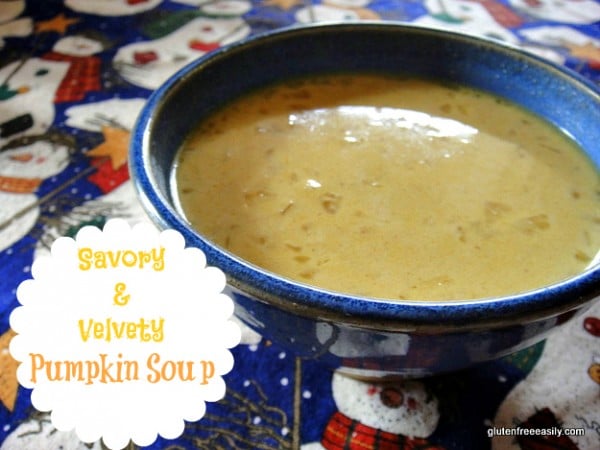 ~ Pumpkin Corn Muffins ~ When you really like the idea of corn bread, but want something a little different, pumpkin adds just the right flavor to these corn muffins. Why yes, they would go well with Veronica's soup.!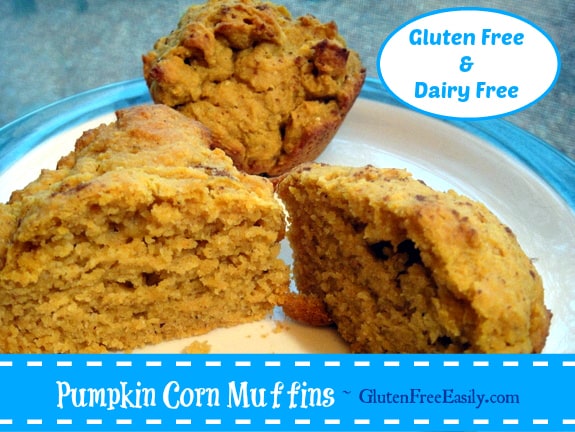 ~ "Bran" New Muffins ~ The inclusion of pumpkin and cornmeal in this muffin recipe creates a "bran" taste that's delightful. Perfect for breakfast, a snack, or as a side bread for lunch or dinner.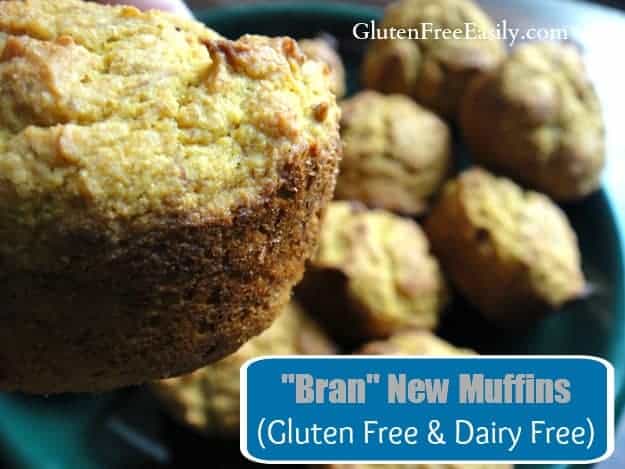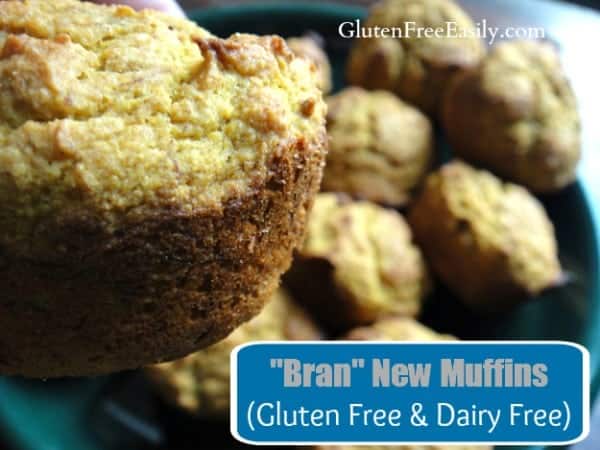 Pumpkin Pecan Pie ~ Today's featured recipe was originally shared as a guest post for Linda's amazing "all things squash" Squash Fest. For that event, I made this gluten-free Pumpkin Pecan Pie recipe using cushaw squash, which is sometimes called cushaw pumpkin.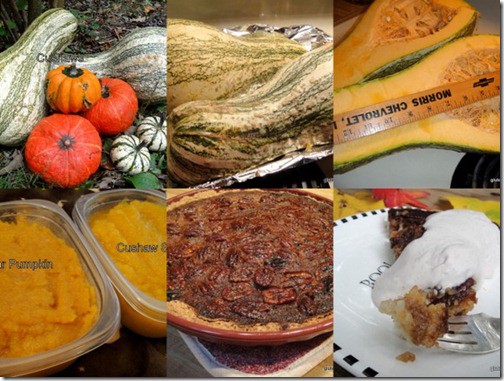 Cushaw is a wonderful squash! A squash which I use interchangeably with pumpkin in recipes.
I love cushaw for several reasons. First and foremost, I love this squash because you get so much puree from one squash and with minimal work. They're large and seem to have a higher "meat" to seed ratio than pie pumpkins.
Second, cushaw squash "meat" and puree is described as moist but not wet. That sounds like an odd description but some folks don't care for pumpkin because it is so moist.
In fact, individuals have told me they love my cushaw pies, breads, and more. And I think the slightly drier texture is the primary reason. Not everybody likes moist baked goods. Well, not "too moist" baked goods anyway. Some folks don't even like the word "moist." No kidding.
In fact, when I've mentioned that many who like my original Crustless Pumpkin Pie or my Best Gluten-Free Pumpkin Pie Ever recipe are individuals who've never liked pumpkin pie before but they like these pies. When queried, they've said that the previous pumpkin pies they'd eaten were "too wet."
Both of my crustless pumpkin pies are crustless thanks to a small amount of gluten-free flour added to the filling. It's just enough flour to make the pie "stand" on its own and it also removes that wetness factor that some folks really don't like.
I've shared two main photos of this gluten-free Pumpkin Pecan Pie because in one you can barely see the pie itself for the whipped cream and in the other one, the pie is a little OC (overcooked). Photos aside, this is one terrific pie!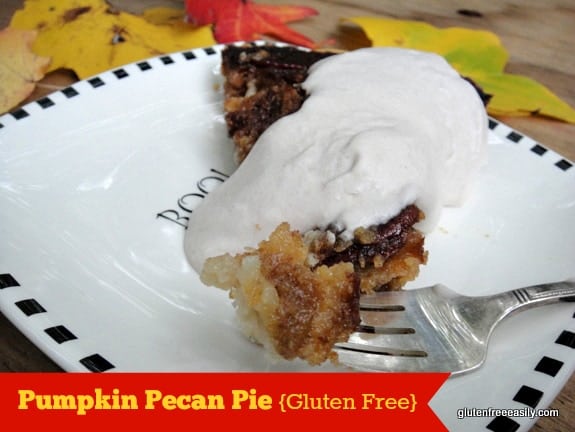 Gluten-Free Pumpkin Pecan Pie Recipe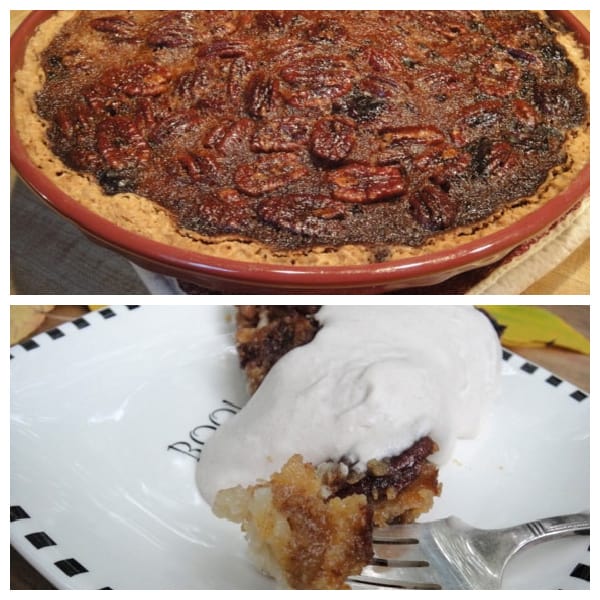 Yield:
Gluten-Free Pumpkin Pecan Pie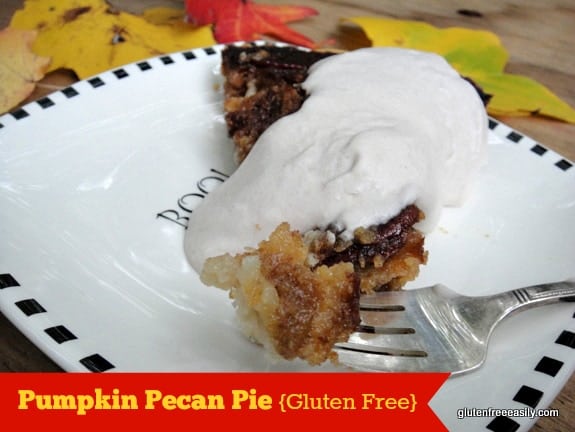 Two beloved classics---Pumpkin Pie and Pecan Pie---come together in this gluten-free Pumpkin Pecan Pie recipe. So it's no surprise that many will claim this one as their new favorite pie!

Prep Time 10 minutes

Cook Time 45 minutes

Inactive Time 10 minutes

Total Time 10 minutes
Ingredients
3 eggs, divided (not separated; see instructions)
1 cup pumpkin puree (or other squash puree, like cushaw)
1/3 cup granulated sugar
1 tsp pumpkin pie spice
2/3 cup honey
1/2 cup granulated sugar
3 tbsp melted butter (dairy or non-dairy)
1 cup pecan halves or chopped pecans (see notes)
Instructions
Slightly beat one egg. In a medium-sized bowl, mix egg, pumpkin puree, 1/3 cup granulated sugar, and pumpkin pie spice well. Pour into unbaked gluten-free pie crust.
Beat remaining two eggs. In same medium-sized bowl which you just emptied, add eggs, honey, ½ cup granulated sugar, butter, and vanilla. Mix well. Stir in pecans. Spoon over pumpkin (or squash) mixture.
Bake at 350 degrees for about 45 to 50 minutes or until filling is set. Cool. Top with Honey Cinnamon Whipped Cream, if desired.
Notes
While I love crustless when it comes to pies, for this recipe I used my original Never Fail No-Roll Press-In Pie Crust (or the newer version). Pumpkin puree, canned pumpkin, or puree from any similar squash can be used in this recipe. If you would like to make this recipe sugar free, coconut or palm sugar may be substituted for the granulated sugar, but you may want to reduce the amount slightly as coconut/palm sugar sometimes offers a richer taste.

Pumpkin puree, canned pumpkin, or puree from any similar squash can be used in this recipe.

If you would like to make this recipe sugar free, coconut or palm sugar may be substituted for the granulated sugar, but you may want to reduce the amount slightly as coconut/palm sugar sometimes offers a richer taste.

Using chopped pecans in this pie makes cutting pie slices easier and the pie presentation prettier, in my opinion.

Pie recipe adapted from a recipe on Thanksgiving card from our local food bank.

Originally published October 31, 2011; updated November 27, 2021.