For affiliate links and as an Amazon Associate I earn from qualifying purchases.
It took three tries to get this recipe right. I wanted a new entry for my ongoing Pumpkin Pie Plus … series. What I had in mind was pumpkin with chocolate in bar or brownie form, namely Pumpkin Butter Chocolate Brownies. But adding even a small amount of cocoa overpowered the pumpkin the first two times I tried and made for almost a bitter baked good. Solution? Make the bar more like a chocolate chip cookie so that the chocolate complements the pumpkin and other ingredients versus overwhelms them. The result? Pumpkin Butter Pecan Chocolate Chip Bars.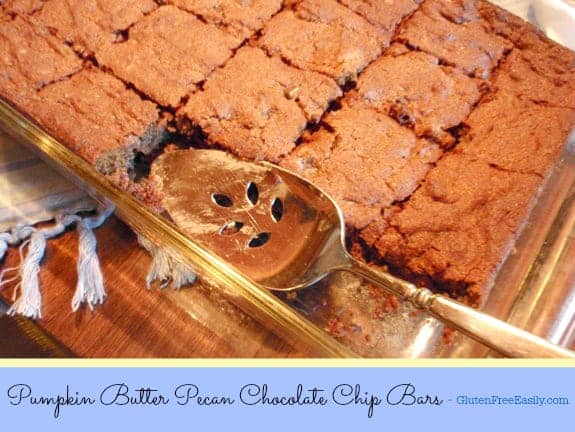 I started out with the idea to use Kelly's amazing Flourless Brownies using my pumpkin butter instead of the required nut and/or sun butter. But I ended up using a bar variation of my Brown Sugar Chocolate Chip Cookies as the basis for my recipe. Oh, and while I really wanted to use pumpkin butter totally in lieu of eggs, my mixtures were coming out far too wet and I just couldn't make an egg-free, vegan version happen in the allotted time.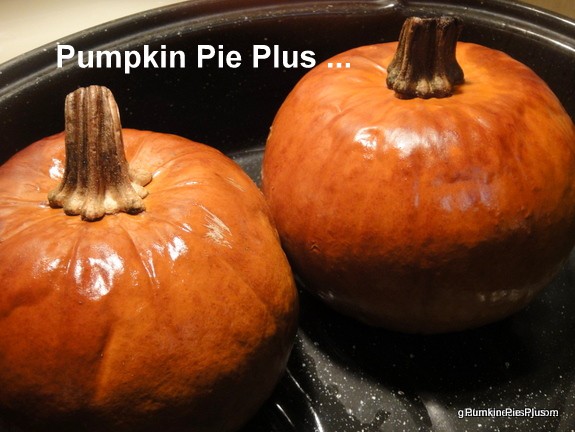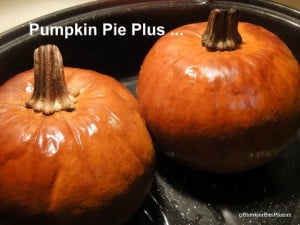 This last version—the successful one shown—came together when Mr. GFE and I arrived home from camping and I had 45 minutes to "create" before we were due at a cousins' crab feast. Under pressure, I went with what suddenly made sense and it worked. Everyone loved these bars and one cousin proclaimed "without a doubt, your best recipe ever!" I gratefully accepted that compliment. These bars have a great undertone of pumpkin with just enough spice, a lovely texture provided by the almond flour and chopped pecans, just the right amount of mouth feel from the coconut oil, and finally everything that those always beloved chocolate chips add to any recipe. So these bars are definitely winners! Despite photos taken "on the run," I hope you can still see how beautiful and scrumptious these bars are.
They are also the perfect entries for this month's Go Ahead Honey, It's Gluten Free! event with the theme of Spiced Desserts (hosted by Noosh of For the Love of  Food), Linda's Gluten-Free Wednesdays (monthly challenge: Create a Recipe Using Squash), and Kelly's Our Spunky Holiday. As these are gluten free, grain free, dairy free, and refined sugar free (when made without chocolate chips), these even would have been terrific for the Paleo Parents'  (now Real Everything) Healthy Halloween Recipe Roundup, but I missed the deadline. Boo, indeed! But that's no reason for you to miss out on the fun … you can see their great roundup here before you check out my Pumpkin Butter Pecan Chocolate Chip Bars.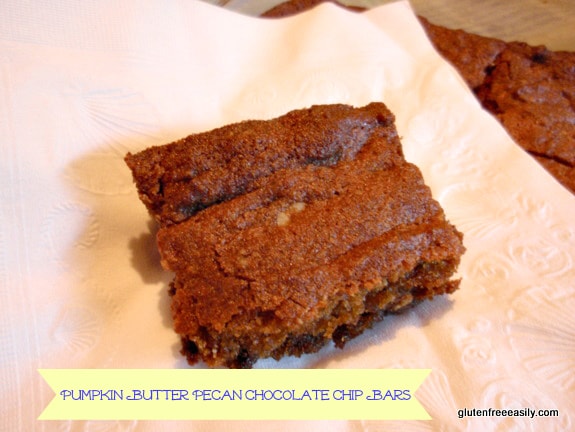 Pumpkin Butter Pecan Chocolate Chip Bars Recipe
Yield:
Pumpkin Butter Pecan Chocolate Chip Bars (Gluten Free, Grain Free, Dairy Free)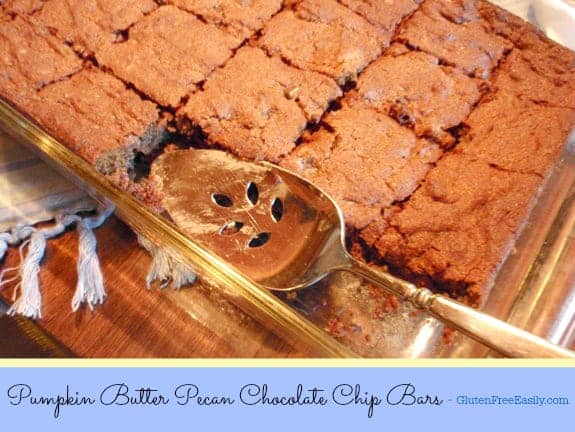 These bars are rich and delicious and on the healthier side because of the use of ingredients like almond flour, coconut oil, and pumpkin butter.
Ingredients
2/3 cup coconut sugar (or more, to taste; see notes)
½ cup coconut oil, liquefied (or more; see notes)
2 large eggs
2/3 cup pumpkin butter (made with pumpkin puree, cinnamon, cloves, ginger, allspice, nutmeg, sea salt, and honey; see recipe here)
1 tsp vanilla extract
2 cups almond flour (I use Honeyville Blanched Almond Flour)
1 tsp baking soda
¾ tsp sea salt
2/3 cup pecans, chopped
2/3 cup chocolate chips (see notes for dairy free, grain free, and refined sugar free)
Instructions
Preheat oven to 375 degrees.
Add coconut sugar to large bowl. Stir in coconut oil.
Stir in eggs, pumpkin butter, and vanilla extract. Mix well.
Add almond flour, baking soda, salt, pecans, and chocolate chips, mixing until you have an even batter.
Using spatula, spread mixture into lightly greased 9 x 13 baking pan.
Bake for about 20 minutes or so. Check for doneness using a toothpick.
Cool in pan at least 15 minutes before cutting.
Notes
Ghirardelli Semi-Sweet Chocolate Chips are dairy free by ingredients but be advised that the label now states that they are made on the same equipment as milk products. Enjoy Life Mini Chocolate Chips and Mega Chunks are dairy free and made with evaporated cane juice. Enjoy Life's Dark Chocolate Morsels are my new favorite. They only contain two ingredients--unsweetened chocolate and cane sugar. Enjoy Life products are also grain free. If you like wet and moist bars, you may want to use more coconut oil. Add one tablespoon of coconut oil more at a time until you get a really spreadable batter. Omit chocolate chips or use cacao nibs for a completely sugar free option. I lowered the sugar a tad for this recipe; if you like sweet, you may wish to increase the amount, but with the already sweetened pumpkin butter, the chocolate chips, and the natural sweetness of coconut sugar and pecans, we found this amount to be about right.