For affiliate links and as an Amazon Associate I earn from qualifying purchases.
Velvety Pumpkin Spice Latte. Wait, make that Velvety Pumpkin Spice "Latte." Note that the "Latte" is in quotation marks.
That's because this is a non-coffee version of the ever popular, seasonal Pumpkin Spice Latte. That means it's enjoyable for even the non-coffee drinkers, who these days are mostly just young children … and me.
We don't have to miss out on the fun any longer though. And we've never been sad not to part with our lunch money for a cup of latte at Starbucks. Of course, you can keep the kiddos' version coffee free and add a little coffee to yours if you like!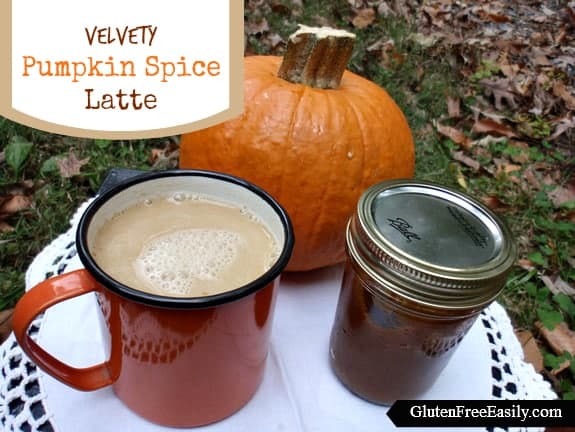 There's also the whole issue of whether Starbucks Pumpkin Spice Latte is gluten free or not. They no longer list it as a gluten-free menu item and many folks report issues.
I'm mentioning this because not only is the Starbucks Pumpkin Spice Latte discussion germane to today's post, but almost every day I read about folks continuing to have digestive issues and other symptoms that could be related to gluten exposure. However, most fail to see a connection.
I often hear that folks are completely gluten free, but when you quiz a bit more you find there may be some gluten culprits that they are failing to acknowledge.
Some of us have immediate symptoms that we can tie to what we just consumed—like a pumpkin spice latte that may be unsafe on its own or cross contaminated (e.g., one of the folks who commented on Kim's post said that if she stays away from the sprinkles and whip, her pumpkin spice latte is "safe" for her). Others of us do not have immediate symptoms and may not connect a few days of digestive or other symptoms to the Pumpkin Spice Latte that we treated ourselves to a few days earlier or perhaps even every day of the fall season.
Dr. Cynthia Rudert practices internal medicine and gastroenterology in Atlanta and is considered one of the top speakers on celiac disease and gluten intolerance. She spoke at the Gluten Intolerance Group (GIG) conference this past summer in Orlando. While I did not attend that conference, I was privy to a summary of her presentation and I've heard Dr. Rudert speak before.
In this last presentation, she repeated a finding that I have heard her share many times over the years.
"Continued symptoms mean accidental gluten ingestion over 50% of the time."
Take a moment to think about that fact and the percentage. One out of two people who have continued symptoms are still getting gluten. That's huge!
If you're "the one" in that statistic, maybe it's from one of your favorite daily "treats" out. Maybe it's from cross contamination in your own home (if there's gluten in your house, read Alta's tips on staying safe). Maybe it's from airborne gluten (read thoughts on this topic from Heidi).
Before you accept statements from other sources that such information is fear mongering, read these articles. The likelihood of gluten causing your continued symptoms is certainly worth investigating, don't you think?
Finally, don't misunderstand me on this particular topic … there are other reasons that folks continue to have digestive and other symptoms after going gluten free, and Dr. Rudert addressed those in her GIG presentation as well.
Her list and comments included:
"bacterial overgrowth (extremely common, usually not suspected, no diagnostic testing necessary, easy to treat with probiotics such as Lactobacillus GG and yogurt with live cultures);
lactose intolerance (deficiency of the enzyme lactase, lactose is present in many foods, spreads and medications, no diagnostic testing necessary, treatment with the enzyme lactase such as Lactaid caplets (Shirley's interjection here: or simply eliminating dairy);
fructose intolerance;
infections (giardia, B. Hominis, bacterial, and viral);
antibiotic-associated conditions (C. difficile; for which stool testing is available);
lymphocytic colitis; and
But it makes sense to be sure that one is absolutely NOT getting gluten in some form first before looking at other causes.
So let's get to a hot beverage that you can make yourself and be 100% certain that it's gluten free. I love hot drinks. On a daily basis, I'm a tea drinker (ensure that your tea is gluten free, too), but holding and sipping from a mug of hot cocoa in the early morning when camping or at home when chilly weather hits is one of my very favorite simple pleasures.
Quirky perhaps, but I like saying hot cocoa more than I do hot chocolate. I think it's just sounds so much more comforting and fun. Ironically today is National Chocolate Day and moi, who loves all things chocolate, is sharing a pumpkin recipe, but I do adore pumpkin, too.
Clearly, I'm digressing here, but all of this is important stuff, right? Just nod your head. Thanks.
The truth is that I've been wanting Pumpkin Spice Latte for a while now. It always sounds and smells fabulous when my friends order it out. But there's that darned coffee factor. I just don't like coffee in its liquid form. In cookies? … yes. In ice cream? … yes. But no coffee in liquid form for me, please.
Sure, I drank coffee made from those powdered International Coffees back in the day, but those don't really count, do they?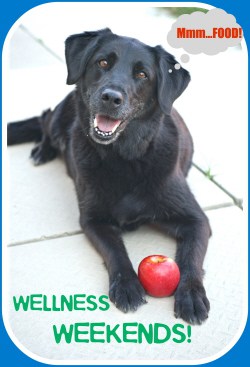 I made this Pumpkin Spice Latte shortly before leaving for work. I sipped on some and mmm'd my approval to myself and Sonny, our dog. Then I set it aside to do a few additional morning chores and shower. Honestly, I enjoyed my shower even more knowing that this Pumpkin Spice Latte was waiting for me.
In fact, I took my mug into the bathroom. A hot shower followed by still hot enough Pumpkin Spice Latte? That's a little bit of fall-flavored heaven, let me tell you!
This latte is so easy to make that you can hardly call it a recipe, but there is a catch. You do have to have pumpkin butter, and I highly recommend my pumpkin butter (made in the slow cooker; letting it cook overnight works great!) or another healthy, refined sugar-free version.
But trust me, it's worth making a pot of pumpkin butter to be able to enjoy some Pumpkin Spice Latte for days on end (and it has many other great uses, too).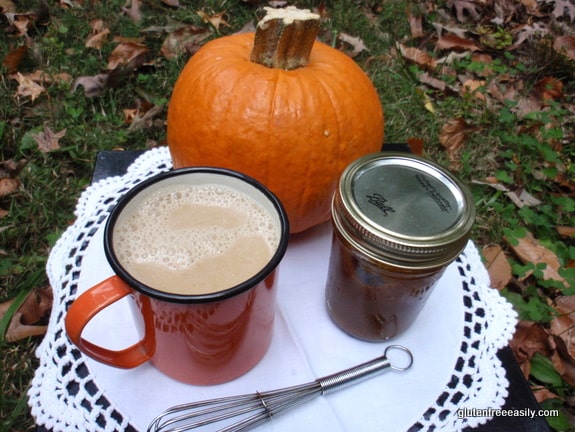 More Seasonal Hot Beverages That Work for the Non-Coffee Drinkers Among Us:
~ Stephanie's Slow Cooker Witch's Brew—"Green slimy, sweet and sour, with a sprinkle of "tiny spiders."
~Stephanie's Wassail—I shared my review of this hot beverage here. Do NOT wait for the holidays to enjoy this warming, flavor-filled apple cider-based beverage.
~ Real Everything's Kid-Friendly Pumpkin Cider Latte—Even created by a kid. Mostly. You can even see his handwritten recipe. The beginning of gluten-free, dairy-free, paleo recipe creation genius!
~ Valerie's (City | Life | Eats) Spicy Hot Chocolate—This recipe uses both almond milk and coconut milk and while I'm a wimp when it comes to anything spicy, I loved this recipe! (You can totally omit the chipotle if no spiciness is desired.)
~ Deanna's Hot Cider Smoothie—This recipe was one of the entries for the D-Tox January event hosted by Nicola (G-Free Mom) earlier this year. Most of us were making cold smoothies and juices as our submissions, but for Deanna who lives in Wisconsin, a cold beverage did not seem like a reasonable option! Her recipe is super simple and delicious.
Enjoy your warming beverages. It could even snow here tomorrow and I haven't even had a fire in the wood stove yet. Surprise! Okay … it's unlikely to snow
here
, but only 45 minutes away and further west at our mountain property, it's very likely to snow. No end-of-season camping for us this year.
Mr. GFE is supposed to be in a sailboat race here tomorrow. Hmmm. Wonder if that's going to happen? I better have some hot Velvety Pumpkin Spice Latte waiting for him when he returns! (He's not a coffee drinker either.)
Velvety Pumpkin Spice Latte Recipe
Yield: 1 serving
Velvety Pumpkin Spice "Latte"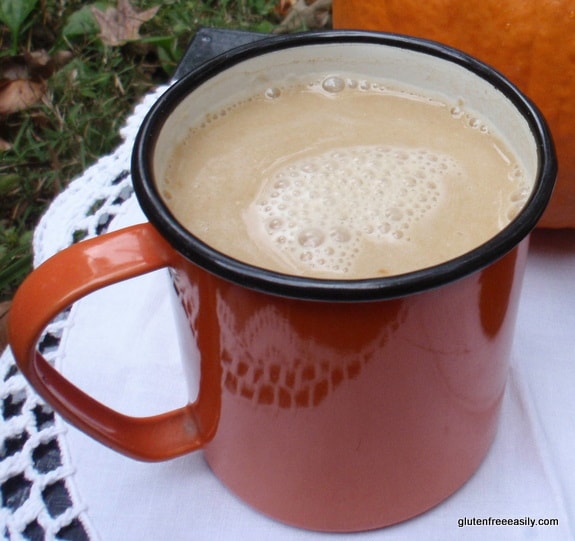 This latte recipe is so simple but yet so velvety wonderful! Adding coffee is optional so this recipe works for adults or kids.

Prep Time 1 minute

Cook Time 5 minutes

Total Time 5 minutes
Ingredients
About 1 ½ cups of unsweetened almond milk (or any milk of your choice; see notes)
About 3 tbsp pumpkin butter (I used this gfe recipe, but ready-made pumpkin butter can be used)
Instructions
Stovetop method:
Add milk to saucepan. Heat over medium to medium-high heat. Slowly stir in pumpkin butter. (I use my mini whisk, which is great for mixing single servings of beverages.) You want the latte mixture to steam, but not boil, so be vigilant. Fill mug. Enjoy!
Microwave method:
Fill mug to almost full; leave about ¾ to 1 inch at the top. Whisk or stir in pumpkin butter. Microwave on HIGH for about 2 ½ minutes, hitting PAUSE to stir about halfway through. Enjoy!
Notes
Of course, you can keep the kiddos' version coffee free and add a little coffee to yours if you like!

I love this non-coffee pumpkin spice "latte" made with almond milk. The texture is perfection---velvety smooth. It actually looks like pumpkin pie "batter," too. If you drink Vanilla Almond Milk, you may not need as much pumpkin butter, but your Vanilla Pumpkin Spice Latte will no doubt be equally delicious. version

If you want to substitute full-fat coconut milk, you may want to use a mixture of full-fat coconut milk and water. If you have a mug that holds 1 1/2 cups, I recommend using about 1 1/4 cups of full-fat coconut milk and 1/4 cup of water.

Cashew milk is another great option. And if you consume cow dairy, then regular milk would be fine, but I would use regular milk or 2% milk.

You may top your latte with some of my gluten-free, dairy-free Honey Whipped Cream (agave nectar may be used instead of honey) or Diane's "original" gluten-free, dairy-free, vegan Whipped Cream for a truly decadent delight.

Originally published October 28, 2011; updated September 15, 2022.