For affiliate links and as an Amazon Associate I earn from qualifying purchases.
Previously I've confessed that I don't drink coffee, so you're probably already wondering why I'd share a recipe for grain-free Almond Coffee Chocolate Chip Cookies on Day Two of this year's Suite of Sweets for Sweethearts (SSS) event. Well, if you've paid close attention to what I've said about coffee, you'd know that I don't like drinking coffee, but I love the smell of coffee and enjoy the flavor of brewed coffee in ice cream and other recipes. However, today's recipe doesn't get its coffee flavor from brewed coffee. These cookies include actual coffee in the batter. Unbrewed coffee.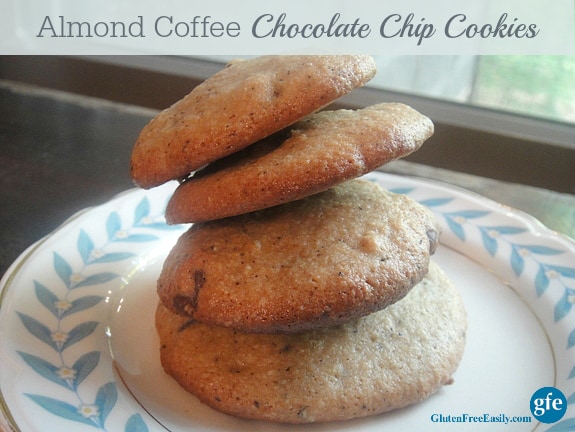 And while I enjoy a coffee factor in certain, special cases, Mr. GFE won't even touch coffee ice cream. When folks offer him coffee in any form, he almost always sticks his tongue out and says things like "Blech!", "Never touch the stuff!", and "Coffee stunts your growth." He swears that the latter were words of wisdom/caution that came straight from his parents—both of whom were dedicated coffee drinkers, I might add.
Hmmm, even I can't figure that one out! But all that said, Mr. GFE loves these cookies and so do I. My parents (one a coffee drinker, one not) are also enthusiastic fans of these grain-free Almond Coffee Chocolate Chip Cookies.
Although I don't make these cookies often (there are so many great recipes to try and a girl only has so much time or eating capacity!), when I do make them, I am surprisingly smitten once again! The flavor of these cookies only improves as time passes, and they stay moist and lightly chewy. The funny thing about these cookies is that although I use decaffeinated coffee, I still feel like I get a little "buzz" from these cookies. Yes, I did eat two before I left the house this morning … and brought two more with me for an afternoon snack—thank you very much.
Long ago, I had mentioned adapting Winnie Abramson's Coffee Almond Cookies recipe and thought that now, during my SSS event, would be a great time to share my adaptation … I hope you'll agree!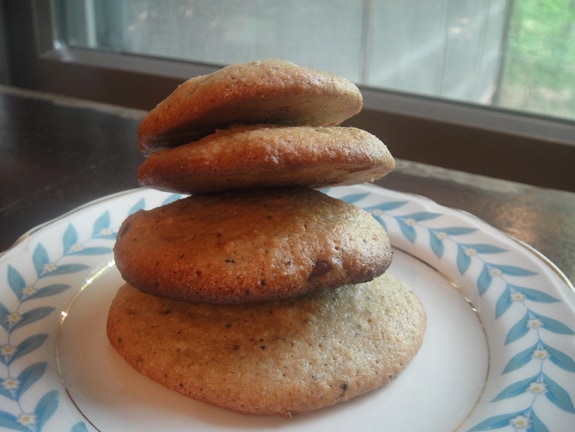 Grain-Free Almond Coffee Chocolate Chip Cookies Recipe
Yield: Makes 2 - 3 dozen cookies
Grain-Free Almond Coffee Chocolate Chip Cookies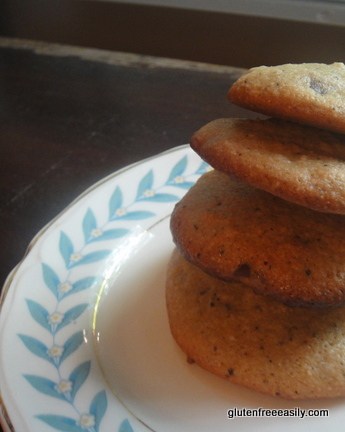 This delightful gluten-free, grain-free cookie recipe adds "raw" coffee to chocolate chip cookies. You'll see how brilliant that idea is as soon as you eat one! 
Ingredients
2 ½ cups blanched almond flour
1 tbsp freeze-dried regular or decaf coffee (I emptied the coffee from one Folgers decaf coffee single bag; no judgment please)
½ cup granulated sugar (see notes for refined sugar-free option)
½ cup dark brown sugar (see notes for refined sugar-free option)
½ tsp sea salt
4 large eggs (or 3 jumbo eggs)
1 ½ tsp vanilla extract
½ tsp ground cinnamon
½ cup chocolate chips (gluten free and dairy free, like Enjoy Life dark chocolate morsels], [minis], or [mega chunks)
Instructions
Preheat oven to 325F degrees. Line two baking sheets with parchment paper.
In large bowl, add eggs and slightly beat using a wooden spoon.
Stir in vanilla extract, coffee, and cinnamon.
Add almond flour, sugar, and salt. Mix with a wooden spoon.
Add chocolate chips; stir until incorporated.
Drop batter by rounded tablespoonfuls onto prepared baking sheets. Use a spoon to spread the batter out slightly into circles as cookies will not spread much during baking.
Bake for about 10 to 15 minutes until golden brown. Leave on baking sheets for 5 to 10 minutes. Remove to cool.
Notes
Coconut sugar or palm sugar may be substituted for both types of sugar—that's one cup total in place of both the granulated and brown sugar. That amount could be adjusted downwards a bit, too, for folks who are used to less sweetener in their baked goods.
This recipe was adapted from Healthy Green Kitchen.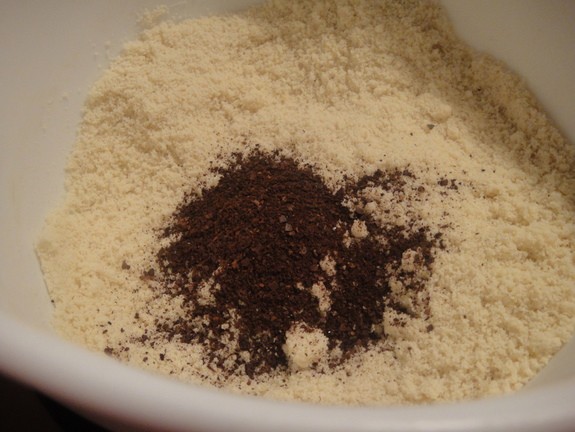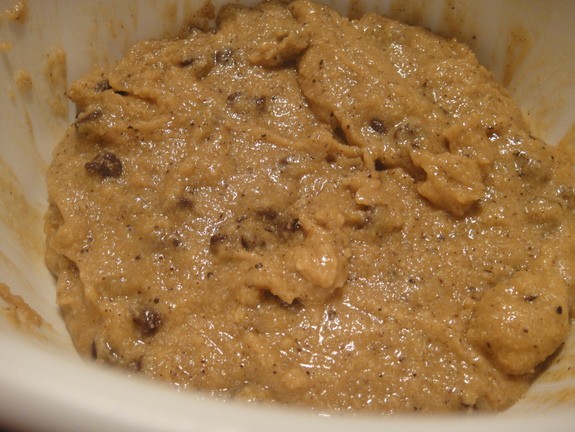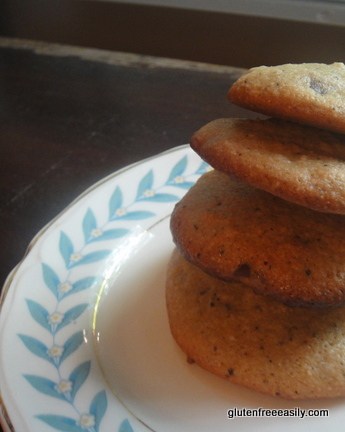 Other Gluten-Free Chocolate Chip Cookie Recipes I Love
~ Gluten-Free Banana Chocolate Chip Cookies
~ Gluten-Free Brown Sugar Chocolate Chip Cookies
~ Gluten-Free Cashew Butter Oatmeal Chocolate Chip Cookies
~ Grain-Free Bourbon Bacon Chocolate Chip Cookies
~ Paleo Chocolate Chip Cookies with Hemp Seeds
~ Paleo "Real Deal" Chocolate Chip Cookies
~ Paleo Chocolate Chip Coconut Cookies (with easy vegan option)
Not enough options? Check out The Best Gluten-Free Chocolate Chip Cookie Recipes … 35 of Them!
Originally published February 7, 2012; updated June 8, 2023.