For affiliate links and as an Amazon Associate I earn from qualifying purchases.
Today kicks off my annual Suite of Sweets for Sweethearts (SSS) event by sharing my Pomegranate Sherbet recipe. I'm excited!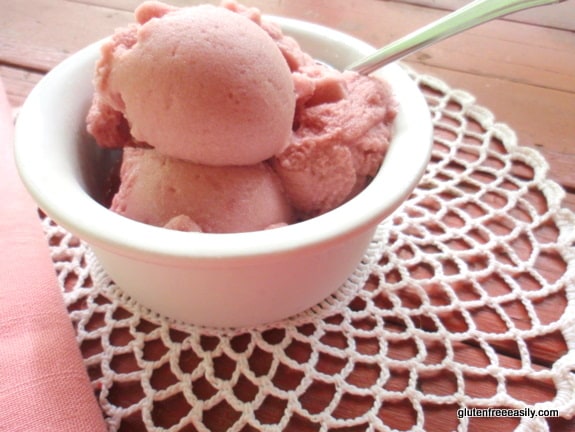 This event is exactly as it sounds. It's all about sweet treats for your sweethearts.
You supply the Sweethearts—your husband, wife, partner, son, daughter, friend … any and all of the folks you love so much—and I'll supply the Suite of Sweets for them.
I'll share at least five new sweets recipes this week … maybe more … all gluten free and some "more free" as I like to say. But I'll get to more on the SSS event in a minute, first I want to take care of some gfe housekeeping duties.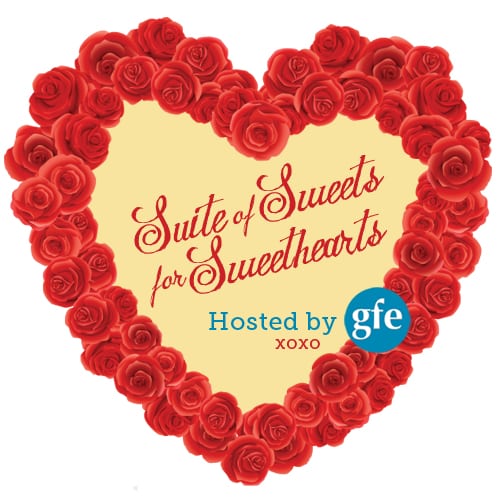 I had hoped to share some last minute Super Bowl ideas with you before the big event yesterday, but that obviously didn't happen. Blame it on another allergy/food issue. I'd been suffering from a pretty nasty headache for the better part of the last several days.
While headaches are a rarity for me since going gluten free and usually incited by accidental "glutening," this one was not. I finally figured out yesterday morning that the coconut water I had hurriedly picked up at the store the other day—a different brand with different ingredients—contained sulfites.
I've occasionally had problems with sulfites over the years and had managed to mostly stay clear of them until now. When my headache, which was somewhere in the middle between a "sinus headache" and a "migraine" and had eased overnight, quickly kicked into high gear after one glass of my morning smoothie, I finally connected the dots.
So if you have issues with sulfites and preservatives like I do, remember to always check out the ingredients in coconut water unless it's a brand that you know is 100% coconut water. Lesson learned, but the hard way.
You might have being wondering what's going on with The GFE Gluten-Free Virtual Support Group. When I last mentioned it, I said I'd be "back in a day or two" to tell you about that.
Well, sometimes when I say "in a day or two," in reality, it's similar to my husband saying "the other day." His "the other day" could have been weeks earlier. It's all relative.
As that old saying goes, time flies. The GFE Gluten-Free Virtual Support Group is still coming. The first one will be held on Tuesday, February 28, a week after my actual February support group meeting is held here. I will share more details closer to the date, but for planning purposes the food theme will be Foods You Love (or Love Making for Others). More to come …
To properly launch my annual SSS event, I'm sharing my pretty in pink, perfectly-suited-for-Valentine's-Day Pomegranate Sherbet recipe—POM Sherbet for short— today. While some folks think of ice cream and sherbet only during the summer months, we enjoy them year round.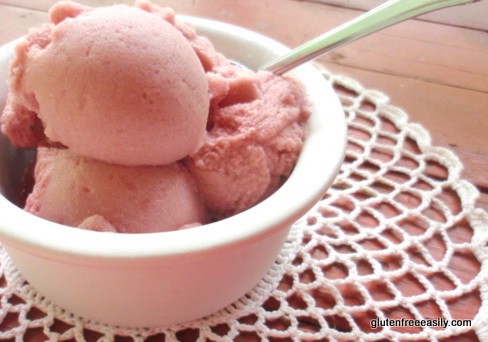 Simple sherbet has always been a light and refreshing party favorite for our family. Son even treasured it as a special indulgence with magical healing powers when he was feeling a bit puny.
I make all my ice cream recipes dairy free these days, which I think makes for lighter, more enjoyable ice cream, but dairy-free sherbets are even lighter and more refreshing. Of all my sherbet recipes, this POM Sherbet—that I created a few years ago—is the easiest and quickest from start to finish because there's no peeling or cutting of fruit involved, just a combining of liquids and then churning in one's ice cream maker. (Note:  You can even make ice cream and sherbet without an ice cream maker using these instructions from David Lebovitz. I tried his method recently and it requires some time, but it works very well.)
The tart pomegranate flavor in this sherbet is wonderful and it's perfect to kick off my Suite of Sweets for Sweethearts event because of its gorgeous pink color. What a lovely and healthy way to indulge the sweet Valentines in your life! You do have more than one, right?
Here's your gfe recipe for refreshing, "pretty in pink" sherbet. I hope you'll be here every day this week for another Sweet for your Sweethearts!
Pomegranate Sherbet Recipe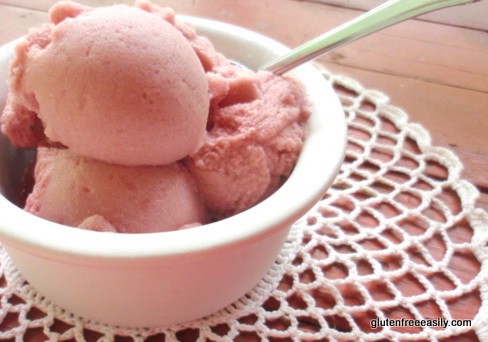 Yield:
Pomegranate (POM) Sherbet (Dairy Free)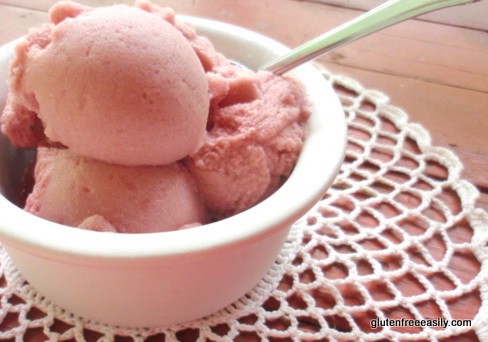 This Pomegranate Sherbet is light and refreshing. The tart flavor in this sherbet is just wonderful!
Ingredients
2 cups of POM Wonderful pomegranate juice, chilled (or other 100% pure pomegranate juice)
1 can full-fat coconut milk, chilled
¼ cup honey (or agave nectar for vegan option; more of either if you omit stevia below---see notes)
7 drops liquid vanilla crème stevia (optional, see notes if you wish to leave it out)
Instructions
Mix all together well (using blender, or bowl and your mixer) and pour into frozen tub of ice cream maker. Churn about 25 minutes.
When you remove the POM sherbet from the ice cream maker, it will still be somewhat soft. You can scoop it into a container and freeze for about a half hour to an hour longer to have a firmer sherbet. Or you can spoon some into a glass, stir well, and insert a straw for a slushie. You will love this recipe either way. The last time I made it, we drank small glassfuls in slushie form and then we enjoyed the firm sherbet later. It's a good compromise for those wanting just a little taste the moment they hear the ice cream maker stop!
Notes
If you want to omit the stevia, you can increase the honey (or agave nectar) to 1/3 cup. Taste the blended mixture before adding it to the ice cream maker. Add additional honey (or agave nectar) and/or stevia if needed.