For affiliate links and as an Amazon Associate I earn from qualifying purchases.
Today I'm sharing my new gluten-free Cashew Butter Oatmeal Chocolate Chip Cookies recipe. Holy yum!
Let's talk about recipes for a moment. In my opinion, the best kind of recipe is one that is tried and true. To me that means, the recipe is easy to make and the results are always delicious. What brings a recipe up the next level in my opinion is when it's really easy to change the recipe up just a bit and end up with a whole new and equally good—or better!—recipe.
These gluten-free Cashew Butter Oatmeal Chocolate Chip Cookies are a great example of changing up a "tried and true" recipe. They are the latest cookies that I have created using my Flourless Peanut Butter Cookies recipe as my starting point.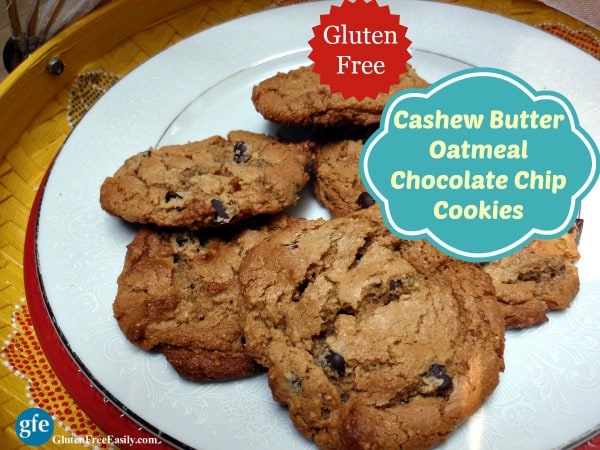 It's hard to believe that cookie recipe has just three main ingredients —peanut butter (or nut butter or seed butter), brown sugar, and egg. It is a recipe that is easy enough for a young child to make and it can be reinvented again and again. Admittedly, it's already been reinvented many times here on gfe and I'm pretty sure that I'm still not done with it!
With these gluten-free Cashew Butter Oatmeal Chocolate Chip Cookies, I planned to simply use cashew butter—instead of peanut butter, cashew butter, or sunbutter. I really love cashew butter. It's rich and creamy and has a lovely sweetness.
Sometimes I even prefer it over peanut butter or almond butter. I usually buy a small jar at our local healthy grocery store, but sometimes I make it myself.
Cashew butter is really quite easy to make. Some say that you have to add oil when making it, but I usually don't. I just throw some raw cashews into my food processor and slowly process them until they turn into cashew butter.
I've even used roasted salted cashews instead of raw cashews and processed a small amount of them in my mini chopper. That actually worked just fine.
Note that I am always careful to do the processing in "spurts" whether I'm using my food processor or my mini chopper so as not to overheat my appliances.
Back to the Gluten-Free Cashew Butter Oatmeal Chocolate Chip Cookies
When I started to make them I was about ¼ cup short of the amount of cashew butter I planned to use so I decided to add ¼ cup of my homemade granola as my "filler." If you don't have granola on hand, you can substitute certified gluten-free oats or certified gluten-free oat flour (always use purity protocol oats), hence, the more multipurpose recipe name.
You can even substitute shredded coconut (unsweetened or sweetened) for the granola in these Cashew Butter Coconut Chocolate Chip Cookies. The results will be slightly different for each substitution, of course, but all variations will yield wonderful cookies.
Although I obviously only added a small amount of granola to the recipe, the granola factor was still noticeable in the best possible way, as these cookies were delicious.
These are softer cookies, but not too soft. The addition of the granola with the oats and the small bits of fruits and nuts adds some additional texture, flavor, and chewiness.
Mr. GFE and I really enjoyed these cookies. They also work as a filling, fairly healthy snack and as a terrific breakfast cookie, too.
The safety of oats is being talked about a lot these days in the gluten-free community because of General Mills' use of mainstream oats in its "gluten-free" Cheerios products. Mainstream oats are highly contaminated with gluten from the field via being grown in a shared environment with gluten grains and via harvesting equipment, processing equipment, and shared facilities that are all contaminated with gluten.
Certified gluten-free "purity protocol oats" are absolutely required by the gluten-free community. Please always choose oats that are grown using the purity protocol and certified gluten free by a third-party certification agent.
Gluten-Free Watchdog has an up-to-date listing of companies that use purity protocol oats. Please also read my last post Stop Eating "Gluten-Free" Cheerios Plus 9 More Thoughts on This Appalling Situation to get a more in-depth understanding of the situation with oat products in the gluten-free community.
More on gfe That You May Find Helpful
~ 70+ Gluten-Free Oatmeal Cookies
~ Chocolate Almond Cherry Power Cookies (Paleo and Vegan)
~ Easy Gluten-Free Pumpkin Squares
~ Flourless Peanut Butter Cookies
~ How To Recover After Being Glutened
Gluten-Free Cashew Butter Oatmeal Chocolate Chip Cookies Recipe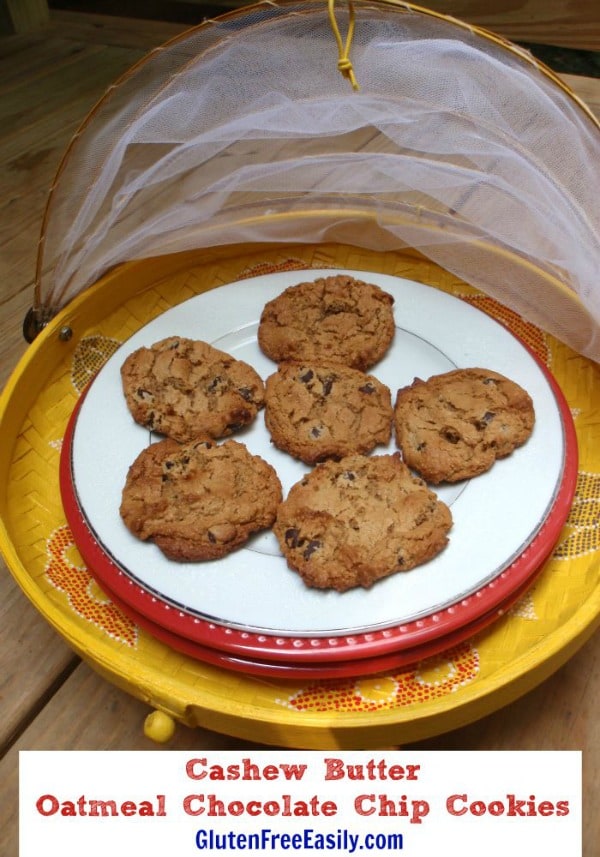 Yield: 12 to 15 cookies
Gluten-Free Cashew Butter Oatmeal Chocolate Chip Cookies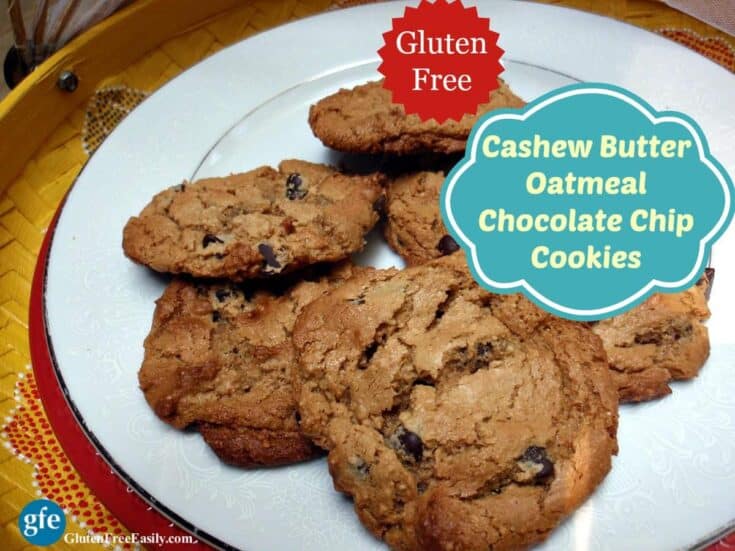 Reader review:  "Yum, just made these and they are delicious! Nice and chewy with just a hint of nutty taste. And super easy too. I'll definitely be making these again!"

Prep Time 5 minutes

Cook Time 8 minutes

Inactive Time 15 minutes

Total Time 28 minutes
Instructions
Preheat oven to 350F degrees. Line two baking sheets with parchment paper.
Mix all ingredients in a large mixing bowl.
Drop batter using a tablespoon (not a measuring spoon, but a smaller serving spoon) or a smaller cookie scoop about an inch or so apart.
Press down the batter some with your fingers.
Bake about 8 to 9 minutes. Remove baking sheets and let sit 15 minutes before removing cookies.
Originally published October 21, 2015; updated September 5, 2022.