For affiliate links and as an Amazon Associate I earn from qualifying purchases.
Today I want to talk about something we all need to know, How to Recover After Being Glutened.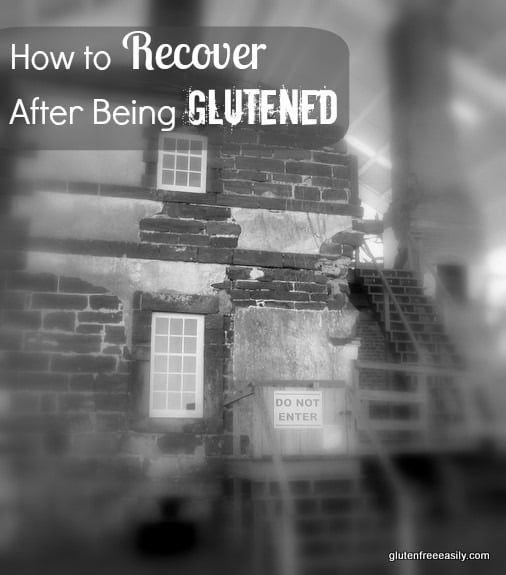 Disclaimer: Please understand that I, and others whose advice is cited here, have no expertise when it comes to your personal medical issues. Some who are quoted here do serve as medical professionals, but they have no knowledge of your specific medical needs and situation. Most of us whose inputs are shared here are not medical professionals. In this post, all of us can be viewed as volunteers sharing our experiences. Please consult your physician for medical guidance as needed.
glu·ten – noun: a tenacious elastic protein substance especially of wheat flour that gives cohesiveness to dough; verb: to make ill through gluten (past tense/passive, glu·ten·ed, e.g., "I've been glutened."); glu·ten·ous – adjective: contains gluten.

Synonyms: evil, poison, torture, pain, misery, ____ ("fill in the blank" with your synonym).
Okay, I took some liberties with my dictionary entry above. The truth is that you won't find the word "gluten" shown as a "verb" in the dictionary. You also won't find "glutened" or perhaps "glutening" (as in "That was a really, really bad glutening!").
Of course, you won't find all the negative synonyms for gluten in the dictionary either, but for those of us on a gluten-free diet, all of these words/descriptions ring true. It's like a visit to the "house of horrors" when we get "glutened."
And whether "gluten" is in the dictionary as a verb or not, believe me, it's an action word, which is the classic definition of a verb. In this case, the action that is being "done" to us by gluten is very real and sometimes hard to recover from.
I often get desperate emails, tweets, Facebook messages and phone calls from readers and support group members who took their first major gluten "hit" (yep, more slang, but equally accurate terminology) about what happens when one ingests gluten after going gluten free and beginning to thrive.
Sometimes they feel like they have the flu. Sometimes they feel like a "train wreck." Sometimes they feel like their body that was starting to respond positively to the gluten-free diet is once again devastated … "condemned" … in ruins, if you will.
These individuals who contact me are looking for tips and solutions on how to feel better as quickly as possible.
They have families to take care of.
They need to be productive employees.
They need to feel human and be able to eat dinner with their loved ones.
They want to feel up to walking the dog.
They don't want to lash out at their loved ones because gluten has taken control over their emotions.
They want to greet their partners with a smile and a kiss.
They want to bounce their toddlers on their knee or roll around on the floor playing with the little guys.
In short, they just want to function normally again.
I get what they are going through because I've been there more times than I'd like to recall (three times within a five-day period recently). I usually reply to the pleas for help immediately by firing off every answer that comes to mind in that moment—all solutions intended to detox/and or calm the bodily systems impacted by gluten exposure (brain, gut, skin, etc.—all of them).
While the only up side of being "glutened" is to remind one of how great it feels to live gluten free, it's often a reminder opportunity that we'd gladly pass on. To make matters worse, one common response to being glutened is not being able to think clearly, a symptom most often referred to as "brain fog".
Then there are the other common mental/emotional responses to being glutened, like anger, moodiness, depression, and anxiety. None of these conditions facilitate being able to research what to do to feel better … and feel better fast.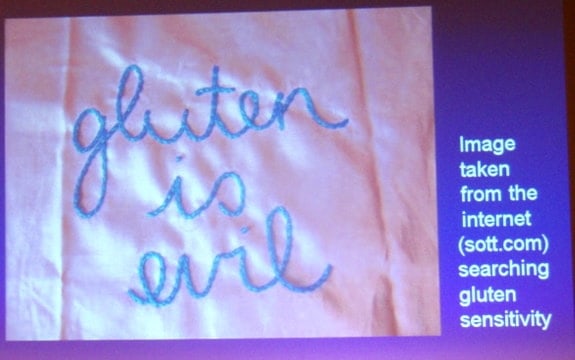 Tips on How To Recover After Being Glutened from Members of Gluten-Free Community
Today's post shares my own best remedies for being glutened and input from many other members of the gluten-free community. I think you'll find the guidance here really helpful. I learned a lot of new strategies that I plan to implement myself when the next time comes, because unfortunately unless one lives in a bubble, there will be a next time.
Me … Shirley (gfe—gluten free easily) ~ "My reactions vary greatly according to how much gluten I've been exposed to, but I tend to follow basically the same path to healing each time. First, I go for the activities that tend to help me get the gluten toxins out. I take hot steamy showers (saunas work well, too). I do Epsom salt baths. (FYI: My doctor and acupressurist have told me not to do them more than twice a week, several days apart. The reason? Good stuff is taken out of the body with the bad, and one must replenish that good stuff before pulling out more bad.) I sometimes get massages. I've gotten acupressure and acupuncture in the past, too. If I'm up to it, I do walk some as aerobic acitivity removes toxins. Yoga is often more my speed when I've been glutened though. I'm not talking about "stand on your head" (inversion) yoga moves. I'm just talking about simple movements that push those toxins out. I'm a big fan of the basic yoga videos (e.g., Rodney Yee AM/PM Yoga).

I tend to eat very little initially after I've been glutened. I sip on hot tea and chicken broth (made from bouillon) or actual stock and bone broth from my freezer. I sleep. I seek quiet time. I increase my daily probiotic and fish oil intake and I take digestive enzymes, including ones like Glutenease or Gluten Defense designed to help one digest gluten more readily. I've read that the "p" fruits/juices (e.g., pineapple, papaya, pomegranate, passion fruit) contain their own enzymes so I often add them to smoothies or beverages.

Frankly, I sort of throw anything with detoxing effects and/or antioxidants that I can handle at my gluten reaction. When I was first diagnosed, I attended a Gluten Intolerance Group (GIG) conference where Dr. Christine Doherty of New Hampshire gave a presentation on super foods and shared her "Super Juice" recipe (green tea, water, cranberry juice concentrate, pomegranate juice concentrate, cinnamon, and stevia) . (Dr. Doherty is a naturopathic doctor now practicing at Balance Point Natural Medicine.) I started making Dr. Doherty's Super Juice recipe for friends who were battling illnesses and used it myself for when I was under the weather. Dr. Doherty drinks her Super Juice daily to help bolster her immune system and that's a terrific approach, but I usually make it when I've been glutened or my health is otherwise compromised. I drink my Super Juice, cold, warm or room temperature, sipping on it until it's gone. It's really a terrific recipe. I contacted Dr. Doherty and she graciously agreed to share this recipe with my gfe readers—woohoo! Today's post is already plenty lengthy, but you'll find Dr. Doherty's Super Juice recipe here.

UPDATE: One new product that I've found to be extremely helpful to me is activated charcoal. I really like the Bulletproof Upgraded Coconut Charcoal Capsules." Update: Note that there is some controversy about how charcoal can adversely affect absorption of prescription medicines and supplements. Some doctors recommend that charcoal needs to be taken 2 hours before or after any medications or supplements. Keeping that in mind, I typically adjust my meds and supplements schedule slightly if I end up taking charcoal because I've been glutened. As always, consult your doctor or other medical healthcare professional.
Let's see what everyone else has to say about being glutened and how they recover. (My sincere thanks to all of you who offered your thoughts and solutions!)
Alta (Tasty Eats At Home) ~ "I'm personally a big fan of green smoothies and other very clean "detox" type foods (I eat VERY carefully and very cleanly, and don't even try to touch anything that remotely bothers my tummy), ginger tea (made with fresh ginger – I sometimes drink store-bought ginger tea but a glutening definitely deserves the real deal), cultured foods such as kombucha tea and Bubbie's sauerkraut over the next few days, as well as bone broths, if I have any in the freezer. I try to get as much rest as I can grab. If I have heartburn (a common issue after a glutening for me), I try to incorporate apple cider vinegar in – it seems to help more than resorting to Prilosec or some other remedy. Sometimes a tablespoon in some water works wonders. I also prefer yoga to other exercise to allow my body to heal. Lastly, I warn my husband, if he doesn't already know, that this glutening has occurred and to try not to take any emotional outbursts from me to heart. I have a tendency to get quite weepy and frustrated over nothing!"
A few days later, Alta sent me another comment on being glutened:
"So you know how I gave you all these things I do when I get glutened? Apparently I was lying. In real life, I ignore it and pretend I'm fine! LOL Sunday we went out to eat at a place we've been dozens of times without incident. I crunched down on what was likely a piece of breading from chicken fried steak or something. I had a mini-panic, spit it out, told myself that maybe it was a piece of fried potato and not what I feared, but damage was done. I'm not too bad off, but instead of taking care of myself, I worked in my kitchen when I got home, doing my usual Sunday prep for the week, plus made dinner for my sister and her family, cleaned up a bit, etc. I was dropping things and being forgetful and struggling but I ignored it. Yesterday I admitted to myself that I did indeed get glutened – my tummy wasn't about to play along with these lies – and besides, from Sunday evening on, I was EXHAUSTED. Then, because I ignored better judgment, this morning, I was rewarded with a sore throat. Hoping it's not really a cold – but I'm afraid I am learning my lesson – don't take care of yourself, and your immune system can't fight normal everyday stuff. Guess I should take my own advice, huh? LOL"
Alta and I exchanged a few more messages on this topic. I told her not to beat herself up and that denial often plays a large part in our gluten-free lives. She reminded me that "Denial" is one of the stages I wrote about in my Grieving Gluten post. While denial wasn't addressed in exactly the same context there, it is always an important thing to acknowledge. We need to listen to—heed—what our bodies are telling us.
Many more weighed in with their remedies or thoughts on being "glutened."
Ellen (Gluten-Free Diva) ~ "My first solution (which probably isn't the best from a detox standpoint!) is to take a couple of ibuprofen. That always reduces the inflammation and helps me sleep. I then try to drink as much water as possible in the days following AND I try to eat as healthfully as possible with little or no exceptions. That always tends to work for me."
Tia (Tia's Kitchen and Garden) ~ "I don't really have anything I do besides time. It has only happened a couple of times since I have had a strong reaction. Both times it was in the middle of the night, and if I hadn't known for a fact that I hadn't been drinking, I would have said I drank too much. That's just what it felt like. So, I laid on the floor in the bathroom until I felt safe to go to bed. Then I just took it easy with food and drink the next couple of days, just like I was recovering from a hangover."
Steve (formerly Gluten-Free Steve and The Grateful Celiac) ~ "For me, if I get glutened bad, I take it easy for a few days. Basic bland foods until my system gets back on track. Plain chicken with salt and pepper. Boiled potatoes. Maybe some bland noodles until my stomach feels better again. I've not found any super fast cure/treatment – I just never know what will help me feel better."
Gigi (Gluten-Free Gigi) ~ "I always start with ginger tea: 2 teaspoons fresh grated ginger root in 8 ounces boiling filtered water. I take 3 to 4 cups of this for detoxing the system. In addition, to replenish minerals lost, I eat 3 black sugar cubes (from Asian market) per day. Plenty of room temperature water on top of this, up to 1 gallon per day. I limit foods to anti-inflammatory foods like kale, blueberries, green tea, ginger, etc. Smoothies are a great way to incorporate these into the diet when you're under the weather, especially if you have severe GI symptoms from being gluten'ed."
Erin (Gluten-Free Fitness) ~ "For me, if I've been glutened, I take digestive enzyme capsules as soon as possible, and then continue with them throughout the period of time I feel sick anytime I eat something. I stay very well hydrated and drink lots of water and soothing teas, like chamomile, mint, and marshmallow. If it's really bad, I will take activated charcoal capsules. I keep any food intake very mild and minimal until I am feeling better, I generally stick to fruit and eggs or protein shakes if I feel really horrific, with some homemade yogurt for the probiotics. I will also double up on L-glutamine for at least a week, and if I'm not taking probiotic capsules at that point I will begin again."
Naomi (Straight Into Bed Cake Free and Dried) ~ "I would second the Epsom salt baths and especially the bone broth. My personal solution has always been to cut everything out that is not healing for the gut, until things are back to normal. This means, no grains, nuts, pulses, sugar, dairy, alcohol or cocoa for a period of a week to four weeks depending on severity. Things to eat are: stews, soups and broths – drinking just broth every hour for the first 24 hours can help too. Slow cooked meals are the best, meat on the bone and easily digested vegetables such as squash, carrots, spinach, and leek are the best to start with. Adding a raw egg yolk to each bowl of stew (up to three per day) makes the meal even more nourishing and creamy! Then start bringing in fermented dairy (yogurt, kefir and cheese), nuts, pulses and finally grains and sugars when you are ready. The process takes a different amount of time for everyone."
Maggie (She Let Them Eat Cake) ~ "If Pete has been glutened (he has celiac disease) he usually gets flu-like symptoms. Things that have helped in the past: lots of water, a low-glycemic diet for a few days, rest, lots of veggies and fruits, no foods that promote inflammation, nothing spicy, and if it's really bad, a trip to our Naturopath who gives him a Homeopathic remedy. It's basically the same treatment if the kids get glutened too. I am only wheat intolerant so I get bloated if I have wheat. A trip to the osteopath always helps me. We avoid western medicine where possible!"
Valerie (City | Life | Eats) ~ "For me, exposure to gluten results in joint stiffness, a headache, fatigue, a feeling of sensory overload, anxiety and, finally digestive distress coupled (illogically) with a ravenous appetite. The symptoms are the worst the first day, though I then have a couple of days of not feeling so great (kind of how I feel after getting a cold) and needing a lot of sleep. Food-wise, I focus on filling but easy to digest juices, smoothies and soups, as well as roasted or mashed sweet potatoes with almond butter. I generally start with smoothies and as I start to feel better get more ambitious in terms of prepping other things, though the last time I was glutened it was all smoothies for 2 days, and some roasted sweet potatoes which my husband made. I always think about doing things like restorative yoga or booking a massage, but never do much beyond going for walks, sleeping, and just generally focusing on what needs to get done (ie work, sleep, eat) and putting everything else on the backburner. I handle cross-contamination glutening in the same way food-wise, but need less rest, as exposure through slight cross-contamination (as opposed to inadvertent consumption of a more significant amount of gluten) tends to affect my joints and digestion more than anything else."
Iris (Iris Higgins) ~ "A few things that help me or my housemate after being glutened: Yoga (especially kundalini yoga), Epsom salt baths, and drinking lots of water. Sorry that's all I can think of…there really isn't much that helps me other than time. It usually takes a day for me to feel normal again, and I just have to wait it out."
Linda (Gluten-Free Homemaker) ~ "One thing that helps me after being glutened is to sleep. Quite often I react by becoming very sleepy, no matter what time of day it is. I find that if I can just drop everything, go to bed, and sleep until I wake up, then I feel much improved. I also find that taking enzymes along with food or shortly thereafter results in less severe symptoms. I try to take them when I am eating processed foods that are likely to have some contamination (such as breads or cereals) or when eating out. I use these gluten peptide enzymes. Just remember that the enzymes are taken as a precaution, not as a means to allow you to intentionally eat gluten."
Sea (Book of Yum) ~ "After being glutened, I find I am dehydrated so I have to drink a lot of water. I also only eat very plain food, like a baked potato, the next day. Not a lot I can do, except wish it would be over and I felt like a human being again. :=("
Lillian (Lillian's Test Kitchen) ~ "When I've been glutened: I need to drink a lot of water, sometimes I vomit, I take a bath, take an anti-inflammatory (like OPC 3) and go to sleep. I'll sleep for 12 hours easy. I try to also give myself a break and not expect myself to be on top of my game. But I also spend a decent amount of time being irritated about what's going on and then reminding myself that it's out of my control. I also do my best not to take any of my emotions too seriously over the next week or two since I know it makes me seriously depressed and bloated. That's kind of it. I think. It's been a little while since it happened."
Wendy (Celiacs in the House) ~ "I take extra Align, eat lots of watermelon and pineapple and drink water. My symptoms are swelling and joint pain and the watermelon and pineapple seem to help me throw off all the water/swelling. Bromelain helps with that too."
Heather (Celiac Family) ~ "I wish I had some wisdom to share for the kiddos who get glutened. Unfortunately, I don't have anything great to add. Most of the time, I'm not even sure if my kids got gluten or if they just got sick. It's hard to tell exactly what they're feeling to know the difference. So, for my family, even the adults who get gluten, we just wait it out by eating right, drinking plenty of fluids, and getting rest."
Kim (formerly Cook IT Allergy Free, now at Healing the Gut) ~ "The main things that I do whenever I believe that my family members have been glutened is a three-step process: 1. I give them my Homemade Bone Broth – I add it to everything: soups, use it in their pasta and rice in place of water, I add it to my sauces. 2. I give them an intestinal healing supplement that enhances the mucosal layer of their intestines – it contains marshmallow root, cats claw bark, quercetin, slippery elm, turmeric, and ginger root. And 3. I also give them digestive enzymes for a number of days after to help take the stress off of their intestines while they are trying to recover. That is all I do. The biggest factor is time for them."
Looking at all these inputs, the same words and messages seem to come through over and over again.
H

eed.

H

ydrate.

H

eal.

O

bserve.

N

ote.

N

ourish.

O

bserve.

R

emove.

R

est.

R

ecover.

We'll improvise a bit and come up with the acronym HONOR …

HONOR your body after being glutened.

Heed what your body is trying to tell you. Don't second guess yourself and dismiss your symptoms.

Hydrate by choosing hot or cold beverages (water, tea, smoothies), soups, etc.

Heal by choosing options cited that work best for you.

Observe what works and what doesn't for you this time and every time you get glutened. Not all gluten exposures are the same.

Note the protocol that works for different symptoms.

Nourish your body with healing, non-inflammatory "food and drink."

Observe (again) what works and what doesn't.

Remove the toxins from your body with detoxifying foods, supplements, movement, and other activities (e.g., hot, steamy shower).

Rest. Get additional sleep. Don't overtax your body. Listen to your body's need for rest.

Recover by doing all of the things listed above, tuning in to what your own body needs for recovery. Tweak as necessary, each time you get "glutened" and during each day of recovery.

HONOR your body.
I hope you'll find all these tips and ideas helpful when you need to know How to Recover After Being Glutened. Please share your own remedies to recover from being "glutened" in the comments. (Note: I'll ask all to refrain from sharing information on any product that states that one can eat gluten safely as long as one consumes the product. Such a product does not exist. Please do not be fooled by such claims.)
Originally published November 11, 2011; updated May 5, 2022.