For affiliate links and as an Amazon Associate I earn from qualifying purchases.
This post on how to survive Thanksgiving (or any group event where gluten-full foods are served) and stay gluten free at the same time was originally shared at the end of my first year of blogging (over a decade ago now—ha!). Because the advice is just as timely today as it was then, I thought I'd share it again with you all. I hope that you will find these 5 tips for a gluten-free Thanksgiving helpful and that all of you who celebrate Thanksgiving will have a truly special celebration with your friends and family!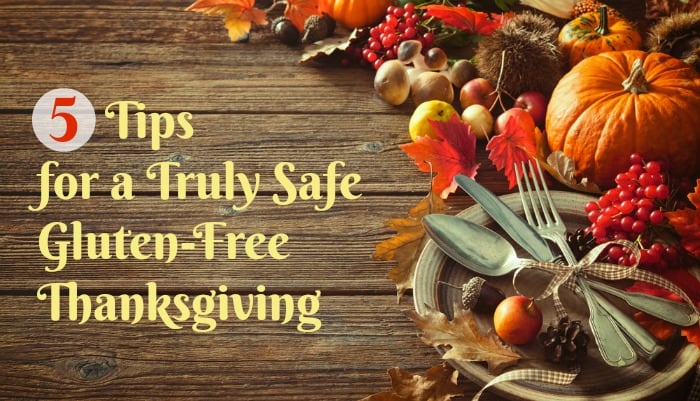 I had an all too familiar experience yesterday at the office potluck. Because I sat right next to the buffet table and was sort of expecting the "violation," I saw what occurred, avoided the gluten land mine, and did not get glutened, but it could easily have gone the other way.
Read on to find out what happened and prevent the same thing from happening to you on Thanksgiving and at other communal meals. Note: These tips can also apply to being safe when having other food intolerances and allergies.
1. Serve yourself first.
No, I am not telling you to be obnoxious or rude, but before anyone else has touched the food is the safest time to serve yourself a plate. You'll know that the food you brought has not been cross contaminated and, likewise, the corn pudding that your boss made for you with cornstarch or the naturally gluten free mashed potatoes that your friend made (both dishes that you have eaten without issues) will be safe once again for you to enjoy.
Once other folks start serving themselves and things happen, all bets are off. Seriously. Unless I'm eating with my family members—who know how to keep my food safe—I serve myself first, getting one plate and then no more food until I eat dessert (following these same tips).
2. Place your food away from other, gluten-containing foods.
Do this if at all possible—just in case you don't get the opportunity to serve yourself first and would like to go for seconds and/or have other gluten-free family members who need to eat safely. If you're not hosting the event and are eating at a friend's or relative's house, volunteer to be part of the set up crew. This act will make you look like a very kind person, which will come in handy later when a) the dishes are being washed (you can honestly say, I already helped with setup) or b) you want to leave before the football games come on or c) you have to leave suddenly because you got glutened.
If the tables are placed against a wall, place your dishes to the side and against the wall. Placing them in the back prevents the crumbs and pieces from other gluten dishes from falling into your dish.
3. Ensure that your dishes all have serving utensils (clean ones!) and all the other dishes have serving utensils.
Again, you can be part of the set-up crew and endear yourself to the hostess at the same time. You might be thinking, why do I have to worry about the other dishes having serving utensils? Isn't that their responsibility?
Well, this tip relates to what happened yesterday at the luncheon. After years of eating gluten free, I'm always on the alert for cross-contamination situations. Frankly, I just do it instinctively now.
I made my Great Salad for this event and placed it near the other salads but away from the Caesar salad with the croutons. (Well, as far away as possible—you know how crowded those buffet tables can get.) I knew there might be trouble because the Caesar salad had no serving utensils. Nada.
At your own home or someone else's, you can quickly add some utensils, but in the conference room at work, that's not likely to happen. I even said out loud that the salad had no utensils and for others please not to use my utensils for that salad because I was allergic to bread (yes, I say that … even though it's not accurate, people are more likely to "get it"). Well, this guy behind me sort of did that nervous, silly laugh thing. Alert, alert!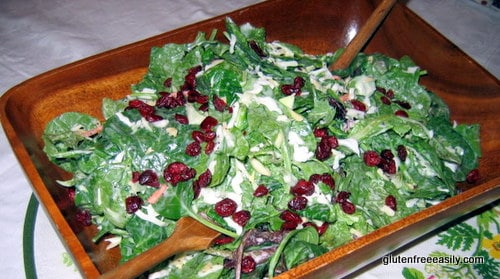 When I was just about finished eating and contemplating getting more salad, I saw the same fellow snag my utensils and use them to serve himself Caesar salad, and then place them back in my bowl. To be fair, although I don't know this individual, he's always pleasant and seems to be a decent guy; he's just uneducated about gluten issues … as many are.
While I could have protested and at least stopped him from putting the utensils back in my bowl, it happened all too quickly. If I hadn't been looking that way, I wouldn't have even noticed that the cross-contamination incident occurred. Of course, I didn't get any more salad. I passed what was left of my salad on to my friend to take home. She loves it (she'd already had seconds) and was happy to take it.
Be aware that this type of cross contamination seems to happen even more frequently with desserts, particularly pies. Folks have one or two pie servers that they use to go back and forth between several pies.
I've yelled, "Wait!" in the past when I saw that happening. Of course, then I do explain the situation after I'm sure my pie remains UN-violated.
Hey, I'm willing to let my salad go home with a friend, but I want my pie! You understand when it's a pie like the Crustless Coconut Pie shown below, right?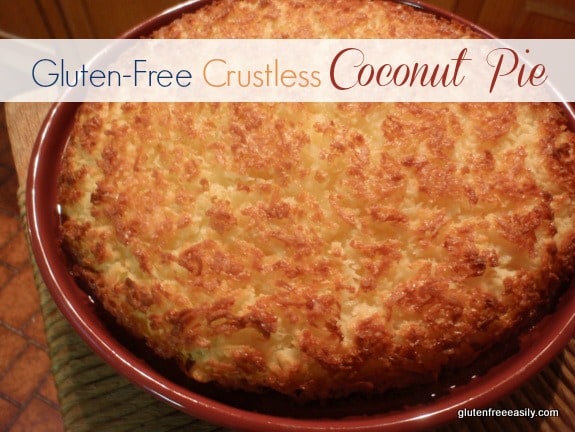 So, again, be sure that all the dishes have their own serving utensils. And, as Steve (formerly Gluten-Free Steve and The Grateful Celiac) noted in comments, "ALWAYS inspect the serving utensils too." Serving utensils that are rarely used and hurriedly pulled out from storage can sometimes have dried gluten-full food on them.
One other related factor that most don't think about is that even when folks are using a separate utensil for each dish, when they're putting the food on their plate, the utensil is often touching the gluten-full food that they have already served themselves. Think about how crowded a plate can be. That's why I often serve myself first and then don't eat anything else—i.e., no second helpings unless I've reserved some of my food elsewhere.
4. Remove your food to a safe place after serving.
Immediately after the meal or course, if you are confident that your dish has made it through safely and you want to take it home (you can still share more of it with others for leftovers if you like), remove it to a safe place; i.e., away from other food, perhaps by your purse or coat. If it came with a cover, lid, etc., place that same covering back on your dish IF it's remained uncontaminated. If it was covered with aluminum foil and your covering is now in a stack with several other pieces of aluminum foil or has been tossed, cover it with a new sheet of aluminum foil.
You still might want to take a quick look at it when you get home to see if you feel comfortable eating it. Obviously, if some of Aunt Betsy's glutenous macaroni and cheese is in the corner of your prized gluten-free green bean casserole, sadly, you'll probably want to pass it on to someone else who still eats gluten.
5. Start planning and educating for the next event.
This tip is critical if the latest event has not gone well. However, although it's tempting to some to seize the moment and teach big life lessons right then and there about eating gluten free and cross contamination, it's really not the best time. (Much like when opening Christmas gifts is not the best time to say, "Hey, what do you say we do away with giving each person a gift and exchange names next year?")
So much emotion is infused into these holidays and special events that people want to enjoy the moment and are not ready to hear about possible alternatives to their traditions. But, a week or two after Thanksgiving might be the ideal time to say to your family member or friend, let's try to do things a bit differently for our next group meal so that I can eat safely and we can all enjoy the meal. How about if we do this? or that?
I always repeat that old adage about putting yourself in other's shoes. If you were hosting and had never dealt with serving folks with food intolerances and allergies before, what would you need to know? How could I make it easier for you? That is one of the reasons behind the gfe concept—it shows others how to feed you safely and more easily at the same time.
Of course, I know that some will read this last tip and think of their own family members who don't seem to care if they eat safely or not. I understand that … there are some of those types in a faction of my family, too. I've seen the eye rolls, heard the comments about eating gluten free being another fad, have been irked at the sometimes total disregard as to whether I could eat anything served, etc.
Try to "let it go" and don't focus on those types. Focus on the folks who want to feed you safely and educate them as kindly as possible. (You might find my two-part series on this subject helpful: They Just Don't Understand: Dealing with Gluten-Full Friends and Family.)
I hope these 5 tips for a gluten-free Thanksgiving have been helpful to you! I also hope that those of you who have been gluten free for a while and have learned to eat safely at group events will share any other tips you have developed over time.
We can all benefit from the wisdom gained from others. I know I haven't listed all the things I personally do because so much that I do to eat safely I do instinctively after so many years of eating gluten free. (I've been gluten free since 2003.) So, I also look forward to hearing your input and I know it will be greatly appreciated by those who are enjoying their first gluten-free (and/or "other"-free) holidays this year.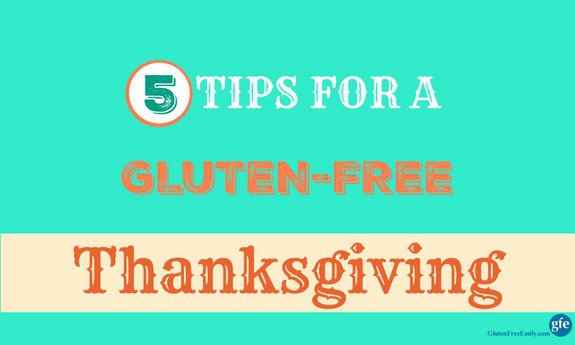 In closing, two things …
Keeping the true meaning of Thanksgiving in mind, here's today's quote from the BeFreeForMe site and blog. (Kathleen Reale shares a thought-provoking quote on her site each day. Kathleen, who has celiac herself, has created a great source of allergen-free information including reviews of products, giveaways, coupons, etc.) The message in the quote she shared is timeless.
"Gratitude unlocks the fullness of life. It turns what we have into enough, and more. It turns denial into acceptance, chaos to order, confusion to clarity. It can turn a meal into a feast, a house into a home, a stranger into a friend. Gratitude makes sense of our past, brings peace for today and creates a vision for tomorrow." ~ Melody Beattie, American author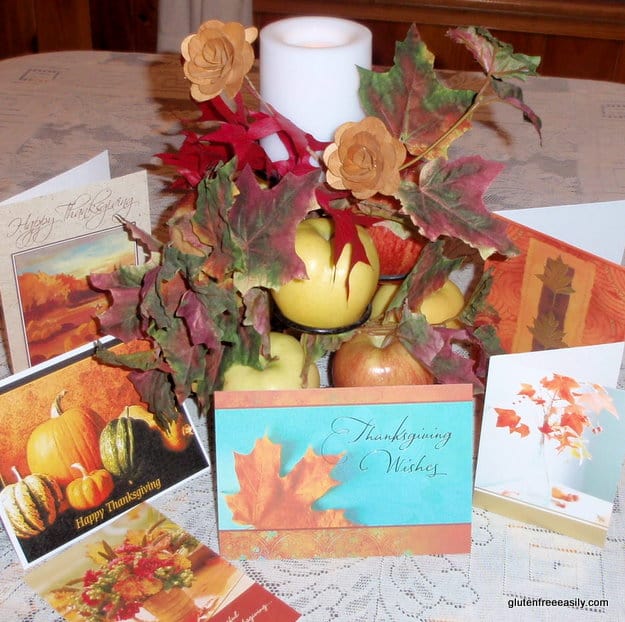 And, as the Sarge (Sgt. Phil Esterhaus) used to say before he sent the force out on the streets on one of my all-time favorite television shows, Hill Street Blues, "Let's be careful out there."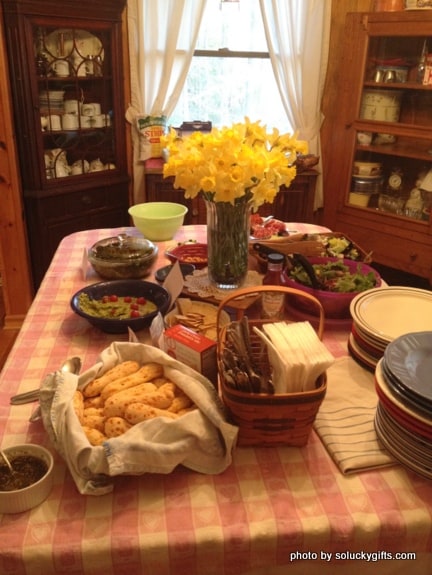 Originally published November 25, 2009; updated August 30, 2019.