For affiliate links and as an Amazon Associate I earn from qualifying purchases.
One of the unexpected blessings of going gluten free is discovering all the real food—also known as "whole food" (as in one piece and not processed)—that is naturally gluten free, and the recipes made from these foods. There are so many foods and recipes that I've added to my diet since going gluten free in 2003. Surprisingly, kale, most recently in the form of the naturally gluten-free Rhythm Kale Chips and Rhythm Roasted Kale, has been one of my many delicious discoveries over the years.
If you had told me before I went gluten free that I would ever willingly eat kale, I probably would have laughed and said, "No way!" However, after going gluten free, I started focusing on all those naturally gluten-free foods available because it made much more sense than trying to live gluten free by buying a box of this or a box of that. In the case of eating kale, I started by adding kale to my smoothie (using this recipe) and I liked it. And once I sampled light and crunchy kale chips, I was completely hooked on kale.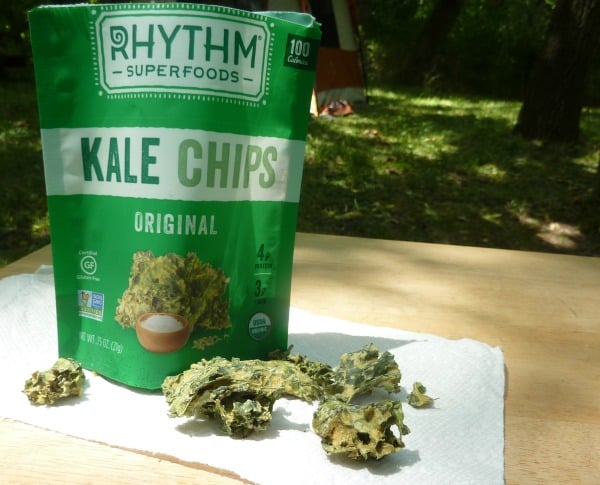 What's the Difference Between Naturally Gluten-Free Rhythm Kale Chips and Rhythm Roasted Kale?
Rhythm Kale Chips, full name Rhythm Superfoods Kale Chips, are crunchy flavorful chunks of dried and flavored kale while Rhythm Roasted Kale are thin crisp sheets of lightly seasoned kale.
I first discovered Rhythm Kale Chips at a local convenience store. We were headed home from vacation and stopped there to get milk and bread for Mr. GFE. While I was waiting in line, I spied the Rhythm Kale Chips in the display right by the queue to pay.
Now kale chips are not the usual fare in such displays or even in such stores so the packages immediately caught my eye and I just had to buy some to try–after I took a took a good look at the ingredients label. Plus, after a day of flying and subsisting on lighter airport fare, I was hungry.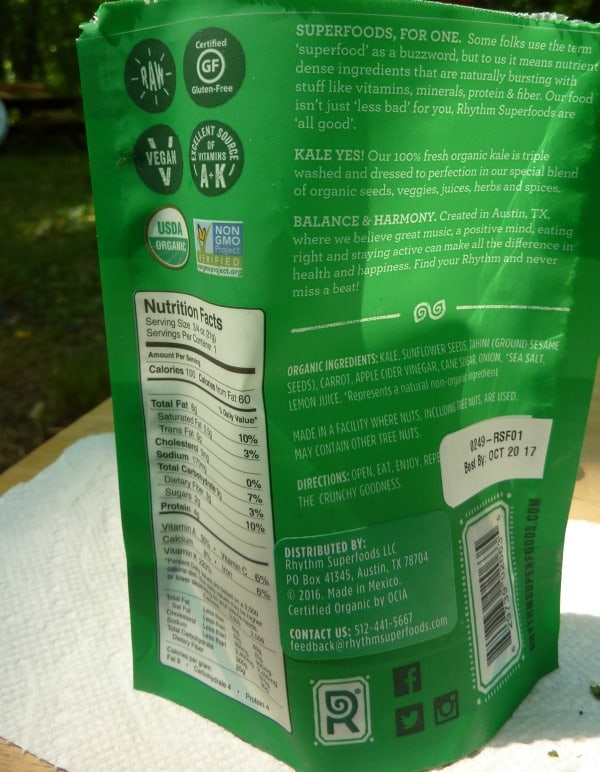 As soon as we got home, I chowed down on the kale chips. I'd bought the original flavor. That flavor is both gluten free and dairy free but it tastes very "cheesy" and that definitely made me happy. The organic ingredients are:
Kale, sunflower seeds, tahini (ground sesame seeds), carrot, apple cider vinegar, cane sugar, onion, sea salt, and lemon juice.
As you can see, the ingredients are all naturally gluten free. I also appreciated that this product is certified gluten free as well. Note that the label also shows that this product is "made in a facility where nuts, including tree nuts, are used. Hence, the following is also stated on the ingredients label: "May contain tree nuts."
Since then, I've picked up these kale chips whenever I've seen them. I love to take them camping or on trips. Technically, they are a processed food but this kind of processed food, I welcome! It makes my life simpler, healthier, and much more delicious!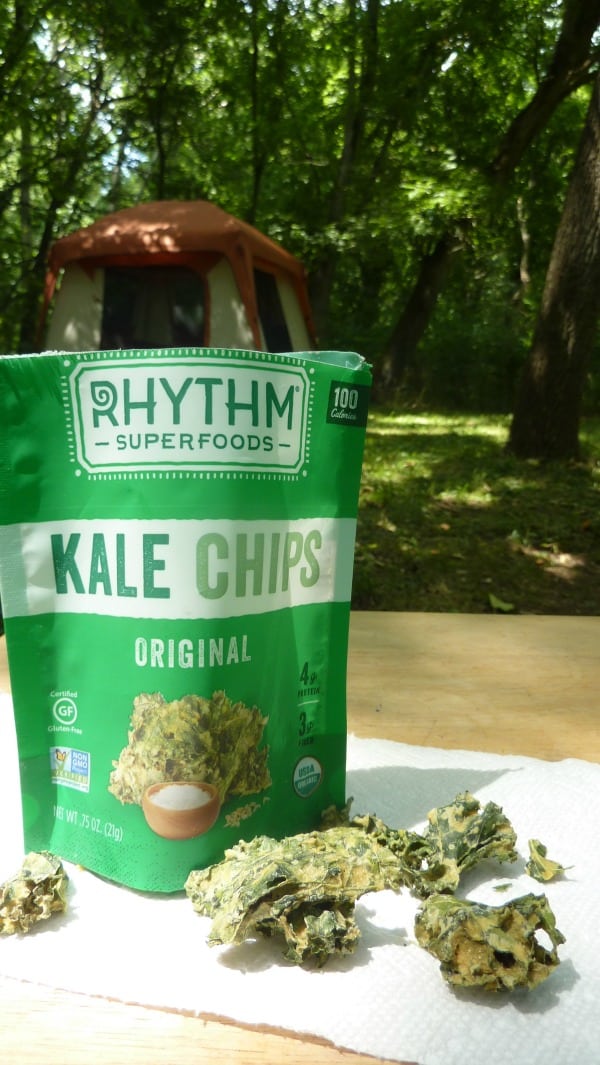 Although I included the Amazon link for informational purposes, I don't recommend buying these chips on Amazon. Kale chips are obviously fragile. Ordering them through the mail makes no sense to me and, in fact, the negative reviews on Amazon mostly come from folks who said their kale chips arrived pulverized. These kale chips by nature are small pieces. Unless you want to try kale chip "breading"—and very fine breading at that—again, I don't recommend going the Amazon route.
Rhythm offers other flavors of kale chips like Zesty Nacho, Kool Ranch, Mango Habanero, Bombay Curry, and Texas BBQ but it's the original flavor that remains my favorite. I will admit that I have not yet tried every one of these other flavors though. I've not seen all the flavors available at any single place.
The only negative about Rhythm Kale Chips—well, any kale chips really—is that you will get little green bits stuck between your teeth. That's not the best look for anyone so plan on rinsing your mouth out with water or better yet brushing your teeth afterward. But brushing one's teeth more often is never a bad thing, right? And dealing with this issue is a very small price to pay to enjoy the healthy deliciousness of roasted kale leaves or kale chips.
I was introduced to Rhythm Superfoods' other kale product, Roasted Kale, at the Starbucks in the Fort Lauderdale airport. They were one of the very few gluten-free offerings. The only choice was the Sea Salt flavor. It was simple but delicious.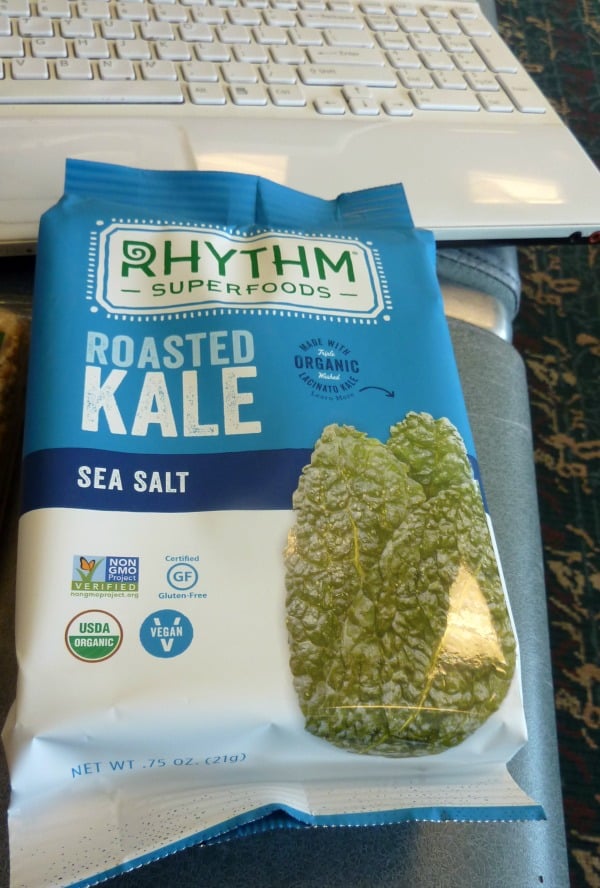 The only problem I encountered was that the roasted kale came in a very lightweight plastic container, which proved slippery. One minute I was happily munching away and the next thing I knew half of my kale was on the floor at our gate. Still, there was so much kale in the container to begin with that even after my unfortunate loss I had more than enough to eat.
The Roasted Kale also comes in different flavors. I found Chili Lime. Smoky Bacon, Roasted Garlic, and Sea Salt and Vinegar online. Admittedly, I have not seen any of those flavors in our local stores but I don't do a lot of shopping at the types of stores that might carry this product. Living in a more rural area means that I usually only discover such specialty items while I am on travel.
Both the Rhythm Kale Chips and Rhythm Roasted Kale are seriously addictive. I always eat the bag of kale chips in one sitting (it's a small bag), but I can eat at least half of the container of roasted kale—and it's a big container.
The kale chips packaging states that those products are made using organic kale. The roasted kale packaging shows that those products contain organic Lacinato kale. Lacinato kale is also known as Italian kale, Tuscan kale, and dinosaur kale among other names. It's slightly sweeter and more fragile than "regular," curly kale.
I recommend you give the Rhythm Kale Chips and Roasted Kale a try. Even if you have never liked kale, you might be pleasantly surprised like I was!
In case you're wondering, this is not a sponsored post. I didn't receive free kale for writing this post. The folks at Rhythm Superfoods don't know who I am or that I love their naturally gluten-free Rhythm roasted kale and naturally gluten-free Rhythm kale chips.
When You Can't Find Rhythm Kale Chips or Want To Make Your Own
If you want to try making your own kale chips—and they're quite easy to make!—here are some really terrific recipes for you:
~ Roasted Kale Chips with Sea Salt and Vinegar
~ Totally Addictive Kale Chips
Originally published November 13, 2017.