For affiliate links and as an Amazon Associate I earn from qualifying purchases.
A vibrant Fruity Green Smoothie! Say what? A vibrant green smoothie that has just the right amount of fruit. Let me tell you more. Life is full of surprises and, thankfully, most of them are good ones. I've mentioned before that for years my food choices were limited. And, I'm not talking about my choices being limited because of being gluten free.
I'm talking about being a picky eater and being "afraid" of foods, usually not even being willing to try anything new. Oh, I'd try all the new processed foods that came out—the ones that were advertised heavily on television and in magazines. But, I turned my nose up and frowned at real food (and recipes made using primarily real food) that was not already in my eating plan.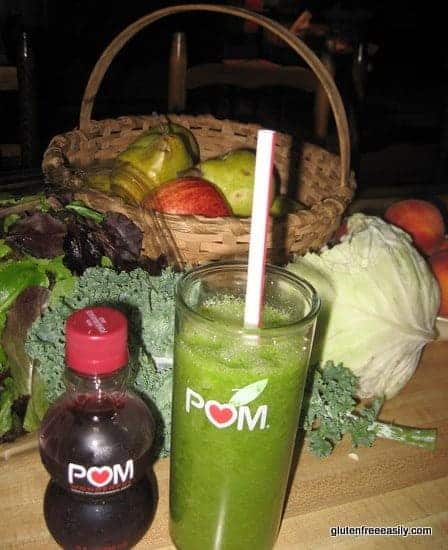 However, over the last decade or so (boy, that sounds like a very long time), I've learned to enjoy, even love, many new foods and dishes. Still, if you'd told me six months ago that I would learn to love green smoothies, I would have laughed, scoffed, rolled my eyes, and told you flat out, "No way!" But, that's exactly what has happened. I've been making the green smoothie creations of Ali Segersten and Tom Malterre of Whole Life Nutrition and their blog, Nourishing Meals, for the last few months. I just can't believe how much I love their taste and how much better these smoothies make me feel. They are delicious, satisfying, and energizing.
I was very skeptical the first time I made them. It took a real leap of faith. I mean there are no added sweeteners and there's a LOT of salad material in these Fruity Green Smoothies. How could they possibly taste good? Not to mention the fact that they come out green, very green.
How green? Kermit the Frog green. Seriously. Such a vibrant green. And, they even taste green. But, in this case, green tastes really, really good! I was pleasantly surprised the first time I made this smoothie and I've been newly surprised each time I've made one since then.
I usually make a batch in my blender in the morning before work. I drink half that morning (usually en route to work) and half either that evening after I walk through the door or the next morning for breakfast. They taste especially great after they've been chilled in the refrigerator.
I've done some experimenting using different ingredients like adding a little POM Wonderful (adds a nice zippy tartness—thanks to the POM Wonderful crew!) or substituting peaches for the pears (which makes them, well, peachy) and while I haven't made a variation I dislike, the original recipe shown below is my favorite. If I accidentally omit an ingredient, I can tell right away and I'm back foraging in the refrigerator for the one that's missing.
In Ali and Tom's book, The Whole Life Nutrition Cookbook, this smoothie is called Tom's Fruity Medicine Chest Smoothie. That name may do a disservice to this luscious and vibrant Fruity Green Smoothie, because personally, the medicine chest part makes me think of Vicks VapoRub, Luden's Throat Drops, and hair tonic. However, it does communicate the healthy punch of these smoothies.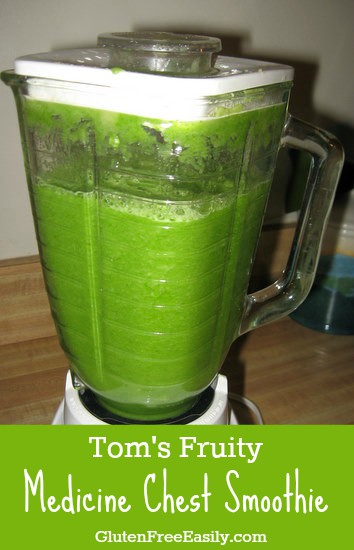 Tom and Ali know their stuff regarding nutrition. They state that these smoothies provide fiber, multiple vitamins (including C), antioxidants, phytochemicals, anti-inflammatories, and bioflavonoids—all the good stuff we hear so much about!
Plus, if you have a hard time getting in enough servings of fruits and vegetables each day, these smoothies make that task so much easier for you. And, unlike, so many "health" beverages on the market these days, you know exactly what goes into these drinks, because you made them from the contents of your own refrigerator … and in just a few minutes.
On our recent vacation, we ate extremely well, but I didn't always get in enough fruits and veggies and some afternoons we were pretty hot and tired from the day's ride—a few of these green smoothies would have nicely solved both problems. You can also see photos and Ali's post on a variation, the Spring Green Smoothie (love that name because spring green is indeed such a vivid green!).
UPDATE: The giveaway mentioned below is now closed.
Here's the really great news … Tom and Ali have graciously offered a copy of their book, The Whole Life Nutrition Cookbook, as gfe's first giveaway. Trust me—this is one you'll want to have. They kindly provided a complimentary copy for my own use a few months back and I am still in awe of the amount of information and the terrific recipes presented.
It's far more than a cookbook. It's also a resource book that offers guidance on: stocking your whole foods pantry with detailed nutritional and storage data, adding more vegetables to your diet, selecting and storing fresh produce, choosing the right cooking equipment, and applying different cooking techniques. The pages of my copy are already dog-eared, underlined, and flagged. I've learned so much from this book and I'm looking forward to making all the recipes.
Thus far, in addition to the smoothie recipe, I've also made a version of the Home Style Chicken and Vegetable Stew—great comfort food and easy to make! All you need to do to enter this giveaway is leave a comment here at gfe. If there's a food or dish you've learned to love, please tell all of us about it. This giveaway will be open until the end of the month. I'm looking forward to your comments on foods you've learned to love and helping Ali and Tom share their "must have" book with one of the lucky gfe readers!
With Tom and Ali's permission, here's the recipe.
Fruity Green Smoothie Recipe
Yield: 4 servings
Vibrant Fruity Green Smoothie (Fruity Medicine Chest Smoothie)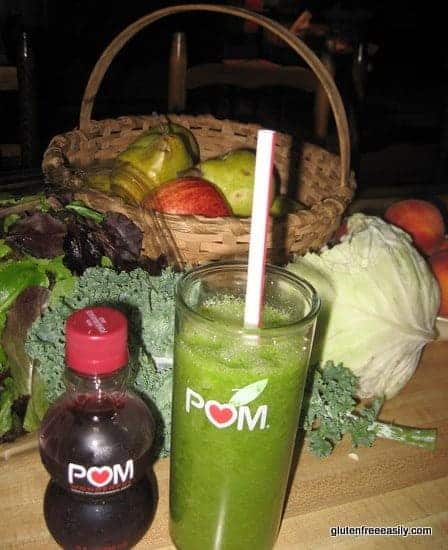 Recipe from The Whole Life Nutrition Cookbook, by Alissa Segersten and Tom Malterre. Published with permission.

Prep Time 10 minutes

Cook Time 10 minutes

Total Time 20 minutes
Ingredients
2 apples, cored and cut into chunks
2 ripe pears, cored and cut into chunks
1 to 2 cups water
2 lemons, juiced and seeds removed
1- to 2-inch piece fresh ginger, peeled and sliced
5 kale leaves rinsed and torn
5 romaine lettuce leaves, spinach leaves, or collard greens, rinsed
1 cup coarsely chopped green cabbage, optional (Shirley's note: I really like the smoothie with the cabbage. Sometimes I just use the 3-color cole slaw mix if I have that on hand instead of a head of cabbage, but a head of cabbage is far less expensive and keeps for a long time.)
Optional Additions
POM Wonderful, a "glug" or two
1 to 2 kiwi fruit
1 handful of fresh parsley or mint leaves
2 to 3 tbsp flax seeds
½ cup soaked goji berries
Instructions
Place the apple chunks, pear chunks, water, and lemon juice into a blender fitted with a sharp blade, a Blendtec, or a Vita-Mix and blend until smooth and creamy.
Add the ginger, kale, romaine (or spinach, or collard greens), and cabbage, and blend again until very smooth. Add more water for a thinner smoothie.
You can taste it now and if it is too "lettucy" for you, then add another pear and blend again. Add more water for a thinner consistency.
Notes
If you use a standard-size blender, you will need to halve this recipe. Although my basic blender works okay for this recipe, I have to remember to add enough water and blend the smoothies long enough or they are too thick and still contain small particles of greens. If you have a Blendtec or a Vita-Mix, they will do a much better job of blending these smoothies.

Originally published August 16, 2009; updated January 24, 2020.