For affiliate links and as an Amazon Associate I earn from qualifying purchases.
We had another great camping trip to our mountain property this past weekend (oh, that river felt so good in the heat and humidity!), but I'm finally here with the photos from our recent motorcycle trip to New England. These are photos of what you all are probably interested in the most—the food! The naturally gluten-free food. I have thrown in a few photos of the B&Bs and scenery to give a little perspective. (I may share more of the latter types of photos later if you're interested.) I was going to include individual photos, but finally gave up due to the overwhelming quantity and made the collages below. I'll be back with some detail on the photos, that is the food, later. As I've mentioned before, we ate some truly incredible meals on this trip. FYI–Some of the photos below are NOT my meals. Mr. GFE insisted that I take photos of dishes that he ate that were gluten free. (If you're a frequent reader here at gfe, I bet you can guess which meals he ate.) We did not order the strawberry daiquiris shown in The Inn at Thorn Hill collage. They came as part of our breakfast! The very enthusiastic chefs at Thorn Hill like to add a bit of the unexpected to their meals. (No, we did not complain. LOL) Last, one of the most basic meals in these photos was a scary one for me. I wonder if you can figure that one out … more later. Hope you enjoy!
Update: I've added the information and reviews to go with the photos that follow! 🙂
The Brickhouse Inn
Gettysburg, PA
Gettysburg is 150 miles away from our house, which makes it a good destination for Day One of a northern motorcycle trip. We usually end up riding through the battlefield right at sunset. It's always a moving, very quieting experience. The Brickhouse Inn is a favorite place to stay because the accommodations are historic and lovely. Plus, you can walk to restaurants nearby. Last, they do gluten-free breakfasts very well.
On this visit, we walked to the restaurant recommended by the inn proprietor, Brian, but it was after 9 by that time and the restaurant had stopped serving dinner. We stepped into O'Rourke's Irish Pub that was a few steps away. I took a look at the menu as Irish pubs do not always offer any gluten-free options. However, the server reassured me that they had just served someone who was gluten intolerant and often prepared gluten-free meals. I ordered the grilled salmon, which the chef prepared without the usual seasoning mix, which did contain gluten. Instead, he grilled the salmon with butter, salt, pepper, and garlic. It was moist and delicious. But, my vegetable choice almost stole the show—steamed sugar snap peas. There was nothing else added to them, but they offered the sweetest crunch and complemented the salmon well. My standard fallback choice of baked potato was also appreciated. (A well-prepared baked potato, one that's "fluffy" inside, is not all that common.) The margaritas at O'Rourke's were superb.
The next morning was bright and sunny, which is always a welcome sight for motorcycle riders. It's also a huge plus when visiting this B&B as well, because when the weather cooperates, breakfast is served on the patios of the two homes that make up The Brickhouse Inn establishment. The gardens are full of life and color, so eating on the patio is a very nice way to start one's day. We shared a table with a couple from western PA. (Interestingly enough, he happened to be a General Mills employee who was aware of his company's gluten-free products.) The meal started with a fruit and yogurt parfait (sans granola topping for me). Next served were delicate cheesy chive omelets with spicy and very tasty sausage links on the side. Tiny desserts were offered as well, but, unfortunately, neither the apple strudel nor the almond tart were gluten free. But, the breakfast I ate was delicious and more than enough.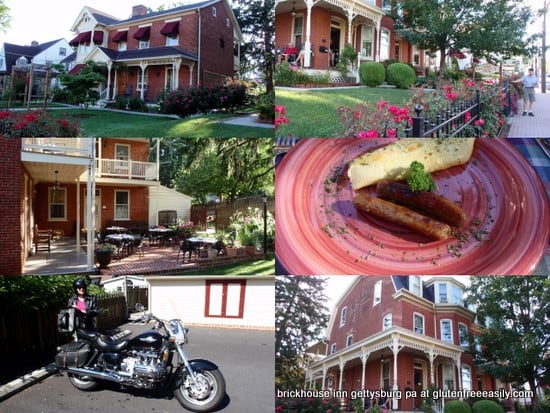 Meadowbrook Inn
Tannersville, PA
This visit was our second stay at the Meadowbrook Inn. It's quite a wonderful thing to arrive at a full-service inn at the end of a day's ride. This was especially true 2 years ago when we traveled 270 miles in the rain with temps in the 50s–what a welcome sight it was after traversing the long and winding roads. Their restaurant has a very respectable, upscale and award-winning menu, but even with a new chef this time, the inn still appears to have difficulty offering much in the way of gluten-free dishes, or even offering suggestions along those lines. (I think the dreaded words "plain fish" or "plain chicken" were uttered early on in response to my inquiries.) The combo of the blackened shrimp martini ("Absolut and citrus cocktail with creme fraiche, black olives, and chives") and the Nuevo Caesar Salad ("tender hearts of Romaine, Tuscan Olive Salad, Caesar Dressing, and Chipotle Aioli") was my own idea. The two actually made for a perfect meal. I've often found that I enjoy such combinations far more than I do any of the entrees, and sometimes, it can mean the difference between eating gluten free safely or not. Such a combo offers the added benefit of a meal that is just right portion-wise  and cost-wise.  (Good thing on the first in this case, because the only gluten-free dessert offered was sorbet.) Breakfast at the inn is excellent. One starts out with a fruit bowl and then progresses to the main dish of choice (of which there are many—all good). There are also many choices for sides, juices, and teas (no coffee drinkers here). I enjoyed a ham and Swiss cheese omelet with bacon, cranberry juice, and tea. You can tell how much I enjoyed the omelet, because I couldn't wait long enough to take my photo before I sampled it! While I wish their dinner menu and restaurant personnel were more gluten-free friendly, Meadowbrook Inn is  still an establishment we'll return to.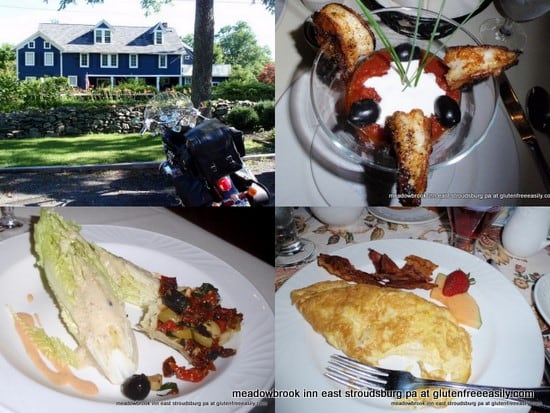 Griffin House
Warrensburg, NY
We first stayed at the Griffin House (then the Merrill Magee House) 22 years ago on our first trip to the Adirondacks. I was very pregnant with Son so we alternated camping with staying at B&Bs and friends. (And, no if you are wondering, we were not on a motorcycle that time. We drove the truck so we could take our canoe to check out as many lakes in the Adirondacks as possible.) Only the main house, shown in the photo below, was open. The neighboring guest house had just been built and was not yet open for guests. However, the restaurant, which is housed in the main house, was already well established and highly rated. It did not disappoint the first time or this time. The meals could be construed as somewhat standard fare with simply prepared beef, pork, and seafood choices. But, these types of dishes can be very gluten-free friendly. My surf and turf kabob was melt-in-your mouth good. The dish typically comes on a bed of rice, but I am very skittish about eating rice in restaurants. So, I opted for the classic baked potato and another serving of grilled vegetables, which were excellent–fresh and full of flavor. Our server checked repeatedly to make sure my dish was gluten free. She had a friend who had food intolerances and she was pretty savvy with the concerns she voiced before I had a chance to express my own; e.g., ensuring that the beef was not marinated in soy sauce. There were no gluten-free dessert options on the menu so the server made an ice cream sundae for me, even using Hershey chocolate syrup versus the standard syrup for the brownie sundae, just to ensure it was safe. It was wonderful to have a server who was so attentive and proactive in ensuring that I received a gluten-free meal.
The next morning our breakfast server also happened to be our breakfast cook. She was brand new to the job … subbing from her usual position on the housekeeping staff. She was very friendly and enthusiastic, so gluten-free lessons were given and Mr. GFE and I both ended up with a classic breakfast–scrambled eggs, home fries (from scratch with just safe spices and herbs), and bacon. It was safe and delicious, but our cook/server did serve the fruit bowl with muffins nestled on top. More gluten-free lessons were dispensed. Luckily,  I did not want any fruit and I did not get sick. We will return to the Griffin House when we are coming into the Adirondacks from the southern end near Lake George. (Note: Griffin House was offering a special deal Sunday through Thursday that included your room and a three-course dinner. We would have stayed there anyway, but that was a nice deal.)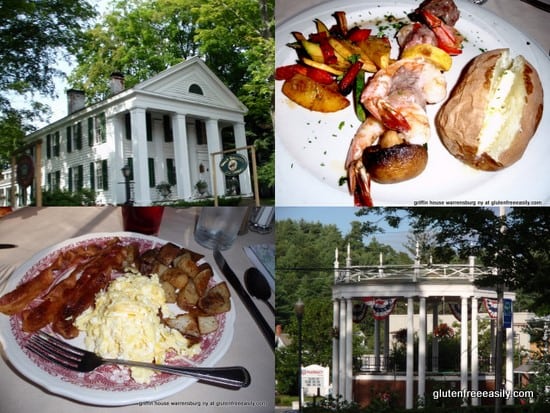 The Inn at Thorn Hill
Jackson, NH
The Inn at Thorn Hill is AAA four-diamond rated. I found it online through its glowing Trip Advisor reviews.  We use Trip Advisor to get a feel for many establishments where we are interested in staying or dining. I checked out a place  nearby where we had stayed prior to me going gluten free. The latest reviews were not great and the menu on that inn's website did not look gluten-free friendly. However, The Inn at Thorn Hill had many excellent reviews, one of which raved over its gluten-free offerings. I was convinced we should stay there when I read that they did a gluten-free tea. When I called to book a room in the more reasonably priced carriage house, I was tickled pink to find out that the room rate included not only our breakfast (which is standard, of course), but also a three-course dinner for each of us. I asked repeatedly to make sure the reservationist had the correct info. She did and—even better—when we arrived, they gave us a complimentary upgrade to a suite in the carriage house. Nice … and smart business.
The downside of our arrival was that we arrived at 5:30 pm and the tea ended at 5:00. Oh, well, another reason to go back, right? And, even that had a silver lining when we stopped at the bar to have a drink. Because the tea was over and dinner was not in full swing yet, two of the chefs, Ben and Brandon, happened by. Scott, our knowledgeable and affable bartender, asked them to share the gluten-free possibilities with me. They did, in detail and with entertaining enthusiasm. I was able to get a rundown of both dinner and breakfast choices and they were willing to re-create dishes as needed, excitedly talking about the different variations that were possible, engaging in a lively repartee with each other. They weren't daunted, but excited to come up with gluten-free versions of the menu items. For example, they couldn't prepare the Alaskan King Crab gnocchi gluten free on the spur of the moment, but they could serve the crab over salad greens and thinly sliced beets with a light dressing. Again, coming up with gluten-free options for a guest was clearly not a chore for them, but a fun adventure—I loved that!
I was really excited when they said they'd make some quinoa pancakes as my "bread." What a great, alternative for standard bread! For an entree, I knew I'd be going for the scallops as soon as they mentioned them. I chuckled when they moved on to the dessert possibilities and said they didn't server creme brulee—"too ordinary." Ben went over the homemade ice creams they had for the day: vanilla, hazelnut, and fenugreek. He added that the fenugreek was his favorite as the ice cream had a caramel flavor. Fenugreek? I had never heard of it. That evening I was told by a staff member that it was an herb, but later I found out that it's a plant that can be used for its leaves as an herb or its seeds as a spice. Here's the description per Wikipedia. In Wikipedia's description, it was stated that fenugreek is often used to make lower cost maple syrup substitutions. How interesting.
A short while later, we enjoyed our dinner in the lounge. We didn't meet the dress code for the dining room. (Well, Mr. GFE didn't anyway. There are only so many clothes you can take on the bike and, frankly, khakis are not a high priority.)  The lounge is quite lovely though. We had it all to ourselves and selected a window table with the inn's beautiful mountain view. Scott, the bartender served as our waiter and did an outstanding job. The meal itself was incredible. The quinoa pancakes were a worthy gluten-free bread choice.  In fact, they didn't last until my entree was served. They had a flavor and texture similar to cornbread. (This is one idea you should "try at home" as quinoa pancakes are fairly easy to make.)  The Alaskan King Crab salad appetizer turned out to be a fresh, delectable combination that was beautifully presented. The scallop dish was sumptuous … just look at the photo. For dessert, I had to go for the homemade ice cream. I was served a dollop of each flavor in a very cool trio dish. Hidden under each dollops was fruit: blueberries for the vanilla, strawberries for the hazelnut, and raspberries for the fenugreek. Ben was so right. The fenugreek ice cream was superb. It did have a caramel type flavor, but one that you couldn't quite "place," so you had to keep tasting and savoring. I wanted more of it, much more in fact, but contented myself with what was served.
Ben and Brandon had clued us into their whimsical addition of strawberry daiquiris to the breakfast next morning. While we heard other guests expressing surprise at such drinks for breakfast, Mr. GFE and I sipped contentedly with our "insider" knowledge. LOL We heard our server, Sophia (a delightful hospitality intern from the UK who had been the hostess the previous night and, incidentally, whose mum is gluten free), tell them that there was a tiny amount of rum in the daiquiris. I think the other guests appreciated the drinks more upon hearing that news. They just felt a bit naughty at starting out the day with a spiked juice of sorts. I greatly enjoyed my breakfast, the Mexican dish of Huevos rancheros, but without the usual tortillas as the inn only had wheat-based, flour tortillas on hand.
In summary, The Inn at Thorn Hill "does gluten free" and does it extremely well. It's worth a visit for that reason alone, but everything else about the inn is top notch, too, and the area is one we love returning to and want to explore more.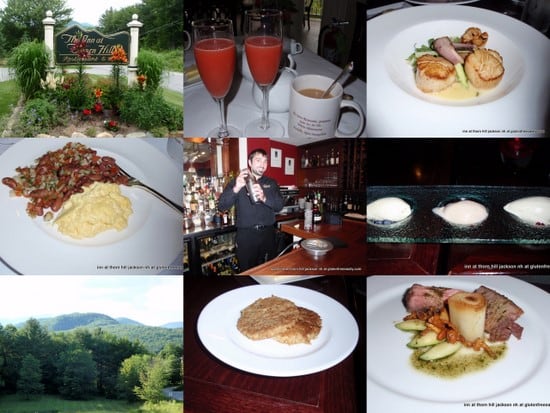 Pleasant Street Inn, Boyd Cottage, Lake Mooselookmeguntic
Rangeley, ME
We have friends who rent the Boyd Cottage on Lake Mooselookmeguntic every year with another couple—native "Maniacs" and their dear friends of many years. When we contacted our friends to try to meet up with them at their house on the coast in Massachusetts, we found out they'd be at the Boyd Cottage the very week we'd be cruising through New England. We were graciously invited to stay with them and their friends at the Boyd Cottage. However, it takes about 14 miles of logging roads to reach the Boyd Cottage. That's not a problem in a car, but it is on a bike. Instead, we opted for a very nice B&B in town. However, getting to the Rangeley area and our B&B, a snafu with Google directions and a momentary lack of a detailed map took us in the wrong direction. The road that put us back on track also took us through miles of road construction. Ironically, that construction meant single lanes of traffic on roads that were down to bare pavement. Sandwiched in between logging trucks, less than 5 feet away from the edge of a precipice with no guard rail, and a persistent drizzle had me with fingers crossed saying a few prayers and using visualization to get us to the B&B safely. Almost as soon as we made it to the B&B, our friends arrived to whisk us off for an evening of fun at the cottage. There was a fine meal of marinated steaks (thank goodness La Choy teriyaki sauce is gluten free!), grilled veggies, mashed potatoes, and some Ben & Jerry's ice cream for me. There was also wine and tequila, storytelling (a natural follow to the first, right?), an amazing evening boat ride on the lake (complete with loons … flashback to On Golden Pond) even if it did rain on us at the end, drying and warming time by the woodstove, and making new friends (the "Maniacs").
We said our goodbyes and were chauffered back to our B&B. Pleasant Street Inn is quite a find. The owners gutted the original farmhouse, both revising and adding on to the home to create a B&B that folks want to visit, and more importantly, one they can't wait to return to. They ensured that all the living space is very comfortable and guest friendly. (Our room even had one of those Sleep Number beds by Select Comfort. I loved it!) Owner/cook, Rob, made a breakfast dish he learned how to cook growing up—shirred eggs baked with cream, cheddar cheese, and tomato slices. Bacon and cantaloupe completed the excellent meal. It took a lot to get to this B&B, but we'll definitely return to Rob and Jan's Rangeley retreat on Pleasant Street (although it might be in a car next time). Hopefully, we'll get to meet our friends on "Mooselook" again as well. Oh, speaking of moose … as we left Rangeley and hit more road construction, a detour on a very rough road irked us a bit until it took us by this mama below. Her calf was actually across the road, with us in between. Do you recognize her look of concern? We could see her baby, but the shadowy woods did not allow me to get a photo.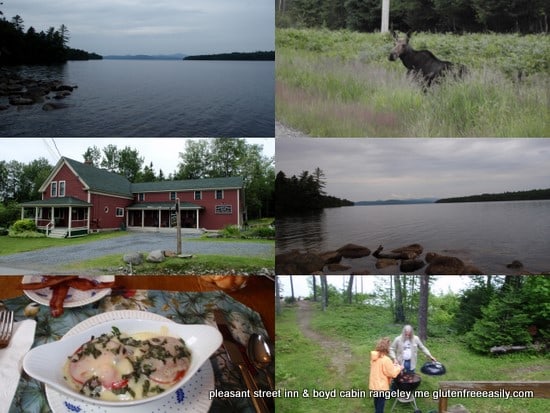 Before we started seeing the signs for Bar Harbor, we started seeing the lobster restaurants with their wood-fired cookers strategically placed by the road and smoking away. Who could resist that? Not us. One restaurant in particular, Gateway, appealed to Mr. GFE and soon we were parked and talking to the fellow on cooking duty at the time. Mr. GFE excitedly told him about the moose we'd seen earlier. It turned out this fellow was excited about moose, too. After 19 years of applying for a moose hunting permit via lottery, he had just won the right to hunt moose. I think Mr. GFE's response was a sincere, "Oh, no!" After a few more minutes of conversation, we headed inside and ordered a 2-lb + lobster to share. For a late lunch, it was heavenly and, of course, naturally gluten free—gluten free easily. Cole slaw and corn on the cob rounded out the simple, satisfying meal. This restaurant was a family-run operation. Everyone was friendly and the service was attentive.
We returned to 2 Cats Inn for our stay in Bar Harbor. We had stayed there before in 2003, on our first bike trip to New England. It's a funky, laid-back, and comfortable B&B. We rested for a bit and then walked towards the waterfront and Main Street to check out the latest activities, shops, and restaurants. A number of restaurants looked promising for dinner, but we finally decided on McKay's Public House. This was another spot recommended by Trip Advisor readers for its gluten-free options. It was wonderful. I started out with a Cosmopolitan at our server's recommendation when I asked. I followed that with the Caramelized Onion and Sweet Potato Soup. I love soup and almost any soup that I can eat out safely is good, but this one was a really nice way to start a meal–thick enough, but not too heavy and just the right amount of sweetness. If there had been no other gluten-free food options, I would have ordered another cup and made a meal of it. It was really very good and naturally gluten free. (Soup really does not need flour or wheat to thicken it. That's one thing we need to teach the world!) The Seafood Risotto (sauteed scallops and shrimp over lemon truffle risotto tossed with peas, Parmesan, cream, and tomatoes) sounded very appealing, so I was disappointed when our server said it was not gluten free. However, she quickly added that the dish could be made gluten free by using jasmine rice and just as quickly I requested that version. It was a really lovely dish … creamy pinks and whites, with other little splashes of color and great textures and flavors. The gluten-free dessert options were a flourless chocolate torte and creme brulee. The server recommended creme brulee, so I went with her pick and was happy I did—it was a classic creme brulee done well. Before we left, I ended up speaking with the manager as he was in the process of developing a gluten-free menu. I offered my help, we exchanged email addresses, and he gave me a gluten-free beer for Son to try–St. Peter's. Yes, we carried that bottle all the way back to Virginia even with our limited cargo space … and I haven't even gotten a review of it from Son yet. Sigh. The things moms do for their "kids" … a 21-year old kid that is.
2 Cats is both an inn and a restaurant. The restaurant, which is only open for breakfast, is well loved by locals and visitors alike. Everywhere you go in town, people are sporting 2 Cats t-shirts. (BTW, we only saw two cats—both very sweet, affectionate types who lazed around on the decks and the front porch.) The restaurant menu is extensive and the atmosphere and decor is casual and eclectic just like the inn. It's housed downstairs from the rooms, so one wakes as the delightful smells waft up the stairs. Once downstairs, I selected the Mediterranean Breakfast. It was described as "grilled sundried tomato polenta on a bed of fresh spinach with two poached eggs, homemade caponata, and feta cheese." Spicy home fries were served on the side. This dish was full of flavors dish and I enjoyed it, especially the polenta factor (I'm a huge fan of polenta), but I barely made a dent in it. (That's one of the negatives of traveling on a bike and staying single nights at establishments. There is no way to take home "doggie bags," so food gets wasted.)
Gateway Restaurant, Trenton, ME; 2 Cats Inn and McKay's Public House, Bar Harbor, ME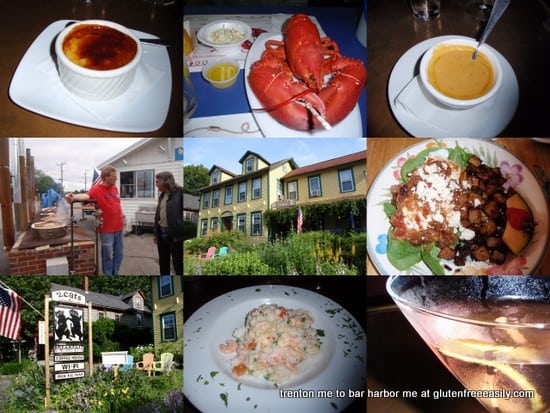 Whenever we plan our motorcycle trips a little bit of serendipity/happenstance is involved. This year was no different. Chatting with distant relatives after a memorial service for my husband's great aunt this past Spring, we learned that Mr. GFE had a cousin who ran a B&B  in Lincolnville Beach, Maine … "right on the water, it's Helen's son" we were told. We checked out their website and knew we wanted to visit. It was only about 10 days before we left home that we "nailed down" our plans and made a reservation at the B&B, offering up that we were there long-lost cousins from Virginia. Grant, who runs the B&B with his wife, Stephanie, was probably thinking yeah, right … okay, room reservation, that's what's important here. When we arrived and he came out to greet us, one of his first questions was "How are we related again?" Mr. GFE replied that Grant's grandmother, Helen, and his grandmother, Catherine, were sisters. However, that didn't quite jive as Grant stated that while his grandmother was named Helen she didn't have any sisters. I was already thinking that Grant was a generation younger than we were and perhaps that played into the confusion. A call to Mr. GFE's mother and some further discussion yielded the answer. Grant's great grandmother was also named Helen (yes, she named her daughter after herself) and she was the sister to Mr. GFE's grandmother. Grant confessed he'd called his great grandmother just "Grandma" for all his life and had forgotten she was the first Helen. To complicate matters, the "Helen's son" mentioned previously was actually Grant's father. Grant and Stephanie took over running the B&B from his parents, and not that long ago in family timeline standards.
Once we figured out the family tree and had settled into our room overlooking the water, we ventured across the street to the beach and Lobster Pound restaurant. I thoroughly enjoyed my lobster salad on a bed of greens with homemade potato chips on the side—a really great lunch combination. As we walked back to the inn, we ventured through the few shops nearby. (Our favorite was an antique shop that had an impressive inventory of books, and all very interesting ones. We could have spent hours browsing there.) The afternoon involved sketching out our side of the family tree to leave with Grant and Stephanie and even some pleasant napping as a storm blew through. There were several more restaurants—all in walking distance—and for dinner we went with Grant and Stephanie's recommendation, Whale's Tooth Pub and Restaurant. Housed in an attractive, aged brick building overlooking Penobscot Bay, this restaurant was wonderful for both of us. Our server's mother happened to be gluten intolerant so she was well-versed in what was and was not gluten free and worked with the chef to ensure I got a safe meal. It was not only safe, but fantastic—grilled swordfish, garlic mashed potatoes, and steamed broccoli. There were no gluten-free desserts, but who had room for one anyway? Not me, that was for sure. Oh, and you probably guessed … Mr. GFE's meal was prime rib. Naturally gluten free, but always ask about marinades and sauces, particularly with soy sauce (it seems to be used on many dishes these days). I believe the Whale's Tooth did use soy sauce if not specified.
The Spouter Inn's dining room is open to the public for breakfast, so there is a full menu. Stephanie grows her own organic herbs and vegetables and her backyard chickens supply a good portion of the eggs served. Thinking we were spending our last day in Maine, I went for the lobster and cheese omelet–my first ever, and very good. I wanted to linger over breakfast as another storm had blown in after dinner and had continued overnight. It showed no signs of letting up. But, we suited up and headed out with Grant's directions to keep up on us roads less traveled.
The Spouter Inn, Whale's Tooth Pub and Restaurant, and Lobster Pound
Lincolnville Beach, ME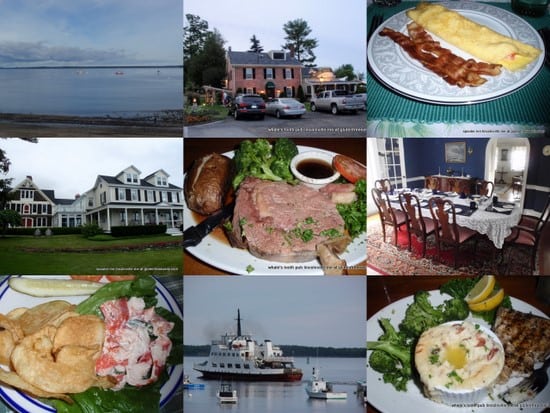 The Inn at Stoney Hill is a lovely B&B nestled in the woods less than a mile from the very charming town of New Hope, PA. We'd last visited this area when our son was into Thomas the Train, Legos, and Sesame Street. So, we'd visited Sesame Place and ridden on the New Hope and Ivyland Railroad, and spent some time checking out the shops and walking along the canal. This time we were just staying overnight. With our evening arrival and some quiet relaxing time in our safari suite (fun-theme, but I never did get to spend time on the faux leopard-skin chaise lounge), we only had time to go into town for dinner. But, what a dinner it was! We'd stopped to "cut the dust" earlier at a lively bar and several folks had recommended the Marsha Brown restaurant to us. The innkeepers, Judy and Tom, seconded Marsha Brown as the best dining choice.
By the way, Tom and Judy are a very warm and engaging couple who relocated to New Hope from Texas. Mr. GFE talked motorcycles with Tom who showed off three cruisers in their garage. I met their Australian Shepherd and visited their Nigerian dwarf goats—all just as friendly as their owners.
So, by the time we arrived at Marsha Brown restaurant, it was dark, and we couldn't fully appreciate the outside architecture. However, inside we found the restaurant to be visually stunning. It's housed in a 125-year old stone building, a former Methodist church. Vaulted ceilings, original stained glass windows, and a 40 x 20 foot Renaissance-style  mural are just some of the features that make it a gorgeous and calming place to dine. I really enjoy restaurants that take the time to create a relaxing and appealing atmosphere, but, of course, none of that matters if the food falls short. But, thankfully, it did not.
First, we were very pleased when our waiter, George, told us about the "celebration" menu–a three-course dinner for two at a very reasonable price for such an acclaimed restaurant. We weren't sure what they were celebrating, but we were quite happy to join in! I started with a Caesar salad sans croutons that came with a Parmesan crisp (always ensure such cheese "crackers" are really gluten free). My entree was Tournedos, which the menu described as "Filet medallions served in Au Poivre sauce over smoked garlic bliss, asparagus tips." Initially, George wasn't sure if the sauce was gluten free, but when he reported back that it was, I was thrilled. It's not often that those of us who are gluten free get to have a dish with a sauce. (So many are been made with flour as a thickener.) The dish was very nicely presented and so exquisite that I ate every morsel. The beauty of a three-course dinner is that the decision to have dessert is already made for you. Gluten-free choices were creme brulee, "Granmere's Comfort Custard," ice creams, and sorbets. I tentatively said creme brulee and George approved. It was an excellent creme brulee, but I still found myself wondering about that "Granmere's Comfort Custard"—a dish described as heavenly vanilla custard. I sighed and thought my usual … "next time." It was only later, much later, that I realized that Mr. GFE passed on dessert (he being one to never follow implied rules). He could have ordered a dessert—the custard, obviously—and I could have sampled both. LOL
As we were leaving the restaurant, we saw lightning flash through the stained glass windows and it started raining lightly. We were able to make it home before the downpour hit. It rained most of the night, but, thankfully, sunshine greeted us in the morning.
We ate breakfast by ourselves in the inn's dining room. The innkeeper, Judy, herself is gluten intolerant and eats gluten free. There was a fruit salad set out and a homemade nut bread, which she told me was not gluten free. The main dish was Eggs Benedict. Judy had purchased gluten-free English muffins, which was a really nice treat. However, she told me that unfortunately the Hollandaise sauce she served was pre-made and included wheat. I love Eggs Benedict and Hollandaise sauce is naturally gluten free, so that was a big disappointment. Even with all the other makings, it was not Eggs Benedict and I would have preferred to eat the eggs and meat alone and just skip the English muffins. I'm not a big orange juice fan … usually I give my glass to Mr. GFE who believes O.J. is "the nectar of the Gods," but Judy served strawberry-orange juice (or was it orange-strawberry juice?) and it was just wonderful. There was just the right amount of sweetness in the strawberries to balance the tartness of the orange juice.
The Inn at Stoney Hill and Marsha Brown's Restaurant
New Hope, PA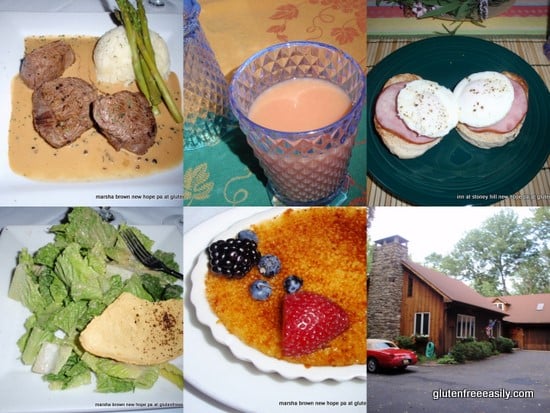 Often lunch stops along the way for us are diners. I can usually find safe gluten-free food at those. A chicken (or tuna) salad cold plate is a standby. In White River Junction, VT, we ate at Tuckerbox and I enjoyed Tuscan Chicken Salad on lettuce. I'm not sure what made it  Tuscan, but it was good.
A much needed break in Bretton Woods, NH at Fabyan's Station (part of the renowned Mount Washington resort) introduced us to moose juice. And, by "introduced," I mean just knowing it existed. This seems to be the area's version of Long Island Iced Tea or whatever other multiple-liquor drink that is popular and can disable one quickly. That's definitely not something you want to try when you are on two wheels.
When we left Lincolnville Beach, ME, we hoped the rain would let up, but it didn't. A very kind gentleman commiserated with us about the weather when we stopped to get gas. By that time, we knew we needed to stop. It was not safe to be on the road. He graciously offered to lead us to the nearest motel. Finally, we pulled into the Ramada Inn behind him. He was a local business owner who had lived in Virginia years earlier. As he handed Mr. GFE his business card, I was digging in the tail bag for an appropriate "gratuity." He was already shaking his head in protest, clearly expecting me to hand him cash. But, when I handed him a jar of our honey, he smiled broadly and told us how much he and his daughter love honey. So, in the end, all of us were very grateful.
We had traveled only 99 miles that day and we'd planned to travel 270 miles, heading into central MA to visit a friend and her family. At first we weren't even sure which town we were in. We had maps spread out along with our wet clothes and boots. Soon we had a new itinerary and a few phone calls later we had rearranged the remainder of our trip.
The Ramada Inn had its own restaurant. That's usually a big plus; however, this one served buffet meals only. There was a $4.99 buffet for breakfast, a $5.99 buffet for lunch, and a $6.99 buffet for dinner. As you can imagine, with those prices, the restaurant was full. But, buffets are not usually gluten-free friendly. Even if there are gluten-free selections, the chance of cross contamination is huge. I surveyed the buffet and saw very little that did not contain gluten. I asked our server if I could order off a menu or have a special plate fixed. She was sympathetic, stating that she had food allergies herself, but answered no. We couldn't get back on the bike and venture out again for lunch somewhere else. So I gathered my courage, performed some intense scrutiny of the buffet items, and prepared a plate of turkey breast, instant mashed potatoes, mixed vegetables, and salad. That was the scary meal (middle photo) I was referring to earlier. Either I chose carefully or I was lucky (or both) because I did not get sick.
When dinnertime came, we warily returned to the restaurant. A quick survey revealed there was nothing on the buffet but gluten-filled buffet items. We headed to the front desk and inquired about taxi services and local restaurants with gluten-free offerings. The front desk clerk used her cell phone to call a friend with food intolerances. (That was above and beyond the call of duty, and very much appreciated.) Soon, a taxi picked us up and off we went to Fish Bones American Grill. It was clear this attractive restaurant, which is located in a renovated mill building, was very popular. When the hostess told us there was a 90-minute wait for a table, we headed to the bar area and found seats after a few minutes. The two bartenders on duty, Larry and John, were friendly and impressive multitaskers and soon they were serving us our meal. A lovely, fresh green salad was followed by the mixed seafood grill. Grilled scallops were tucked into grilled shrimp on skewers and served over grilled haddock. Served with fresh steamed vegetables, the mixed grill was an outstanding dish. Dessert was flourless chocolate cake with chocolate ganache and Chantilly cream. It was good (but not quite as good as the one I make).
And, unplanned stops along the way …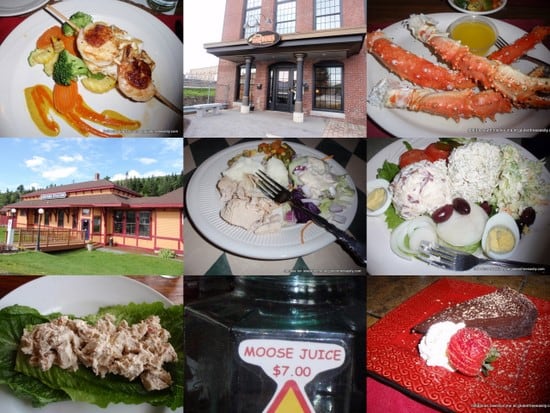 Hope you've enjoyed my lengthy review … it's hard to cover 11 days of eating in 10 states over 2,100 miles and be brief!
Shirley
Not just gf, but gfe!