For affiliate links and as an Amazon Associate I earn from qualifying purchases.
Today's classic and gluten-free Pumpkin Bread recipe took a while to get to. As I shared in my last post, nothing was going well in my kitchen yesterday.
First, I tried an alternative gluten-free pumpkin bread recipe that was grain free as well and also contained flax seed and chia gel (in addition to eggs).
Then I made some cupcakes that I'd made previously that were okay, but not great.
I thought–key word there, "thought"–I could adjust the recipe to improve the texture and make the cupcakes dairy free and sugar free.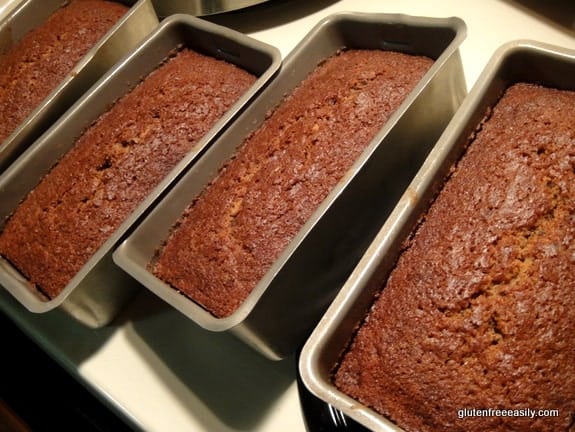 I hadn't felt particularly great about either of the recipes, but I'd forged ahead anyway. For the cupcakes, I was trying to seize upon the fun of gluten-free cupcakes for Halloween.
I have Halloween cupcake liners that have been sitting unused in my pantry for years, just waiting for the perfect recipe. With a design of bats and pumpkins, they could bring such joy to those eating some delicious cupcakes.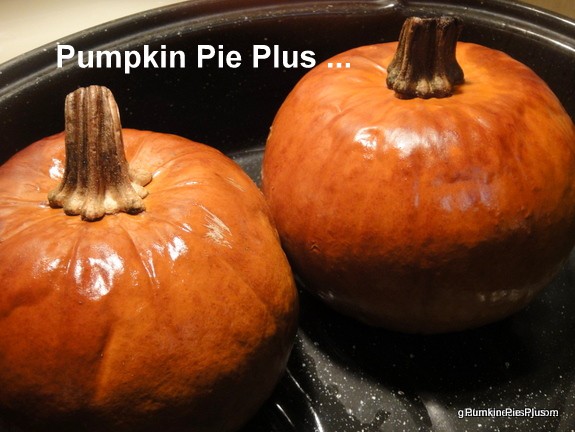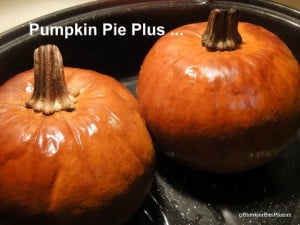 Cupcakes have been the "in" fun thing for a while now and there are two terrific gluten-free cupcake cookbooks out from gluten-free friends. Elana's (Elana's Pantry) new book is Gluten-Free Cupcakes: 50 Irresistible Recipes Made with Almond and Coconut Flour. Pete and Kelli's (No Gluten, No Problem) cupcake cookbook is Artisanal Gluten-Free Cupcakes: 50 Enticing Recipes To Satisfy Every Cupcake Craving.
One must remember that Elena and Pete and Kelli all must bake cupcakes non-stop for months prior to the publication of these cookbooks—with failures as well as successes. I only gave that reality any thought after my failure.
Honestly, I was just kind of rolling the die on the cupcake recipe I wanted to adapt. I didn't have a strong feeling that my ideas would work in this case.
I added some gluten-free flour to balance out the fact that these cupcakes had been way too moist in the original version. I also made a dairy-free, sugar free version of condensed milk for the first time to use in this recipe.
Or, maybe I should say "tried" to make a new version of condensed milk. I kept waiting for the combination of ingredients to thicken appropriately, tasting as I went. Neither the thickness nor sweetness necessary for winning cupcakes were there, but I kept going anyway.
The baked results looked fairly good and the toothpick test worked, but one bite indicated the cupcakes were not a success. The results were more like mousse cakes and not good mousse either.
For the other recipe—the alternative bread—the formulation had seemed doubtful to me, but the reviews had been good, so I forged ahead. Again, I didn't listen to my inner voice.
I really wanted to share a grain-free bread that I'd adapted to be even better. I hadn't wanted to take the easy way out and use a recipe that I'd been using for years with success.
In hindsight, this was silly. I should have just shared what I wanted to from the beginning … my pumpkin bread. I say "my" pumpkin bread, but this is a classic pumpkin bread recipe I got from a dear friend back when I was in college—long before I went gluten free. (I know she had gotten the recipe from someone else but that's all I know. I don't know the original source.)
I converted the recipe to Classic Gluten-Free Pumpkin Bread shortly after I went gluten free. The conversion was quite easy; I just replaced the all-purpose flour with my Two-Ingredient Gluten-Free All-Purpose Flour Mix and added some xanthan gum. (See additional notes on using xanthan gum in the recipe at the bottom of this post.)
This bread remains a family favorite. Son will be home again this weekend and I know he'll gladly grab a loaf on the way out the door!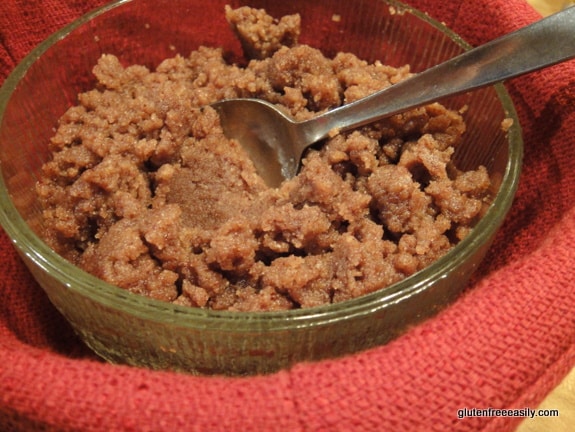 I was so happy myself to see four loaves of my gluten-free pumpkin bread cooling on the top of the stove that I snapped a few pictures. In disarray or all lined up, the sight of these loaves of gluten-free pumpkin bread made me happy!
For breakfast this morning, I enjoyed a slice topped with some of Desi's (The Palate Peacemaker) Spiced Maple Pecan Butter (unfortunately, this site is no longer active). That combination was a really nice way to start the day … flavorful, light pumpkin bread with sweet tender crumbs and just a little touch of pumpkin pie, maple, and pecan flavor. This breakfast certainly made me quickly forget the baking foibles of yesterday!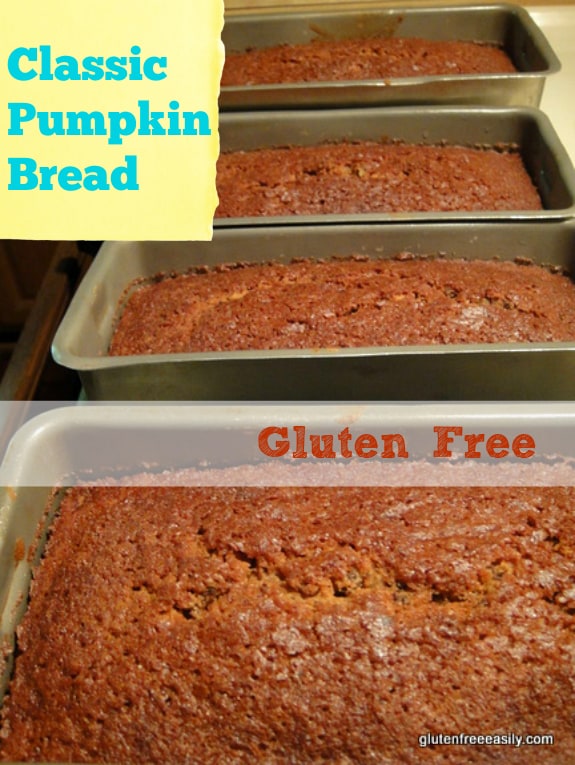 Some More Gluten-Free Bread Recipes Right for Fall (or Any Time You Want a Comfort Food Vibe)
~ 20 Comforting Cinnamon Raisin Bread and Cinnamon Raisin Swirl Bread Recipes
~ Banana Bread Love—Over 40 of the Best Banana Bread Recipes
~ Cheddar Cheese Bread (No Yeast Needed)
~ Crumpkin Pumpcanberry Bread (aka Cranberry Pecan Pumpkin Bread)
~ Paleo Chocolate Chip Zucchini Almond Bread
Classic and Gluten-Free Pumpkin Bread Recipe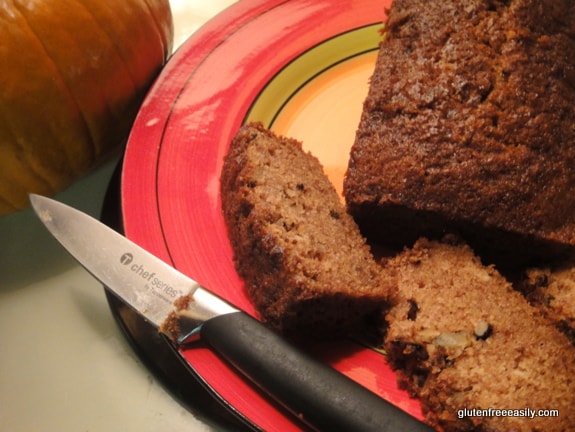 Yield: 2 regular-sized loaves or 4 mini loaves
Classic Gluten-Free Pumpkin Bread (or Pumpkin Muffins)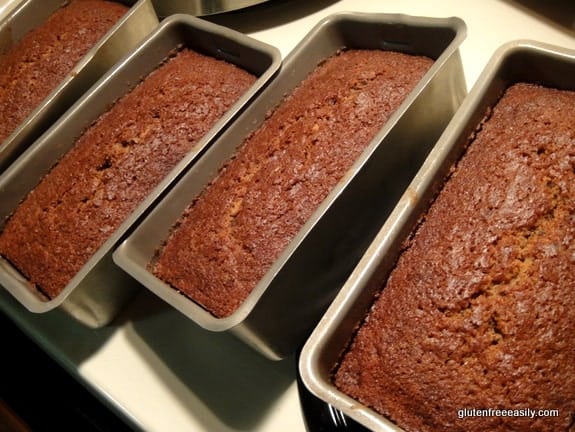 Make two full-sized loaves or several mini loaves of this totally delicious and classic gluten-free pumpkin bread. With mini loaves, you can keep some for you and your family to enjoy and give away some as well. You can even make pumpkin muffins with this recipe if you prefer.
Cook Time
1 hour
10 minutes
Instructions
Preheat over to 350 degrees. Grease two 9 x 5 x 3 loaf pans (or four smaller loaf pans).
In large mixing bowl, cream shortening and sugar until fluffy. Stir in eggs, pumpkin, and water. Blend in flour, baking soda, salt, baking powder, and spice(s). Stir in nuts and raisins (if used).
Pour into loaf pans. If using large loaf pans, bake about 70 minutes or until done. If using smaller loaf pans (as shown), bake 45 to 50 minutes.
Test for doneness using toothpick. Let sit in pan for about 10 minutes before removing to cool.
Notes
I use my Two-Ingredient Best Gluten-Free Flour Mix in this recipe. Feel free to use whichever flour mix you use most often for baking.  
I'm pretty sure that coconut/palm sugar would work well as a substitution for the granulated sugar.
Some of you will want to know if this recipe will work without xanthan gum. Here's what I can tell you. Today I was out of xanthan gum. The bread still came out great without it when making these smaller loaves. It was perhaps a tad crumbly, but not enough to be a problem. Just be sure to let the loaves cool adequately before removing. Note that I'm not sure if a larger loaf would be more crumbly without xanthan gum.
You can add in small amounts of other ingredients (such as dried cranberries, raisins, etc.) if you like.
Smaller loaf pans allow me to make four loaves, which is great for gift giving during the holidays, sharing a loaf at the office, sharing a loaf with my parents, etc. Sometimes, I'll make one large loaf and two smaller ones. We keep the large loaf and I give away the small loaves or freeze them to give later.
Last, if you don't have time to make loaves, use the recipe to make cupcakes/muffins instead. Baking time should be about 20 to 25 minutes for conventional-sized muffins. Test for doneness with a toothpick.
Tomorrow's recipe is cooking in the slow cooker right now. I feel good about it! Check out other Pumpkin Pie Plus … entries:
Monday ~ Pumpkin Pie Smoothie with Honey Cinnamon Whipped Cream
Tuesday ~ Making Pumpkin Puree and Well-Tested Recipes
Wednesday ~ Today's recipe
Thursday ~ Pumpkin Butter
Originally published October 27, 2010; updated August 9, 2023.