For affiliate links and as an Amazon Associate I earn from qualifying purchases.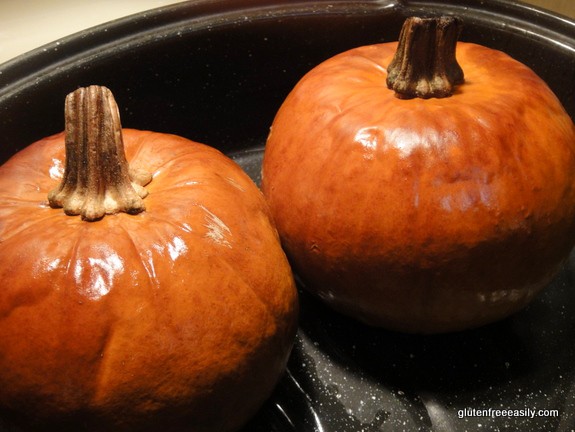 This post is linked to Newlyweds Blog Pumpkin Linkup.
So here I am very, very late in the second day of my Pumpkin Pie Plus … series, without the recipe I'd planned. Let's just say that sometimes spur-of-the-moment recipe series don't always go well because recipes don't always work out. If you "like" gfe on Facebook, you already know the story. So, I'm moving on to Plan B and sharing some different ways to cook pumpkin and make your own pumpkin puree. These same methods can be used to bake or roast squash.

Ali (Nourishing Meals) likes to bake her pumpkin after cutting it into pieces and removing pulp and seeds.  You can read and see her tutorial here. Ali has many pumpkin recipes, but her Pumpkin Spice Cake is especially lovely.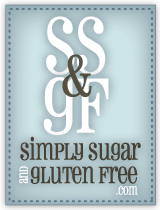 Amy (Simply Sugar & Gluten Free) often cooks her pumpkin in halves in water in the oven. However, if her oven is needed or she wants a cool kitchen, she likes cooking squash whole in her slow cooker. She also uses her slow cooker to make Pumpkin Pie Pudding.

Elana (Elana's Pantry) cuts her pumpkins in half, removes pulp and seeds, and bakes them in a little water. Her  10-step pumpkin instructions are here. Elana's latest recipe is Pumpkin Bars!

Kelly (The Spunky Coconut) bakes her pumpkin and squash whole in the oven (no poking or cutting) with no water added. I just used Kelly's method and the pumpkins above are a great example of how beautiful whole baked pumpkins are. (Yes, that is the same photo that I am using for my series badge, shown below.) Previously (for many years), I subscribed to the cut, remove pulp and seeds, cut into chunks, and cover with some water school of thought. Now I think I'm sticking with this method. Check out Kelly's grain-free pumpkin pancakes.
Do you have a favorite way of cooking pumpkin or squash to make puree or otherwise? Let us know, or maybe find a method above that will work best for you.