For affiliate links and as an Amazon Associate I earn from qualifying purchases.
Some of you may be surprised to see me sharing a gluten-free Peach Cobbler today. After all, most of us are already well "into" the goodness of Fall favorites like pumpkins, apples, butternut squash, and sweet potatoes and well, "all things comfort food" in my case.
So why Peach Cobbler today? Well, until just recently, we still had some peaches in the stores here and some of you who are further south are perhaps even still enjoying fresh peaches from your local orchard. But mostly, I'm sharing this recipe today because I'm playing "catch up" and I want to go ahead and get this recipe on gfe for next peach season as well.
I shared this collage of photos of my gluten-free Peach Cobbler several weeks back on Facebook and many of you who saw it got excited so I promised to share it soon.
"Soon" has taken longer than I originally intended because I didn't want to share any more recipes before I shared my tribute to Mr. GFE and that took a while to compose and publish.
I want to sincerely thank all of you who took the time to comment or to email or message me to offer your condolences and support as well as your kind and generous words on me continuing here at gfe. Some of you who have been reading gfe for years reached out for the very first time. You surprised and delighted me with your feedback on how living gfe has been lifesaving for you and your family.
Many more of you commented that you were incredibly moved by my tribute to my husband and more so by his actual life, as exemplified by the words of so many who knew and loved him. Your messages touched me. Admittedly, Smokey would seemingly "dismiss" all the accolades but he would be most grateful for the kind and loving words and the recognition of his efforts over a lifetime. He surely deserved all.
About This Peach Cobbler Recipe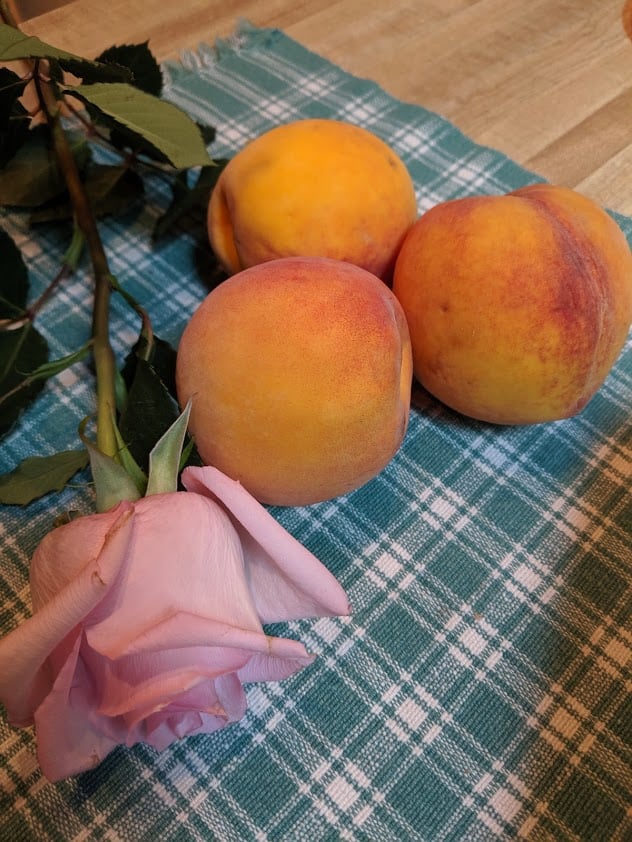 When I shared my gluten-free Blueberry Cobbler recipe, I told you that recipe could be used to make other fruit cobblers, simply substituting any fruit for the blueberries. So, when I found myself with perfectly ripe peaches on my counter, that's exactly what I did.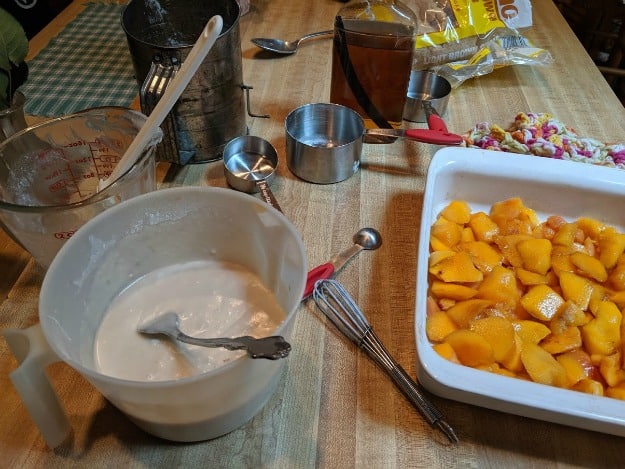 Well, almost. I did substitute light brown sugar for the granulated sugar. As expected, the resulting Peach Cobbler was absolutely delicious!
Mom said the amount of sugar in this recipe was just right. However, Son said he would have been fine with less sugar. Hence, my "or less to taste" noted for the brown sugar in the recipe.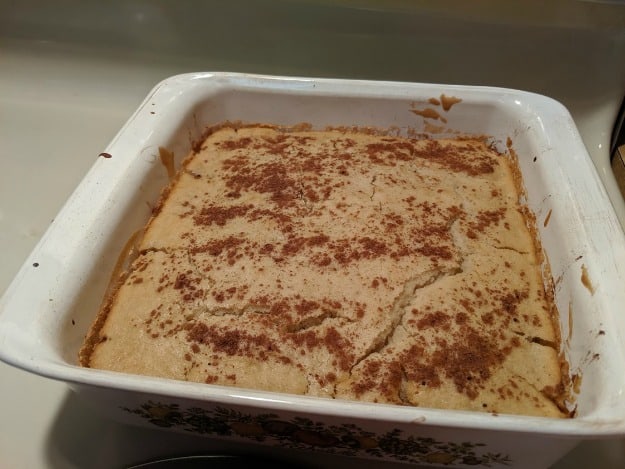 By the way, I LOVE the cracks on top of this cobbler because they will allow a scoop of ice cream to "melt in" better.
I bet this cobbler would also be lovely—and tasty—with a bit of streusel topping. I will have to try that some time and report back. (If you try it, please let us all know how it goes.)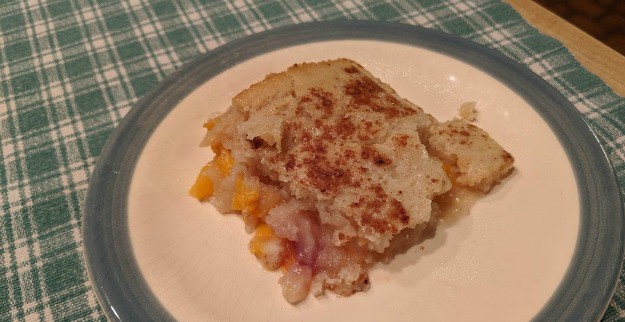 You'll find my super easy and delicious recipe at the bottom of this post.
But before we get to that I want to mention that gfe reader/friend Carrie Cooper Wood uses my Crustless Peach Pie recipe to create a gluten-free, sugar-free Peach Cobbler.
She shared: "I used Pyure (granulated stevia) for the sugar. I add about 1/2 teaspoon or so of almond flavoring to bring out the peachy goodness. Super fast and easy to throw together, too. Six peaches in a 2-qt square CorningWare dish makes a great ratio of peaches to crust and juiciness."
Note that Carrie says that granulated stevia is different from powdered stevia. She explains:
"Powdered stevia is a different story and if you want to use that, I'd recommend starting with a small amount and adding in small amounts until the dough is sweet enough for you. When using powdered stevia in baking I usually add more liquid, or fat, because it doesn't have that liquidity that granulated sugar does. This Pyure brand granulated stevia has been a game-changer for me in baked goods."
By the way, Carrie made this recipe for her husband's birthday and topped the warm cobbler with vanilla ice cream. Yum!
More Gluten-Free Peach and Cobbler Recipes
~ 70 Gluten-Free Peach Dessert Recipes
~ 175 Gluten-Free Apple Desserts (including Apple Cobblers)
Gluten-Free Peach Cobbler Recipe
Yield: 9 servings
Gluten-Free Peach Cobbler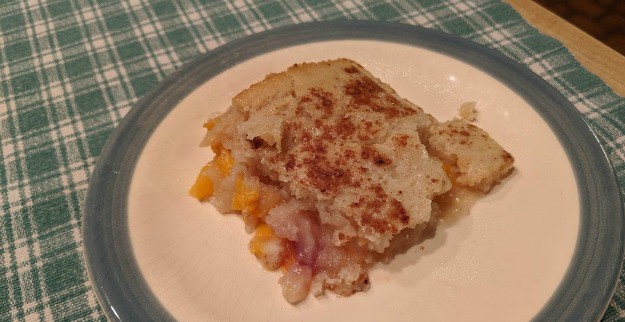 A simple and delicious peach cobbler made with fresh peaches, brown sugar, milk (dairy or non-dairy), and gluten-free flour. 

Prep Time 10 minutes

Cook Time 40 minutes

Total Time 50 minutes
Ingredients
2 cups fresh ripe peaches, peeled and sliced (about 3 large peaches)
1 cup gluten-free flour mix (like my Two-Ingredient Flour Mix; see additional options in notes)
1 ½ tsp baking powder
¼ tsp sea salt
3/4 cup light brown sugar (or less per your personal taste)
1 cup of milk (dairy or non-dairy; I prefer full-fat coconut milk)
About ½ tsp ground cinnamon (or more if you really like cinnamon)
Instructions
Preheat oven to 350F degrees.
Lightly grease 8 x 8 baking dish.
Place sliced peaches in baking dish.
In medium bowl, whisk flour, sugar, and milk together until well blended. Pour batter over the peaches.
Sprinkle cinnamon evenly over batter.
Bake for about 40 to 45 minutes, until the top of the cobbler is golden brown. You can also test your cobbler with a toothpick to ensure that it is baked through.
Notes
A gluten-free flour mix works perfectly in this recipe. I used my Two-Ingredient Gluten-Free Flour Mix and did not add xanthan gum. However, I don't think that using a gluten-free flour mix that already contains xanthan gum will cause any issues with the recipe.I also make versions of fruit cobblers using almond flour by itself and almond flour with a little sweet rice flour mixed in. There are probably several other single gluten-free flours that also can be used successfully as the flour in this recipe. I'm thinking sorghum flour, buckwheat flour, oat flour (be sure to use oat flour made from certified gluten-free purity protocol oats), and the like.

Note that I used all sweet rice flour in one version and the results were super chewy. We liked it, but the next day it was even chewier---and very difficult to cut or spoon out a serving---so I don't recommend using sweet rice flour by itself or using a mix with a lot of sweet rice flour.

If you are making your cobbler grain free, you can use this grain-free baking powder.

Originally published October 26, 2019; updated April 13, 2013.