For affiliate links and as an Amazon Associate I earn from qualifying purchases.
Today is the second week of Slightly Indulgent Mondays and I'm contributing this dairy-free Peach Sorbet recipe. Spoiler alert: It's only four ingredients and it's delish!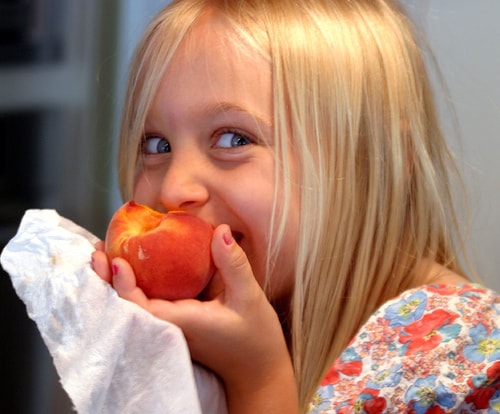 The Joy of Eating a Peach (flickr: savannahgrandfather)
In response to my recent post on my gluten-free, dairy-free Snickerdoodle ice cream, helpful reader Sandy, shared a recipe for peach ice cream. I was very excited because making peach ice cream had been on my mind for a while. Plus, I had some peaches on the counter right then.
So I prepared and put those in the freezer, but I only had about 2 cups, which was quite a bit less than what was required. So I purchased some more peaches and when they ripened, I prepared those and added them to the freezer container.
I liked that the recipe called for frozen peaches and you could just make the ice cream when you had stockpiled enough peaches. (That's a concept I use for my Everything Soup and sometimes pot pie or chili.)
The recipe only had four ingredients, so it went together in no time. Note that there is some waiting involved before you churn the ingredients, as you can see below. Also, I had to adjust the amounts as the original recipe was too much for my Cuisinart ice cream maker.
Remember that when filling your ice cream maker. Although I didn't realize that until about halfway through the churning process when the mix started flowing over the sides. Yikes.
As a result, my new ice cream maker is now truly broken in, and hopefully not broken, as peach "liquid" was even coming out of the vents in the bottom. At that point, the churning was done and I thought what the heck, so I unplugged it and flushed out the center part until the water coming out of the bottom vents was clear.
I won't use the ice cream maker again until it's all dried out. Keep your fingers crossed … a version of my friend's lemon basil ice cream is next on my list.
Despite the little technical glitch, the results were very good. But, I think a better description of this frozen recipe is sorbet, not ice cream. Dairy-free Peach Sorbet. This sorbet is light and refreshing.
I have to admit that I'm not always a huge peach fan, but I have really enjoyed this sorbet. It's slightly indulgent, but not overly indulgent. (When you want a more indulgent flavor, try the Snickerdoodle ice cream—it's luscious.)
I really like this dairy-free peach sorbet, and I think you will, too. A week later and there's still half of it left in the freezer … in fact, I'm getting ready to enjoy a bowl.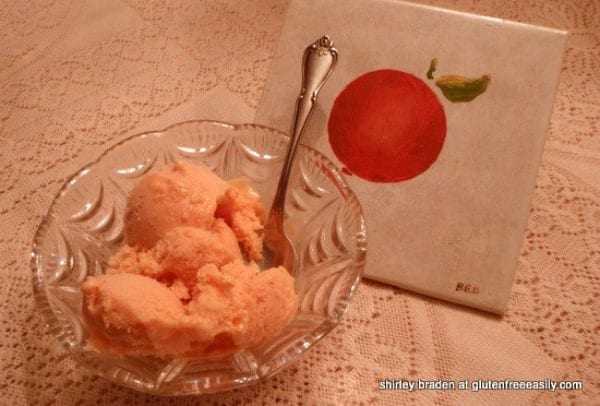 Dairy-Free Peach Sorbet Recipe
Yield: 6 servings
Peach Sorbet (Dairy-Free)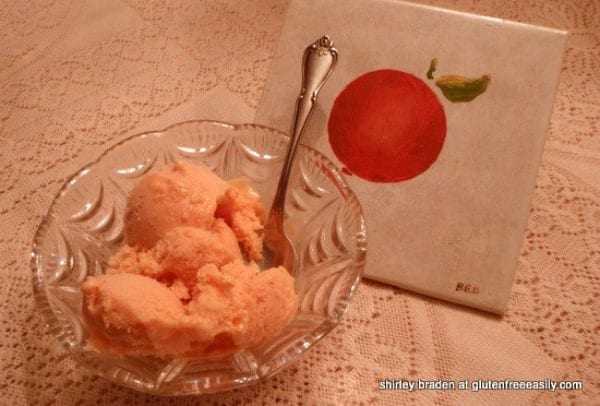 Honey, be a peach and give me a scoop of this Peach Sorbet! This recipe is simple and delicious!
Total Time
2 hours
35 minutes
Ingredients
3 3/4 cups frozen, diced peaches; partially defrosted (or fresh, unfrozen peaches; see notes)
one 14-oz can full fat coconut milk, chilled
½ cup honey (may use 1/3 cup of honey if you like less sweet; or substitute ½ cup agave nectar for vegan option)
1/4 tsp or so of vanilla bean scrapings or 1 tsp vanilla extract
Instructions
Combine all ingredients in blender. Blend; then place the full blender pitcher in the refrigerator for 2 hours.
Pour chilled mixture into ice cream maker and churn for 20 – 30 minutes.
You can eat at this point, but the sorbet will still be somewhat soft. I froze mine for another half hour or so before eating.
Notes
If using fresh, unfrozen peaches, you will have to chill your sorbet for a longer time after churning.
Not into peach? Or, have other ideas? Or, other fruit (or vegetables!) on hand, consider these recipes:
Melissa's Rhubarb Blueberry Sherbet or her Beet Ice Cream (the color is amazing!),
Ali's Watermelon Sorbet or Strawberry Coconut Ice Cream,
Diane's Blueberry Ice Cream,
Elana's Roasted Banana Coconut Ice Cream, or
Amy's Lemon Meringue Frozen (Greek) Yogurt  or Orange-Infused Dark Chocolate Ice Cream with Toasted Walnuts.
It seems that every time I talk about ice cream, sherbet, or sorbet, I always say the same thing … so many possibilities! Enjoy!
Shirley
Not just gf, but gfe!
Originally published September 7, 2009; updated July 17, 2018.