For affiliate links and as an Amazon Associate I earn from qualifying purchases.
As I've shared here at gfe many times, I'm a huge fan of fish and seafood in general, but I'm crazy for the Ginger-Glazed Mahi Mahi with Pico de Gallo recipe that I'm sharing today!
Fish and seafood can easily be prepared gluten free by grilling or baking with some simple herbs and seasonings, or using basic sauces. That's why you'll see them as one of the options that offer a multitude of possibilities in the PDF listing of 50+ meals that are gfe in my Go Gluten Free section. (See tabs below my blog heading.)
As Mr. GFE is an avid scuba diver, our non-motorcycle vacations often involve trips to warm places with equally warm waters teeming with spectacular life. Fortunately, that also usually means an abundance of fresh fish and seafood for dining.
On our 20th wedding anniversary several years ago, we visited Maui and stayed at the Napili Kai resort. Napili is a truly lovely and quiet area of the island and the Napili Kai resort follows suit.
I've read that none of the buildings in Napili are allowed to be taller than the palm trees and while I haven't verified that information, it certainly seemed to be true when we were there. The Napili Kai resort is low-rise and old-fashioned, but it remains a welcoming retreat.
It's on a hillside with two gorgeous crescent-shaped beaches on either side. I snorkeled and swam each morning while Mr. GFE was off scuba diving. It's such a popular and appealing spot, that I witnessed not one, but five weddings on the beach that week.
I have the photos to prove it, but I digress … back to my love of fish, especially mahi mahi …
We discovered that in addition to the fine restaurant at Napili Kai resort, there was another well-respected restaurant a short walk up the hill in the clubhouse of the neighboring golf course. The clubhouse became one of our favorite places to dine.
During the day, the dining room seemed fairly average, but at night it was transformed into a romantically lit, elegant eatery. Once seated, the first thing the server did was hand you a menu with the day's specials.
I remember that every evening we visited, there were at least six (often as many as eight) different fish offered—listed in order of firmness. I'd never seen fish listed by firmness before and haven't seen it since.
Each type of fish could be prepared several different ways. I was in fresh fish heaven. In most of the fish dishes, the fish were simply grilled with herbs and seasonings, but I was never disappointed as the freshness and unique flavor of each fish shined through.
More than once that week, I enjoyed mahi mahi, also known as dolphin fish. Yes, it's a fish, not the mammal we've come to know and love as Flipper. Admittedly, mahi mahi is sometimes considered boring or mundane by chefs and restaurant critics, but I like its mild, slightly sweet taste.
Fish can be expensive even when you are purchasing it and cooking it yourself (although we're satisfied with small portions so the value is higher in my opinion). I usually grab several packages of several varieties whenever there's a good sale.
I cook some right away, but freeze the rest, to pull out for a quick dinner later. Mahi mahi, salmon, tuna, swordfish, tilapia, and swai are ones I like to pick up when I can.
I found a mahi mahi recipe on Allrecipes.com a few months back. It called for honey (you know how I love using our bees' honey) and balsamic vinegar. Even with mahi mahi's inherent sweetness, I still found the sweeter tone of the recipe itself very appealing. And, when we tried it (with a few minor modifications), we really enjoyed it.
When I picked up some mahi mahi recently, I planned to repeat my variation. However, in a moment of inspiration, I made a simple pico de gallo, tossing some yellow pepper, red pepper, Vidalia onion, and some cilantro leaves into my mini-chopper. (Purists can use their fine chef's knives to do the work.) I stirred it all together and spooned it over the mahi mahi once it was ready.
The pico de gallo was fresh, attractive, and most importantly delicious as a topping for the ginger-glazed mahi. In fact, the next day, Mr. GFE ended up with a leftover piece of mahi mahi with no pico de gallo left for topping and lamented that the mahi was not nearly as good without it. So, the easy-to-make delicious addition of pico de gallo really takes this mahi to the next level!
Diane of The Whole Gang selected red or green pepper as her Friday Foodie Fix ingredient. I'm submitting this recipe to her blog event at her site and also my That Chili with the Mushrooms! vegetarian chili (bell peppers are another key ingredient of that recipe as well).
Check out the step-by-step photos and the easy recipe for Ginger-Glazed Mahi Mahi with Pico de Gallo below—another "gluten free easily" (gfe) recipe for you!
Ginger-Glazed Mahi Mahi with Pico de Gallo Recipe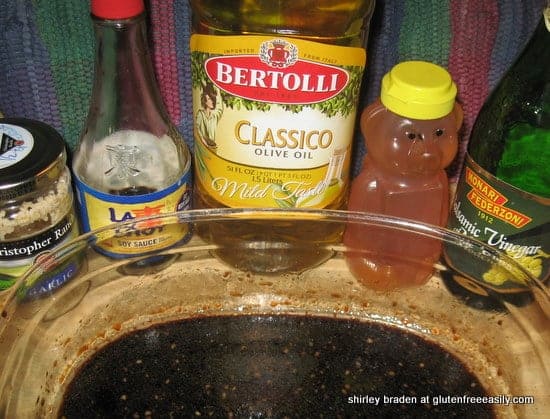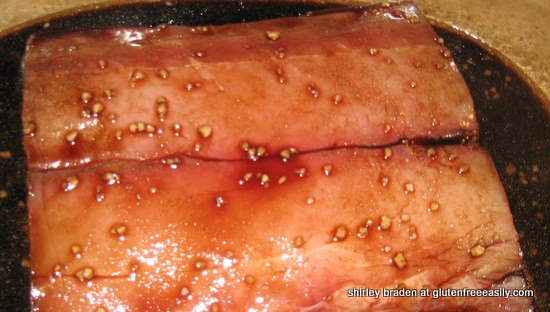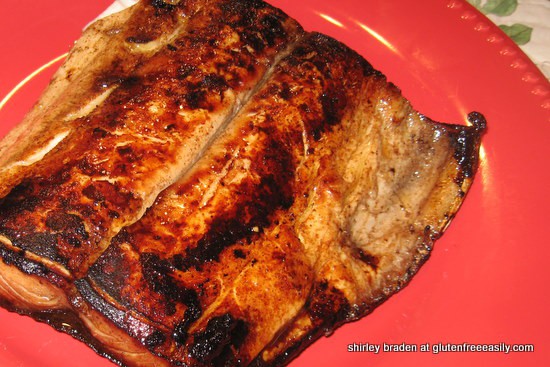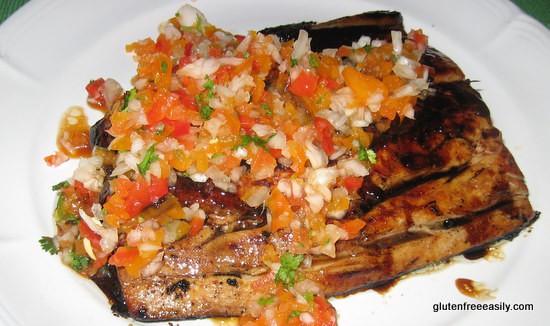 Yield: 4 servings
Ginger-Glazed Mahi Mahi with Pico de Gallo
This Ginger-Glazed Mahi Mahi is a simple dish that has restaurant quality goodness. The Pico de Gallo topping adds color, flavor, and texture.

Prep Time 5 minutes

Cook Time 15 minutes

Inactive Time 20 minutes

Total Time 40 minutes
Ingredients
Ginger-Glazed Mahi Mahi
3 tablespoons honey (or maple syrup)
3 tablespoons gluten-free soy sauce or tamari (ensure that it's gluten free; I limit soy, but if you don't use it at all, just substitute some molasses and perhaps a little more balsamic vinegar for a similar flavor) or coconut aminos
3 tablespoons balsamic vinegar
1 teaspoon grated fresh ginger root
2 cloves garlic, crushed or minced
2 tablespoons olive oil
4 (6-ounce) mahi mahi fillets (or similar amount, less is fine---you'll just have extra sauce)
sea salt and fresh ground pepper to taste
1 tablespoon vegetable oil
Pico de Gallo
Yellow pepper, finely chopped
Red pepper, finely chopped
Vidalia onion, finely chopped
Cilantro, finely chopped
Instructions
Ginger-Glazed Mahi Mahi
In a shallow glass dish or Ziploc bag, stir together the honey (or maple syrup), soy sauce, balsamic vinegar, ginger, garlic, and olive oil. Season fish fillets with sea salt and fresh ground pepper, and place them in dish or bag. (Place skin side down, if applicable.) Cover dish or close bag, and marinate 20 minutes in refrigerator.
Heat vegetable oil in a large skillet over medium-high heat. Remove fish from the dish, and reserve marinade. Fry fish for 4 to 6 minutes on each side, preferably turning only once, until fish flakes easily with a fork. Remove fillets to a serving platter and keep warm.
Pour reserved marinade into the skillet, and heat over medium heat until the mixture reduces to glaze consistency (which will take a minute or two). Spoon glaze over fish. Make pico de gallo (as shown below) and top the fish. Serve immediately.
Pico de Gallo
Stir all together and serve over fish, chicken, etc. Ingredients can be varied based on what you have on hand and your individual preferences. Similarly, just use amounts per what you have and what ratio/mixture looks most appealing to you.
Notes
The ginger-glazed portion of the recipe is adapted from Allrecipes.com.

Originally published September 12, 2009; updated November 12, 2022.