For affiliate links and as an Amazon Associate I earn from qualifying purchases.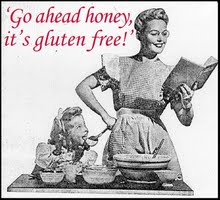 Sheryl has the Go Ahead Honey, It's Gluten Free! roundup of French-themed foods posted over at her blog, Breaking Bread. I submitted my Creme Brulee Ice Cream. All the other entries really are sensational. Check them out here.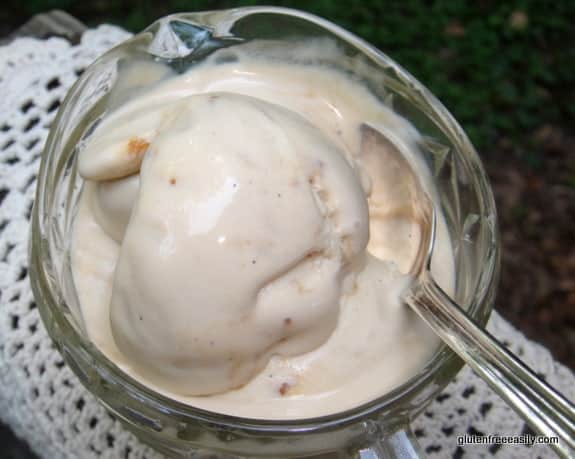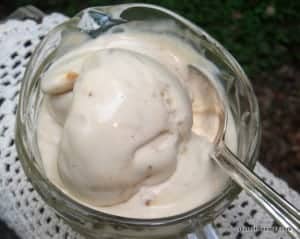 Speaking of honey, we spun the honey out from the frames from our beehive this past weekend. (We have one beehive here at our house. We can't go too crazy as we're in a subdivision with our beehive on an open part of our property, not far from the street.) Family members volunteered their equipment and workshop for our use. The process:  remove frame from super (the boxes where the bees store the honey in the frames), scrape off wax caps, place in spinner/centrifuge, spin, drain honey through fine mesh stainless steel screen into food-grade plastic bucket, and repeat … until all the frames are empty of honey.
After a few hours, the results were four gallons of golden, amazing, raw honey. In our case, 48 pounds worth from our one hive. We are pleased as punch, or should I say mead? In basic terms, mead is honey wine. Did you know that honey mead is the basis for the word honeymoon? Per Wikipedia, "In many parts of Europe it was traditional to supply a newly married couple with enough mead for a month, ensuring happiness and fertility. From this practice we get honeymoon or, as the French say, lune de miel [lit. "moon of honey"]."
Honey is a non-refined sugar. It's allowed on the Specific Carbohydrate Diet. One of my most popular recipes that uses honey is my Flourless Chocolate Banana Honey Walnut Cake—a rich, grain-free, dairy-free, and again, refined sugar-free treat. Most of my ice cream and sherbet recipes use honey, like Honey Cinnamon Grand Marnier Ice Cream (Grand Marnier is optional) and Honey Dewed Sherbet. It sweetens nicely and keeps the ice cream/sherbet soft and scoopable. More trivia for you … honey is the only food that does not spoil. If your honey should crystallize over time, just set the jar in a pan of hot water until liquefied again.
Now if you really want to be impressed by the 4 gallons of honey, consider this … a honeybee produces only 1/8-th of a teaspoon in its lifetime. Such driven, phenomenal little honeybees. My late father-in-law was a grand beekeeper who taught everyone in the family how to keep bees. One year he harvested over a ton of honey. Yes, over 2,000 lbs. If you did the math from our harvest details above, you  figured out that a gallon of honey weighs 12 pounds.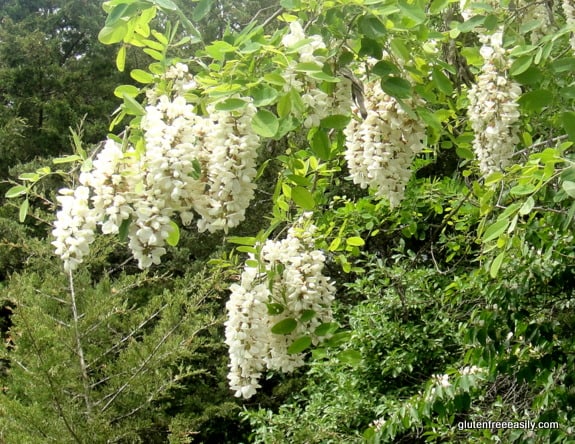 You might be wondering what kind of honey ours is … maybe you have heard of or enjoy different flavors of honey—clover honey (like the sweet clover honey that is on my sidebar under Foodzie), tupelo honey, orange blossom honey, lavender honey, and the like. Most commercial beekeepers move their hives so that the bees work (i.e., gather nectar from) different types of flowers and then they extract the honey immediately, so they know that it is solely that particular varietal of honey.
Our honey is actually blended honey, because we never move our hive and we extract the honey from all the frames at once, mixing it all together. Some years the resulting honey is light, some years it is dark … all dependent on the which flowers are in bloom and worked that year. In one frame, which is the individual, rectangular section in the hive where the bees store their honey (shown in photos below), you can often see both light and dark honey.
A large portion of our honey is always made from the nectar of white clover and tulip poplar blooms (this tree is also known as yellow poplar or tulip tree). We also have another common tree here in Virginia  called the yellow locust. The yellow locust tree produces spectacular showy blooms (shown above) that are both beautiful and cloyingly sweet in fragrance. Bees love locust blossoms and turn the nectar into a light-colored delicious honey.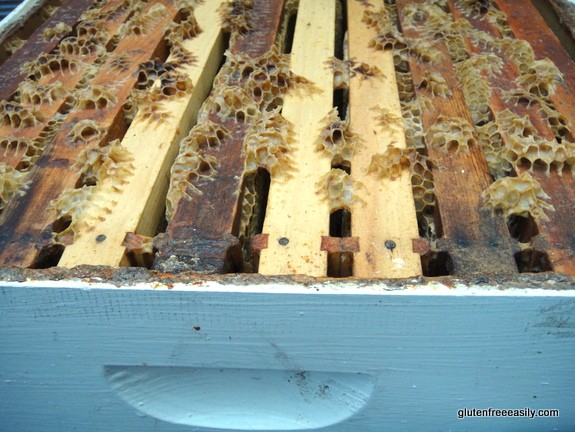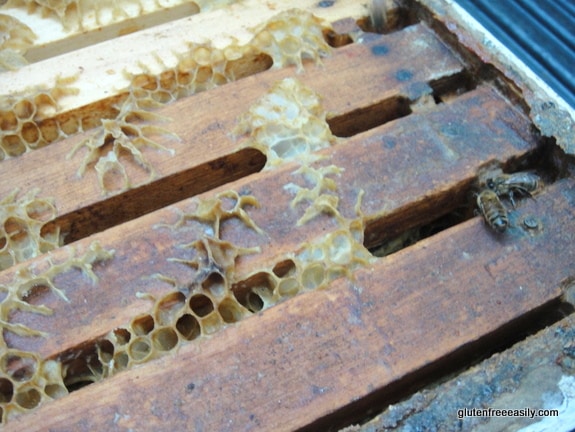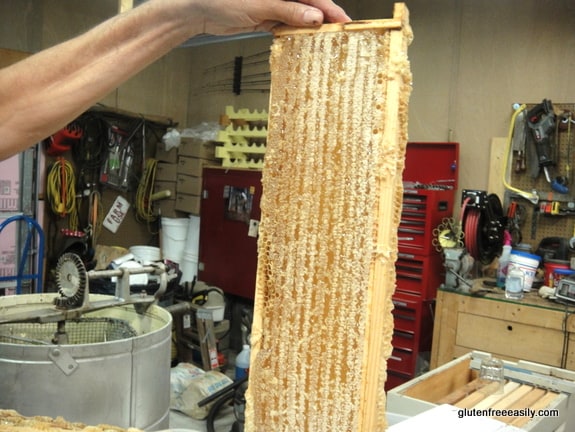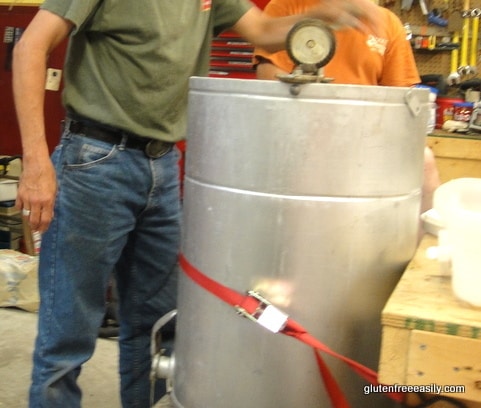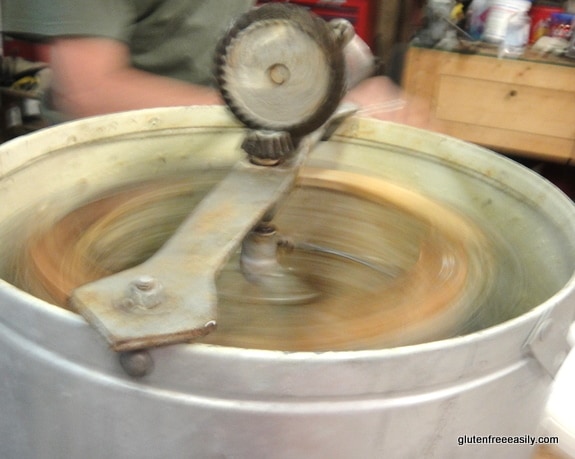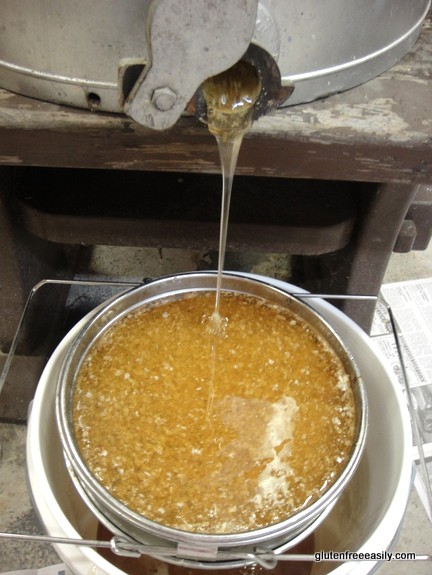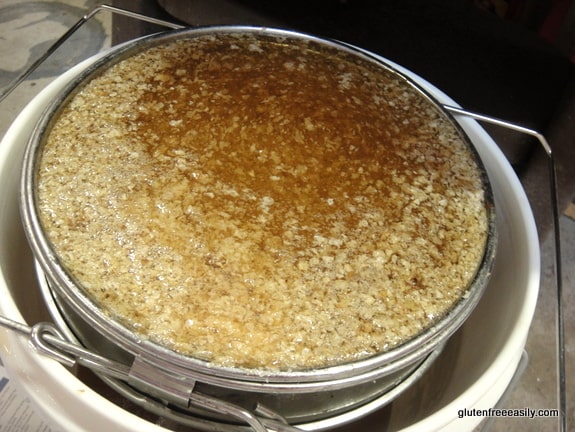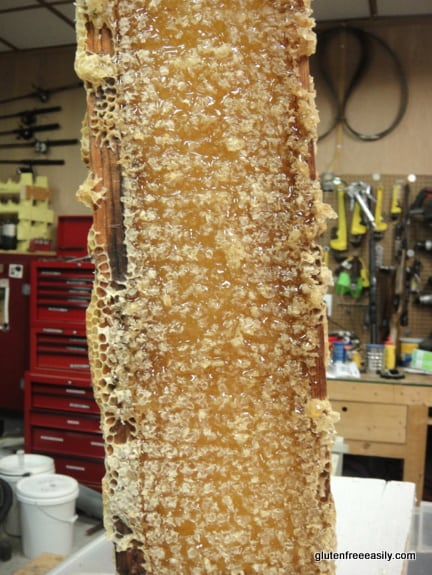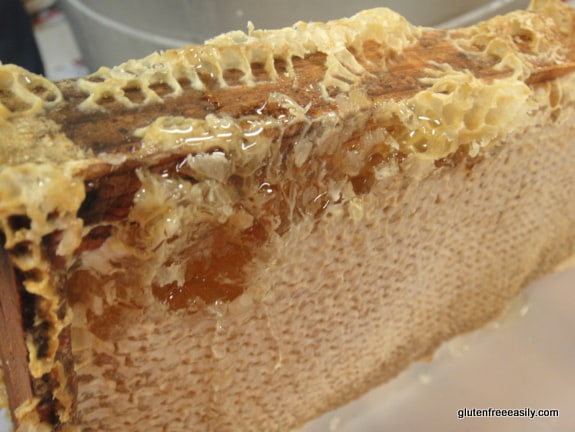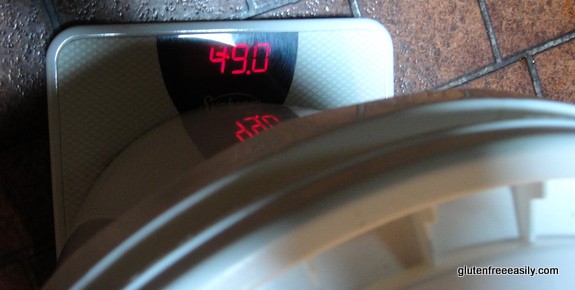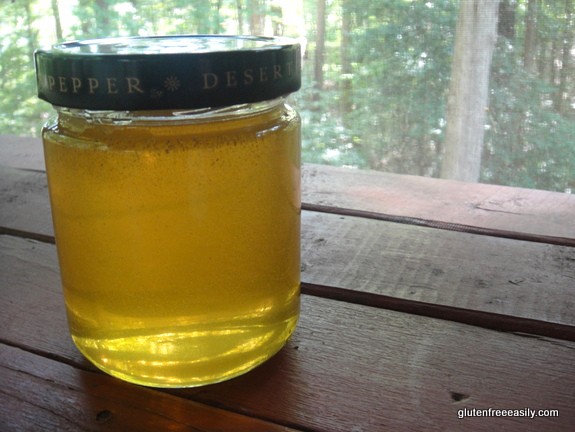 Honey even has antiseptic, antimicrobial properties and has been used in that manner throughout history, including wound care today. There are many nutritional health benefits of honey as well. Warning: Children under the age of one should not consume honey. You can read much more about honey here and here.
Interested in the magic of nature? Consider becoming  a beekeeper. Honeybees need all the help and love they can get. Besieged by two different kinds of mites for a few decades now and then affected by the still unexplained Colony Collapse Disorder, the more folks who raise bees the better. We need bees to pollinate all the vegetable plants and fruit trees to supply our real food.
Talking about honey and honeymoons reminds me of the big buzz of late in the gluten-free world … the fact that Chelsea Clinton's wedding cake was gluten free (and vegan). Vanessa Maltin, author of Celiac Princess (plus Food and Lifestyle Editor of Delight magazine and more), reported that A Piece of Cake by Elana made Chelsea's cake using Pamela's Products. Read more here. UPDATE: Turns out the information shared by Vanessa Maltin was totally incorrect. A bakery by the name of La Tulipe Desserts in Westchester, NY, actually made Chelsea's organic, gluten-free (but not vegan) wedding cake—vanilla with dark chocolate mousse. Read more here. I'm anxious to see photos, but what I'd really like is to know the nitty gritty details (oops, hopefully, the nitty, non-gritty details … none of us would want a gritty gluten-free cake). I would love to taste the cake. But, now Chelsea and Marc are on their honeymoon. I wonder if they saved a piece for me. I'm sure they froze that top layer per tradition. So maybe there's still hope. I mean we gluten-free folks share and share alike, right?
Speaking of other frozen or chilled delights, this morning's smoothie included some chilled coconut milk, water, raw cacao powder, cabbage, Romaine, pears, frozen banana, hemp seed, almond flour, and some of our freshly extracted raw honey. It tasted like a chocolate milkshake and was full of vitamins, minerals, and antioxidants. But, you don't have to have a shopping list of ingredients to make tasty, nutritious smoothies. Actually, I've found that folks can sometimes be intimidated by smoothies for that very reason. Well, that and the fact that they can't wrap their head around drinking their veggies. I understand. It took a leap of faith for me the first time, too, and it still amazes me how much I love them, even the "greenest" ones. If you're still not sold on smoothies (but would like to be), try starting out with a simple smoothie recipe. One that includes only bananas, water, and spinach, is very easy and delicious. It's a great recipe for beginners. One of my support group members, Jennifer R., shared samples of this smoothie with our group and everyone liked it. This smoothie is a lovely pale green, and you don't taste spinach … you just taste "good." Or try this three-ingredient smoothie from Ali at The Whole Life Nutrition Kitchen. Don't make it too complicated. You can even ease into green smoothies, by making a fruit smoothie that you love and adding in a little spinach or other greens, like kale. Yes, kale …it's great in smoothies. You can add a little more of the green stuff each time you make a fruit smoothie and soon you'll be completely smitten with green smoothies!
If you are still not sure about smoothies, but want a refreshing summer drink, try Amy's Cucumber Basil Herbal Water. Alta got to try it first hand at the lovely gluten-free brunch that Amy hosted. She described it as "the most amazing refreshing drink" she's had to date. Read more about their brunch in this post by Alta with a recipe for her Basil Chicken Pesto Salad Puffs and this one by Amy, Rustic Lemon Blueberry Scones.
Peaches are in season! One of my favorite gfe readers, Mir (Woulda Coulda Shoulda  and more), used my Crustless Apple Pie recipe to make peach pie. All you need to do is substitute peaches for the apples. Mir used Pamela's Baking Mix as her gluten-free flour mix. Her review: "Totally delish. I am afraid to make it again, lest I just fall face-down into the pie plate." We all want to feel that way about our pies, don't we? Just look at Mir's photo!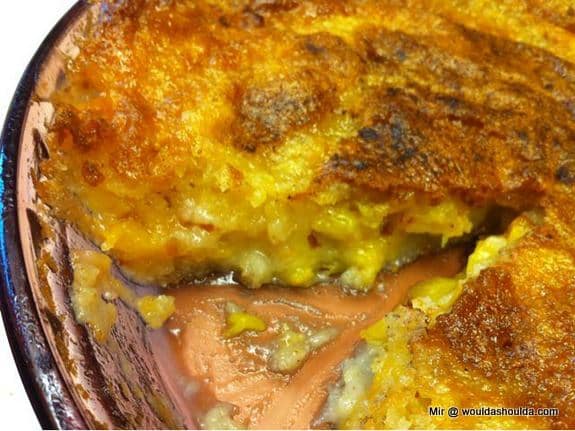 Trying to incorporate yet more fruit into your diet with summer's bounty? How about this stunning fruit pizza that Heather (Celiac Family) made? Heather swears it's easy to make. She took hers to a family birthday party. That would be so much better than birthday cake in my opinion. Or, how about this gorgeous fruit salad that also incorporates salad greens over at Jenn's (Jenn Cuisine).
Jenn also has an ongoing series called Gluten-Free Substitutions that I think you will find very helpful, whether you are new to the gluten-free diet or have been eating gluten free for some time. Her latest post is installment four: Gluten-Free Substitutions: All-Purpose Flour. Previous posts were her inaugural post for the series, Gluten-Free Substitutions: An Introduction; Gluten-Free Substitutions: When No Subs Are Needed; and Gluten-Free Substitutions: Easy One-Ingredient Substitutions.
Jenn and Lauren (Celiac Teen) had what most bloggers would call a dream meet-up. In Paris. Yes! Read about their meeting and see some of Jenn's incroyable Paris photos here. Incidentally, you can find all of Jenn's photos from France here on Flickr. Many have an ethereal quality, which I think makes them look like paintings. I can so imagine them hanging in my home.
Still have an abundance of zucchini? I can personally attest to the deliciousness of Kim's (Cook IT Allergy Free) Zucchini Fritters. I believe if you added some Old Bay seasoning to them, they'd almost taste like crab cakes. They are outstanding. Even Mr. GFE agreed. I topped one with a fried egg and had it for breakfast. Scrumptious.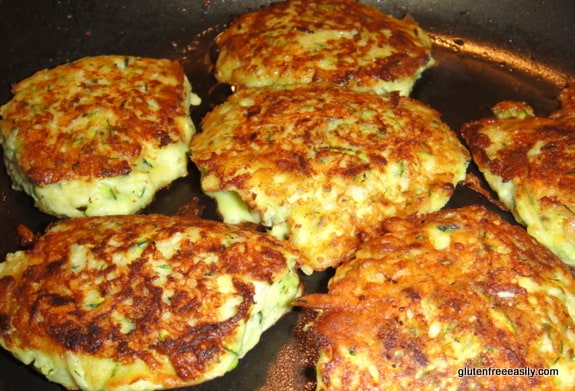 In a post earlier this month, a family member of Kim's shared her story on the connection regarding the Type 1 diabetes and gluten. You can read it here. I share a lot of studies and medical research with my support group, but usually don't share that type of information too frequently here at gfe. I'm more apt to share personal stories as Kim did. So I'm grateful to all my blogging friends who do pass along that data online. In a recent email to my support group members, I shared the recent recommendation from The Endocrine Society 92nd Annual Meeting for all folks with Type 1 diabetes to be screened for celiac annually. Yes, annually. Not once, not every 5 years, but yearly. The most compelling quote from the article to me was: "Some patients develop celiac disease as long as 10 years after their diabetes diagnosis, so ongoing screening is essential, and we recommend screening once a year. Patients in whom a diagnosis of celiac disease is confirmed should be placed on a gluten-free diet and referred to a gastroenterologist." This statement came from Phyllis Speiser, MD (chief of the Division of Pediatric Endocrinology at North Shore–Long Island Jewish Health System in New Hyde Park, New York) in an interview with Medscape. That's right. One doesn't get tested for celiac one time and say, that's it, "nope, don't have it," and go away thinking celiac is no longer a concern. Unless one eats gluten free, the risk is always there if one has celiac genes (see MyCeliacID post for more information on levels of risk for celiac). My friend, Alison (Sure Foods Living), did a great write-up on the recommendation here, also sharing her thoughts on this topic.
I'll be back later tomorrow with my Adopt a Gluten-Free Blogger post on my main page.  I've already been adopted by sweet Tia, of Glugle Gluten Free; I'm so excited! You can check out Tia's post here to see which dish of mine that she made. Tia also shared her review of another wonderful recipe from another blogger who is a mutual favorite of ours. Finally, soon, there will be a gfe-unique giveaway on my Out and About page! The four winners of the e-book giveaway are already posted here.
This post is linked to Gluten-Free Wednesdays, Real Food Wednesday, Food on Fridays, Foodie Friday, Monday Mania, and Friday Foodie Fix–Honey.