For affiliate links and as an Amazon Associate I earn from qualifying purchases.
Another one of my favorite bloggers is Wendy of Celiacs in the House (sadly, this blog is no longer active, therefore, this link and all the others to her former blog site in this post have been deactivated). I'm pretty sure that we met via Linda's (Gluten-Free Homemaker) weekly gluten-free roundup. (I'm betting that's true for many of us—a big shout out and thanks to Linda for hosting this event, now called Gluten-Free Wednesdays.)
From the start, I liked Wendy's straightforward posts, her commitment to feeding her family real food with some occasional gluten-free specialty items thrown in, her informational posts on celiac and living gluten free, her ability to convey a lot in a brief manner (I always admire that, since I often lack that skill!), and, finally, her warm, sweet nature. So, I'm adopting her this month for the Adopt a Gluten-Free Blogger event, originated by the lovely Sea of Book of Yum.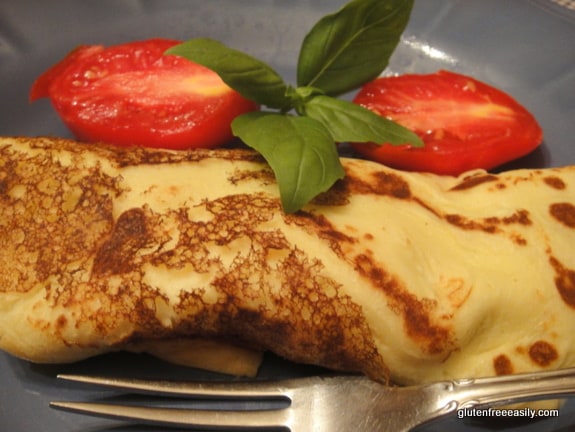 Several months ago, Wendy actually pondered giving up blogging … for a variety of reasons, not the least of which was being busy hosting a gluten-free foreign exchange student. Feeding a house full of gluten-free teenagers and supporting their various sporting activities definitely can keep a person too busy to blog.
But, thankfully for all of us, she decided to continue blogging. The exchange student eventually returned home, summer break came, and we've been reading more of Wendy's posts than ever with her terrific 30 Days to 50 series.
In this series, she shared her own reflections on moving towards age 50 and wanting to be in optimum health. She also brought together some of the best blogger voices on health, fitness, and nutrition. Some of my favorite posts shared in the series are this one called Let's Get Personal and this one on Wendy's family history, but every single post in the series is worth a read.
We've also gotten to see Wendy more on Twitter, too. She gave up tweeting for a while and then came back and reinvented herself there with a new Twitter handle. I love the idea of reinventing one's self and starting fresh!
From her tweets, I found out that she's also attending the International Food Blogger Conference. She's one of several of us gluten-free bloggers who will be flying into Seattle at the end of this month for what promises to be an amazing conference and meet-up.
Similar to what many other adoptive parents experience before adopting, I've seen photos of Wendy, read about her, read her writing (as an "older child"), corresponded with her via sometimes rapid-fire email exchanges and tweets/Twitter direct messages, and after flying across country, I'll get to meet her in person and greet her with a hug. I can't wait!
Until then, I've selected a recipe from Wendy's blog to try out. To get maximize value/cooking mileage, I chose one that is really two recipes in one: Wendy's crepes, which she adapted from Carol Fenster's cookbook, 1,000 Gluten-Free Recipes.
Update: You can check out Carol's latest gluten-free crepes recipe for two on gfe. (I'm sure many of us have doubled or tripled it!)
For dinner this evening, we enjoyed savory crepes. I followed Wendy's lead and filled ours with a creamy chicken mixture.
I used what we had on hand, which ended up being roasted chicken, bacon, mushrooms, zucchini, coconut milk, plus some mayonnaise (to add more creaminess and flavor), sea salt, pepper, onion powder, and smoked paprika.
I made my roux using butter and sweet rice flour as Wendy directed. I filled my crepe and then added some grated cheddar cheese for Mr. GFE's crepes.
I adapted the recipe for the crepes even more because I don't usually eat sorghum flour or potato starch. Therefore, I used a combination of my gluten-free flour mix, millet flour, and some almond flour, plus the other ingredients as specified.
The results were great. In fact, we both absolutely loved the crepes.
The last time we enjoyed crepes was in a very tony restaurant in Georgetown (part of Washington, D.C.) many, many years ago. That was a day spent with old friends visiting the National Zoo before strolling through Georgetown and running into Jack Albertson in the French Market there.
Albertson was perhaps best known for his movie roles in The Poseidon Adventure and Willy Wonka and the Chocolate Factory, and later in the television show, Chico and The Man. Fond memories for sure.
I definitely need more practice as far as making thin crepes and rolling them after cooking. As you can see from the photos, some of my crepes have more of an omelet fold. That didn't affect the taste one bit though.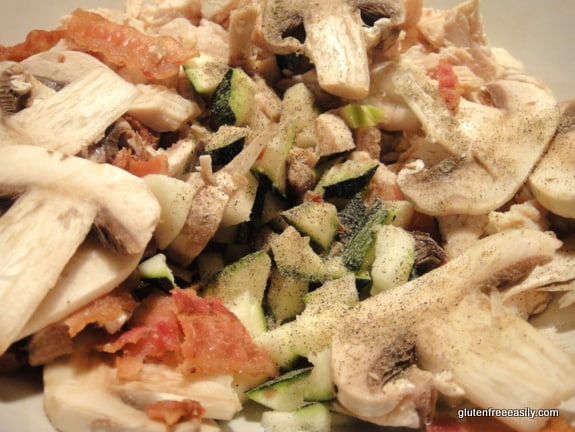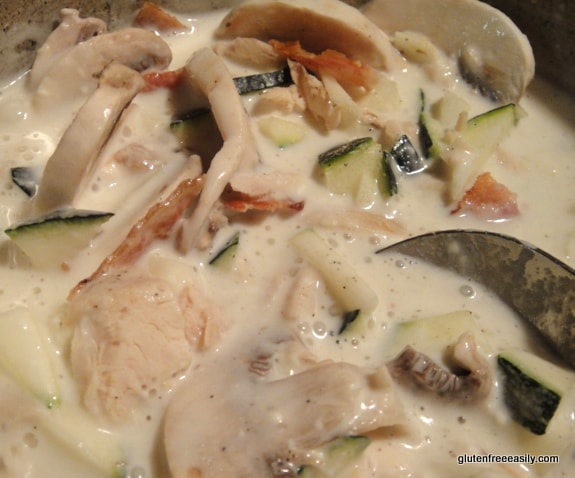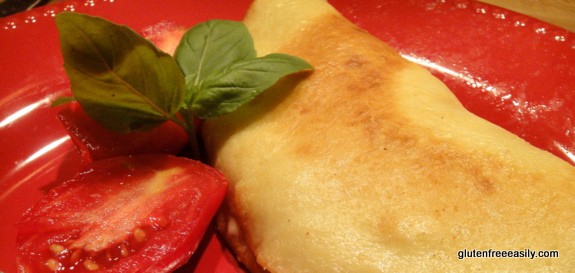 Wendy filled her dessert crepes with jam, which would be a simple and lovely dessert. However, I looked at what I had on hand and decided to use a ripe banana, sliced thin; slivered almonds; very dark chocolate chunks; and a sprinkle of cinnamon.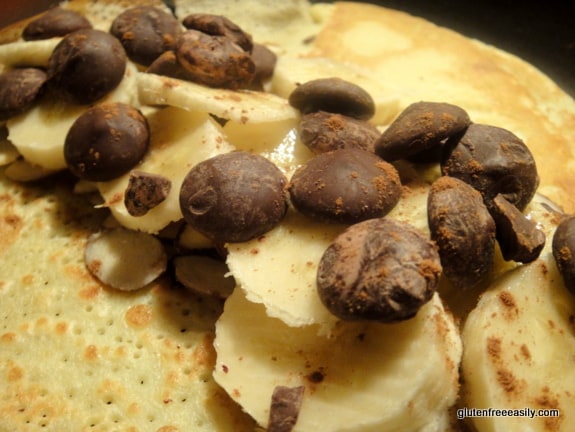 Because I had cooked the entire batch of crepes at once, after dinner I placed my room temperature crepes back in my 8-inch skillet (one at a time) on medium, placing the filling ingredients in the center, and then covering the skillet for a few minutes. Then I folded the crepe for further melting.
Oh, my, this combination makes for another wonderfully simple, yet upscale, and divine dessert crepe.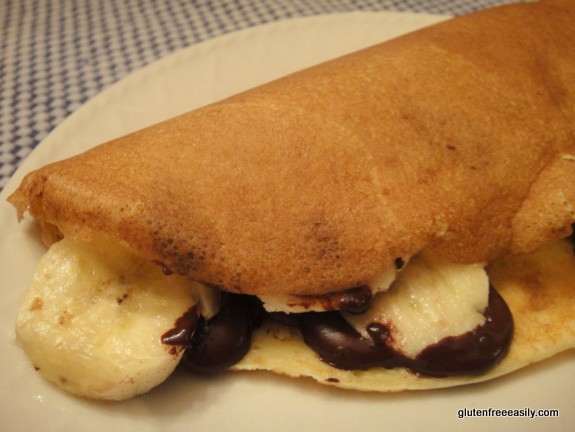 Enjoy!
Originally published August 4, 2010; updated March 7, 2023.