For affiliate links and as an Amazon Associate I earn from qualifying purchases.
Today I'm sharing Carol Fenster's recipe for Gluten-Free Crepes for Two. Several years ago I made her original Gluten-Free Crepes. They were simply amazing! We had savory crepes for our dinner and then dessert crepes later that same night. It was such a wonderful evening because not only did we enjoy this special meal and dessert, but the crepes also brought back fond memories of a day that we had spent with some friends many years earlier.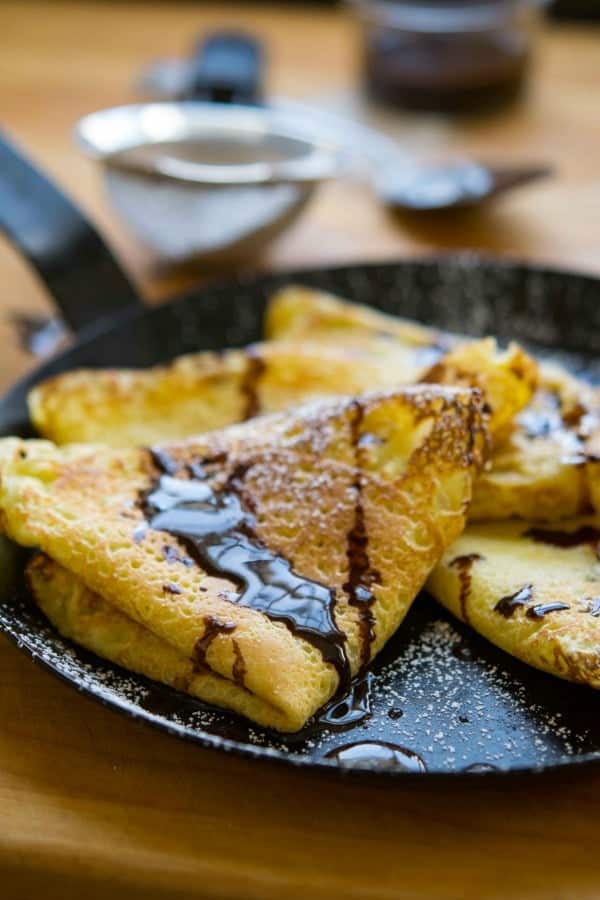 After a trip to the National Zoo in Washington, D.C., the four of us had ventured into Georgetown. We had walked around for a while checking out the shops and had even come across actor Jack Albertson in The French market. Finally, we stopped to enjoy dinner at Maison de Crepes.
I don't remember which type of crepes I enjoyed that day, but I do remember that they were excellent and that we all had an amazing meal. Jack Albertson, The French Market, and Maison de Crepes are all long gone and the friends moved away years ago, but the sweet memories remain.
Crepes often have a reputation for being challenging to get just right, but Carol's recipe was so easy to make and the results were simply delicious! I was ready to add them to my regular repertoire for sure. Then I lost the recipe. Yes, I did. I looked and looked, but to no avail.
So when Carol contacted me recently to ask if I'd like to check out her new cookbook, Gluten-Free Cooking for Two: 125 Favorites, and I discovered that the crepes recipe was included—albeit downsized for two people—I was thrilled! (Note that I received a complimentary copy of her cookbook for review and another copy to give away to a reader at a later date. However, this not a sponsored post and the review I'm sharing today is my honest opinion.)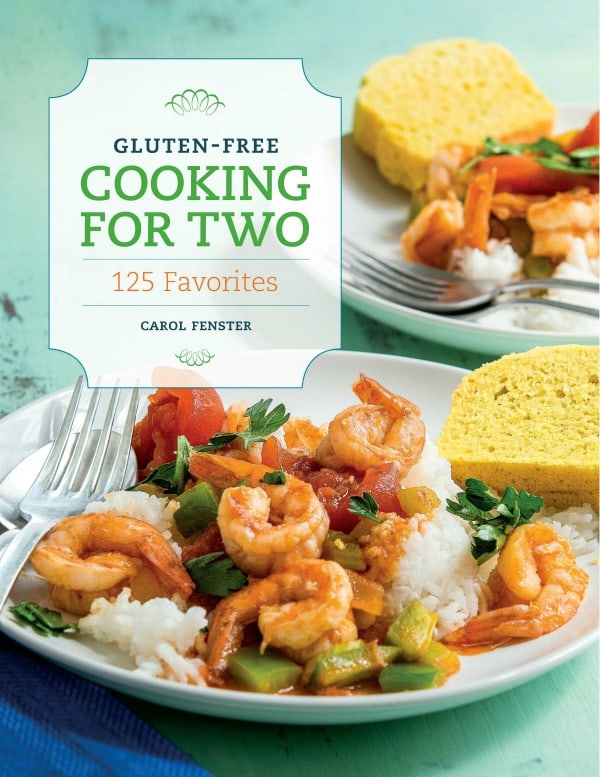 Plus, after all, we are just two people. But, most importantly, I got to make her crepes again!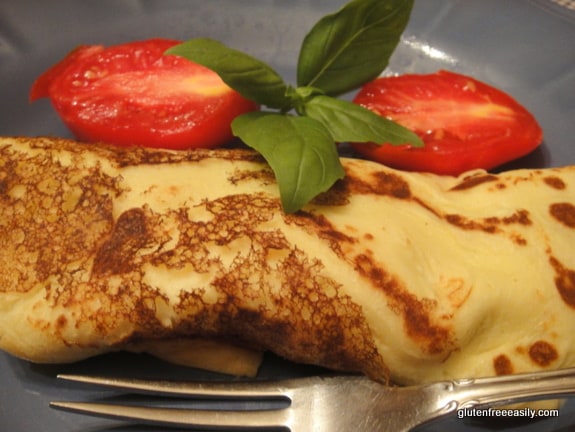 Another thing I love about this recipe is that no crepe pan is needed. As Carol points out, if you use a small skillet versus a crepe pan, you will get irregular edges, but once you roll up or fold your crepe, nobody will see any imperfections. And, hey, if you're like me or Mr. GFE, you won't care if you see them anyway. Looks don't matter much when crepes taste this wonderful!
If you're not familiar with Carol and her many cookbooks, including this newest one, you definitely should be. When I first went gluten free, somehow I found Carol and subscribed to her Savory Palate newsletter. This was well before blogs took off, Facebook existed, etc. I received Carol's newsletter via email and I always printed it out to share with my group.
We all greatly appreciated not only the recipes she shared, but also the tips she offered for gluten-free living. I remember making Carol's pizza and chocolate chip cookies and loving both.
Carol has been gluten free for 30 years and she has only gained knowledge and expertise during that time. We all benefit from that when she shares her recipes and guidance on living gluten free on her sites and in her cookbooks. Gluten-Free Cooking for Two is her eleventh cookbook.
I also shared her previous cookbook here on gfe: Gluten-Free 101: The Essential Beginner's Guide to Easy Gluten-Free Cooking. While I didn't expect to "need" a cookbook for two, it turns out that I did and didn't even know that I did.
When there are just two people in the house—our situation now—cooking for four and saving or freezing the leftovers sounds good on paper but in reality, I found that I wouldn't actually do that. We didn't always want those leftovers and not everything freezes well. Sometimes I had good intentions, but then we'd decide on a whim to go out to eat and days later I'd find those leftovers in the back of the fridge.
As I'm not one who wishes to waste food, this ever-increasing occurrence did not sit well with me. So when I heard Carol's logic behind her new cookbook, I was immediately sold on the concept.
Carol even shares that the wasting of food was one motivation for writing Gluten-Free Cooking for Two. She says that experts estimate that 30% of all food is thrown away in the U.S. That's an eye-opener for sure, and a phenomenon to which I don't wish to contribute.
Still on my immediate "to make" list from Carol's new cookbook: Coffee Cake with Streusel, Hearty Basic Granola, Beef Burgundy, Shrimp Creole (shown on cover above), Personal Pepperoni Pizza, Oatmeal Raisin Muffin in a Mug (I'll sub chocolate chips in mine, but Mr. GFE will go for raisins!), Chocolate Pudding Cake (aka Mississippi Mud Cake), and Red Velvet Cupcakes (you can find Carol's earlier recipe that makes 12 cupcakes here).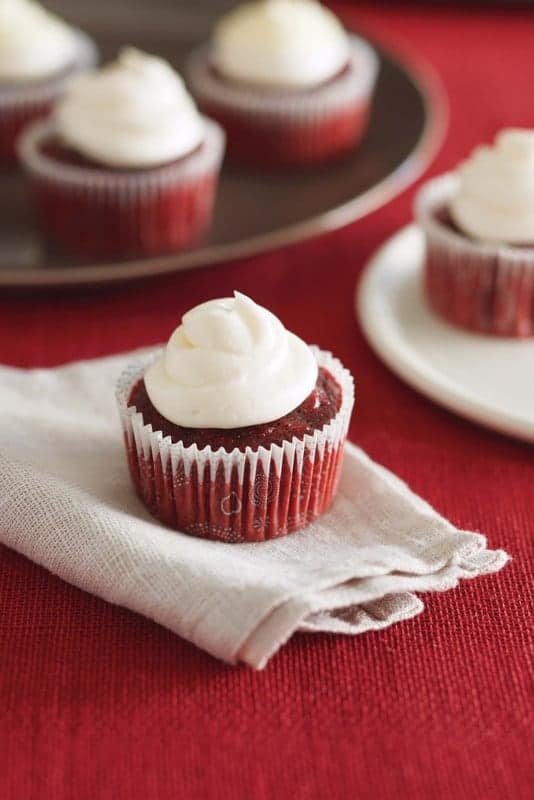 You can take a peek at her new cookbook by using the "Look Inside" feature here on Amazon. You'll also want to check out her Cheddar Cheese Quick Bread. As you can see below, it's clearly another terrific recipe! (Update: This bread has become one of the most popular recipes on gfe! Readers love it so much that they double, triple, and even quadruple the recipe so they have backup loaves in their freezers!)
Be sure to check out Carol's cookbook. I would understand if you can't wait and end up buying this cookbook yourself!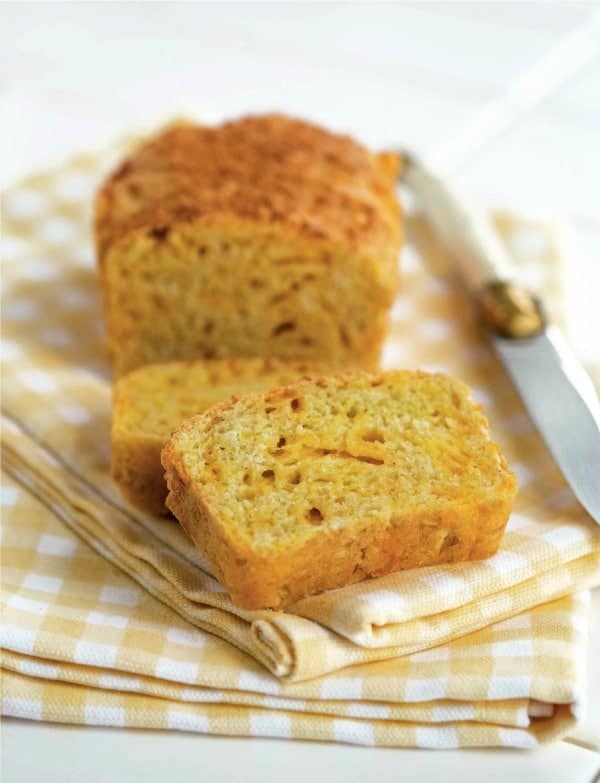 More Gluten-Free Crepe Recipes from the Gluten-Free Community
~ Easy Basic Sweet or Savory Crepes from Unconventional Baker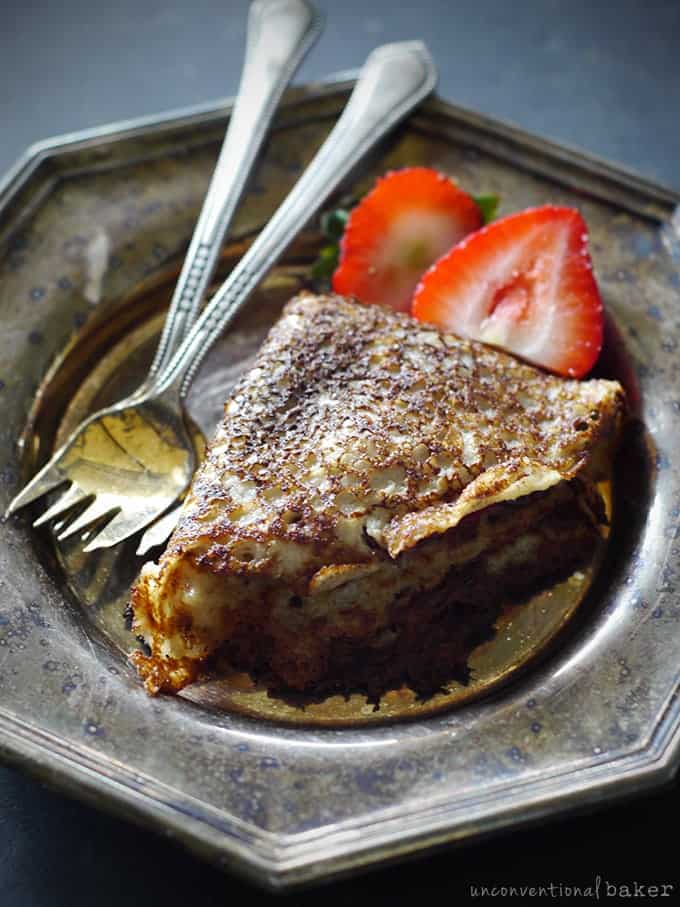 ~ Coconut Flour Crepes from Healthful Pursuit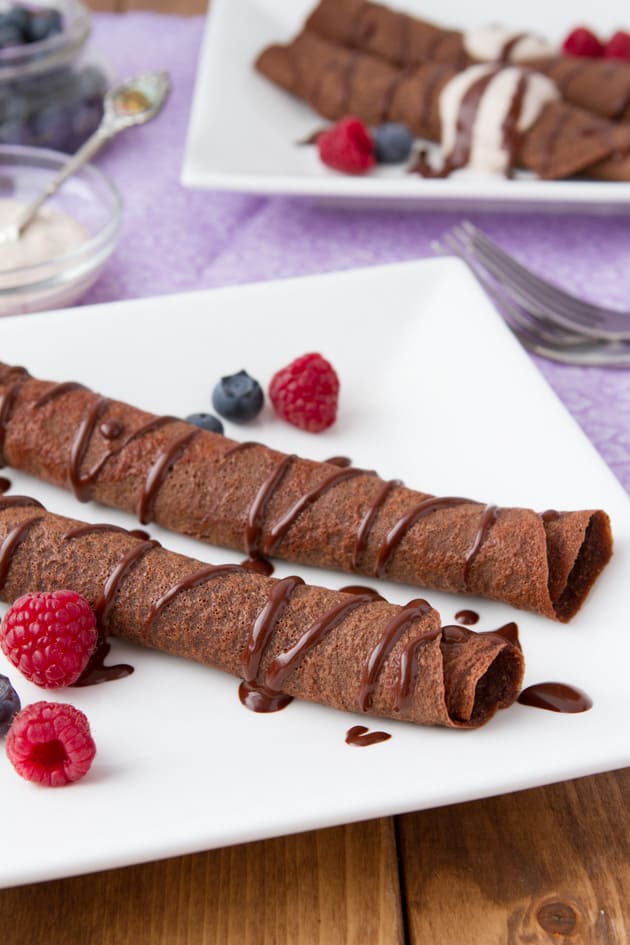 ~ Gluten-Free Crepes from Faithfully Gluten Free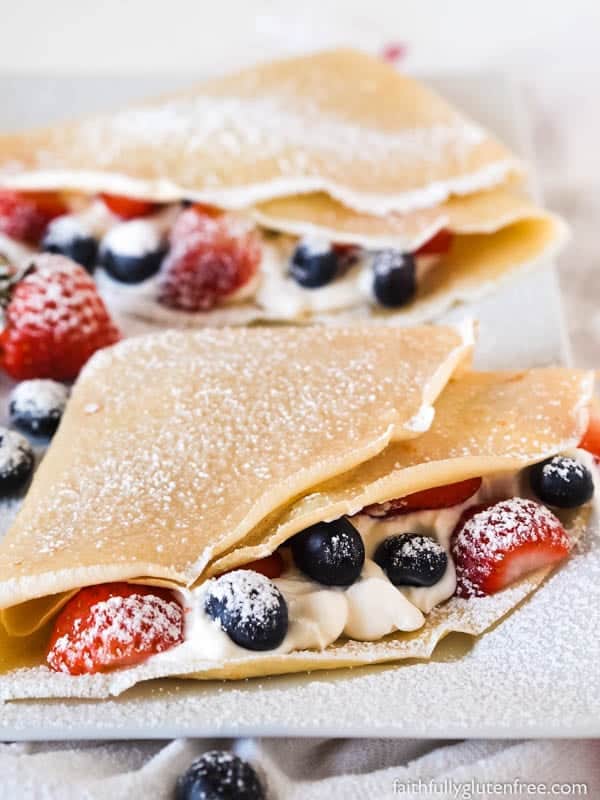 ~ Grain-Free Paleo Crepes from Against All Grain
~ Raspberry Crepe Cake from The Spunky Coconut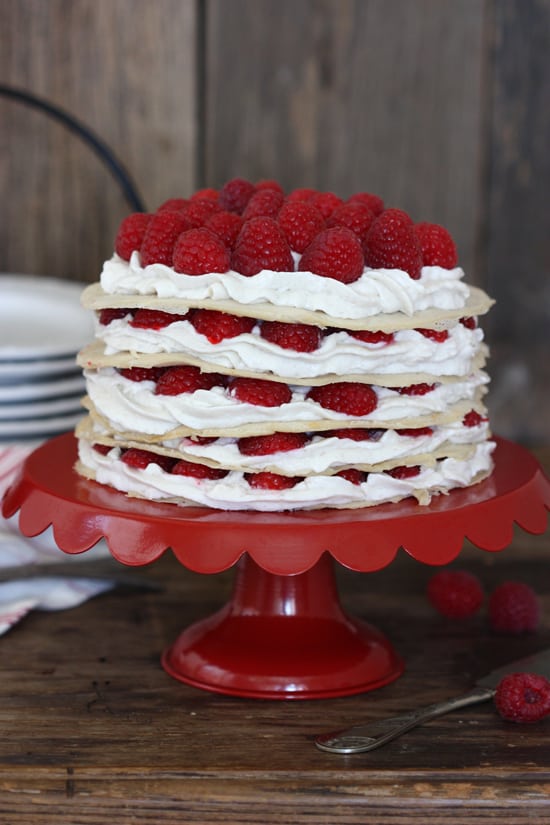 ~ Savory Paleo Crepes from Forest and Fauna (this site is no longer active so I have linked to the recipe via the Wayback Machine, internet archive)
Gluten-Free Crepes for Two Recipe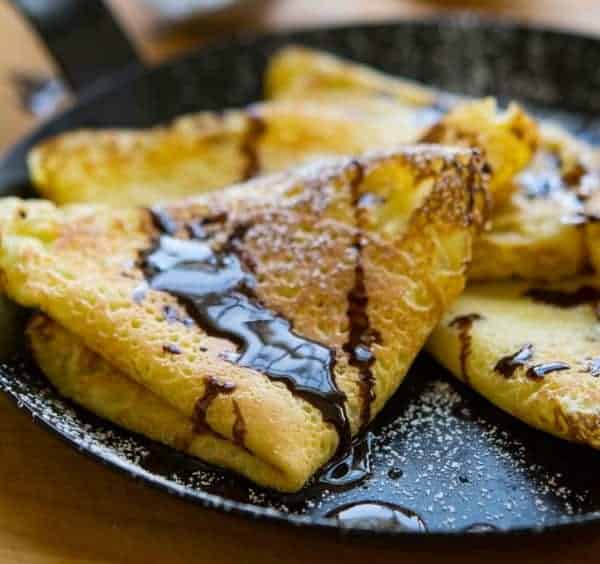 Yield: 2 servings (2 crepes each)
Gluten-Free Crepes for Two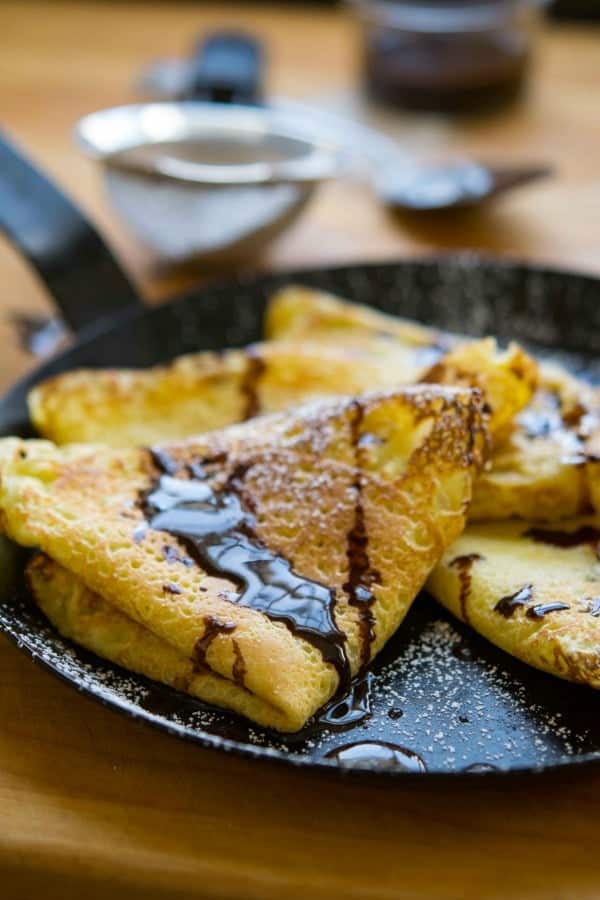 Crepes can be enjoyed as either a main dish or a dessert, and this versatile recipe works both ways. On weekends, fill them with scrambled eggs for breakfast or brunch. For dessert, roll up with chocolate-hazelnut spread or a fruit filling such as cherry pie filling — or fold in quarters and top with raspberry jam and a dusting of powdered sugar. A drizzle of chocolate syrup isn't bad, either! 

Prep Time 5 minutes

Cook Time 4 minutes

Inactive Time 1 hour

Total Time 1 hour 9 minutes
Ingredients
1/3 cup Carol's Gluten-Free Flour Blend (see below)
1/8 teaspoon (dash) granulated sugar
1/16 teaspoon (pinch) salt
1/3 cup milk of choice
1 large egg, at room temperature
1 tablespoon melted unsalted butter or buttery spread
Additional butter, buttery spread, or canola oil for greasing the pan
Toppings of choice: chocolate syrup, honey, jelly, jam, powdered sugar
Fillings of choice: chocolate-hazelnut spread, nut butter, pie filling, jelly, jam, scrambled eggs, or cooked meat, fish, or poultry
<strong>Carol's Gluten-Free Flour Blend</strong>
1 ½ cups brown rice flour (or sorghum flour)
1 ½ cups potato starch
1 cup tapioca flour
Whisk together until thoroughly blended. Store, tightly covered, in a dark, dry place for up to 3 months.
Instructions
Put all of the ingredients except the grease for the pan, toppings or filling in a blender and process until the mixture is smooth. Refrigerate 1 hour. Just before cooking the crepes, blend again to reincorporate ingredients.
Heat an 8-inch skillet or seasoned crepe pan over medium-high heat until a drop of water dances on the surface. For each crepe, brush the surface of the skillet with butter. Pour a scant ¼ cup batter into the pan and immediately tilt and swirl the pan to coat the bottom evenly with crepe batter.
Cook until the underside of the crepe browns, about 2 to 3 minutes. Flip the crepe with a thin spatula and cook the other side for 20 to 30 seconds, or until the crepe batter sets. You may need to adjust the temperature of the burner to maintain the right heat.
Stack the cooked crepes between sheets of foil or parchment paper to prevent drying out. Serve immediately with your preferred toppings and/or fillings.
Notes
Crepe Shapes: When I make crepes, I use a very old, well-seasoned 6½-inch crepe pan with sloping sides. The ¼ cup of batter fills the entire bottom of this pan, creating a perfectly round crepe. If you use a larger skillet, the batter may not spread evenly, creating a less-than-round crepe with irregular edges. Don't worry; this irregularity is not noticeable when the crepe is rolled or folded.

Text excerpted from Gluten-Free Cooking for Two ©2017 by Carol Fenster. Reproduced by permission of Houghton Mifflin Harcourt. All rights reserved.

Originally published May 30, 2017; updated April 4, 2022.