For affiliate links and as an Amazon Associate I earn from qualifying purchases.
Gluten-free Chocolate Cake is always a joyful thing. And that's true for today's gluten-free simple and good Chocolate Cake recipe, too. This cake is different though and I wanted to remind you all about this recipe that I've had here on gfe for almost forever.
You'll be happy to know that this cake is my version of the World War I and II-era, Depression-era chocolate cake that requires no eggs, butter, or milk. Because of that fact, some call the original version–the cake that today's recipe is based on—Wacky Cake.
Some call it Crazy Cake. And some even call it Chocolate Dump Cake (because of the way ingredients are "dumped" into the cake pan itself versus a mixing bowl before adding the batter to the pan).
Truth be told, I've shared more than one chocolate cake recipe here at gfe. Cakes like my 3-Minute Chocolate Cake, Flourless Chocolate Cake, Flourless Chocolate Banana Honey Walnut Cake, Double Chocolate Clementine Cake, Chocolate Zucchini "Loaf Cake," and Mediterranean Chocolate Cake.
Just to name a few! But all of those recipes require eggs—or an egg substitute—and often other ingredients that you may not have on hand right now.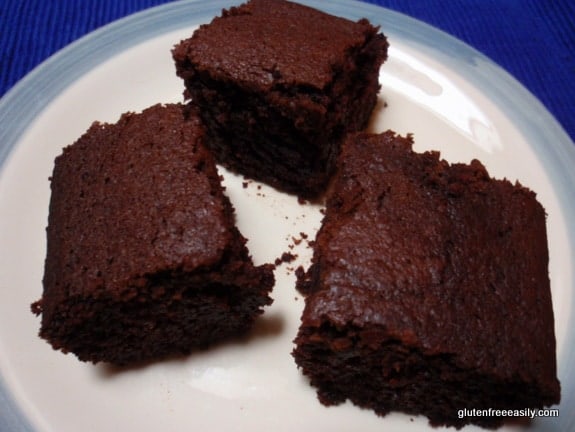 Simple chocolate cakes are the very best in my opinion, so I was excited when Lydia at The Perfect Pantry shared her adaptation of Quick and Easy Chocolate Dump Cake. Lydia's adaptation was not gluten free, but it was already vegan. Which by definition means no eggs or dairy—butter or milk—were used.
Vegan recipes please my vegan, dairy-free, and/or egg-free readers. With a few additional changes, I made this cake gluten free and perhaps a bit healthier.
So now you have a delicious dairy-free, egg-free, and vegan chocolate cake! You may have never thought that you'd want to eat vegan in the past but in this case, eating vegan means you can have limited ingredients and still bake a delicious chocolate cake.
Or cupcakes. One gluten-free friend has long used this recipe to make cupcakes for her son who not only doesn't eat gluten but also doesn't eat dairy or eggs.
This cake is not very sweet and has that sort of a rich Devil's Food or buttermilk cake flavor because of the vinegar that is used in conjunction with the baking soda to ensure that the cake rises. This cake's medium sweetness actually makes it perfect for pairing with a lovely cup of tea.
If you want a tad more sweetness, you can sprinkle on/sift on a little bit of powdered sugar.
As a former gluten-free support group leader, I used to host a tea party every year. I and all the members loved participating in the tea party because, of course, the typical tea events are not gluten-free. Plus, we could adjust the recipes however we wanted or needed.
Tea party fare included many of our favorites, recipes like Seafood Chowder, Baked Potato Soup, Pumpkin Soup, Great Salad, Elegant and Easy Party Puffs, Banana Maple-Nut Muffins, Cinnamon-Sugar Crusted Almond Popovers, Molasses Banana Bread, Shortbread, and today's cake.
The latter was the dessert recipe that worked for almost everyone in attendance. Additional dietary restrictions or not.
Memories of those tea parties still make me smile. We donned hats from my vintage hat collection, brought out the fancy tablecloths and our best china and silver, and enjoyed a host of wonderful sweet and savory items.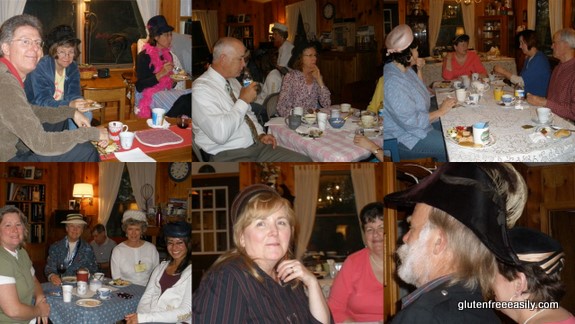 You don't have to host a tea to enjoy this chocolate cake though! We all know that none of us should be hosting events at the moment. Well, unless it's with the people in your own house. If that's the case, go for it! A tea event would be a lovely thing to do at home right now.
For other scrumptious gluten-free chocolate cakes (or similar), be sure to check out some more recipes from a few of my favorite blogger friends via the links below.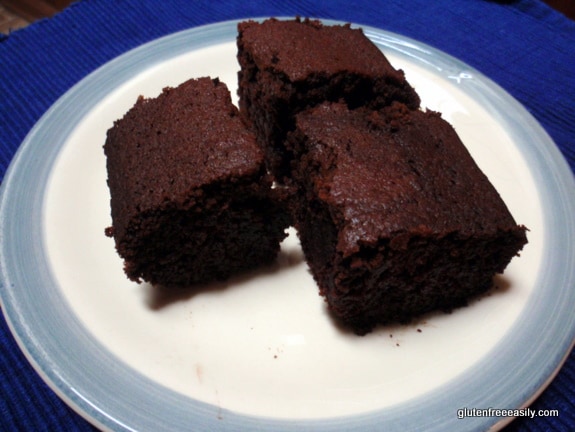 More Delicious Chocolate Recipes
~ German Chocolate Cake with Pecan Filling from Elana's Pantry ~ A "sweet rich chocolaty cake."
~ Chocolate-Covered Cake Balls from Go Dairy Free (be sure to use gluten-free cake or cupcakes) ~ Turning disappointing baking results into something truly special.
~ Chocolate-Covered Banana "Cake" Pops from Cook IT Allergy Free ~ Cake pops—without the cake!
~ Chocolate Decadence from Flo and Grace ~ You'll never believe this incredible dessert is not only gluten free but also dairy free, egg free, and vegan!
~ Wacky Cake from Lynn's Kitchen Adventures ~ Be sure to use the gluten-free flour option. One of my gfe readers recently had her young daughter make this cake as her first cake. She did a fantastic job!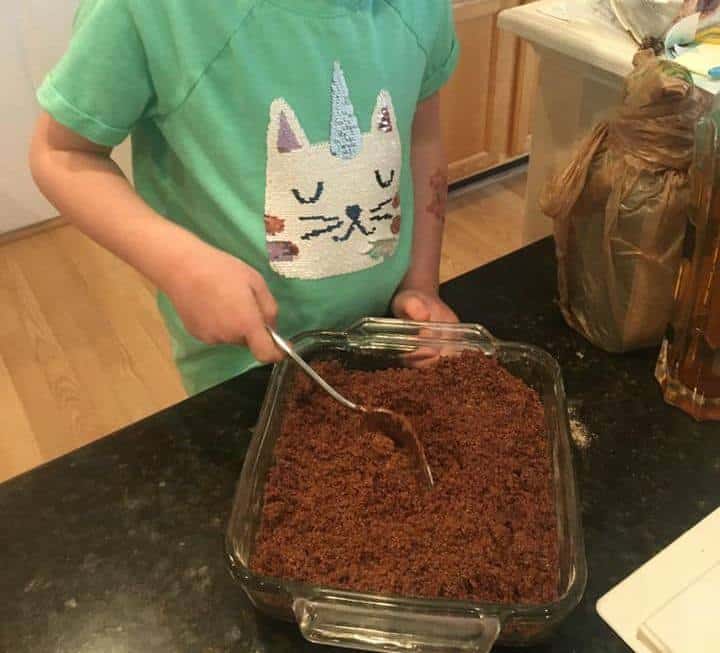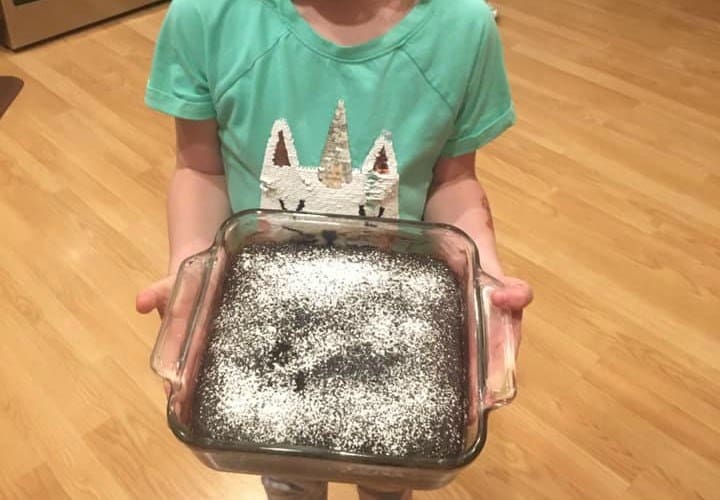 Simple and Good Chocolate Cake Recipe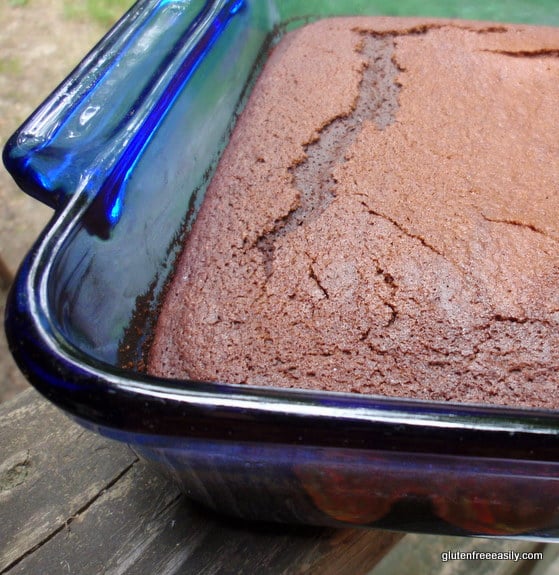 Yield: 9 slices
Simple and Good Chocolate Cake (Gluten Free, Dairy Free, Egg Free, Vegan)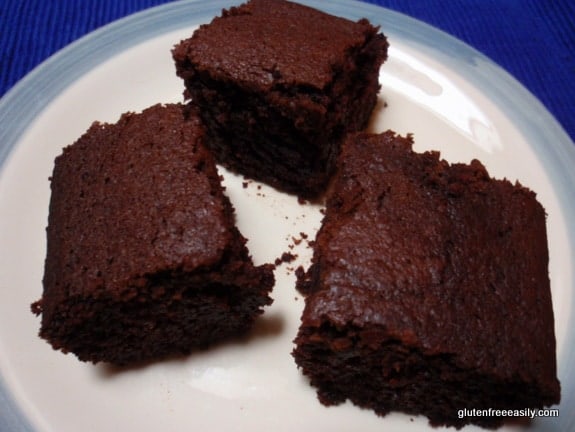 Even if you're gluten free, dairy free, egg free, and vegan you can still enjoy a really good chocolate cake! ALL of your friends will love this cake, too!

Prep Time 5 minutes

Cook Time 20 minutes

Inactive Time 20 minutes

Total Time 45 minutes
Instructions
Preheat oven to 375 degrees Fahrenheit. Ensure oven is fully preheated before you begin to mix the ingredients, as you have to work quickly once you get started.
Grease 8x8-inch baking pan well.
In a large mixing bowl, whisk together the coconut palm sugar, flour mix, almond flour, coconut flour, cocoa powder, baking soda, sea salt, vanilla extract, oil, and cold water. Blend well. Note that the absorbent nature of the coconut flour will make the batter thicken upon stirring; this is good.
Then, add the vinegar and stir immediately. The vinegar and baking soda reaction will cause the mixture to foam up a bit. These ingredients along with their reaction and the subsequent baking process take the place of eggs. Stir quickly and transfer to the baking pan. Then, as Lydia says: "Get the pan into the oven as fast as you can."
Bake for 20-25 minutes, until toothpick comes out clean. Remove the pan to a cooling rack, and let it cool completely. Cut into squares.
Enjoy "as is," or "accessorize" a bit more if you like: sift confectioner's (powdered) sugar over the top or top with a simple Vanilla Ice Cream or something more decadent like Crème Brulee Ice Cream.
Notes
Recipe adapted from a recipe from The Perfect Pantry (who adapted a recipe from Pragerway).

As you can see from the recipe, I didn't use any gums so there may be a slight crumble factor. It did not bother us---and I'm not sure it will happen each and every time as I rushed mine on the cooling!---but if you want to ensure crumb free, you may either add 1 tsp xanthan gum or 1 tsp chia seed (if you are a fan) and let the latter sit in the batter for a minute after the cold water is added, before you add the vinegar.

Cutting with a plastic knife ensures straight-edged pieces with fewer crumbs. This is a tip that my friend Linda Etherton (the former Gluten-Free Homemaker) reminded me of in one of her posts in her Kitchen Tips series.

One reader added a tablespoon of cold coffee at the same time as the water. She said the resulting cake was wonderful!

Originally published May 27, 2011; updated May 19, 2023.