For affiliate links and as an Amazon Associate I earn from qualifying purchases.
Sometimes it's fond memories that can save a girl. For this month's challenge over on Gluten-Free Wednesdays, Linda (Gluten-Free Homemaker) chose cake. And, she's been wowing us with the cakes that she's come up with! When Linda first issued the cake challenge, I found all sorts of ideas rolling around in my head, and, well, every single one of them is still there … not fully formulated yet. But, last week for a girlfriends' tea that I hosted I found myself pulling out a recipe that's become a family favorite—Molasses Banana Bread. It's a recipe that I made before going gluten free, so at some point I "converted" the original recipe to gluten-free Molasses Banana Bread.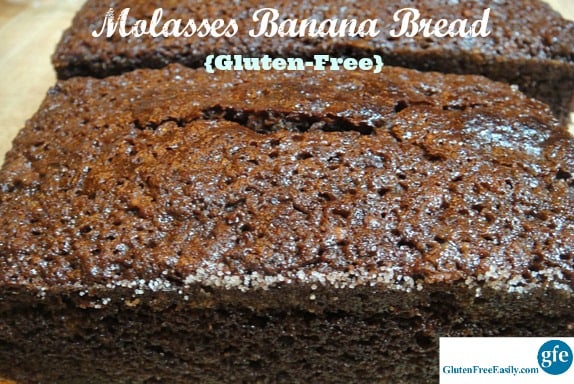 My good friend, Ann, found the recipe on the back of a molasses jar. She emailed it to me. I immediately converted it to gluten free and well, the rest as they say, is history. Traditional, "blonde" banana bread has not been baked in my loaf pans since.
Gluten-Free Molasses Banana Bread … or Is It Cake?
So where does the "cake" factor come in? Well, this banana bread made with molasses is dark and rich, and tastes a lot like a famous chocolate cinnamon cake that is served at one of our local restaurants. Without fail when I make this and give Mr. GFE a chunk, he always says, "Hmmm, chocolate cake." (LOL Okay, maybe he's a slow study when it comes to this bread.) And, when I made it as part of a dinner (which also included Special Zesty Turkey Breast and Quick and Easy Pan-Baked Potatoes) for a co-worker friend, Perry, whose wife was ill, he came back the next day raving over all. But he corrected me when I specifically asked how he liked my Molasses Banana Bread. "That's not bread," he said. "That's cake!" So thanks to that memory of Perry's comment for saving me on Linda's cake challenge!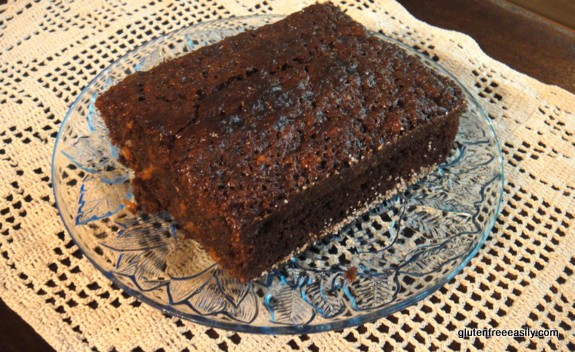 Upping the Nutritional Value of This Molasses Banana Bread
One of my new Twitter friends is Kim Maes of Cook It Allergy Free. When I mentioned on Twitter that I had gluten-free Molasses Banana Bread baking in the oven, she and a few other folks got excited! Kim stated that she had all the ingredients and asked when I would post the recipe.
Knowing how posts can get OBE (overcome by events), I emailed Kim the recipe rather than make her wait. She emailed me later that when she went to make the recipe, she discovered that her children had consumed all the bananas she had on hand. But, what mom can complain about her kids eating bananas? So she picked up some more bananas the next day and made the recipe. She sent me her review:
"That bread was DELICIOUS!!! Oh my goodness! I cannot believe the flavor that the molasses lends to it. I have not combined molasses and bananas before, but they work so great together!!"
She also told me about the changes she made:
"Only thing different that I did was that I used 1 cup of Pamela's flour blend and 1/4 cup of almond flour (I always try to add a little almond flour into all of my baking – Pamela's has some in it too). Since almond flour is pretty heavy, I separated out one of the whites and after beating in the other whole egg and yolk, I separately beat the one separated white and folded it in so that I would get a little more rise out of the bread. Worked great!!!"
Reader Richard C. doesn't use xanthan gum so he omitted that ingredient and added an extra egg to the recipe. He also added chopped walnuts. Here are his beautiful results. Thanks so much for sharing, Richard!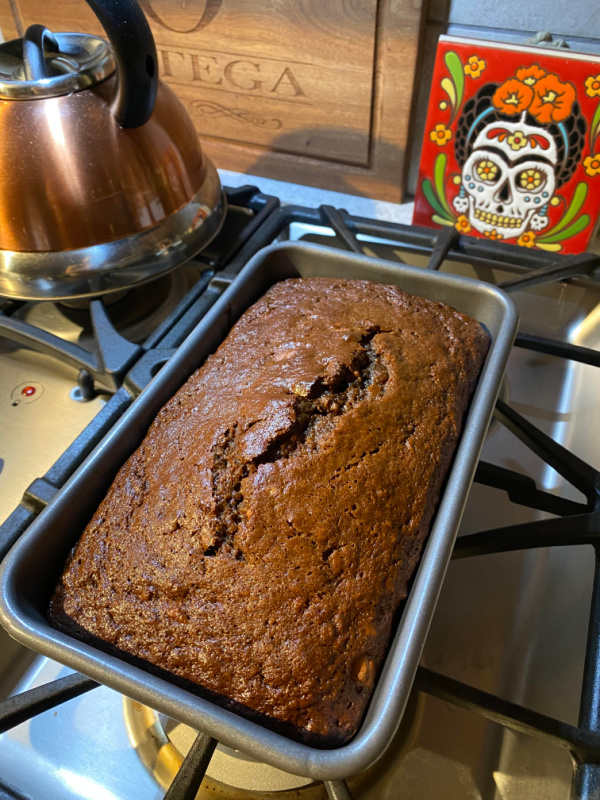 Gluten-Free Molasses Banana Bread Recipe
So, gluten-free Molasses Banana Bread or gluten-free Molasses Banana Cake? It's molasses and bananas that come together with a crusty cinnamon-sugar coating to taste like a delicious cake, even if it is shaped like a loaf. After all, even my Perfect Pound Cake, I bake in loaf pans. Make this recipe and then come back and tell me what you think it should be called.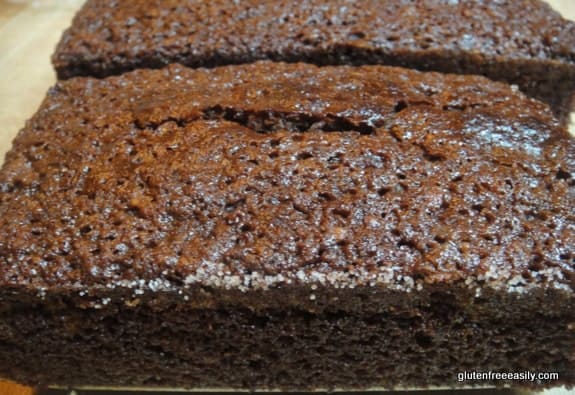 Yield: 1 regular-sized loaf or two mini loaves
Gluten-Free Molasses Banana Bread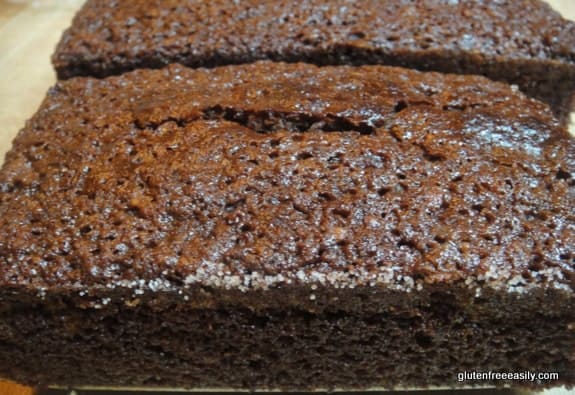 This Molasses Banana Bread recipe is a rich and wonderful version of banana bread, tasting more like fancy and delicious cake in some ways than traditional banana bread.

Prep Time 10 minutes

Cook Time 50 minutes

Inactive Time 10 minutes

Total Time 1 hour 10 minutes
Ingredients
4 tbsp butter, softened, or coconut oil, liquefied)
3/4 cup molasses
1/4 cup sugar granulated sugar (coconut sugar would be great, too)
1 1/4 cup gluten-free all-purpose flour mix (I use my Two-Ingredient Flour Mix)
1 heaping tsp xanthan gum
1/2 tsp salt (this salt is my favorite)
1/2 tsp baking soda
2 eggs
3 ripe bananas, mashed
1 cup chopped nuts (optional, I used walnuts this time)
Other optional ingredients are mini chocolate chips, orange zest, and nutmeg.
Instructions
Preheat oven to 350 degrees Fahrenheit. Grease loaf pan (I used two mini loaf pans for the loaves in these photos) and then coat the inside of the pan with a mixture of cinnamon and sugar. (I always have a cinnamon-sugar mix made up for my Cinnamon-Sugar-Crusted Popovers.)
Cream butter, molasses, and sugar.
Whisk in flour, salt, baking soda, and xanthan gum until well mixed and evenly brown.
Beat in eggs.
Stir in bananas and any optional ingredients.
Pour into greased loaf pan. Bake 50 to 60 minutes or until a toothpick comes out clean. (Even the mini loaves take 50 minutes.) Cool in pan for 10 - 15 minutes before removing to cool completely. Now see if you can hold off from eating a piece!
Notes
Adapted from a recipe on the back of the molasses jar thanks to my friend, Ann.

I have not made this recipe without xanthan gum, but I *think* it would work. I've made other quick breads without xanthan gum and they've worked. Some were perhaps a tad more crumbly, but we didn't mind.

Originally published June 1, 2010; updated February 6, 2023.