For affiliate links and as an Amazon Associate I earn from qualifying purchases.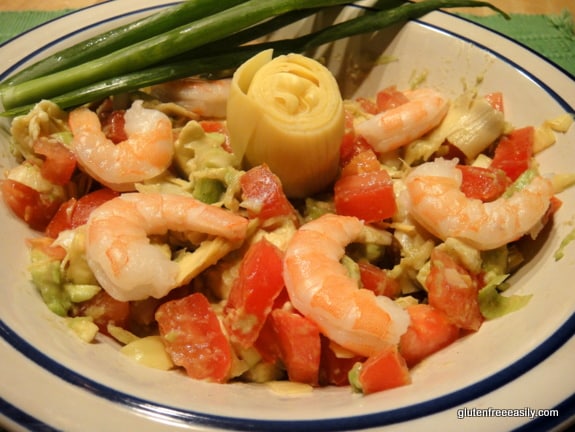 This post is linked to Simply Hot Recipes and Gluten-Free Wednesdays.
Several years ago I was happy to discover the book, Buddy, Bagels, and Me. Lovingly written and beautifully illustrated by Melanie Krumrey, it's her family's personal story on celiac and gluten intolerance. This book is aimed at children, but reviews said it was great for adults as well because it was written in plain, simple terms. I ordered it immediately for my support group. I was so very pleased when I received it. It's a totally lovely book that would be helpful to anyone, child or adult, who wants an inroduction to celiac/gluten intolerance. Then a little over a year ago, in my blog reading I followed one link and then another. Next thing I knew I was at the blog Gluten Free Krums. And, there on the sidebar was the book, Buddy, Bagels, and Me. It wasn't an Amazon store, just the one book. Hmmm, I thought, someone else knows about this great book. I clicked on the link and it took me to the Buddy, Bagels, and Me website. I Finally, I realized that I had happened onto the blog of the author, Melanie Krumrey herself. Gluten-Free Krums is a cute and clever play on her family's last name. I was so tickled to have found Melanie this way. I had to comment immediately and tell her how much I, and others, had enjoyed her book. I told her that my copy had "walked away" at some point and that I wanted to get another one. Well, next thing I knew Melanie had shipped me a new, complimentary copy. I admit that now I've "defaced" my new copy by writing our support group's name on the front—in the hopes that it won't walk away permanently next time. 
I've adopted Melanie and Gluten-Free Krums this month as part of the monthly Adopt a Gluten-Free Blogger event. Melanie's blog is a mixture of tales from her full life; Christian discussions; and recipes. It's warm and friendly, as is Melanie. She shares quite a lot on her blog … and there's a lot to share. After all, she's a homeschooling mother of two teenagers and a tween (yes, extra points are awarded there!), teacher to other children as well through a homeschooling program, minister's wife, and chef for her gluten-free family. Melanie's recipes tend to be what I consider "mainstream," gfe-type recipes—great recipes that make everyone happy. That means that most of her recipes are naturally gluten free, or just require a gluten-free flour mix and/or a few other specialty ingredients. And, her blog offers a good variety of recipes, too, which I love.
We all know I have a sweet tooth and while Melanie has plenty of recipes in that category, I was looking for something in the veggie or entrée category. Perusing her recipe index, I came across Avocado Salsa. A recipe that she said she got from her sister, every ingredient is real food. I've been going through the after-work "I want something to eat now" malady of late. This recipe seemed like a great way to satisfy that need while keeping me away from sweets (even gluten-free, dairy-free, refined sugar-free ones). The fact is that when I eat good fats—the kind that make up avocados, nuts, olive oil, and such—my cravings are satisfied and the "ache" of the sweet tooth subsides.
As it turned out, I didn't get to make this salsa until much later in the evening–for a very late dinner. I wanted to go the extra mile and add in another veggie, perhaps eating this salsa using some thick cucumber slices as my "chip," but an actual tortilla chip was needed for proper scooping. Of course, I loved that little bit of salt and texture contrast the tortilla chips added. (Crackers would also work well with this salsa.) I ended up making a few other changes to Melanie's recipe. First, my local store was out of canned green chilies, so I finely chopped a few artichoke hearts and added those instead.  I skipped the apple cider vinegar, because I think the artichoke hearts, even unmarinated, add a slightly acidic taste. So the salsa wasn't particularly spicy or strong in taste, except for the little bite imparted by the green onions, but it was definitely flavorful. Mr. GFE was devouring peel-and-eat shrimp beside me as I prepared this salsa, so I grabbed a few for a colorful and tasty garnish. (Shrimp makes just about every dish better, right?) I did really love this salsa. It's gluten free, dairy free, vegetarian, and vegan (when you don't add the shrimp). Plus, it comes together quickly (no food processor needed) and it's delicious and totally satisfying. We ended up eating our entire meal while standing at the kitchen counter and it was probably our best one this week!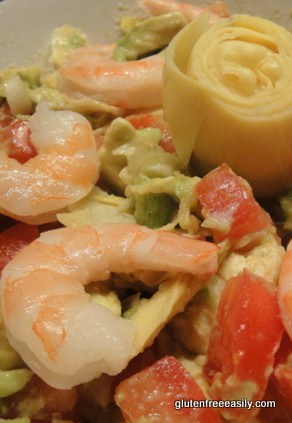 Many other recipes of Melanie's are calling my name, too. The top three (at the moment) are: Tropical Pops (including one called Chunky Monkey … hello! having an excuse to create those makes these 90-degree days worthwhile), Black Bean Dip (some goat cheese versus dairy feta and I'll be in business), and Thai Chicken and Rice (such an easy dish, but you can tell it will be full of flavor).
Please head over to Melanie's blog and see all that she has to share. You can check out her recipe index here.
Finally, remember that Iris (The Daily Dietribe) will be posting the roundup soon. She adopted Amy of Simply Sugar & Gluten-Free and made a wonderful chicken dish of Amy's. You can check that out here. 
You may be interested in my previous adoptions: Pete and Kelli Bronski of No Gluten, No Problem and Kate Chan of Gluten Free Gobsmacked. And, the person who got it all started for me was Alta (Tasty Eats At Home), when she graciously adopted me a few months back. You can see her tantalizing renditions of my pound cake and chicken tenders here. Of course, don't forget that Adopt a Gluten-Free Blogger is the brainchild of the adorable, Sea, over at Book of Yum. She's juggling more food intolerances than ever these days with Baby Yum, but you'll still want to make every single recipe she features on her blog. Consider joining in Adopt a Gluten-Free Blogger next month. It's a great push to make your favorite bloggers' recipes and share with all!
Not exactly adoption related (although Amy is  definitely always taking folks under her wing and giving them their moment in the spotlight) but Amy is one of eight finalists—and the only gluten-free blogger—in the Foodspring.com blogger contest! Each blogger had to write about his/her most exciting food experience. You can read all the entries and vote here. The deadline is Sunday, June 6. I hope you'll decide that Amy's entry is the winning contribution! Imagine all the celiac/gluten intolerance awareness Amy's win could bring, and if you know Amy, you know she's more than deserving of this award.
The 30 Days to a Food Revolution event is wrapping up today over at Diane's (The Whole Gang). These bloggers have all greatly inspired me with their personal stories, tips, and recipes! Today's featured blogger is Anna Helm-Baxter from Jamie Oliver's Food Revolution team. As Diane shares, Anna worked with Jamie on the Food Revolution show in Huntington WV, and has done freelance work for Jamie for several years.  Anna also writes her own blogs, Sweet by Half and Londie Foodie in New York. Please check out her guest post over at Diane's here. I hope you've been able to read every post for this event. If you're behind on reading, please take the time to catch up. It will be time well spent; I promise you. Also, please don't forget to sign Jamie's petition if you believe that U.S. school children should be eating the best food; i.e., real food versus heavily processed foods laden with everything but nutrition. Jamie's goal is 1 million signatures and, so far, 599,000 folks have signed the petition. You can sign the petition here.
Finally, the winner of the Carrabba's gift card giveaway is up on my Out and About page. See if you were the lucky one here. 🙂
So much good stuff on this first Friday in June … enjoy!
Shirley
Not just gf, but gfe!