For affiliate links and as an Amazon Associate I earn from qualifying purchases.
This is a sponsored review from BlogHer and Carrabba's. However, the opinions expressed are my own.
Update: This giveaway is now closed. The winner was selected using random number generation from the entries submitted by midnight (Eastern) on June 3. Thanks to all who entered and congratulations to Rebecca! Her comment was: "I went to Carrabba's once for an anniversary and would love to take my children!" Have a wonderful time at Carrabba's with your family, Rebecca. 🙂
What great things come in small packages? No, not diamonds. Sorry. No, not tiny figurines that collect dust. Yikes … don't need those. How about food? Don't we often lament that restaurant portions are just too large these days? Well, you're in luck … Carrabba's has recently launched smaller entree sizes (right size, right price) and there are several choices that are on their gluten-free menu. Most of my gluten-free readers probably already know that Carrabba's restaurant is in the Outback Steakhouse family of restaurants (which also includes Fleming's Prime Steakhouse & Wine Bar, Roy's, and Bonefish Grill)—all offering gluten-free menus.
Carrabba's advertises authentic Italian dishes with fresh ingredients. Let's see if they keep their promise. I'm known for my long posts, but I'm going to try to keep this one a bit shorter and sweeter (yes, there was dessert, too!). Let's get to what you really want to know right off. We really liked Carrabba's and I didn't experience any gluten issues—yippee!
Here's a little more detailed information with photos. Although I will confess right off that these are not award-winning shots by any means. It just seems that restaurant lighting that is comfortable for patrons does not lend itself to the best photos, particularly in the evening.
Food: I was asked to check out the new smaller portions. The menu items that were available in smaller portions weren't indicated on the gluten-free menu (PDF file), so I did have to reference it against the regular menu to see what I could order. The same was true when looking at prices for menu items. (Typically gluten-free menus do not have price information. That way they will stay current unless a food item itself changes; there is no need for the menu to be updated every time prices change.) There is also a specials listing called Less Is Amore, but I did not review or inquire as to the gluten-free status of those items.
We ordered the Shrimp Scampi appetizer to share. The gluten-free option simply means it is served without garlic toast. Ordering instructions for this item say "Order without garlic toast." I really appreciate it when restaurants give this type of info for ordering safely. I'll be honest here … as I've said before, while I love a restaurant with a gluten-free menu, they can give a false sense of security. The fact is it only takes one person and/or one small action to make a meal unsafe to eat. Plus, even with all the training in the world, servers and restaurant personnel are still human beings and will occasionally make mistakes. Reminders such as "order without breadsticks,"  are wise. I've ordered entrees in other restaurants with gluten-free menus and sometimes been surprised by a bread stick or roll on the plate. An additional note on the gluten-free menu like Outback family restaurants with specific ordering instructions increases the likelihood  of a safe experience.  As far as the Shrimp Scampi itself, it was excellent. The shrimp were not huge, but still a nice size, and they were plump and juicy in their classic garlic lemon butter sauce with wine and herbs.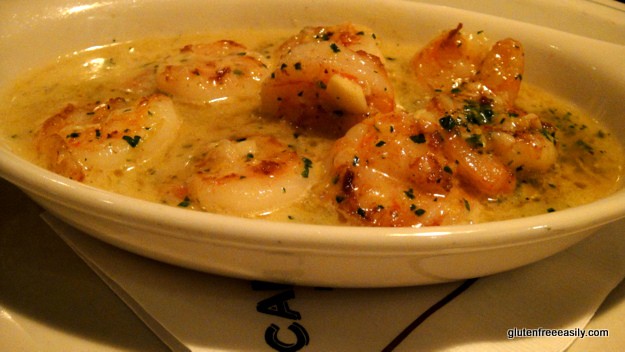 Entrees come with a choice of soup (yes, there are gluten-free ones!) or salad. (These combinations start at $12.) We both opted for salads—Caesar for me and house for Mr. GFE. The greens, and other toppings like Parmesan cheese and Mr. GFE's croutons (not gluten-free), were extremely fresh and tasty.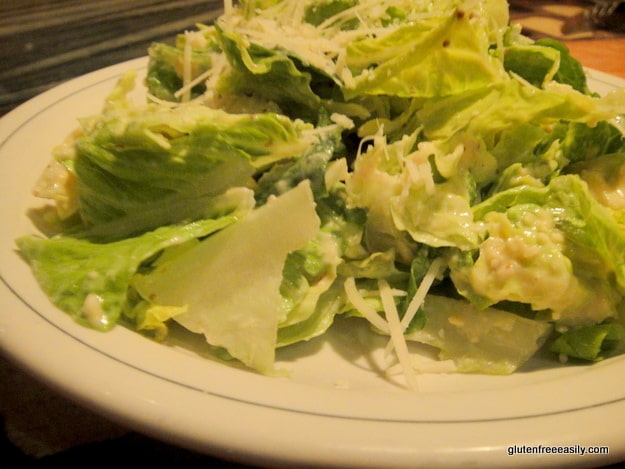 In the interest of a more thorough review, I ordered two of the smaller entrees. One was Grilled Norwegian Salmon with a tomato basil sauce and the other was Chicken Marsala. The salmon was perfectly cooked and the sauce was good. I admit when it comes to salmon, I really like it prepared simply. I could have done without the sauce. A simple tomato and basil sauce, it didn't detract and it didn't add in my opinion. The Chicken Marsala was topped with mushrooms and prosciutto in Carrabba's Lombardo Marsala sauce.  It was cooked well—not overdone—as is the case in many restaurants. The whole piece was moist and flavorful. The Marsala topping added simple, enjoyable flavors. My side dish was garlic mashed potatoes. They were just one would expect—creamy enough, but still with some nice potato texture and "heft," and just the right amount of garlic. I expected to pay the smaller entrée prices for each of these entrees, but I was actually only charged a small fee ($3) for the second entrée. So, the smaller entrees are also a good value for anyone who wants to sample more than one entree.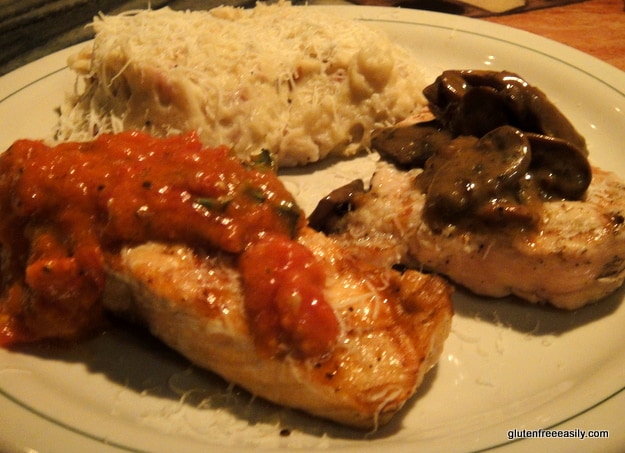 Mr. GFE ordered a meal that was NOT gluten free, but in the interest of sharing with the non-gluten-free readers, too, I'll share info on it as well. His dish was Veal Marsala, which had the same topping as my chicken—mushrooms and a traditional Marsala sauce. Mr. GFE said it was some of the best veal he's ever eaten. He ordered pasta as his side, cavatappi amatriciana. I was not familiar with this pasta, but you can see what type of pasta it is from the photos. Mr. GFE enjoyed it very much.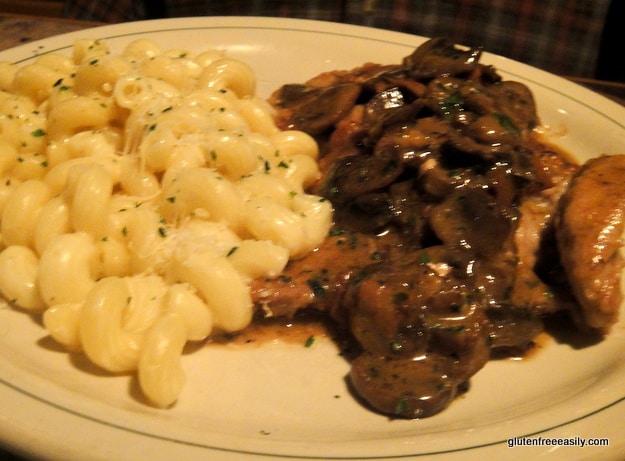 We already knew we had to try the one and only gluten-free dessert on the menu—John Cole. The John Cole consists of Blue Bell vanilla ice cream with caramel sauce and roasted cinnamon rum pecans. As you can see from the photo, it's a very large portion. It could have easily served four people. Four very happy people. It's an absolutely delicious dessert.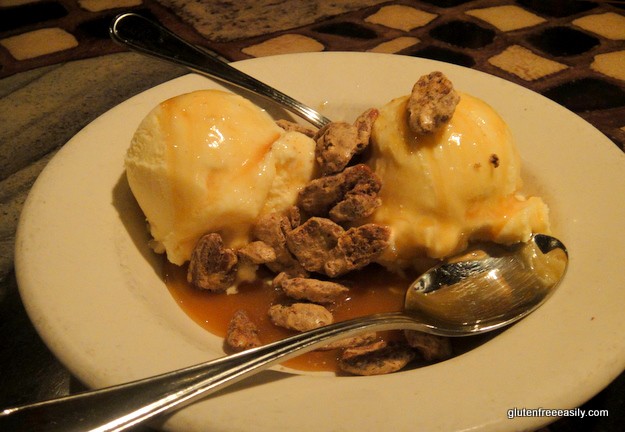 I hope you've already figured out that we did not eat all this food between the two of us. Our server placed the better part of both our meals in "to go" containers for us. We both enjoyed leftovers for dinner the next evening and I even managed to get another lunch out of mine. The leftovers were just as delicious as when first served, too. 
Service: Our service was excellent. We were promptly seated by a pleasant host and our server did a great job taking care of our needs in a friendly, yet non-obtrusive manner. Note that we did arrive after the dinner rush and we enjoy a more leisurely meal than most. Mr. GFE actually said, "This is great. They are on island time." Let me explain further. In some restaurants we have felt extremely rushed by staff. We have felt like we were being hurried off so the next diners could occupy our seats. It is a fact that we'll often see other diners arrive at the same time we do, but leave long before we are finished eating. When we are dining out, we like to talk and catch up (yes, even spouses need to do that!) and enjoy a leisurely dinner.
Décor/Atmosphere: Some Carrabba's restaurants are recognizable by their abundant vegetation, which surrounds their establishments, and even tops part of their roof. That greenery does attract your attention and draw you in. And, once you're in the restaurant, the décor is somewhat standard as restaurants go, but it's both attractive and comfortable—not too loud, not too bright. We especially enjoyed the comfort and privacy offered by the very large booth in which we were seated. Carrabba's feels like a very friendly place, too. At the conclusion of our meal, our server, hostess, and even the proprietor all wished us a good evening, with the latter even holding the door for us as we exited.
While Mr. GFE and I love to support independent restaurants, we will frequent chain restaurants that we can depend on for a good meal that's also safe for me. Carrabba's made the grade plus some, so we'll definitely return. Now if you are a Carrabba's fan or would like to check them out for a meal, please enter the giveaway for the $100 Carrabba's gift card by simply leaving a comment (one comment/one entry per person). You do not have to be a gluten-free reader to enter the giveaway; it's open to all! Feel free to share any previous Carrabba's dining experiences, too. The giveaway will close on June 3, 2010. The winner will be chosen by random number generation and notified via email. The winner must respond in 48 hours. Otherwise, a new winner will be selected. But don't just enter the giveaway here … nine other bloggers are offering their reviews of Carrabba's with this same gift card giveaway. Check them out at BlogHer.com special offers page, so you can be sure to enter all the giveaways! Finally, click on the following links to learn more: giveaway rules, Carrabba's menu, and nearest Carrabba's location.
Good luck in the giveaway!
Shirley
Not just gf, but gfe!