For affiliate links and as an Amazon Associate I earn from qualifying purchases.
Full disclosure: This is an uncompensated review. The opinions expressed are strictly my own. But, be forewarned … Posana Café makes me break all the food blogging and food critic rules because I want to use all the superlatives and adjectives of food praise … and repeat them, without shame.
Have you fantasized about eating in a completely gluten-free restaurant? A place where you can eat amazing food without worrying about gluten cross contamination, also known as gluten cross contact? Dear gfe reader, there is such a place! It really exists and, no, I am not talking about your kitchen. It's Posana Café in Asheville, North Carolina, located at One Biltmore Avenue in the downtown area.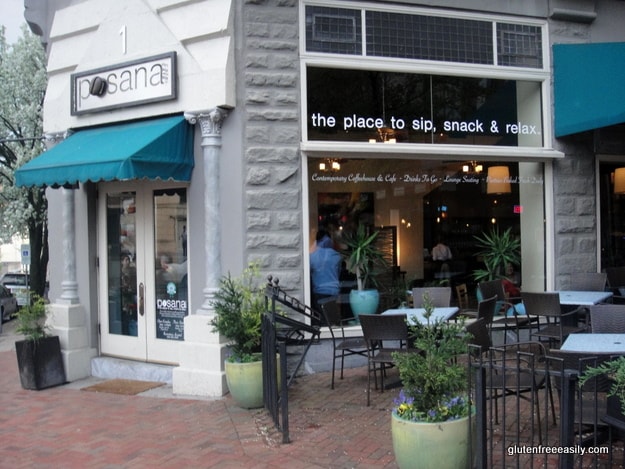 Let me repeat this information again. The food served at Posana Café is 100% gluten free. Yes. I know it's hard to believe, but you read that correctly. I say food, because there are beers that are served that contain gluten, but they are self contained and, therefore, not a potential source of cross contamination. The husband-wife couple, Peter and Martha Pollay, who own and operate Posana decided to go 100% gluten free because Martha has celiac, and, therefore, eats gluten free.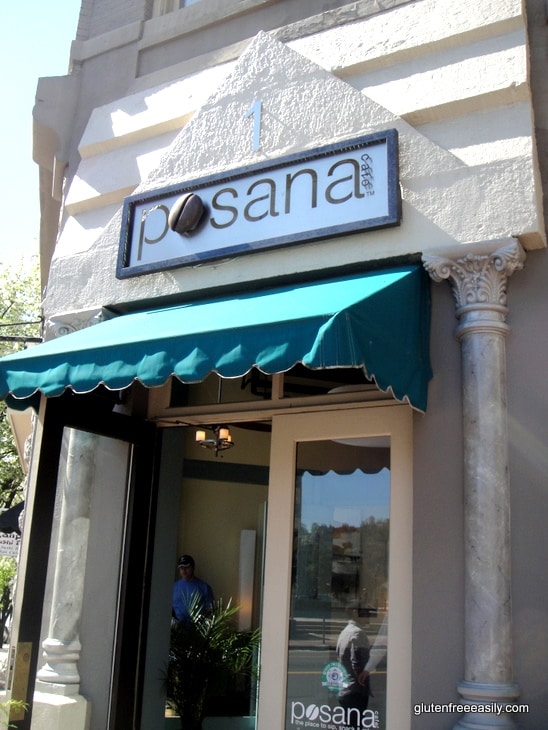 I started reading about Posana Café back in the fall of last year, long before I knew I would be making another visit to Asheville this month. A few of the gluten-free sites that I enjoy had reviews. My friend, Tiffany, who writes at a number of online spots including Celiac-Disease.com and the Triumph Dining blog, had talked about Posana being the best kept secret in gluten-free dining here and marveled at her dining experience, here, too. Wendy, who you know as Gluten-Free Greenie, had also written a review about her visit last year. She used the word "remarkable" to describe Posana and all of her review gushed praise and happiness. In fact, when Wendy read that I had visited Asheville, she wanted to know right away if I had eaten at Posana. She's just one of its many dedicated fans. Finally, the Chicks—Celiac Chicks, that is—shared a glowing guest review earlier this year.
Since I'm often a research-oriented person, I read other Posana reviews online, too. One person said that of the 13 meals they had eaten during their stay in Asheville, they had eaten 11 of them at Posana. Wow! And, he and his family weren't even gluten-free folks. Sight unseen and food untasted, I had decided I would be thrilled to enjoy even one meal there.
We headed to Posana for dinner on our first evening. As I said, its address is One Biltmore Avenue, which means it's located right on historic Pack Square. The dining room is long with high ceilings. The décor is plain wooden tables, a sleek bar, artful shelving, exposed industrial ceiling infrastructure, and engaging paintings. A few simple pleasing colors are provided by painted walls, the plants in various ceramic pots, and the food service items themselves, which are pleasingly arranged on shelves, server stations, and the tables themselves. Think crystal pitchers, glasses, tea pots, and tea cups in all shapes and sizes with clean, simple designs. It's the kind of place that is so attractive and appealing that once you enter, your body just goes "ahhh" and relaxes. So, it's fitting that Posana calls itself "the place to sip, snack, and relax."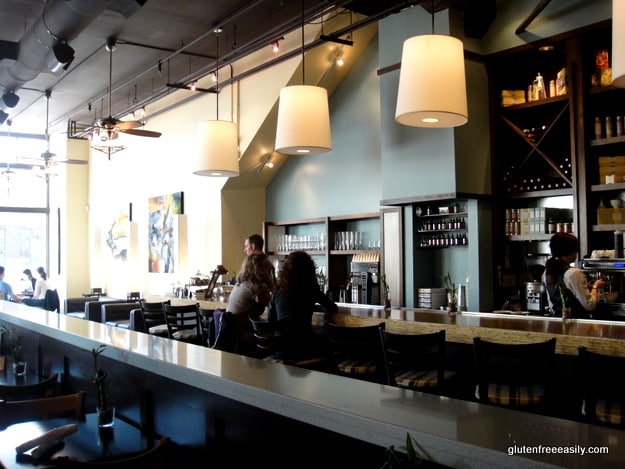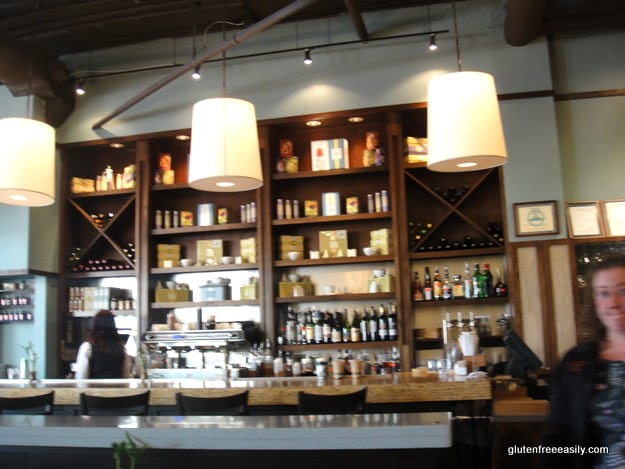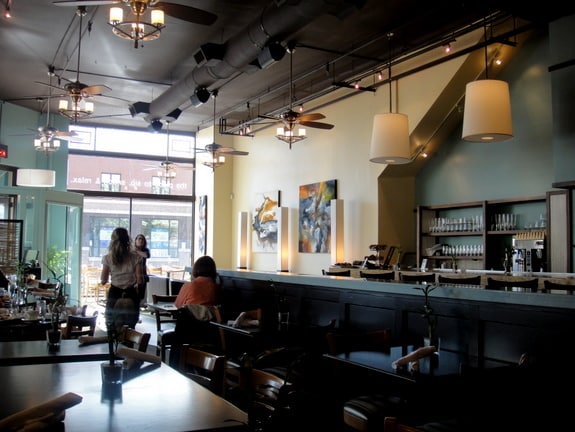 When we entered the restaurant, I told the host that we had traveled from Virginia just to eat their gluten-free food. He responded that all of Posana's food was gluten free, so I should really enjoy myself. That evening I was a little anxious. Oh, no, it wasn't about getting glutened. I knew from my research that would not be an issue. And, I wasn't concerned about whether I'd like the food. There were too many rave reviews to make me doubt that. I expected to love Posana's offerings, but I was anxious about whether my gluten-eating girlfriends would love them as well.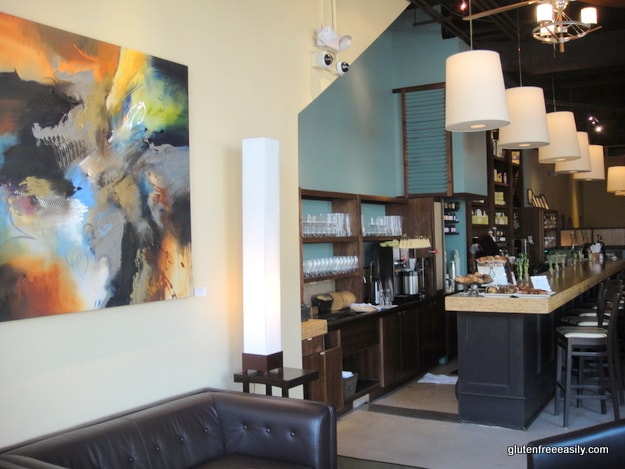 Just looking at the menu and knowing I could eat any of them, absolutely any of them, without having to ask questions or worry was a pretty neat experience I must say. The menu changes every several days, but when we visited, there were 9 appetizers, 4 salads, 12 entrees, 8 sides, and 5 desserts. Yes, all gluten free. Delightfully mind boggling, isn't it? How do they do it? Well, it's clear that they use the gfe approach, focusing on real food that is naturally gluten free and using alternative ingredients as needed (e.g., gluten-free flour mixes for some baked goods).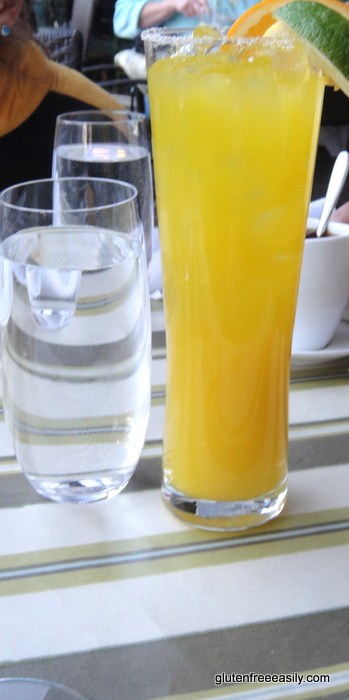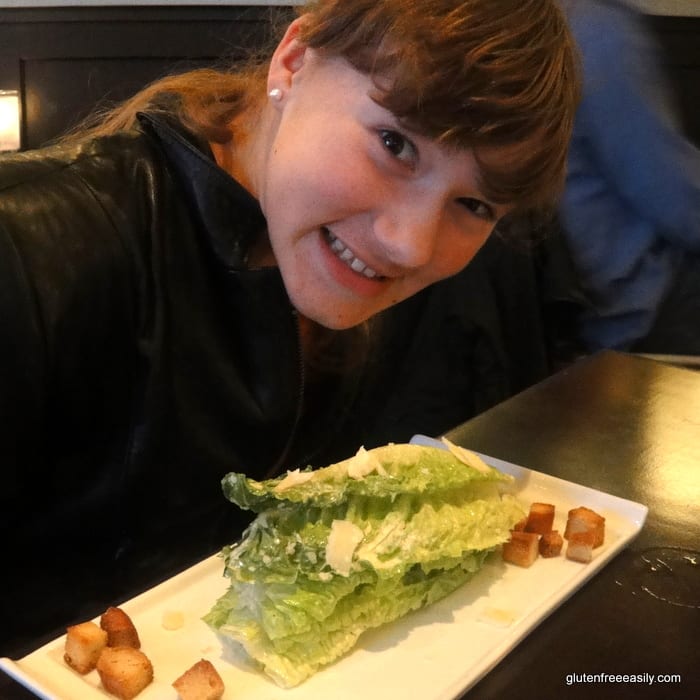 I truly wanted to try everything they served, but I finally decided on blackened scallops with warm white cheddar polenta and a fried green tomato crouton. I sipped on a house margarita, called the Posanarita, a margarita that includes fresh-squeezed orange juice. My younger girlfriend (my one friend's daughter who is all of 13) ordered one of Posana's specialty, non-alcoholic, drinks—Italian soda, orange flavor. She also ordered Caesar salad with homemade garlic croutons and Reggiano parmesan. Yes, before you ask, they were gluten free croutons! Remember … every food at Posana Café is gluten free! My young friend was seated next to me and didn't even come close to finishing her salad, so I ate the last few very fresh, crunchy bites that were untouched. They were wonderful; I could have made a meal from that salad alone. Her entree was a grilled pork chop. The pork chop came with mashed sweet potatoes, wilted arugula, and caramelized apples. She opted for mashed white potatoes instead of the sweet potatoes. My girlfriend on the right ate roasted free-range chicken with potato gnocchi, root vegetables and pan drippings. My other girlfriend enjoyed seared Atlantic salmon with celery root puree, cherry tomatoes, haricot verts and tomato-tarragon coulis. (While salmon is one of my absolute favorites, it's also my fallback food in non-gluten free restaurants, so I decided to opt for something else at Posana.) My blackened scallop dish was beyond my expectations. I've had blackened fish before, but never scallops, and that flavoring along with the polenta and fried green tomato "crouton" (a first for me!)—all cooked just right—was simply perfection. (If I'd been at home, I probably would have taken a spoon to the bowl to make sure I got every drop.) Everyone loved their meals and my youngest friend declared the pork chop to be the best one she'd ever eaten.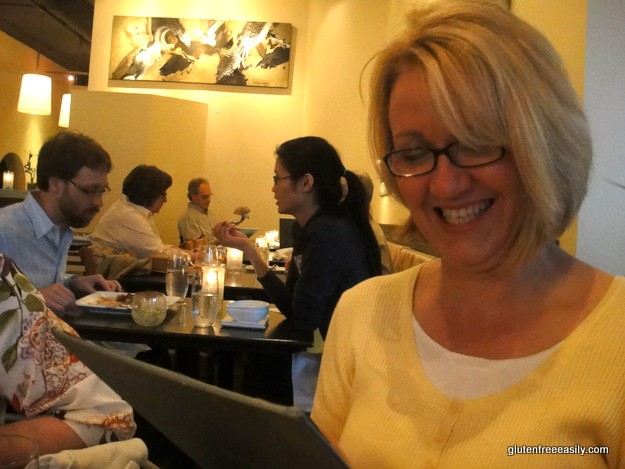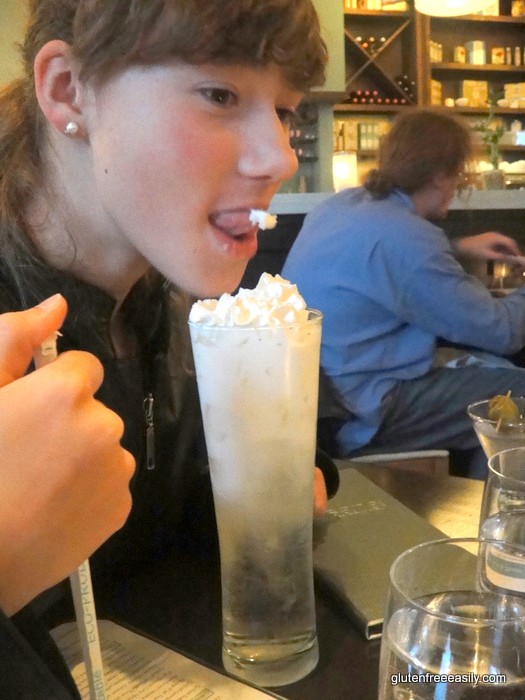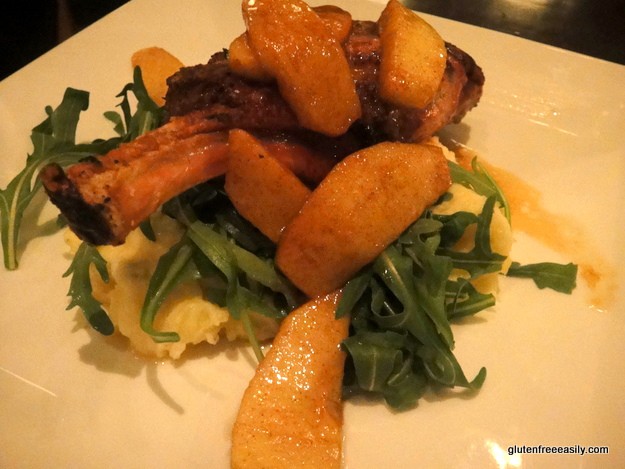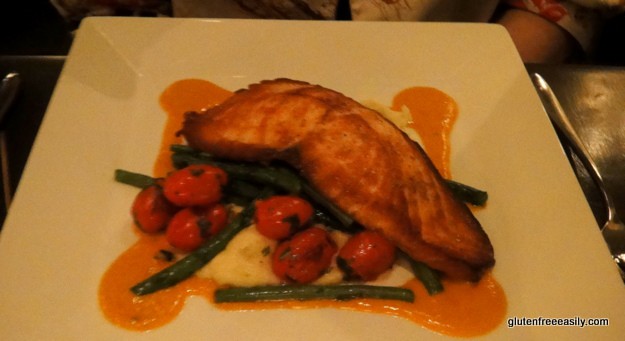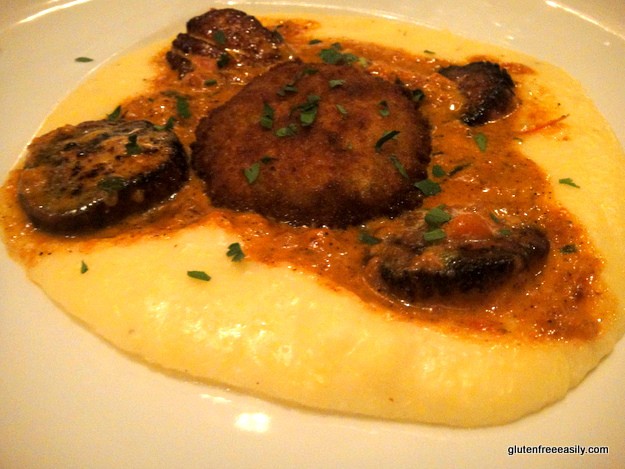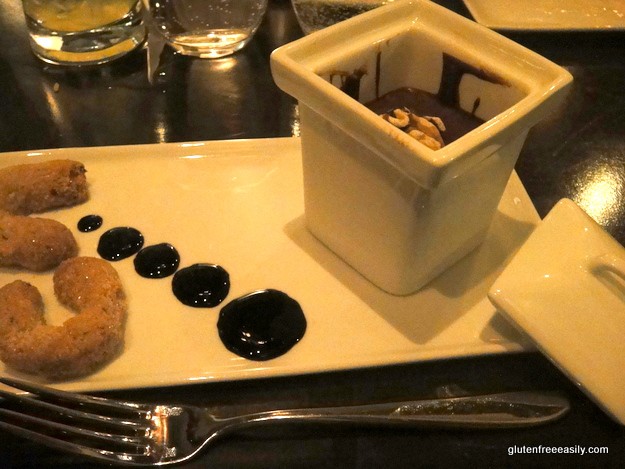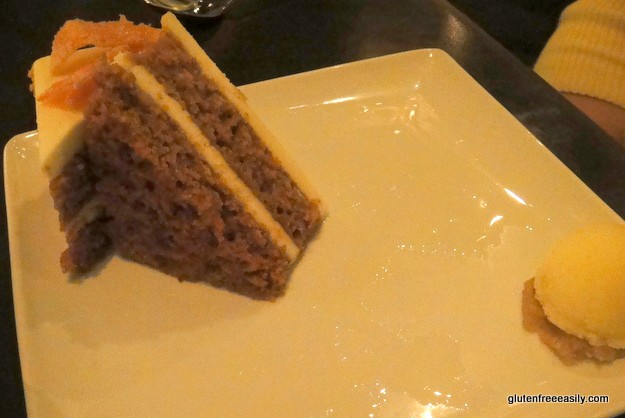 When Peter, who is also Posana's executive chef, found out that I had traveled from Virginia to enjoy their gluten-free food, he came over and spent several minutes talking to me and my friends between courses. (By the way, he did this on two separate occasions. Yes, we ate there more than once! I'll share more in a moment.) Peter stated that he had told Martha if they served gluten-containing food along with gluten-free food, there really would be no way to prevent cross contamination. So, they decided to have a gluten-free restaurant. But, they are passionate about serving incredible food to all their patrons, not just those of us who are gluten free. Peter said his wife had developed a tagline "outstanding food that just happens to be gluten free." But, just to be clear, they don't advertise their restaurant as gluten free. They don't want to deter those who eat gluten from visiting because they might think that weird food or food that's lacking in some way is being served. Their menu simply says that they have gluten-free options available. While I'd like them to shout "100% gluten free!" from the roof tops, I do understand their concerns. In fact, we appeared to witness the negative effect of the gluten-free label in action one evening, when a diner next to us did not like his dessert. Up until that point, the gentleman had loved everything he'd eaten, including bread sticks. When the couple complimented the waiter on the bread sticks, the waiter thanked them and shared that they were gluten free as was everything else served at Posana. Moments later, the waiter served the gentleman his dessert and suddenly the fellow proclaimed he didn't like it and didn't eat it. Was it an honest assessment? One can't be sure, but we enjoyed that same dessert and found it to be enjoyable. It is a fact that perception often distorts reality.
When it was time for our dessert that first evening, we all seriously considered the menu for a few minutes. Our young one opted out, but the rest of us each ordered a different dessert, so we could share. There was no doubt that my choice had to be chocolate pots de crème, a classic that has never disappointed me. This time it was gluten free and dairy free as it was made with coconut milk! (I believe the menu even said it was vegan.) The presentation of this dessert was irresistible. One friend ordered a chocolate roulade, which came with coffee ice cream and hazelnut squares (I believe). Another ordered carrot cake, which also came with a little dollop of ice cream. The chocolate roulade and its accompaniments made for a rich and delightful treat. The carrot cake was good, but much lighter in flavor than one usually expects for a carrot cake, which was not necessarily a bad thing at all.
When we left Posana that first evening, I expected that it would be our only visit during our trip as there are numerous great restaurants in Asheville. But, then two evenings later, we were late heading to dinner, unsure where to go, and headed back to Posana once more. With no reservation on a Saturday night, seating was only available outside. It was a chilly evening, but we managed to stay warm enough with the food that was fabulous once again, plus a few libations and hot drinks as well. I ordered the citrus crab cakes with lemon and lime zest, peppers, onions and a caper remoulade. We all shared this beautiful and sensational appetizer. For dinner, I enjoyed pan-seared Cold Mountain trout over crispy polenta with asparagus, pickled ramps and dill-caraway cream. One friend ordered the New York strip steak with braised spring onions, herbed fingerling potatoes, and onion jus. Her daughter ordered the grilled pork chop dish, once again proclaiming it the best meal ever. My other friend ordered grilled Georgia quail with wild mushroom risotto and porcini oil. We all raved over our dishes once again. Young friend had some of her pork chop left to take back to our suite with her, but the rest of us had no problem finishing every morsel on our plates. We all ordered dessert and shared again. This time I ordered the chocolate roulade, which was really nice with the accompanying coffee ice cream and squares—so many wonderful flavors and textures. One friend ordered the rice pudding with broiled pineapple slices and another ordered a dessert that I failed to note the name of, but it was basically oatmeal lace cookies with ice cream and a raspberry sauce. My friend's rice pudding was a black rice pudding with cardomom and ginger. Admittedly, she was a bit disappointed as it was not a more classic rice pudding as she expected. The oatmeal lace cookie and ice cream dessert won raves from all of us.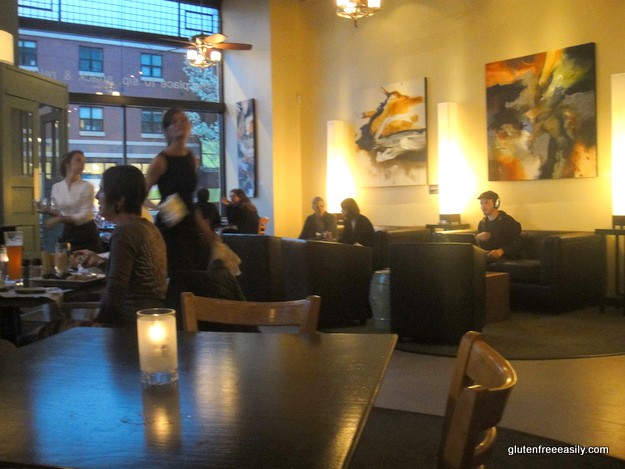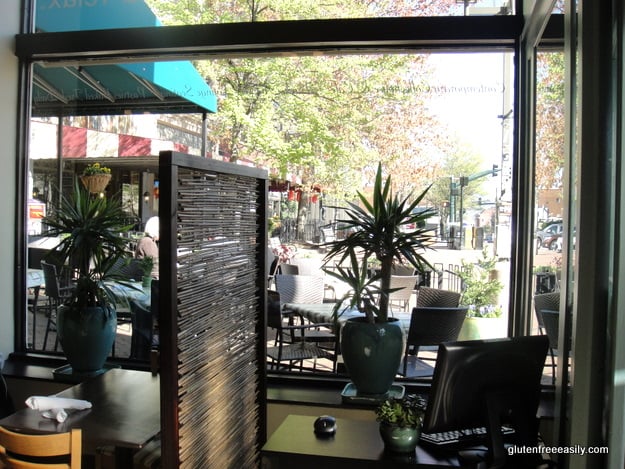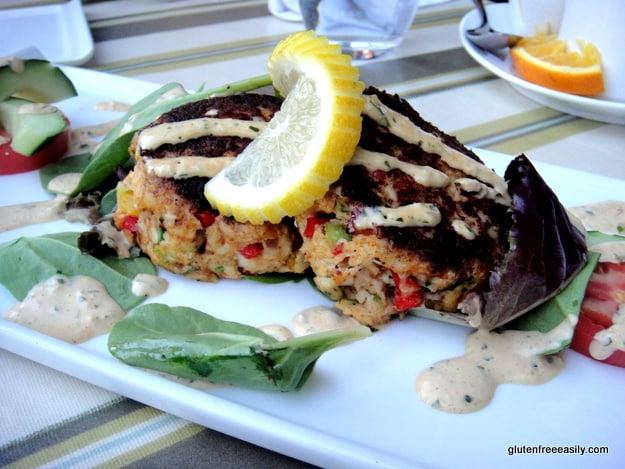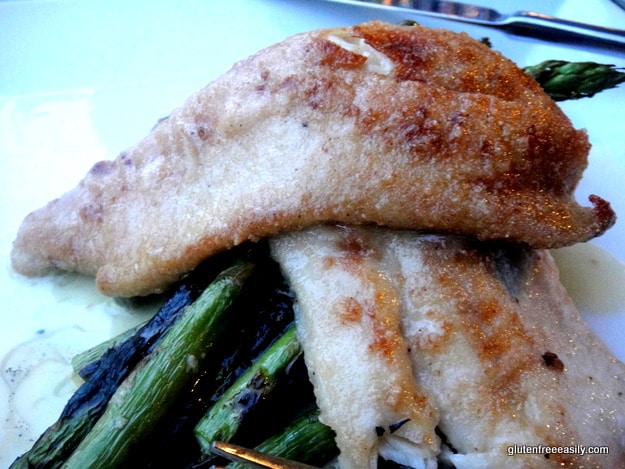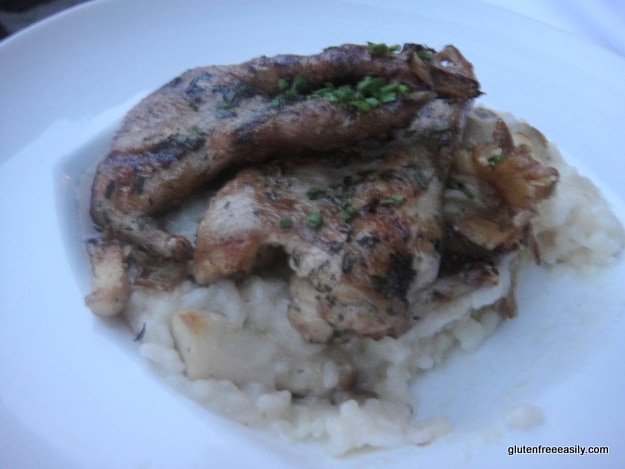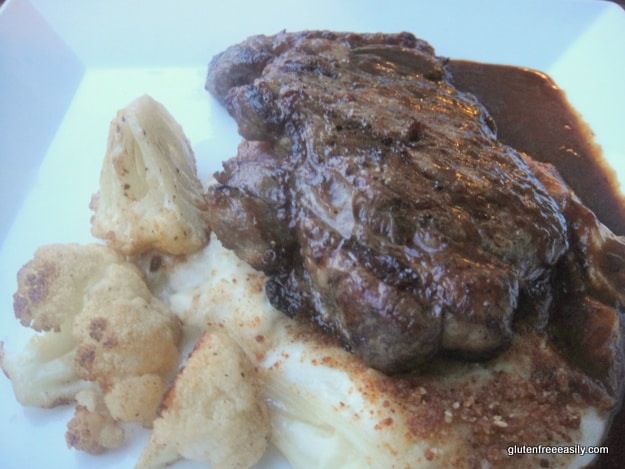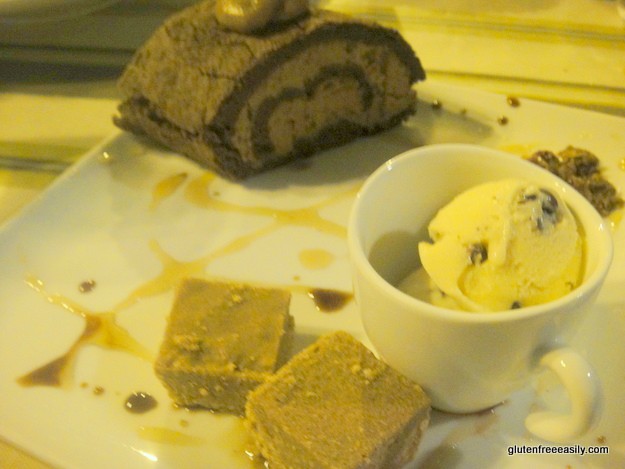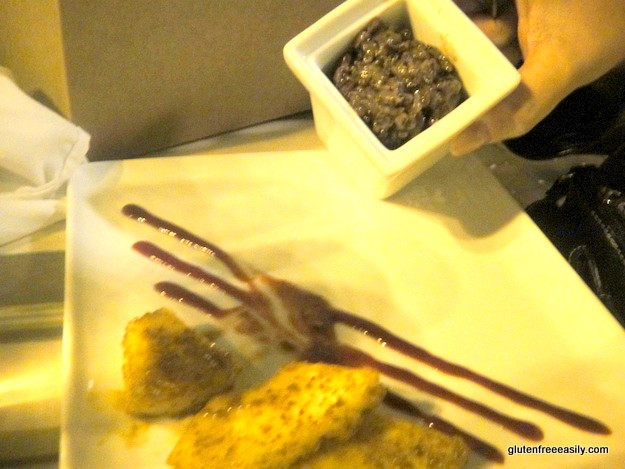 As an added bonus to our dining on Saturday evening, there were street performers entertaining us on the Square, only 10 to 15 feet away from our table. I'll write more about them in my next Asheville post, but they definitely make eating outside at Posana an even more enjoyable experience!
Was that second time our last time dining at Posana on our trip? No; thankfully, it was not. We had planned to have brunch on Sunday at Grove Park Inn with our friend's stepson and his partner, but we couldn't get an early enough reservation there before our trip home. So, you guessed it … we ended up back at Posana for their brunch! Yes, I felt like one lucky, lucky girl. First, I was pleased it was a brunch where one order off the menu. Even with no fear of cross contamination, breakfast and brunch buffets have never appealed to me. (Usually a buffet means too much food that is often overcooked.) Now you might think I would order something like buttermilk pancakes … something that I would be very unlikely to get anywhere else gluten free. Well, I like to eat much more protein than pancakes and bacon most of the time for breakfast. And, frankly, once I saw crab cake benedict with seared polenta and a poached egg with hollandaise and asparagus on the menu … well, I just had to order that. Others ordered Posana omelets (cherrywood smoked ham, peppers, onions, cheddar cheese) with home fries; sauteed red onion, asparagus, and Parmesan quiche with mixed greens salad; and buttermilk pancakes with maple syrup and bacon. I also ordered Vietnamese spring rolls with shrimp, rice noodles, carrots, cucumber and ponzu dipping sauce. These were gorgeously presented, but the ponzu sauce proved hotter than my taste preference. So, they were boxed up for one friend as road trip food. Everyone loved their meals and I sampled both the quiche and the pancakes and found them to be excellent. But, the star performers of this brunch were something I was not likely to eat anywhere elsewhere—scones. These gluten-free scones were downright heavenly. The two flavors ordered at our table were bacon cheddar and maple orange pecan. The first was a wonderful savory scone, but the latter easily won my heart. If I lived in Asheville, I'd be stopping by to buy scones and their other baked goods a lot. Also available that morning was a double chocolate hazelnut cake, and it looked divine.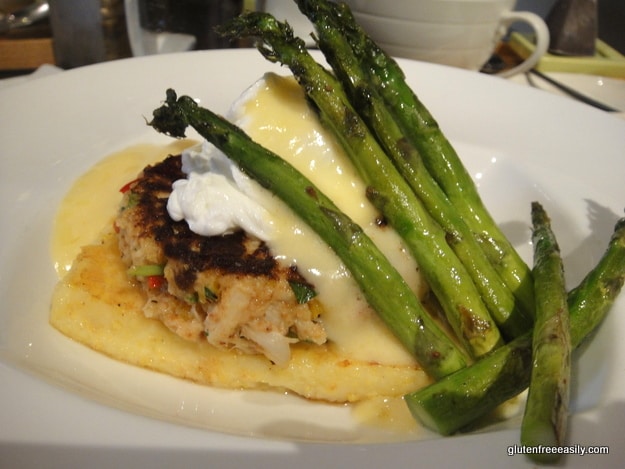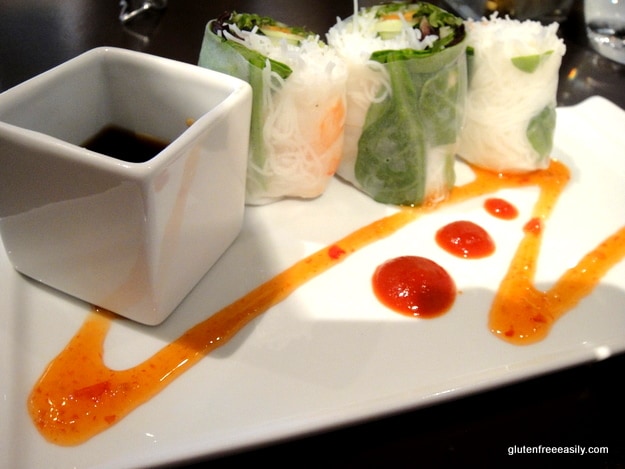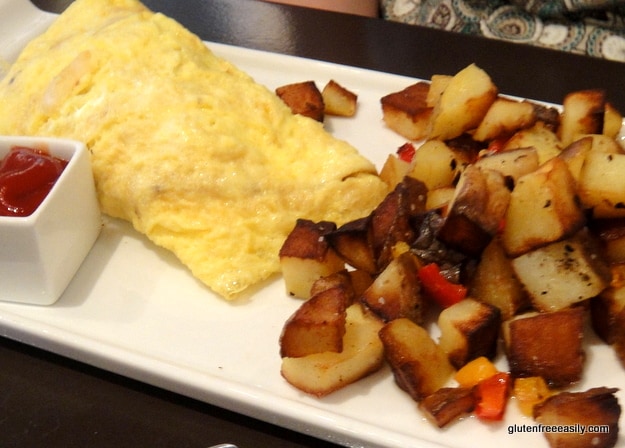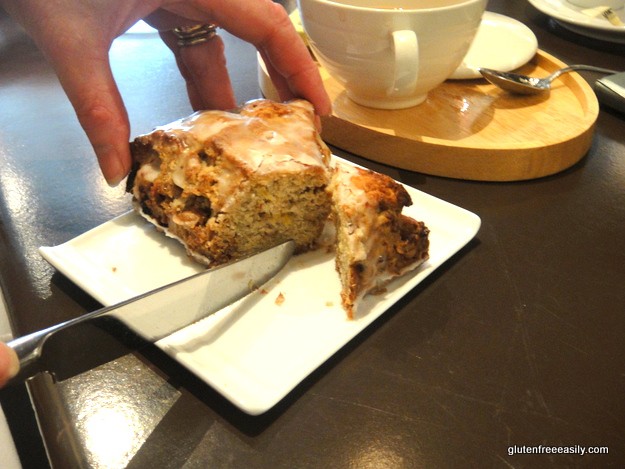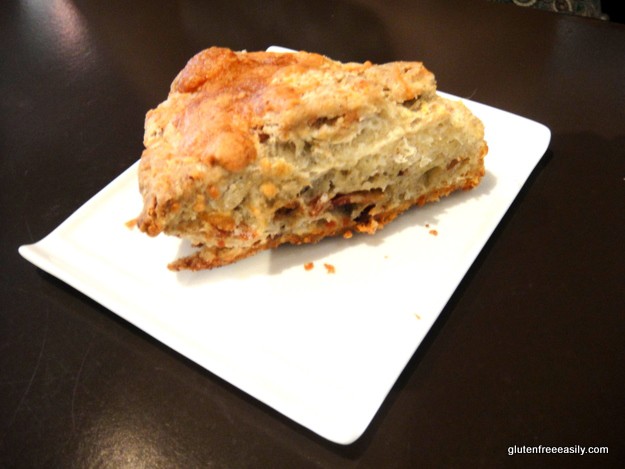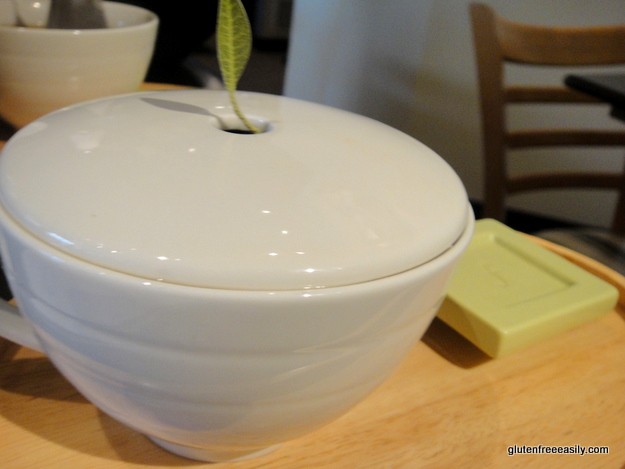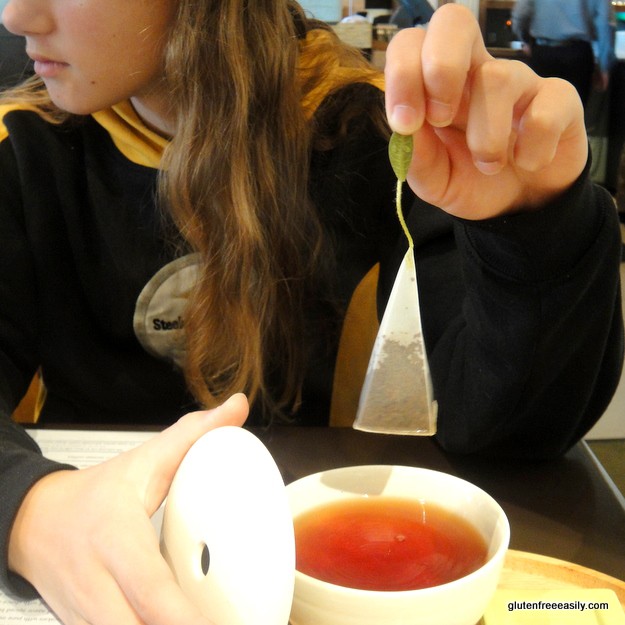 The bottom line … Posana Cafe serves 100% gluten-free, real food that is outstanding. You will feel so pampered and special from eating this amazing gluten-free food that you'll want to move to Asheville so you can dine there all the time. There are a few other things to note. They don't miss any single detail—on anything. For example, look at the elegant tea bag shown in the photo above. Yet, the prices at Posana are actually better than any of the other comparable restaurants in Asheville, which just proves that neither gluten-free food, nor "real food" dishes have to be outrageously expensive. The service is extremely friendly and top notch. My only disappointments were my own … not getting blog-worthy photos to share of every item that we enjoyed from the menu, not getting a photo of myself with Peter Pollay, and not getting to meet his wife/co-owner, Martha—the ultimate reason that Posana is gluten free. Posana Café has been open for almost a year. They will celebrate their anniversary next month. I'm hoping that Posana will be around for many years to come. And, while I haven't yet gone so far as to tell Mr. GFE that we are moving to Asheville, my girlfriends and I already have a return trip planned for April 2010. But, if I'm super lucky, I may get to return to Posana Cafe before then. Summer motorcycle trip perhaps?
UPDATE: In case you still had any doubts, the following news release just came out. (Seattle, Wash., April 30, 2010) – Posana Café earned an excellent rating for their commitment to Best Practices in safe gluten-free food service through the Gluten Intolerance Group of North America's (GIG) Gluten-Free Food Service Accreditation (GFFS) program.
Shirley
Not just gf, but gfe!
Originally published April 28, 2010; updated December 13, 2020.