For affiliate links and as an Amazon Associate I earn from qualifying purchases.

If you've been following Jamie Oliver's Food Revolution, you already know that the final episode aired this past Friday evening. The series consisted of six shows covering his time spent in Huntington, West Virginia, trying to teach people about the benefits of real food. Specifically, he showed school food service personnel, parents, and the students themselves, how they could replace unhealthy processed foods with healthy real foods that would allow everyone to thrive. I'll be honest … I had little knowledge of Jamie before this series. I knew he was a famous chef from the U.K. I'd seen him briefly on other television shows. But, that was it. However, after watching this series, I'm now a huge fan of Jamie and his Food Revolution.
Even though Jamie's series has concluded, the mission—the Food Revolution—has not. He is still seeking one million signatures on his petition. When you sign Jamie's petition, you are saying:
"I support the Food Revolution. America's kids need better food at school and better health prospects. We need to keep cooking skills alive."
It's a pretty simple choice really. Do you think replacing meals that mostly consist of pizza, pressed chicken nuggets, and French fries with delicious real food meals is a good idea? Then sign Jamie's petition. (Update: This petition is no longer active.) Please forward the link to family and friends so they can support the cause as well. Jamie's goal is one million signatures, and he's over half way there! But he needs everyone's signatures. Once he's reached that figure, he'll present his petition and mission to President and Mrs. Obama to show how many people care and to ask for their support in the Food Revolution.
If you're uncertain whether Jamie's Food Revolution for our schools is a worthy one, consider this … Jamie implemented this same program in England several years ago and the results are in. You can read about them here. The students in the school districts who were served healthier foods performed measurably better. Their test scores improved overall and against their peers who did not have a "real food" lunch program. Plus the absences of the students who were eating the real, healthy food went down dramatically. I think that's huge and want the same in the U.S. for our students!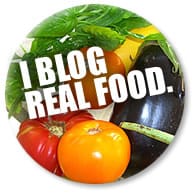 But, let's not stop there. My wonderful friend and fellow real food proponent, Diane over The W.H.O.L.E. Gang (which stands for whole healthy organic living every day) is passionate in her support of Jamie Oliver's Food Revolution, so she is leading a 30 Days to a Food Revolution event. There are many of us right there with Diane and Jamie. I've long touted eating real food as the primary focus of my gluten free easily (gfe) approach.
Thirty bloggers will each be sharing a post for this Food Revolution event—one each day. (You can see a complete listing of who will be participating here.) These posts will include tips, recipes, and food for thought. I'm extremely honored to be leading off this event. You can see my kickoff post here.
Those of you who have been following gfe for a while know that I have mentioned being gluten free, dairy free, and refined sugar free in the past (with great results)—namely, weight loss and optimum health. While I consider myself happy and healthy since going gluten free, I'm much more so when I eat dairy free (with the exception of some butter occasionally, per my doctor's guidance) and refined sugar free. And, you'll often see such recipes here at gfe, because I have seen those benefits before and know many who need to eat within those restrictions. Food plays such a huge role in our health and behavior. One of my favorite quotes, which I almost always share when I speak in public about celiac and gluten intolerance, comes from Thomas Edison. I don't know what Edison's specific history or knowledge of food issues was, but his statement is as follows:
"The doctor of the future will give no medicine, but will interest her or his patients in the care of the human frame, in a proper diet, and in the cause and prevention of disease."
As I tell my audience, we're not there yet … we haven't reached that far into the future. Unfortunately, doctors these days give lots of medicine and few people consider that the food they are eating is causing their health issues.
But, I know and I can do better. As I said, I've known that I thrive eating dairy free and refined sugar free, as well as gluten free, of course, from past experiences. But, so many things have made me see the writing on the wall of late to again make this change anew. Of course there is Jamie's Food Revolution. Obviously it didn't focus on individuals being gluten free or dairy free, but it did touch on the evils of sugar.
In addition, every single day, I'm reading posts from my blogging buddies and being inspired. So my "wheels" have been turning, so to speak. And, finally there's our Food Revolution event host, Diane (The W.H.O.L.E. Gang), and my friend and sometimes travel partner, who provides inspiration. She navigates life gluten free, dairy free, and more with grace and enthusiasm! There are so many other bloggers who inspire me daily. (You know who you are, because I try to leave comments on your blogs whenever I can.) Thanks for the inspiration, all! I'll be looking to you and your blogs for daily encouragement and ideas during my own personal Food Revolution.
But to my gfe readers … don't worry … I will continue sharing gluten-free recipes of all varieties. There are many recipes I have already made and haven't posted yet, and I am always cooking for others, too. But today, I'll kick off my own Food Revolution with a gluten-free, dairy-free, and refined sugar-free recipe made from real food. This is another "sweet milk" recipe.
I first read about this concept at Ari's (The Frugally Rich Life). She had shared that milk sweetened by soaking raisins in it could be used instead of sweeteners. So I tried it. My first test run—these Sweet Milk-Nut Muffins—was not a home run, but it was good enough to make me want to keep playing with the sweet milk concept.
A couple of folks who commented on that post suggested using other fruits in this manner. Alta (Tasty Eats At Home) suggested dates. I had four in the refrigerator that were nearing the end of their life, so I soaked those in a cup of milk. At the end of Day 3 (the suggested soaking period is 2 to 3 days), I checked the sweetness of the milk. It was very sweet, indeed. But, not being a wasteful person, I decided I couldn't discard the dates after they'd sweetened the milk. Besides, they still looked like they had some oomph in them. So I threw the dates and the milk in the blender and blended on high a few seconds. Then I added that lovely brown mixture to the muffins in place of sweetener and liquid. The results were very good.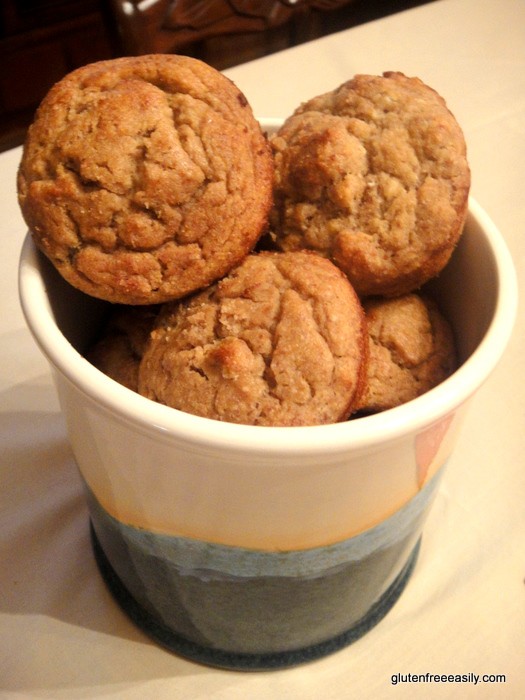 Even with lots of other foods at our support group meeting the other night, most of the muffins went quickly. One of our younger and most enthusiastic members, Kyle, especially loved them. I sent him home with the last two and he was very happy! Here's Kyle making raw zucchini "spaghetti" at one of our meetings. Isn't he a cutie?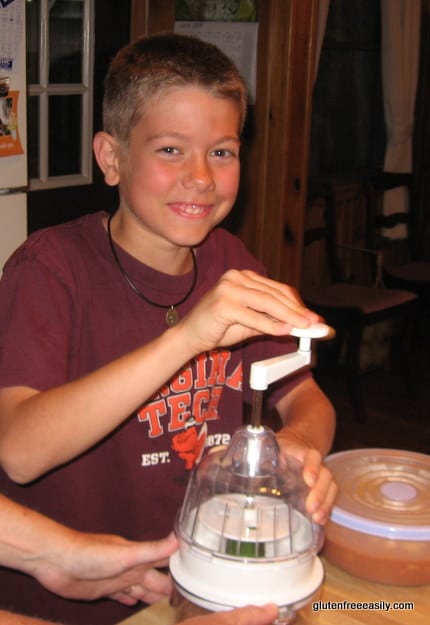 This is a great breakfast recipe, so I'm submitting it as my second entry for this month's Go Ahead Honey, It's Gluten Free! carnival. The theme is Breakfast in Bed. My other entry is a Chocolate Coconut Chia "Pet" Smoothie. Either—or both!— would make great breakfasts in bed. You can find all the entries over at Naomi's (Straight Into Bed Cakefree and Dried). Naomi is both the originator of this long-standing and always fun blog carnival and this month's host. Be sure to check back at her site the end of the month for the complete roundup.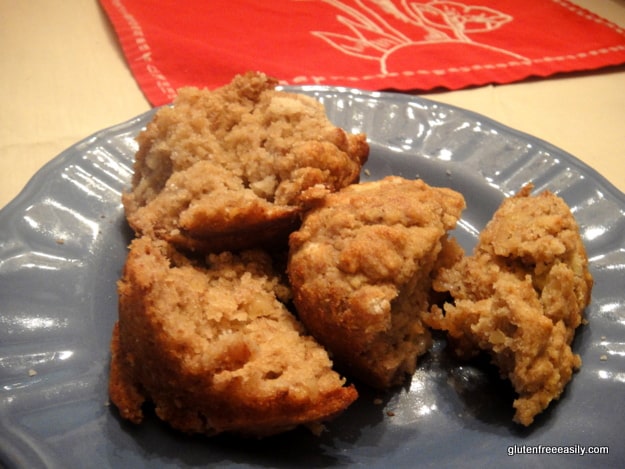 Yield:
"Sweet Milk" Banana Muffins

Ingredients
1 cup of sweet milk* with dates, all blended together
1 egg
1 cup mashed bananas (about 3 regular sized)
½ cup oil (I used coconut oil, liquefied)
1 cup millet flour
1 cup brown rice flour
1 tbsp baking powder
1 tsp salt
1 cup chopped walnuts (or nuts of your choice, optional)
Instructions
*Prepare "sweet milk" by soaking about 4 pitted dates in dairy or non-dairy milk for up to 3 days. Blend all together in blender before adding to batter.
Preheat oven to 375 degrees Fahrenheit. Grease 12 muffin cups.
Beat egg; stir in sweet milk, bananas, and oil.
Stir in remaining ingredients all at once or just until flour is moistened (batter will be lumpy). Fill muffin cups full most of the way.
Bake until golden brown, about 20 minutes.
Immediately remove from pan.
Notes
It's recommended that many gluten-free flours be stored in the refrigerator and, ideally, one should bring them to room temperature before using them in a recipe. Unfortunately, I did not and the flour clumped together a bit; take heed. An all-purpose flour mix can be used in place of the millet and brown rice flours, if you prefer.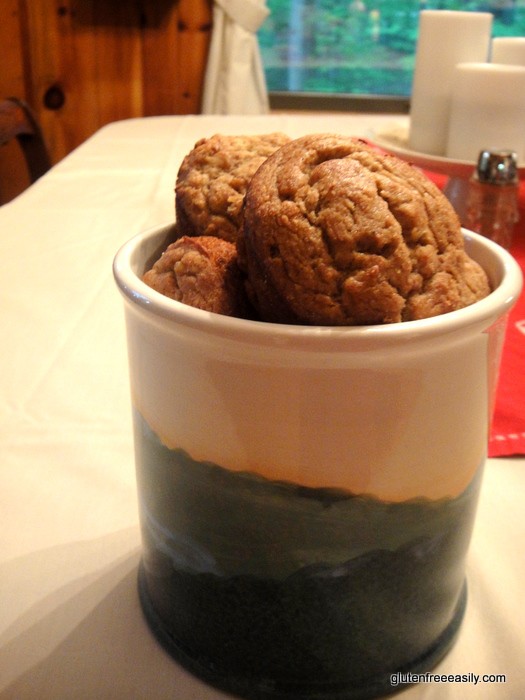 Enjoy, and don't forget to visit Diane's blog, The W.H.O.L.E. Gang, each day for the next month for 30 Days to a Food Revolution. I can't wait to hear all the different perspectives, tips, and discover some new "real food" recipes. Let's all join the revolution, shall we?
Originally published April 26, 2010; updated November 30, 2019.