For affiliate links and as an Amazon Associate I earn from qualifying purchases.
Have you ever learned a tip that made your life so much easier, but then over time you forgot about it? Such is the case with today's tip—The 5-Minute Secret to Easily Cleaning Pots and Pans without Harsh Chemicals.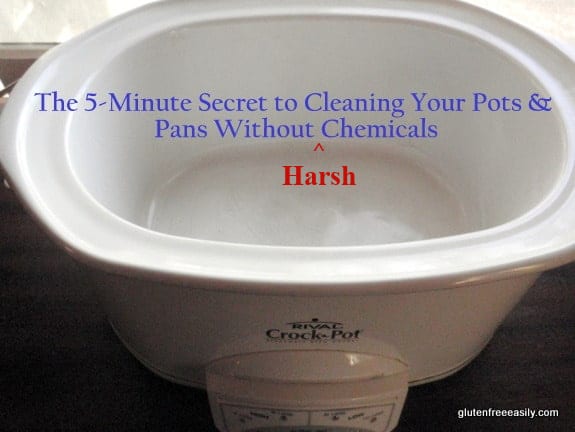 The Back Story on the 5-Minute Secret to Easily Cleaning Pots and Pans without Harsh Chemicals
A while back I made my Fabulous Pork Butt (Pulled Pork) in my slow cooker and ended up with a very messy slow cooker. Even after I washed it, there were lots of baked on food stains left. No amount of soaking or scrubbing would remove them. I did a Google search and tried various methods, including a baking soda paste method which folks raved over "as long as you use some elbow grease." Well, that approach only removed a little more of the "damage" after using LOTS of elbow grease.
Then suddenly I remembered an ingredient that I had used long ago to remove baked on food. Cream of tartar. Some of you are familiar with this ingredient as a key ingredient in Snickerdoodles. Others of you might know that you can make your own grain-free baking powder using baking soda and cream of tartar. You can even use cream of tartar to add tartness in milk to create "sour milk" or "buttermilk" for recipes.
Fooducate says that "Cream of tartar is natural, and is formed from the sediment left over in barrels after the winemaking process. They've found cream of tartar in ancient pottery dating back 7000 years!"
So as soon as I pulled the cream of tartar trick from the recesses of my brain, I used it on the still dirty crock from my slow cooker. It worked! And in less than 5 minutes! After days of soaking, scrubbing, applying more baking soda paste, etc., I finally had a perfectly clean crock. Yes, my reclaimed cream of tartar tip worked like a charm!
A few days later I had a very messy stainless steel skillet to clean. Again, I used some cream of tartar again and voila! In less than 5 minutes, the skillet was perfectly clean and shiny with no real effort. Now some of you might already know this tip, but since I had searched on "how to remove baked on food" and made other similar queries and this solution did not pop up, I'm betting there are plenty of you reading who do not know about the cleaning power of cream of tartar (or perhaps, like I, have forgotten about this particular use). Even the
Fooducate
site, which listed several uses of cream of tartar, did not mention its cleaning use.
However, if you specifically Google "how to use cream of tartar to clean," you'll find many, many ways to use this eco-friendly cleaner … from the kitchen to the bathroom to the laundry room.
Here's how you use cream of tartar to remove baked-on food or simply scorch marks on slow cookers/crockpots, pots, pans, and even CorningWare such as the tea kettle shown below. It's so easy that it's ridiculous really!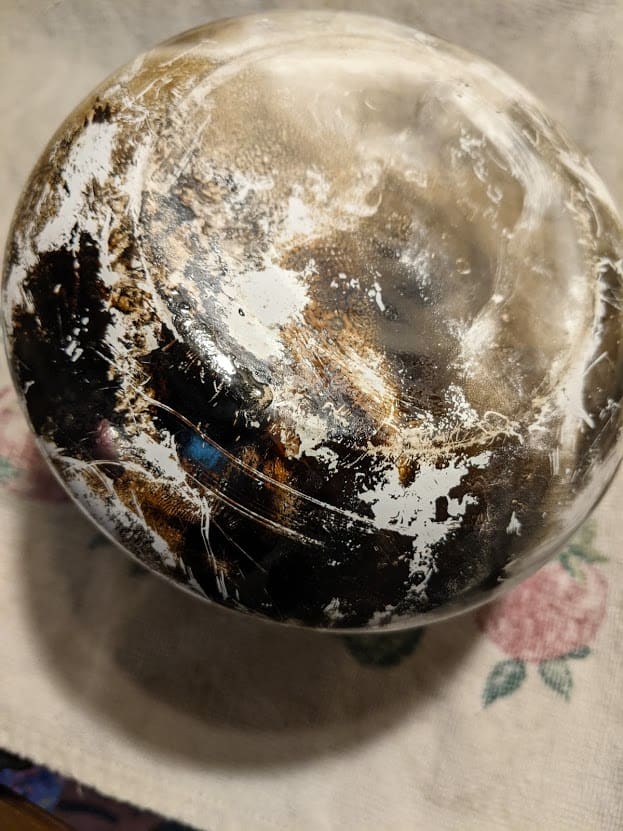 Some of you have gluten in your homes because you have gluten-full family members and your house is not completely gluten free. If you share pots and pans with those gluten-full family members, this tip might help keep those pots and pans cleaner and, therefore, safer.
I don't recommend sharing pots, pans, utensils, etc., but if you are going to do it, please exercise the best cleaning practices possible. And please remember that pots, pans, and utensils with porous surfaces (e.g., wooden, stoneware, cast iron) can't really be fully cleaned to remove gluten and other food allergens 100%.
Finally, I also use this secret to clean my pets' dishes. Do you know the film that develops on their dishes after even short-term use? That's called biofilm and may cause your pets to get ill. It's important to clean your pets' dishes well enough to remove the biofilm. This method cleans the dishes easily and perfectly.
The 5-Minute Secret to Easily Cleaning Pots and Pans without Harsh Chemicals
The 5-Minute Secret to Easily Cleaning Pots and Pans without Harsh Chemicals. So easy you won't believe it! With an ingredient you already have in your pantry! [from GlutenFreeEasily.com] (phot
Yield:
The 5-Minute Secret Recipe to Clean Your Pots and Pans Without Chemicals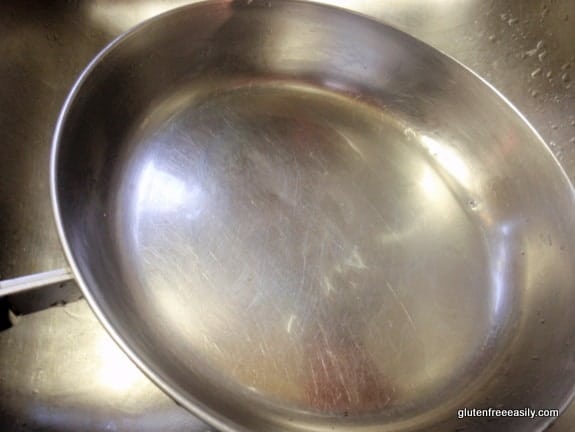 Instructions
Sprinkle a little cream of tartar on the surface of the pot or pan you wish to clean.
Add enough hot water to the pot or pan that you're cleaning until it covers the baked on stains. Let sit about 3 minutes (or longer if you get distracted---no worries).
Then wash and rinse as usual. You should not have to apply more than your average amount of "elbow grease" if any at all. Really, the whole process should be 5 minutes or less. I think you will be pleased with the amount of effort (or lack thereof) and the results!
Notes
I recommend using about a teaspoon of cream of tartar for an average size pot or pan and about a tablespoon for a large pot or large slow cooker crock. The cream of tartar powder doesn't have to cover much of the surface initially when you sprinkle it on because once you add water; it will dissolve and reach the entire surface that way. For really messy pots and pans like the slow cooker crock shown above, I'd probably do a quick clean up with my regular dishwashing liquid before I added cream of tartar to work its magic. You can buy cream of tartar in your grocery store or online. You can even buy it in bulk for the best value. (I've done that before and had not to buy any for years!)

Incidentally, my last tip here on gfe was How to Clean Your Blender (Vitamix, Blendtec, OmniBlend, etc.) in 2 Minutes or Less. And I shared how to cool Bundt cakes quickly in this post: Gluten-Free Bundt Cake Bonanza! Over 50 Recipes!
Happy cooking and baking during the holidays! By using this handy kitchen tip, you'll have more time to add decorative sprinkles to your cookies or simply sit and enjoy a glass of cheer with your loved ones. Enjoy!
Originally published December 4, 2013; updated May 4, 2023.