For affiliate links and as an Amazon Associate I earn from qualifying purchases.
Today's post on how to clean your blender in 2 minutes or less is a tip that, while not quite revolutionary, might just change your life for the better. Using this kitchen pro tip has definitely improved mine!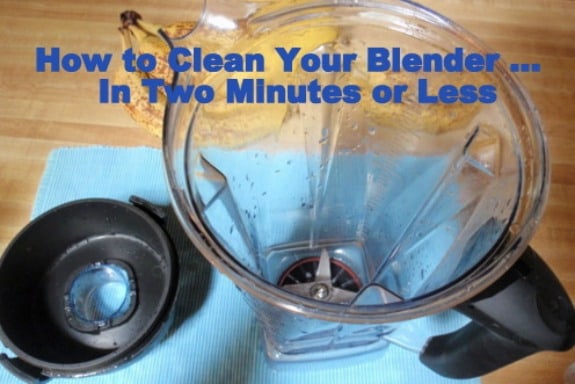 You see many of us who are trying to eat healthier count on our blenders daily. Whether our blender is of the department store variety or a more durable, powerful, and efficient high-speed blender like a Vitamix, Blendtec, OmniBlend, or Ninja, we need it to be ready for us when the mood hits for a green smoothie or a chocolate milkshake, or any other recipe that requires use of a blender. And after we use our blenders to create these recipes, we don't want to spend lots of time cleaning our blenders, before they'll be at the ready for our next blending endeavor, right?
I don't know about you but when I decide I want a smoothie or some other blended creation, it's usually immediately after my hunger pangs hit. Time is of the essence. Having a clean, ready-to-go blender is critical to keeping the hunger beast at bay.
Unfortunately, I also happen to be the queen of making something delicious in my blender and then walking away while the remnants dry and become virtually impossible to remove without soaking, scrubbing, etc. So more than once I've headed to the kitchen to make an incredible blender creation only to discover that my blender pitcher is still dirty or (the more likely scenario) still soaking from my last blending event. Sigh.
Who wants to deal with that occurrence? Thankfully, that's all in the past for me now. I am a reformed woman and today I am going to show you how you, too, can avoid the same pitfalls of blending and how you can clean your blender in two minutes or less! Really.
The Back Story on How To Clean Your Blender in Less Than 2 Minutes
When my good friend Diane (The Whole Gang) and a bunch of gluten-free friends came to visit last summer, we conducted the inaugural run of my Vitamix. As some of you might recall, all the Home for the Holidays contributors had given me my Vitamix as a "hostess gift" the previous Christmas when I had hosted the Home for the Holidays event. (Yes, I really have amazing blogger friends!)
After we'd emptied the Vitamix, Diane gave us all a cleaning lesson, reminding me of a tip that I had used faithfully in the past, but had forgotten about over time. It's pretty simple really. After blending your concoction du jour, you simply empty out your blender, do a quick rinse and empty, add hot water and liquid dishwashing detergent to your blender pitcher, blend, empty, rinse, and drain. I think it will be easier to see this super quick and easy process via photos.
I think it will be easier to see this super quick and easy process via photos. Here are some quick snapshots I took when making one of my recent Creamsicle smoothies and then quickly cleaning my Vitamix pitcher via this terrific, easy method. I'm sharing the "before" photos because I want you to see just how "coated" my pitcher was before I cleaned it using this method. Let's walk through this super simple process step by step, shall we?
Initially, the pitcher doesn't look that messy or hard to clean. But then I forget to slowly turn up the speed, hitting "High" suddenly. Now the insides of the pitcher are completely covered, even though the contents only fill it halfway.
How to Clean Your Blender in 2 Minutes or Less
So let's get to the cleaning part! Again, it's so simple really. After pouring out all the contents of your blender, add just a little liquid dish detergent. And I mean just a little. Look at the second photo below.  That little drizzle of dish detergent is all that's needed. The blender will do its magic with the water and make a small amount go a long way in its cleaning.
Do a quick rinse of the lid under running water and then fill blender pitcher about a half to two-thirds full with hot water. As I'm filling the pitcher, I use my clean fingers under the running water to help clear off any mixture that's on the rim. Turn blender on at low speed increasing to a higher speed and then flipping onto High for several more seconds. You will be able to tell if the pitcher is clean, by the lack of  any contents left on the sides.  Run an additional 30 seconds if needed. (Note that I didn't get a photo of the blender with the foamy, bubbly cleaning soap mixture while it was running, but I will do that in the future and add it here when I do.)
Turn off blender, empty pitcher into sink, and give both lid and pitcher another quick rinse under hot water. Admittedly, I'm a bit phobic about leftover soap on my dishes, so I never skip this step. As you can see, your once coated blender pitcher and lid are both now squeaky and shiny clean!
Turn pitcher and lid upside down to drain on appropriate drying surface.
Quickly wipe down the base of your blender with your dish cloth. Then, if you have enough room for under cabinet storage like I do, you can place a glass or plastic container over the housing of the base of the blender (to protect it from water seeping in) before placing the pitcher upside down over all. In my kitchen, there's not enough room under my cabinets for the lid to also fit on top, so I place that on an appliance beside my Vitamix (usually either my ice cream maker or my toaster oven).
That's it! Now you know How To Clean Your Blender in 2 Minutes or Less! Go forth and make many delicious recipes in your Vitamix, or other blender, and then use this 2-Minute Clean-up Procedure to ensure that you never ever have an "unready" Vitamix again. Believe me … if this simple, common sense method has worked for me, it will work for you!
p.s. Bonus Kitchen Pro Tip:  I store my liquid dish detergent in a decorative oil cruet. It looks so much more attractive and no squeezing is required; you simply turn the bottle over until as much detergent as you need comes out. I keep mine on my sink between my hand soap dispenser and my scouring pad holder (other than when I'm taking photos of it!). Only one person has ever mistaken my liquid dish detergent for olive oil and that was a man who had never been in my house before. He simply inquired why I had olive oil by my sink. At the time, the liquid dish detergent that I was using was golden in color, so from that point on, just to be safe, I started purchasing liquid dish detergent that was a different color from olive oil.