For affiliate links and as an Amazon Associate I earn from qualifying purchases.
Hello, all! Well, today's post–with this recipe for gluten-free shortbread, specifically, gluten-free Shortbread, officially kicks off our 26 days of Home for the Holidays … Gluten-Free Style. Welcome!
To recap what I shared in my announcement post (which will be your reference point throughout the event), we have 25 bloggers sharing 26 gluten-free recipes that mean "home" and "holidays" to us. Like today's gluten-free Nutmeg Shortbread does for me.
I say Nutmeg Shortbread but if you're not a fan of nutmeg you can simply omit it or sub in ground cinnamon.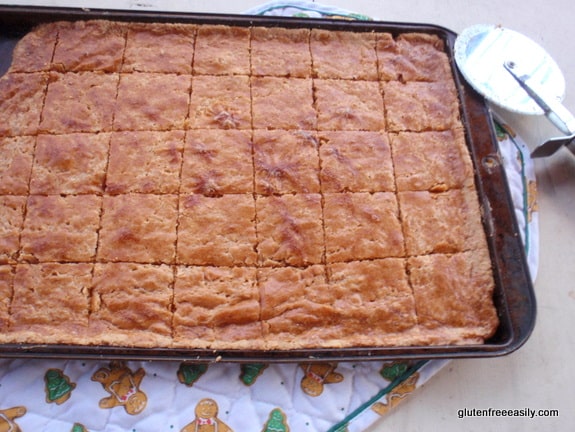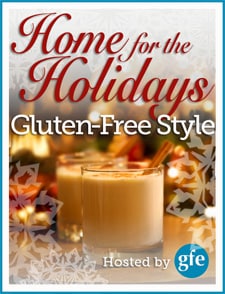 One thing that equals "home" and "holidays" for our family—and among my support group members and family members, and almost everyone I know really—are cookies. As I've shared many times, my Brown Sugar Chocolate Chip Cookies are required at every holiday event by decree of my family, and everyone loves my Flourless Peanut Butter Cookies. And I have many more gluten-free cookie recipes that make folks happy.
But those aren't the kind of cookies I'm talking about; those recipes get made throughout the year. I'm talking about the cookie recipes that you only pull out of your recipe box (or recipe boxes; yes, I still have those) once a year. The kind of cookies that are so special that you make dozens of them at a time to pack in Chinese take-out boxes as Christmas presents for the people you love.
Maybe they're stained glass cookies, lace cookies, macaroons, or those beautiful holiday cut-out cookies of all descriptions. While I rarely have time to make all manners of amazing cookies during the holidays, I do love bringing out some special cookies for Christmas.
But as usual here at gfe, I like to keep my baking simple. Well, what could be simpler than shortbread cookies? Butter, eggs, sugar, and flour (gluten-free flour of course).
But the shortbread cookies I'm sharing today are not just any shortbread cookies. Their full name is gluten-free Nutmeg Shortbread Flats and the "flat" factor makes them even easier than the typical shortbread cookies.
There are certain smells that waft out of the kitchen that just say it's holiday time" to most of us. Nutmeg is one of those for me. It's not just for sprinkling on egg nog (or a Caribbean drink).
Add some nutmeg to a basic shortbread recipe, spread all in a pan, brush on some egg white, bake slowly at low heat and you end up with a dense, rich somewhat crispy shortbread with intense nutmeg flavor and a glossy golden crust.
The aroma while these gluten-free Nutmeg Shortbread "Flats" are baking? As heavenly as you can imagine.
The taste? Just as described above.
Move over fancy, schmancy holiday cookies, Nutmeg Shortbread Flats deserve a place in the holiday cookie show and our Home for the Holidays … Gluten-Free Style event, too!
Check out the photo of the finished recipe with the step-by-step photos below that, and then read on for today's giveaway.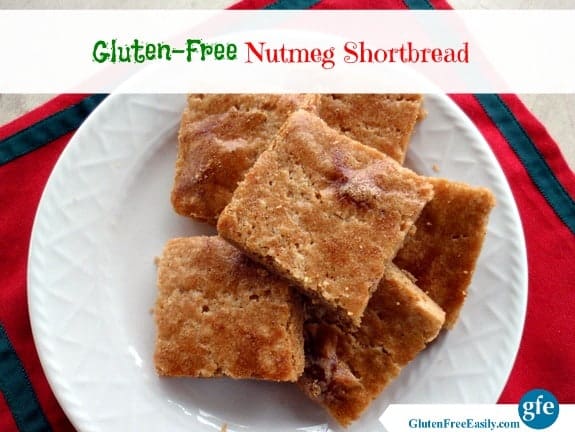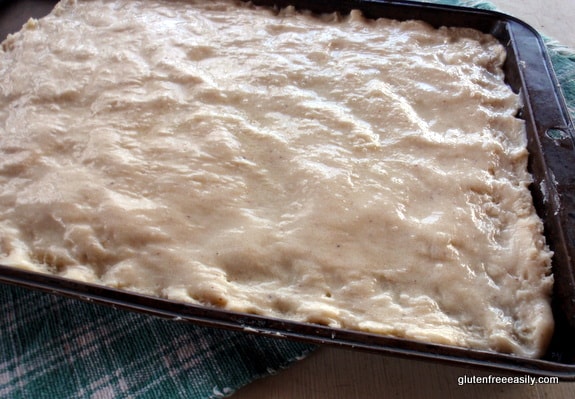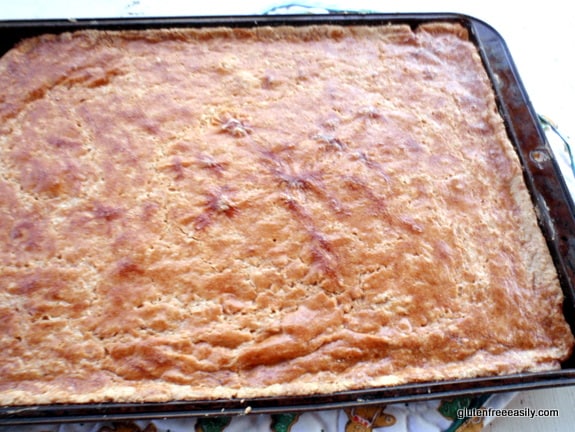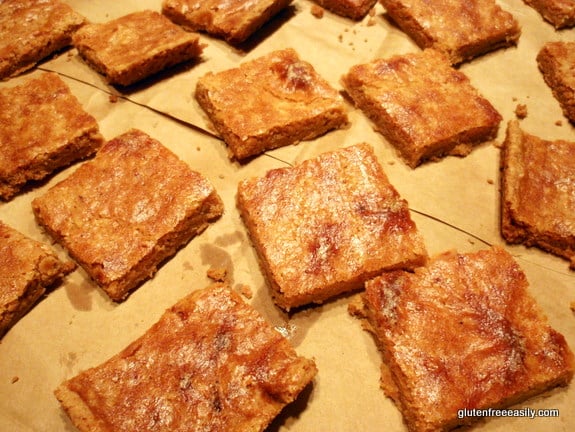 Gluten-Free Nutmeg Shortbread Recipe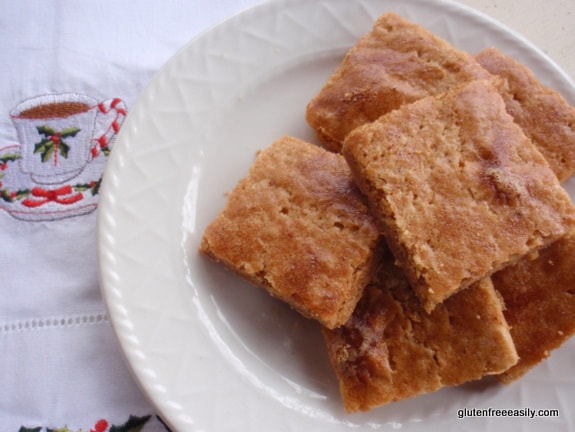 Yield: about 36 squares
Gluten-Free Nutmeg Shortbread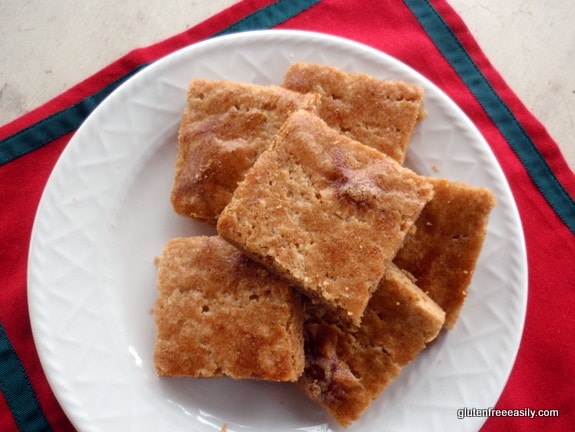 What could be better than classic shortbread? Well, classic gluten-free shortbread, I should say. The answer is gluten-free shortbread enhanced by nutmeg! (Omit the nutmeg or use cinnamon if nutmeg is not your thing.)
Ingredients
1 cup butter (dairy or non-dairy), softened
1 cup granulated sugar
1 egg, separated
2 cups gluten-free all-purpose flour (I use my Two-Ingredient Gluten-Free All-Purpose Flour Mix)
1 ½ tsp ground nutmeg (or freshly grated, if available)
1 tsp xanthan gum (optional; the shortbread is a bit crisper without it, but the recipe still works fine)
Instructions
Preheat oven to 275F degrees.
In large bowl, cream butter and sugar until light and fluffy.
Add egg yolk; mix well.
Gradually add in flour and nutmeg.
The mixture will be thick and you don't want to get overzealous and have ingredients flying out of your bowl, so slowly incorporate flour. I usually use my clean hands to work the dough into a batter.
Using a greased spatula or greased hands (I greased my hands with coconut oil), spread batter evenly on an average-sized baking sheet.
Hand beat egg white until frothy and brush over the top of the pressed-in batter.
Bake for about 50 to 60 minutes. (Test for appearance and with a toothpick at 50 minutes. Bake for additional time in 5-minute increments, if needed.)
While hot, cut into squares, rectangles, or triangles. Remove to racks to cool. (As you can see, I prefer cooling them on an opened brown paper bag.)
Notes
Slightly adapted from Woman's Club of King George Favorite Recipes Cookbook, Volume 3.
I made this recipe as shown using gluten-free all-purpose flour. This is what I consider a "mainstream" gluten-free recipe. I have not yet attempted to make this recipe with alternative, healthier ingredients like coconut oil, coconut sugar, and almond flour, but please feel free to experiment with the recipe and report back to us all!
Today's Giveaway …
UPDATE: This giveaway is now closed.
Full disclosure: These copies for my review and giveaway prizes were provided free of charge by the author and/or publisher. However, opinions expressed here on gfe are strictly my own. ~ Two combination sets of New York Times bestselling author Stephanie O'Dea's most recent books More Make It Fast, Cook It Slow and Totally Together Journal: Shortcuts to an Organized Life—I've written about Stephanie's books before (here and here, respectively).
In fact, I've waxed poetic about Stephanie, her website, and her books (the ones above and her original bestseller, Make It Fast, Cook It Slow) numerous times. She makes our lives easier and better with slow cooker recipes that never fail and her no-nonsense ways to have a simpler, unharried, organized life.
In short, Stephanie rules … in a gazillion ways. To be able to give away two of these combo sets is a real treat … for me and for you!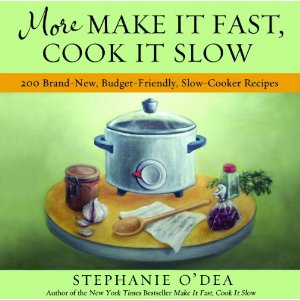 +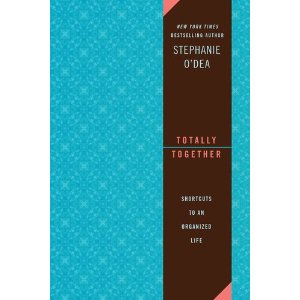 2 sets (2 winners)
~ Wheat Belly by Dr. William Davis—I read this book on a cross-country plane trip recently. It had been in my "to read" pile for too long, so I was delighted to have uninterrupted time to devote to it.
The bottom line? I couldn't put it down. I marked it up and dog eared many pages. I highly recommend it. The subtitle is "Lose the Wheat, Lose the Weight, and Find Your Path Back to Health."
On face value, that "cause and effect" might seem a little extreme. While many, many of us will agree that giving up wheat (and all gluten) is the path back to health, the weight loss part of the equation is not always a "slam dunk." Still, I encourage you to read this book.
Dr. Davis is a preventative cardiologist who advocates a reversal of heart disease with a gluten-free diet, but he shows the detrimental effects of gluten on patients with all types of issues, not just cardiac issues. He has seen "extraordinary results" with over 2,000 patients, and he shares many of their stories in his book.
In addition to these stories, he, of course, shares the data behind his program and the success that his patients experience. For example, did you know that two slices of whole wheat bread will have a greater impact on your blood sugar than a candy bar? That's an attention-getter, huh?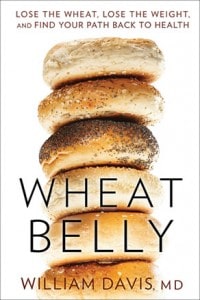 1 copy
Originally published November 28, 2011; updated January 6, 2023.