For affiliate links and as an Amazon Associate I earn from qualifying purchases.
Today I'm sharing my Cheater Tomato Soup recipe. Almost Instant Cheater Tomato Soup, in fact. It's my happy substitute for Campbell's condensed tomato soup.
Remember Campbell's condensed tomato soup? First, if you don't already know, Campbell's tomato soup is most definitely not gluten free. I used to love it though. I'd add milk to that condensed red concoction and, in short order, would be enjoying a bowl of creamy tomato soup with a grilled cheese sandwich.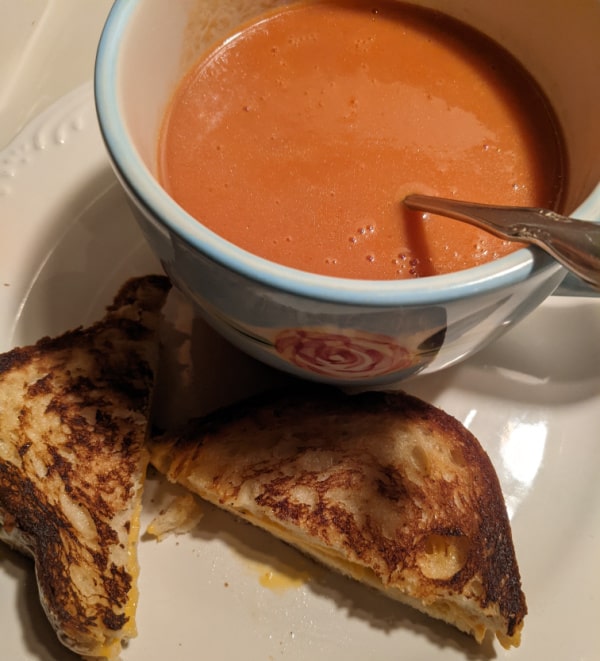 Wonderful comfort food. Complementary flavors and textures. Seriously, I thought that the combo of Campbell's tomato soup and a grilled cheese sandwich was one of the best meals ever. Sadly, neither Mr. GFE nor Son was ever a fan of tomato soup, so I reserved it to carry in a thermos to work, enjoyed it for dinner when home alone, or sometimes ate the combo when dining with my dear girlfriend Mary Meade, who was also a devoted fan.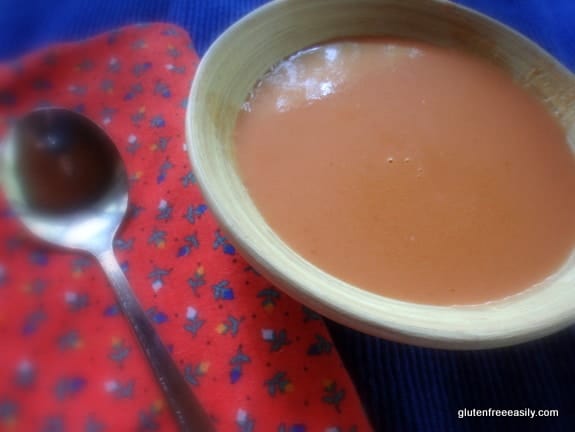 She, too, believed in adding milk to make her tomato soup. The directions say to add water or milk, but we always pondered who could possibly like tomato soup when it was made with water. Blech. We liked the milk-based, creamier, and slightly paler (some might say anemic) version of tomato soup.
After going gluten free, tomato soup was out because it contained wheat flour and after learning to read labels to discover what was included in the products I was eating, I wouldn't have wanted to eat it anyway. The current ingredients label (the bolding below has been added for emphasis) reads:
TOMATO PUREE (WATER, TOMATO PASTE), HIGH FRUCTOSE CORN SYRUP, WHEAT FLOUR, WATER, SALT, POTASSIUM CHLORIDE, FLAVORING, CITRIC ACID, LOWER SODIUM NATURAL SEA SALT, ASCORBIC ACID (VITAMIN C), MONOPOTASSIUM PHOSPHATE.
My Cheater Tomato Soup Recipe
Back in the day when I first fell in love with tomato soup, there was definitely no HFCS in the soup. Of course, another alternative for a ready-made soup would be Pacific Foods organic tomato soup flavors. However, both contain milk and grains.
Years ago, I created this simple instant cheater tomato soup—barely a recipe really–that simply uses tomato or vegetable juice (in which tomatoes are the primary ingredient) and milk. It's just those two ingredients, and it's ready in 2 minutes!
Tomato juice or tomato-based vegetable juice (like V-8) and milk. I use full-fat coconut milk (my favorite for rich creamy results) or unsweetened almond milk. However, if you consume dairy, it's fine to use dairy milk if you'd like.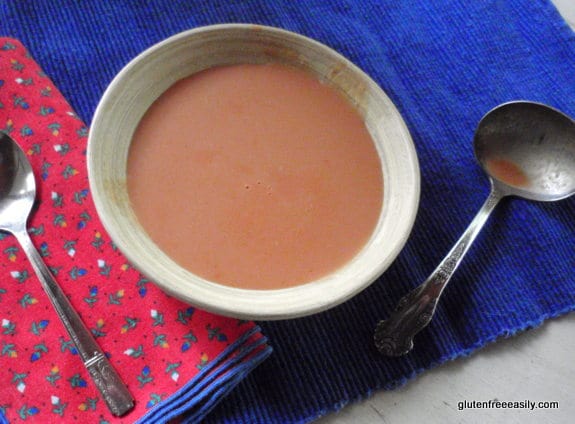 This Cheater Tomato Soup recipe makes just enough tomato soup to fill a large bowl, a soup mug, or a large coffee mug. My version requires no salt, herbs, sweetener, or the like, but feel free to add a pinch here, a pinch there if needed. Get the recipe at the bottom of this post (as always) but be sure to check out some more terrific soup recipes below before you scroll away.
More Totally Satisfying Gluten-Free Soup Recipes!
If you're not in the mood for my Almost Instant Cheater Tomato Soup recipe, here are some other great soup recipes:
~ Black-Eyed Pea Soup (with Chicken and Ham) from Gluten Free Easily
~ Egg Flower Soup (aka Egg Drop Soup) for One from In Johnna's Kitchen
~ Moroccan Spiced Tomato Soup from Ricki Heller
~ Pantry Black Bean, Corn, and Salsa Soup from Gluten Free Easily
~ Quick and Easy Roasted Veggie Soup from Gluten Free Easily
Almost Instant "Cheater" Tomato Soup Recipe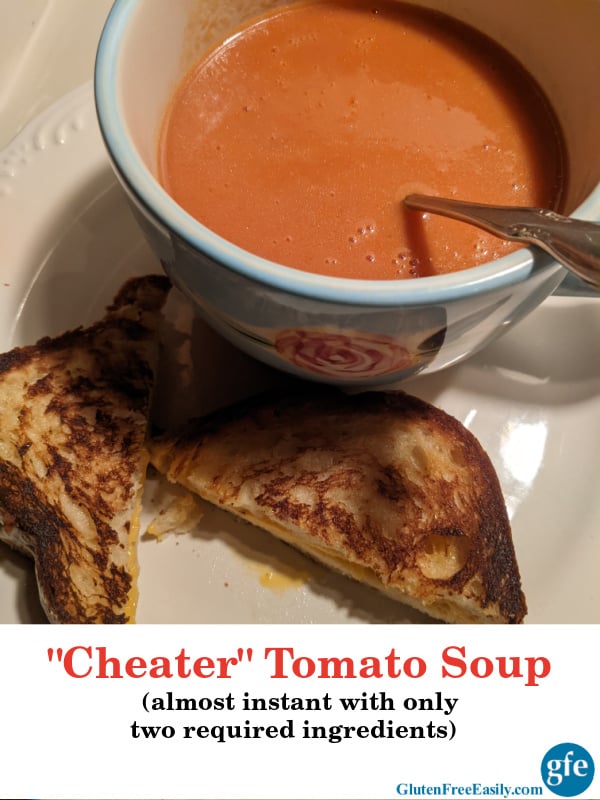 Yield: One serving
Almost Instant "Cheater" Tomato Soup (Only Two-Ingredients Required)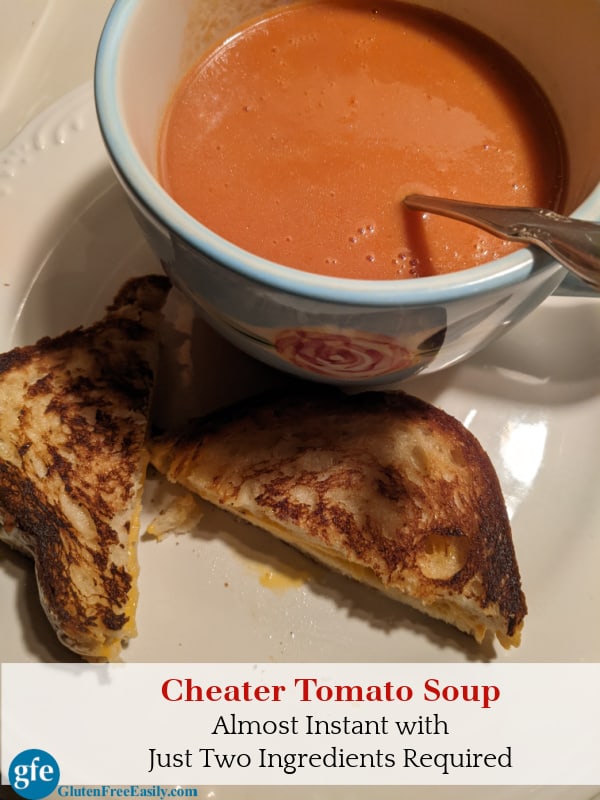 Few meals are as satisfying as tomato soup and this wonderful "Cheater" Tomato Soup only requires two ingredients and is ready in about 5 minutes! Add a gluten-free grilled cheese and you'll be in heaven!

Prep Time 2 minutes

Cook Time 5 minutes

Total Time 7 minutes
Ingredients
1 1/3 cups tomato or tomato-based vegetable juice like V-8 (if you juice, you can use homemade versions)
1/3 cup milk (dairy or non-dairy; I used this organic full-fat coconut milk)
Pinch of sweetener, like coconut sugar, if your soup tastes too bitter (optional)
Pinch of other seasonings like sea salt (needed when using fresh tomato juice), basil, onion powder, etc. (optional)
Instructions
Whisk ingredients together in a small pan and heat on stove top on medium low to medium, whisking or stirring constantly, until hot enough for serving.
Serve in bowl, soup mug, or large coffee mug.
Notes
I have heated this soup in the microwave before, but I much prefer making it on the stove top. I don't like it when the milk particles "separate" and that seems to happen more often with microwave heating.

If you'd like a thicker soup, feel free to substitute diced tomatoes for all or part of the tomato juice. Blend diced tomatoes, juice, and milk with an immersion blender, if needed. If you need more soup, multiply the measurements by the number of servings needed.

Originally published October 23, 2013; updated December 26, 2022.