For affiliate links and as an Amazon Associate I earn from qualifying purchases.
For Day 16 of March Muffin Madness, it's all about Gluten-Free Pumpkin Spice Cheesecake Muffins from Stacy Toth and Matt McCarry of Real Everything.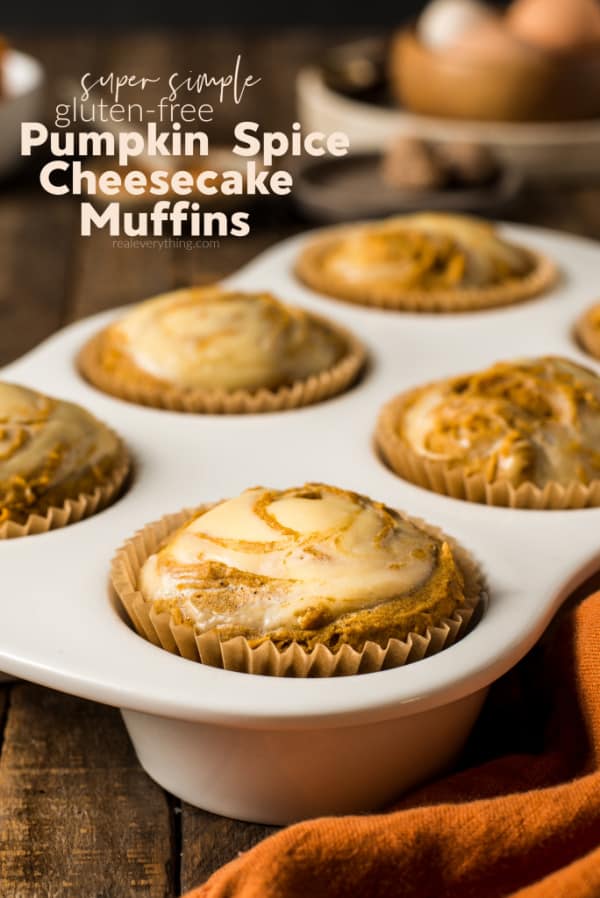 The glory of pumpkin cheesecake captured in a muffin? What's not to love; right?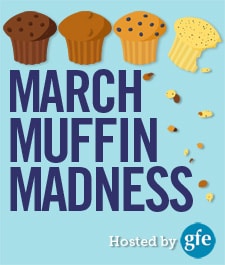 I first met Stacy and Matt in person in 2012 during their Paleo Parents days so to speak. With their young boys, they graciously traveled almost 4 hours roundtrip to my area to present to the gluten-free support group that I led at the time. They talked about their Eat Like A Dinosaur: Recipe and Guidebook for Gluten-Free Kids, answered questions about gluten-free and "more-free" family living, and signed their books.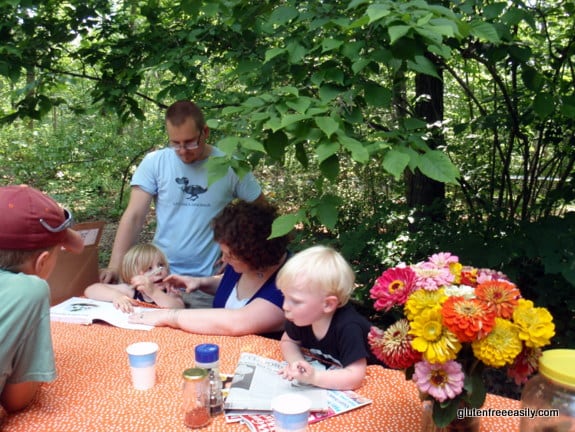 The following year I traveled with several gluten-free girlfriends to their home where they were hosting Danielle Walker (Against All Grain) on her inaugural cookbook tour for one of their Northern Virginia Meat-Up Group events.
Stacy and Matt first participated in MMM in 2014 with their popular and yummy Gluten-Free Chunky Monkey Muffins (Paleo). (These muffins come in at #15 for favorite MMM recipes of all time.) Of course, so many of us love the Chunky Monkey appeal but another reason this recipe is so fun is that it gives you a choice of a vanilla-based muffin or a chocolate-based muffin.
Choose your own adventure, folks! (Note: This recipe is not only gluten free and paleo; it also happens to be egg free and vegan with a nut-free option. They magically created a brownie-like texture without eggs—and without egg substitutes. By the way, the steps that kids can help with are marked with hearts. In their Eat Like a Dinosaur cookbook, they use small hands to indicate the same. Love that they make it so easy to include your kids in the kitchen!)
Although they blogged, spoke at conferences, and much more under the name Paleo Parents for a very long time, eventually, they decided a change was needed. Stacy writes about this transition at length here but here's an excerpt:
"While we grew exhausted of having to defend parts of the blog that weren't necessarily perfectly paleo or about parenting, we began thinking about what our true passions were. What we wanted to blog about. Which is when we decided we wanted to pull back and just run a personal blog again. One that was just about us, about anything we wanted to share – we wanted to be able to be real about everything."
There's so much more in their statement and it's all worth a read.
Hence, their current site name, Real Everything. Stacy and Matt are indeed real about everything. And I greatly appreciate that and admire it as well.
Stacy is the primary voice of Real Everything today. You can learn more about her here.
Although recipes are not their main focus today, you will still find so many wonderful gluten-free recipes on their site, including these very mini-muffin-ish Dark Chocolate Banana Bites (which we thoroughly enjoy here by the way). Many old recipes and some new ones. But you'll also find much more than recipes.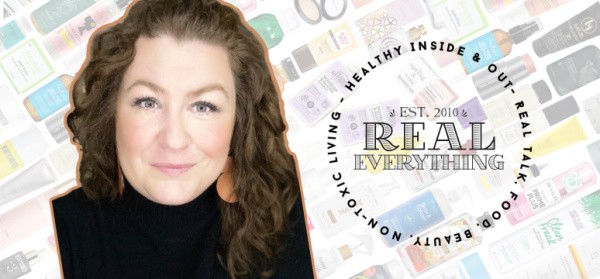 Stacy shows us some of her self-care routines in this IG post, Hotel Mommy. We can never have enough self-care reminders in my opinion. Stacy shares (in part) on her IG post: "In order to be my best self, I need time by myself. I find I'm less patient, less compassionate, more easily agitated, and less creative when I haven't had alone time. We started Hotel Mommy in quarantine, the toughest year of my life." You'll want to read the rest and watch her quick IG reel.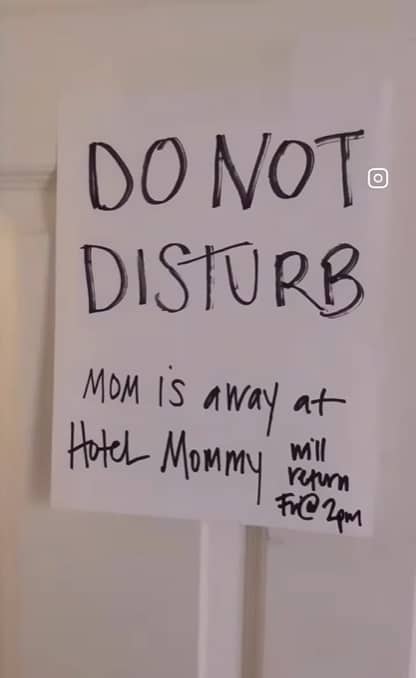 As an interesting aside, this IG reel was also worth a view for me to simply learn about Kevin's Natural Foods. Stacy talks about her "room service" meal being Kevin's Chicken Teriyaki over broccoli and rice. Because I know Stacy has celiac disease and Hashimoto's and eats strictly gluten free, I thought to myself wow, she has a local restaurant called Kevin's that actually has gluten-free teriyaki.
It turns out that Kevin's is a company that offers healthy meals that you can pick up at your local grocery store or order online. The Chicken Teriyaki that Stacy enjoyed was free of all allergens except for sesame. Coconut aminos were used instead of soy. All Kevin's meals—which serve two—are certified gluten free. They're also peanut free and tree nut free. Some of their meals are certified paleo. Some are certified keto. Read more about these products and why Kevin started his company on the website. I can't wait to try a few of these meals myself.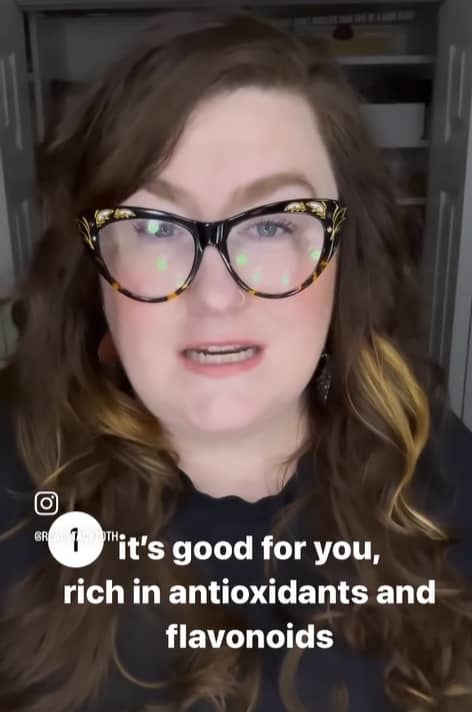 I found Stacy's thoughts on the recent study on heavy metals in dark chocolate really interesting. She tells you why she's not giving up dark chocolate here. Even if you don't eat dark chocolate or have decided to stop eating dark chocolate, considering the logical approach that Stacy takes on this subject is worthwhile. So many of these types of articles and studies come out on a daily basis. A lot get attention purely as click-bait. Many of them go viral even when the subject matter requires much more attention before one's actions should be changed. We should all remember this fact and do our research and consult with our personal medical health professionals as needed.
You can follow Real Everything on their blog, Facebook, Instagram, and Pinterest. Stacy even has a podcast, The Whole View.
And hey, subscribers to their blog get a free digital copy of their Eat Like A Dinosaur book.
I'm an adult and I honestly love this book and still make recipes from it!
Now back to these Gluten-Free Pumpkin Spice Cheesecake Muffins, aka Pumpkin Spice Muffins with Cheesecake Swirl, because I know you all need this recipe!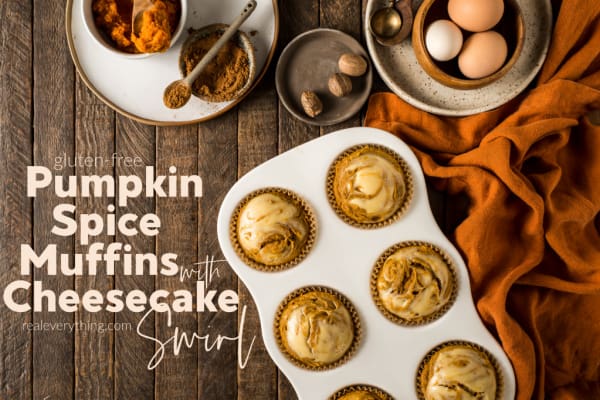 Gluten-Free Pumpkin Spice Cheesecake Muffins Recipe
From Real Everything: "These are the combination of everything we love. Stacy is always way into Fall and pumpkin spice and everything October. Meanwhile Matt just wants to pound cheesecake all day.
Honestly, it's a crowd pleaser. With real pumpkin and homemade muffins or canned puree and a box mix, these are fantastic any time of day and any time of year. I've been making a lot of muffins lately, because it's easy for the boys to grab as they groggily stumble out of bed."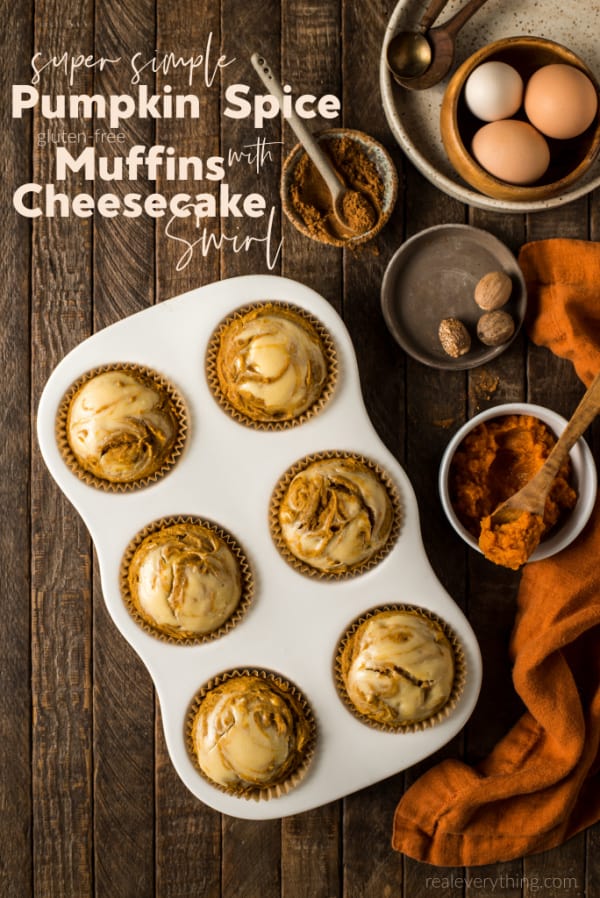 Yield: 12 muffins
Gluten-Free Pumpkin Spice Cheesecake Muffins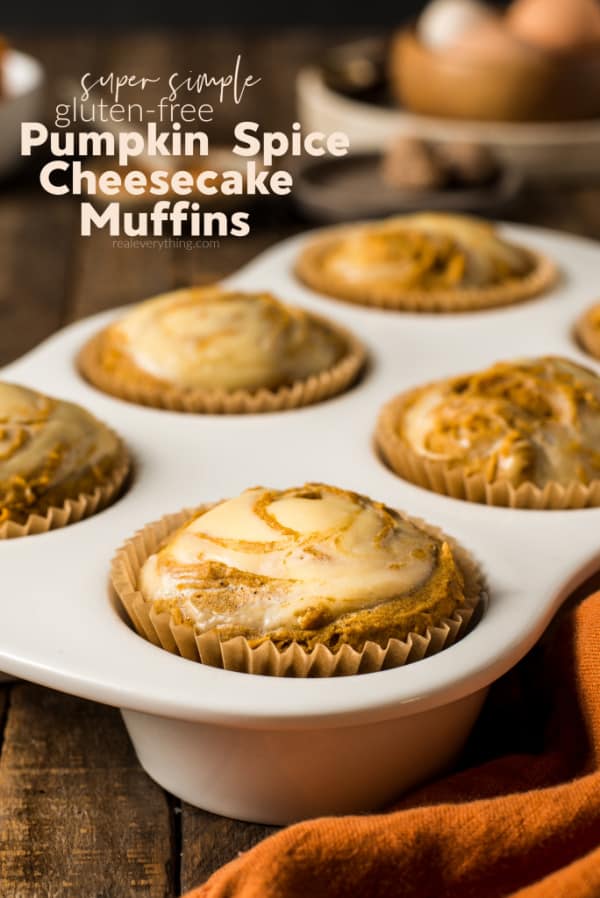 Real Everything says: "These are the combination of everything we love. Stacy is way into Fall and pumpkin spice and everything October. Meanwhile, Matt just wants to pound cheesecake all day. Honestly, it's a crowd-pleaser. With real pumpkin and homemade muffins or canned puree and a box mix, these are fantastic any time of day."
Ingredients
Pumpkin Spice Muffins Batter Ingredients
2 C gluten-free all-purpose flour (we use and recommend King Arthur Gluten-Free Flour)
1 1/2 Tbsp pumpkin spice
1 tsp baking soda
1/2 tsp salt
1 1/2 C pumpkin puree (we make and use our own, but plain canned is fine)
1/2 C maple syrup
1/2 C granulated raw sugar or brown sugar
2 large eggs
1/2 C avocado oil
1/2 Tbsp vanilla extract
2 tsp almond extract (optional)
Cream Cheese Swirl Ingredients
8 oz cream cheese or dairy-free alternative
1/4 cup granulated raw or light brown sugar
1 large egg yolk
2 teaspoons vanilla extract
Instructions
Preheat oven to 350F degrees.
In a medium bowl, combine flour, pumpkin spice, baking soda, and salt.
In a separate bowl, mix pumpkin and sugar. Whisk in eggs, avocado oil, almond, and vanilla extract. Slowly whisk in the dry ingredients, until smooth.
Fill muffin cups 2/3 full.
In a medium bowl, whip cream cheese until no lumps remain. Add in sugar, egg yolk, and vanilla. Whisk until combined.
Spoon about a tablespoon of the cream cheese mixture on top of the pumpkin muffin batter. With a toothpick, slowly swirl it into the batter.
Bake muffins for 18 to 20 minutes, or until a toothpick inserted in the center comes out clean.

Today's MMM Prizes
All giveaways are now closed. Thanks to all who participated!
~ Cookbook
~ Weeknight Keto: 75 Quick & Easy Recipes for Delicious Low-Carb Meals (one winner; sponsored by Page Street Publishing)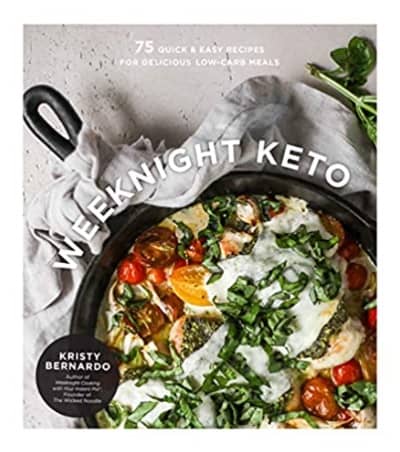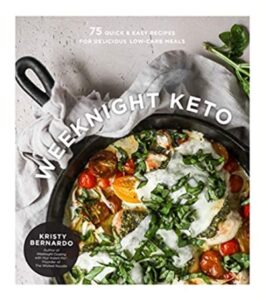 This cookbook is by Kristy Bernardo. I first met Kristy at a POM Wonderful event for bloggers back in 2009, the same year she launched her site, The Wicked Noodle. Since then, she has become a bit of a prolific cookbook author, having written five cookbooks since early 2018. According to the author bio in this cookbook, Kristy started eating keto in 2018. This is a beautiful cookbook that is full of appealing recipes. Recipes like Cajun Chicken Alfredo, Shrimp Cakes with Lemon-Garlic Aioli, Stuffed Peppers, Pickle-Brined Fried Chicken, Peanut Butter Pie Fat Bombs, and Chocolate Mousse (not made from avocados).
However, I want you to know that there's not a single mention of gluten or gluten-free in this cookbook. All the recipes are gluten free only if YOU ensure your ingredients are gluten free. Ingredients such as rotisserie chicken, pork rinds, and chipotle peppers in adobo sauce are not always gluten free. That's my reminder to you that keto doesn't necessarily equate to gluten free. Most individuals who eat keto are not concerned that they are eating strictly gluten free unless they personally have a medical condition such as celiac or non-celiac gluten sensitivity (or another medical condition that requires living gluten free) as we do. From my observations, the keto diet is often a choice for those following it. So beware of keto products, keto bakeries, keto menu items in restaurants, etc. unless you've thoroughly verified their gluten-free status yourself.
~ Every Last Crumb: Paleo Bread and Beyond (one winner; sponsored by Victory Belt Publishing)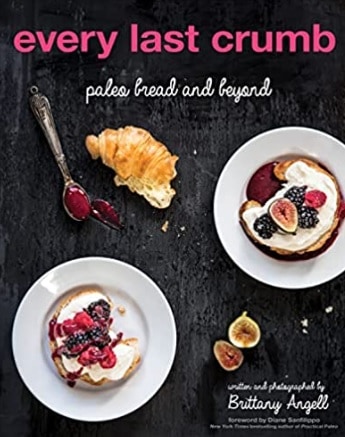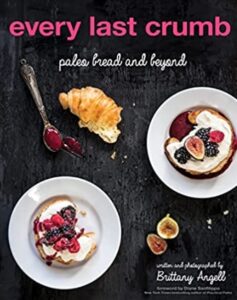 This cookbook comes from Brittany Angell. If you're a fan of Brittany's (via her current self-named site or her earlier Real Sustenance site), you're certain to enjoy it. It's rated 4.5 stars on Amazon. Reader favorites include the Cheese Crackers ("taste just like Cheez-its"), English Muffins, Pretzel Rolls, Almond Flour Chocolate Chip Cookies, Red Velvet Cupcakes with Cream Cheese Frosting, Coffee and Cookie Brownie Bars, and Extra Crispy Paleo Waffles. (Note: I just learned that Brittany has a new keto cookbook—which currently has an Amazon rating of 4.6 stars—published by Page Street Publishing.)
~ Cooking Ingredient
~ King Arthur Gluten-Free Pancake Mix ~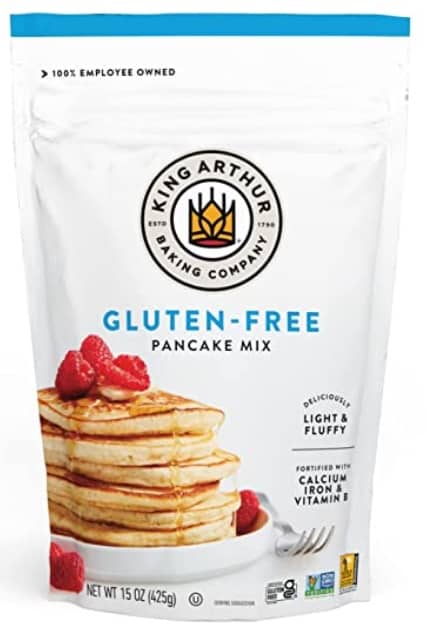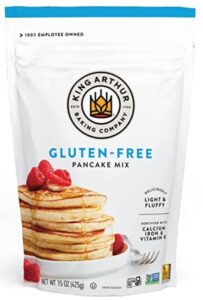 Although I don't use that many gluten-free specialty products, I have used King Arthur products in the past and was pleased with them. Son actually just gave me his review on this pancake mix last night—as he was eating the pancakes he'd just made from it! His rating? Two thumbs up!
Grand Prize Giveaway
All giveaways are now closed. Thanks to all who participated!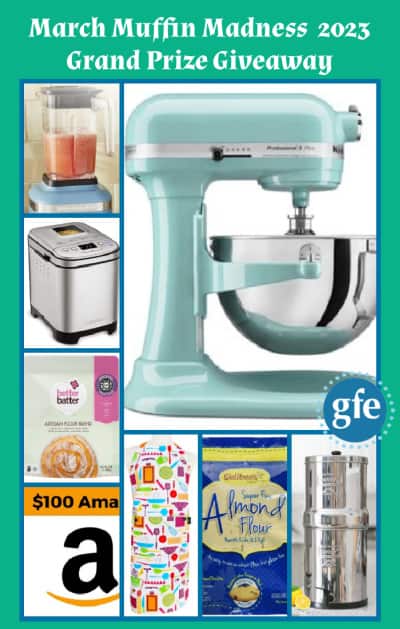 a Rafflecopter giveaway
Originally published March 29, 2023; updated October 1, 2023.