For affiliate links and as an Amazon Associate I earn from qualifying purchases.
Gluten-Free Orange Almond Cake. An absolutely delicious flourless wonder.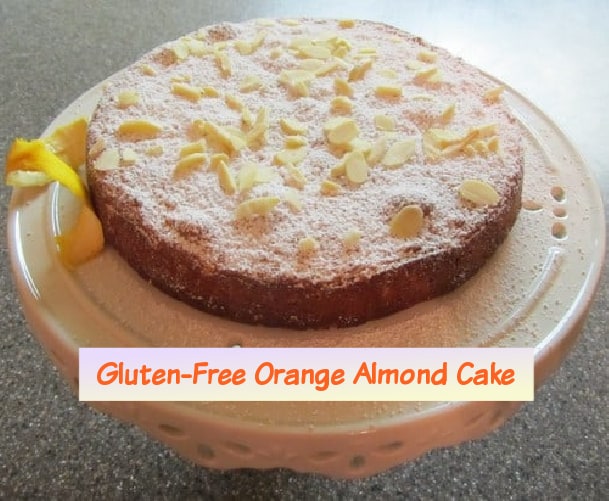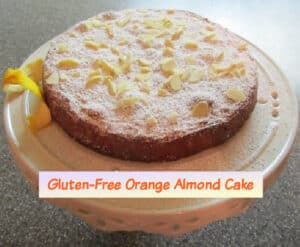 You all know how much I love flourless recipes. In my opinion, the ingredients—in this case, eggs, almond flour, granulated sugar, powdered sugar, slivered almonds, and orange zest—always stand out when there's no highly processed flour getting in the way.
Are you familiar with this specific recipe on gfe? This Flourless Gluten-Free Orange Almond Cake? Probably not.
When one's blog has been around as long as mine, sometimes—too many times—some recipes kind of get buried. This is one of those recipes.
I thought it was time to bring it to the forefront as Passover starts tomorrow and this delightful cake is a dessert that is acceptable for Passover. If one uses powdered sugar that is corn-free and kosher. Yes, that may be surprising but cornstarch is usually added to powdered sugar and corn ingredients are not allowed during Passover.
Some examples of brands of powdered sugar (which is also known as confectioners sugar) that are corn-free and kosher are Wholesome Sweeteners Organic Powdered Confectioners Sugar, Simple Truth Organic Powdered Confectioners Sugar, Woodstock Organic Powdered Sugar, Trader Joe's Organic Powdered Sugar, and Gefen Confectioners Sugar.
This gluten-free Orange Almond Cake recipe comes from Laura Uyemura via the Almond Board of California. The Almond Board hosted a Nutrition Pros Know Best Almond Challenge several years ago and Laura's cake was one of the winners! (Note: Laura Uyemura is currently the Director of Clinical Nutrition Services at City of Hope in California.)
Having previously shared my own recipe for Double Chocolate Clementine Cake, which features almond flour in addition to clementines, my own love of the combination of almonds and oranges is well known. However, even without a chocolate factor, Laura's recipe is absolutely scrumptious!
The Almond Board shared her recipe and provided some complimentary almond products (shown below) for me to sample and also sponsored a giveaway for my gfe readers at the time. All of these products are the types of almond products that I use on a daily basis and today's recipe uses two of them.
Finally, if you have lemons on hand instead of oranges or prefer lemon flavor or orange flavor, feel free to substitute lemon zest for the orange zest and enjoy a Flourless Gluten-Free Lemon Almond Cake instead.
More Flourless Recipes and Other Gluten-Free Recipes Suitable for Passover
~ Chocolate Banana Mousse Pie from Gluten-Free Goodness
~ Coconut Meringues from gfe
~ Flourless Brownies from Elana's Pantry via gfe (ensure all your ingredients are soy-free and corn-free)
~ Flourless Brownies from gfe
~ Flourless Chocolate Banana Honey Walnut Cake
~ Gluten-Free Matzo Balls ("Floaters") from Esther + Loretta
~ Grain-Free Matzo from Elana's Pantry
Flourless Gluten-Free Orange Almond Cake Recipe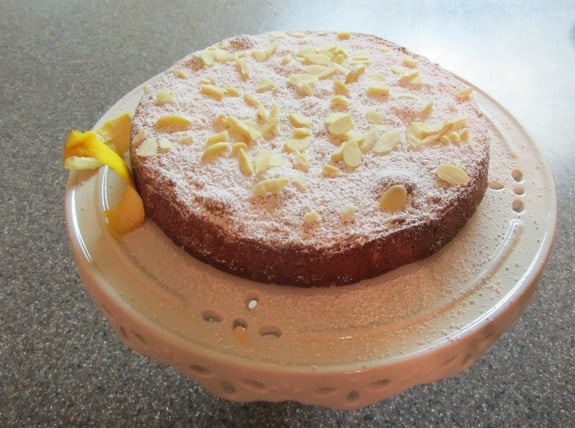 Yield: 12 servings
Flourless Gluten-Free Orange Almond Cake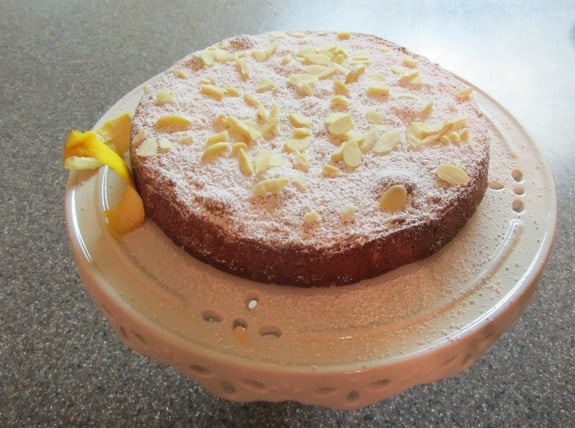 Prep Time 10 minutes

Cook Time 35 minutes

Inactive Time 30 minutes

Total Time 30 minutes
Ingredients
4 large egg yolks
2 Tbsp orange zest
½ tsp cinnamon
2 Tbsp sugar
1½ cups almond flour or almond meal (see notes)
2 Tbsp sugar
4 large egg whites
4 tbsp sugar
Pinch salt
Powdered sugar
2-3 tbsp slivered almonds for topping
Instructions
Preheat oven to 375F.
Prepare a 9-inch cake pan or springform pan: grease bottom and sides well.
Cut out a circle of wax paper and fit it into the bottom of the pan. Grease the paper.
Coat the bottom and sides of the pan with almond flour, shaking out the excess.
Beat egg yolks, zest, cinnamon, and 2 tbsp sugar with electric mixer.
Mix almond flour with 2 tbsp sugar and stir into the mixture above.
Beat egg whites, pinch of salt, and 4 tbsp sugar until soft peaks form.
Blend a large spoonful of the egg white mixture into the almond mixture with a spatula. (It will be very stiff so mash it in, and add more whites until it's soft enough to fold in the rest.)
Fold in the rest of the egg whites.
Pour into prepared pan.
Bake for 35 minutes until tester comes out clean.
Cool in pan, then un-mold and turn onto a serving platter.
Sprinkle with powdered sugar and slivered almonds.
Notes
You can purchase almond flour or almond meal; the latter is ground with skin. You may also grind your own in a food processor or blender, using about 1½ to 2 cups of almonds.

Originally published January 27, 2013; updated April 14, 2022.