For affiliate links and as an Amazon Associate I earn from qualifying purchases.
I'm an almond lover, so it was such a treat (literally!) to receive an email from the Almond Board of California sharing some of the winners of their recent Nutrition Pros Know Best Almond Challenge. I was even more delighted when I discovered that one of the almond-based recipes that they shared with me was from my dear friend, Cheryl of Gluten-Free Goodness and Harris Whole Health. Her gluten-free Intense Chocolate Almond Bites caught my eye when she first posted them on her blog. I don't know about you, but every word of her recipe title speaks to me! The Almond Board also shared this gluten-free Orange Almond Cake recipe from Laura Uyemura. Having previously shared my own recipe for Double Chocolate Clementine Cake, which featured almond flour in addition to clementines, my own love of the combination of almonds and oranges is well known. Even without a chocolate factor, Laura's recipe (shown further down) looks absolutely scrumptious!
This giveaway is now closed. Thanks to all who took the time to enter by sharing their favorite ways to use almonds! Congratulations to Claire! 
Yield:
Orange Almond Cake (Naturally Gluten Free)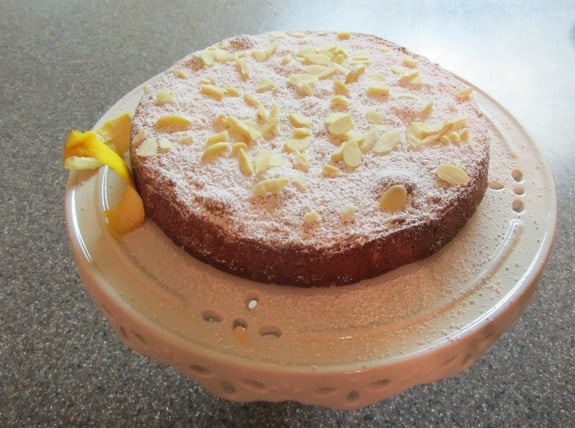 Ingredients
4 large egg yolks
2 Tbsp orange zest
½ tsp cinnamon
2 Tbsp sugar
1½ cups almond flour or almond meal*
2 Tbsp sugar
4 large egg whites
4 Tbsp sugar
Pinch salt
Powdered sugar
2-3 Tbsp slivered almonds for decoration
Instructions
Preheat oven to 375º
Prepare a 9 inch cake pan or spring form pan: grease bottom and sides well.
Cut out a circle of wax paper and fit it into the bottom of the pan. Grease the paper.
Coat the bottom and sides of the pan with almond flour, shaking out the excess.
Beat egg yolks, zest, cinnamon, and 2 Tbsp sugar with electric mixer.
Mix almond flour with 2 Tbsp sugar and stir into the mixture above.
Beat egg whites, pinch of salt, and 4 Tbsp sugar until soft peaks form.
Blend a large spoonful of the egg white mixture into the almond mixture with a spatula. (It will be very stiff so mash it in, and add more whites until it's soft enough to fold in the rest.)
Fold in the rest of the egg whites.
Pour into prepared pan.
Bake for 35 minutes until tester comes out clean.
Cool in pan, then un-mold and turn onto a serving platter.
Sprinkle with powdered sugar and slivered almonds.
Notes
Makes 12 slices, serving size is one slice *You can purchase almond flour or almond meal; the latter is ground with skin. You may also grind your own in a food processor or blender, using about 1½ to 2 cups of almonds.
Yield:
Intense Chocolate Almond Bites (Naturally Gluten Free)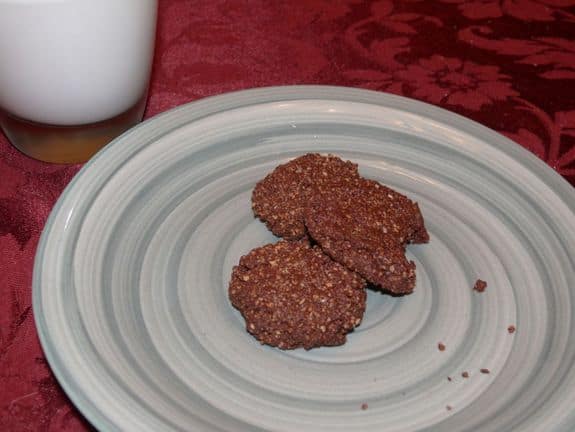 Ingredients
1 cup whole roasted almonds
⅓ cup cocoa powder
¼ tsp salt
¼ cup honey
½ tsp vanilla extract
Instructions
Preheat oven to 325º.
Put the almonds, cocoa powder and salt in a food processor and grind until only small pieces of almond remain, about 2 minutes.
Add in honey and vanilla extract and pulse for 30 seconds.
Form into balls the size of a cherry and flatten down.
Place on a Silpat mat or parchment lined cookie sheet for ease of cleanup (these do not spread, so feel free to put them close together).
Cook for 9-11 minutes or until browning.
The bites harden as they cool after baking.
Finally, here are five more almond "treat" recipes that you will LOVE! (Many thanks to these bloggers for graciously sharing their recipe photos here so that you get a preview!)
Almond Flour Cinnamon Roll Pancakes from Gluten-Free Homemaker (which uses almond flour)
Applesauce Muffins from Gluten Free Easily (This recipe of mine uses almond flour.)
Cocoa-Dusted Almonds from Jeanette's Healthy Living (Jeanette's recipe uses roasted almonds. She also shares the many benefits of almonds—great, informative read!)
Chocolate Haystacks from Gluten Free Easily (As noted, slivered almonds can be substituted for the gluten-free chow mein noodles.)
Paleo Samoa Cookies from Elana's Pantry (As is true for most of Elana's recipes, this one uses almond flour.)
Full disclosure: These products were provided for my use free of charge from the Almond Board of California. However, the opinions expressed in this post are strictly my own.