For affiliate links and as an Amazon Associate I earn from qualifying purchases.
You know how I like to test out my favorite bloggers' recipes? Well, I've been eyeing Kelly's (The Spunky Coconut) gluten-free Flourless Brownies for a very long time.
The thing is they are made of almond butter and/or sunbutter and I had never purchased or even tried either before—until recently. Now I'm a big fan of both almond butter and sunbutter. So I went ahead and made the sacrifice and tested this recipe for you.
You can find Kelly's original recipe here, but I'll tell you the few changes that I made. My first time baking these I used all Sunbutter because we have a support group member who is allergic to almonds.
We weren't having a support group meeting any time soon, but again I thought I'd go ahead and do a test baking session to see if these brownies were a winner. I know … silly to think they might not be … it's one of Kelly's recipes after all. All of her recipes are wonderful!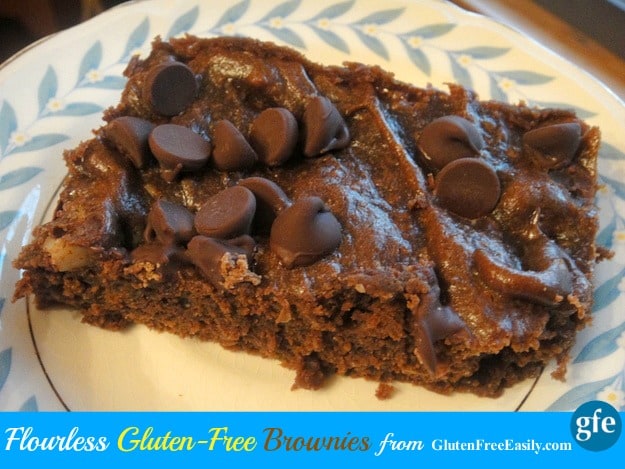 Gluten-Free Flourless Brownies
In addition to using all Sunbutter, I substituted vanilla extract for the vanilla crème liquid stevia and added both ¼ cup of coarsely chopped walnuts and 1/8 cup of walnut meal (left over from another recipe). I like the added texture of nuts in many baked goods, but please note that nuts are not an ingredient in Kelly's recipe so those of you with nut allergies can still enjoy these brownies without nuts.
I added a little more honey, and used another brand of semi-sweet chocolate chips, whereas Kelly used Enjoy Life chocolate chips to ensure her brownies would be dairy free and soy free, etc. as well as gluten free.
Oh, these brownies are just amazing! If you make them, you may never go back to a traditional brownie. They are dense and rich, and not overly sweet. A small piece is all one needs to be perfectly satisfied. Get the recipe at the bottom of this post.
Kelly's version is gluten free, grain free, dairy free, soy free, nut free, and refined sugar free. When she made them via Skype for our support group meeting last fall, she said that her family often eats them for breakfast. She considers them very healthy and I can see why.
Kelly has several variations of flourless brownies on her blog, including this new one that is also egg free, grain free, vegan, and more. I love it when folks create amazing recipes that address multiple allergies and keep others from feeling deprived! You can read my review of some of Kelly's other recipes here and check out/order her cookbooks here if you like.
In other news, I've shared my trip report on our holiday vacation in Key West, which includes reviews of accommodations, restaurants, and attractions. It's a little long (I heard that!), but it has lots of photos and is a quick read. Grab a refreshing drink (you can even make a pina colada to get yourself in the right frame of mind if you like), put your feet up, and let yourself be taken to the warm, sometimes crazy, and relaxing times that equal Key West.
There's no reason you can't enjoy one of these brownies as well while you fantasize about a trip to Key West!
Gluten-Free Flourless Brownies Recipe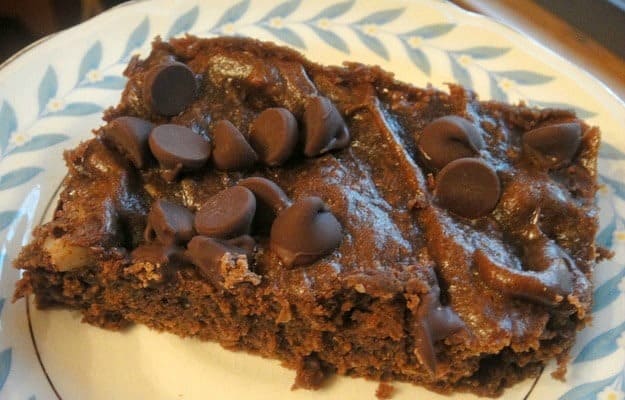 Yield: 12 brownies
Gluten-Free Flourless Brownies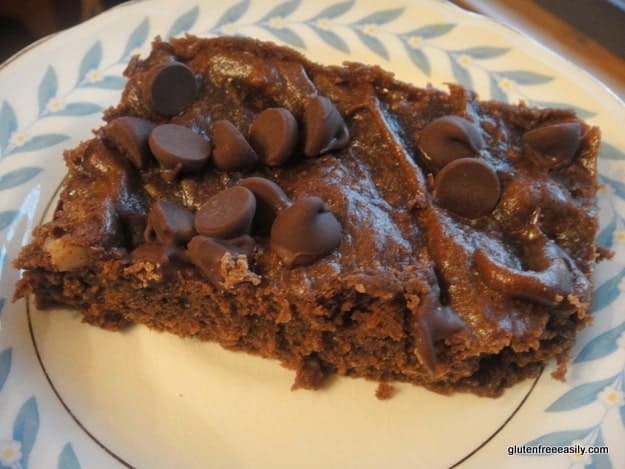 These flourless brownies are divine! And pretty darned healthy, too.

Prep Time 10 minutes

Cook Time 25 minutes

Total Time 35 minutes
Ingredients
1 cup sunbutter (or almond butter, or peanut butter, or a mix of any of the three)
2 eggs
1/4 tsp salt (I use this sea salt all the time)
1/3 cup plus 2 tbsp honey
1/4 cup cocoa powder] (or [raw cacao powder)
1/4 cup coarsely chopped nuts (I used walnuts)
1/8 cup nut meal (finely chopped nuts; I used walnuts)
Instructions
Preheat oven to 325 degrees Fahrenheit.
In a large bowl add all ingredients except chocolate chips and mix well.
Pour into greased, 8-inch square cake pan. Spread to level out some (more leveling will occur naturally as the brownies bake).
Sprinkle with 1/4 cup chocolate chips.
Bake on the middle rack for about 25 minutes.
Cool for 10 to 15 minutes.
Notes
I adapted this recipe from my friend Kelly Brozyna's (The Spunky Coconut) recipe.

I just mixed the ingredients by hand using a wooden spoon.

Kelly states that if the batter appears too dry, you can add 2 to 4 tbsp of water.

These are terrific when eaten at room temperature or cold if you refrigerate them.

Need more brownies? You can also double the recipe and make it in a large rectangular pan. The baking time will be the same.

Originally published March 17, 2010; updated September 4, 2023.