For affiliate links and as an Amazon Associate I earn from qualifying purchases.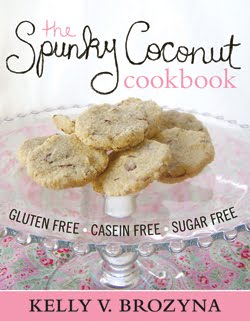 Update: This giveaway is now closed. Congratulations to Rachel R.! Rachel was selected by Random.org and her comment was: "I would love to win this; we'd like to incorporate more coconut into our diet. Thank you for hosting the giveaway." My sincere thanks to all who entered the giveaway. Remember that The Spunky Coconut Cookbook can be purchased at Amazon here if you'd still like to get your own copy. Stay tuned for more giveaways that fit the gfe approach!
Full disclosure: I was provided a complimentary copy of  The Spunky Coconut Cookbook by Kelly Brozyna. Kelly is also graciously offering the signed copy of her cookbook for the giveaway. However, I was not paid to write this review.
I am a huge fan of Kelly Brozyna and her blog, The Spunky Coconut, which I've followed for a long time. I've been consistently impressed with Kelly's positive attitude, her willingness to reach out and help others, and her many simple, but extremely creative recipes. So, I was delighted when she published her cookbook—appropriately named, The Spunky Coconut Cookbook—last spring. As she states in her cookbook, her mission is to "create food that is so good that no one would ever know or care it was free of gluten, casein, and sugar."  I think you'll see that Kelly does that when you make any of the recipes from her blog or her cookbook, The Spunky Coconut Cookbook. The cookbook includes 115 recipes, some of which in addition to being gluten free, dairy free, and refined sugar free, are also egg free and grain free. There are even raw and "raw-inspired" recipes. For so many with multiple food intolerances, these recipes are a true gift. You have only to read the comments on Kelly's blog or check out the reviews of her cookbook on Amazon to know this is the case.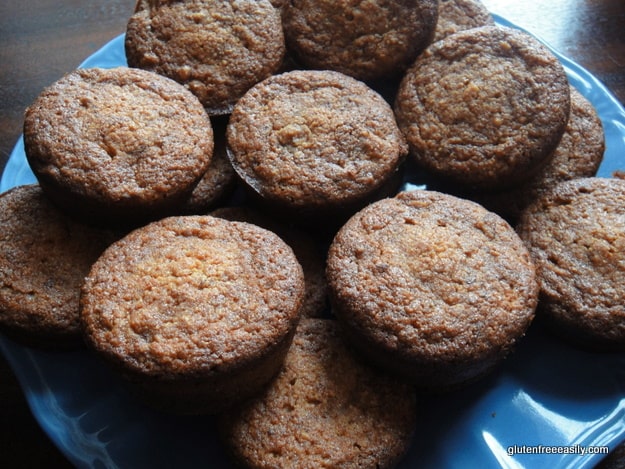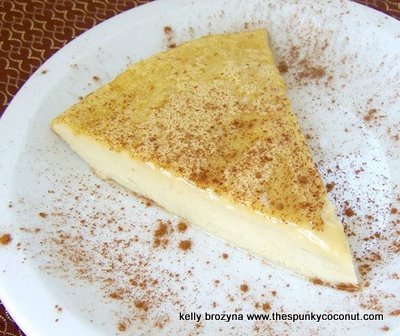 I've made a version of Kelly's almond muffins, Almond Banana Carrot Muffins, shown above (recipe here). I had hoped to make her Custard Pie. It's flourless and crustless—my favorite characteristics—how could I resist? But, alas, I found out I was short of eggs and I wasn't about to brave the grocery store with the impending storm of the century. Here's Kelly's fabulous photo of her Custard Pie. Kelly even made a gluten-free, casein-free, and refined sugar-free version of my crustless coconut pie. Check her version out here.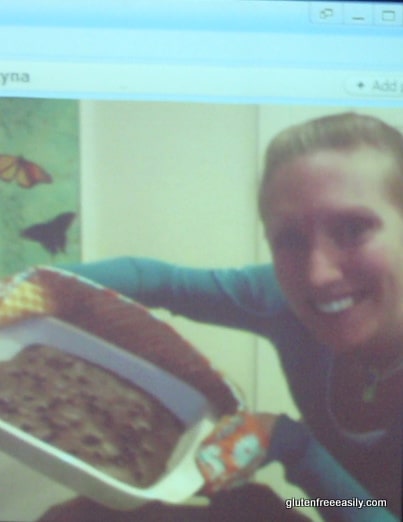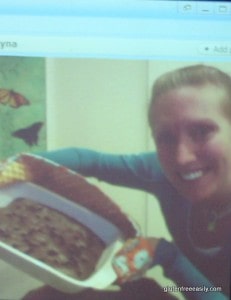 My support group was honored to have Kelly speak (via Skype) at our October meeting. She shared her family's journey to their current diet with us. Their tale (also shared in her cookbook) involves misdiagnoses, celiac, autism, attention deficit disorder, gluten sensitivity, and more. (She also shares their story in the introduction of her cookbook.) However, their new diet has allowed resolution of their symptoms in almost all cases.
Kelly talked to us about the cooking techniques she's mastered over the last few years. She even did a cooking demo of her Flourless Brownies. Made from almond butter, Kelly says they are healthy enough to even eat for breakfast. Yes, the recipe is in her cookbook, along with a mouth-watering photo. (Kelly took every one of the gorgeous photos in her cookbook.)
By the way, one of our members has made a couple of Kelly's recipes for our meetings. She made the Cider Cabbage & Kale dish for one and Almond & Orange Spinach Salad for another. I don't think she took leftovers home either time. That is how good all of Kelly's recipes are.
The deadline for the giveaway is Friday, February 12 (Abraham Lincoln's birthday), 9:00 pm, Eastern. Here are the many ways you can enter:
1. Leave a comment below.
2. Subscribe to my feed via email or RSS and leave a comment saying that you did.
3. Tweet about the giveaway sharing the link and leave a comment saying that you did.
4. Post a message on your Facebook page about the giveaway and leave a comment saying that you did.
5. Post about the giveaway on your blog and leave a comment saying that you did with your link.
6. Follow me on Twitter and leave a comment saying that you did.
7. Become a fan of my new gfe-gluten free easily page on Facebook and leave a comment saying that you did.
8. Read and comment on either of these gfe discussion posts: Stop the Madness or Educate, Not Eviscerate. Also, leave a comment on this post saying that you did.
All entries will be tracked by the individual comments, so you must enter a separate comment to get an additional entry. One comment showing you did all these things will only be counted as one entry, so please remember to note each by separate entries.
Good luck!
Shirley
Not just gf, but gfe!