For affiliate links and as an Amazon Associate I earn from qualifying purchases.
ABC … as in Almond Banana Carrot. Gluten-free Almond Banana Carrot Muffins, or gluten-free ABC muffins if you will. This ABC muffin recipe is an adaptation of an almond muffin recipe created by Kelly Brozyna of The Spunky Coconut, which is also featured in The Spunky Coconut Cookbook.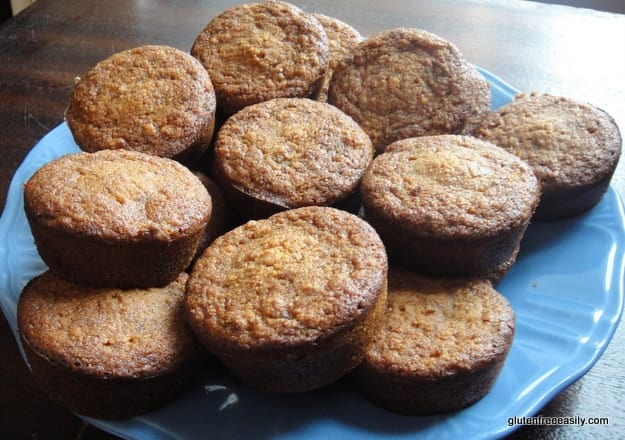 I've known I wanted to make this recipe of Kelly's for quite some time. I just didn't know what I wanted to include in my version.
As I've shared before, I'm gradually learning to like baked fruit. Bananas are never a problem. I am all about including "baking bananas" in recipes and at any given time, my freezer contents prove it. (You might want to read my Going Bananas post to know exactly what I mean. I need a freezer banana exorcism right now, in fact—even after making the ABC muffins.) But, I'm still learning to love other baked fruits.
My Easy Crustless Gluten-Free Apple Pie has certainly gotten me past my fear of baked apples—deliciously so, I will add. And, I've made a Strawberry Cobbler using baked peaches and, of course, strawberries. Oh, and Crustless Peach Pie, too! But, for this recipe, another blogger friend's creation—and my solution—came to mind. Lisa, also known as "Anali," of Anali's First Amendment, made Banana Carrot Cupcakes a while back.
When I saw Lisa's post, I just knew I'd have to make something along those lines. (I've been inspired to convert one of Anali's recipes to gluten-free goodness before … yet another banana recipe—Banana Kahlua Coconut Cake.) The banana-carrot combination just sounded so good, and even healthier.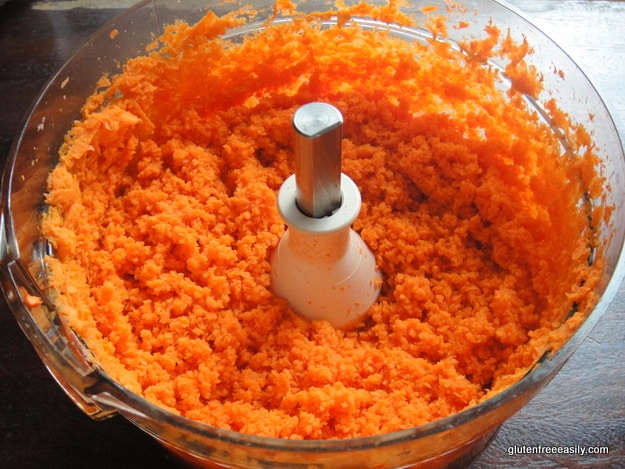 Now, add almond flour, coconut oil, and some chopped walnuts to the mix and you've got a cross between banana bread and carrot cake. So, that's how I came up with these ABC muffins, adapting Kelly's great recipe with delightful inspiration from Anali.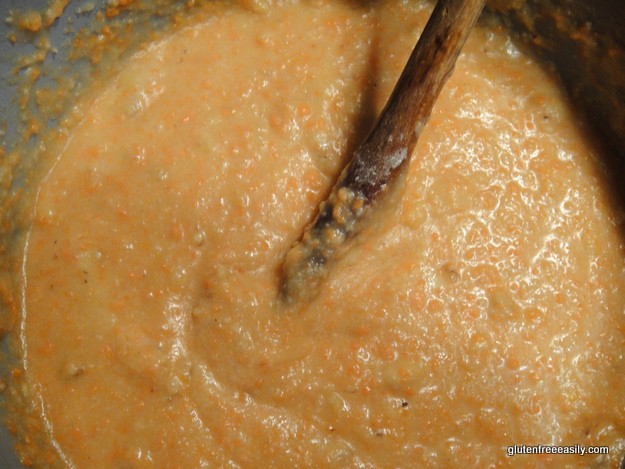 You'll want to make these gluten-free Almond Banana Carrot Muffins as soon as possible. I've already had to email the recipe to the folks who sampled them the other morning. They refused to wait a day or two for me to post this ABC Muffins recipe on gfe!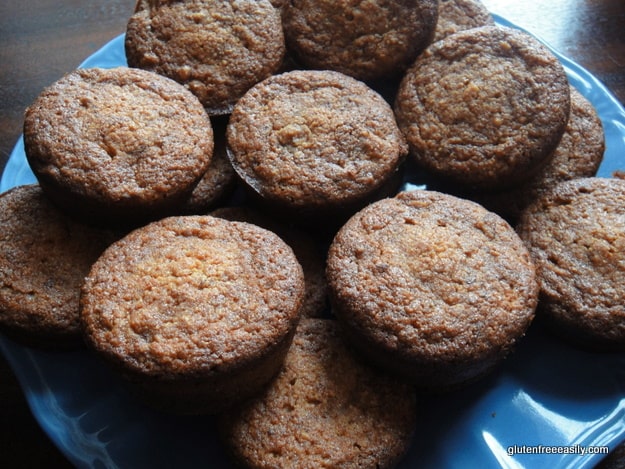 My gluten-free Almond Banana Carrot Muffins were actually nice and high when I peeked in on them, but alas, I had to turn off the oven and leave for an appointment. When I returned, they were cooked perfectly, but flat. Mr. GFE called them Forgotten Muffins.
Gluten-Free Almond Banana Carrot (ABC) Muffins Recipe
Yield: 14-18 muffins
Gluten-Free Almond Banana Carrot (ABC) Muffins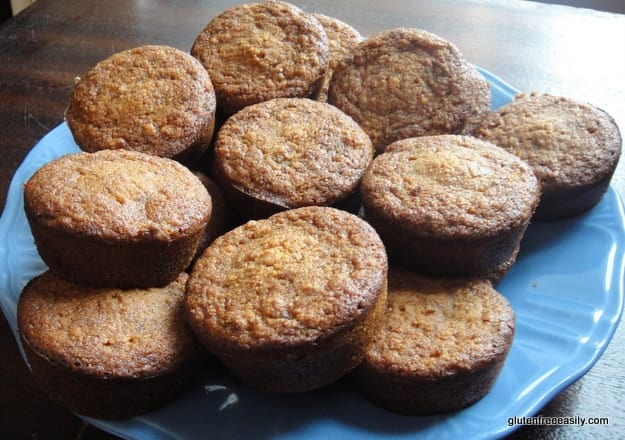 These muffins are sort of a muffin version of a cross between banana bread and carrot cake. Each time I make them, I am newly surprised at just how good they are! Wonderful for breakfasts, lunches, or traveling.
Ingredients
3/4 cup honey
3 large eggs (at room temperature; cold eggs will harden the coconut oil---works best if eggs are stirred in one at a time)
1/2 cup coconut oil, liquefied (any other oil should work, but coconut oil is wonderful in these muffins)
2 cups almond flour (I used Honeyville blanched almond flour)
1/2 cup gluten-free all-purpose flour mix (I used my Two-Ingredient Gluten-Free Flour Mix)
1/2 tsp baking soda
1/2 tsp baking powder
1/2 tsp sea salt
1 cup mashed, ripe bananas
¾ cup grated carrots
¼ cup chopped walnuts 
Instructions
Add honey, eggs, and coconut oil to large mixing bowl. Beat. (You can use an electric mixer, but I just used a wooden spoon. I'm anti-mixer most of the time. I want to keep that upper arm strength.)
Add the almond flour, gluten-free all-purpose flour, baking soda, baking powder, and sea salt and beat.
Stir in the bananas, carrots, and walnuts.
Spoon into lightly greased muffin cups, to almost full.
Bake at 350F degrees for about 24 minutes.
Notes
The batter will be orange as you can see above, but the final muffins will be a lovely deep brown with only an orange tint. My batch made 18 muffins … probably because I only filled the muffin tins 2/3 full and also because I used a total of 2 cups of fruit and nuts. Kelly sometimes uses 1 cup versus 2 cups of fruit. She uses sliced strawberries, blueberries, etc., and even substitutes some applesauce for part of the honey or some liquid vanilla stevia.
If you are not gluten free, all-purpose flour may be used instead of the gluten-free flour mix.
Recipe adapted from Kelly Brozyna.
Originally published February 6, 2010; updated October 18, 2022.