This post may contain affiliate links. If you purchase through them, your cost will stay the same, but gfe will receive a few cents for every dollar spent. Thanks for supporting gfe!
Gluten-Free Banana Chocolate Chip Cookies … and, well, true confessions (of a sort) …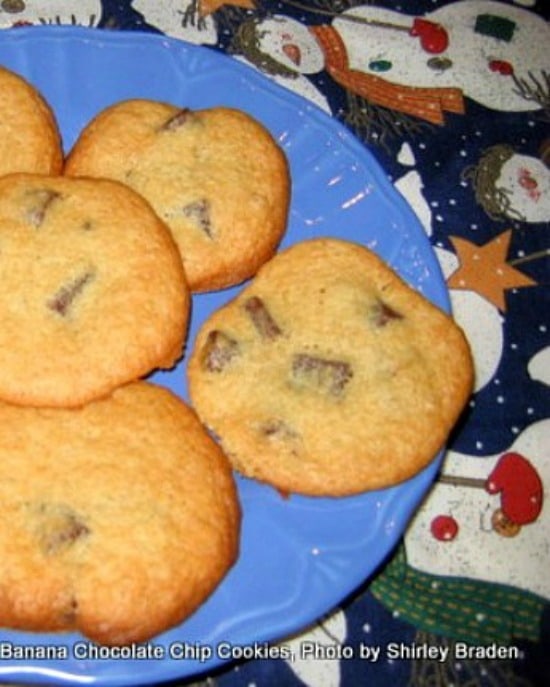 I am one of those "old school" people who hates to waste food. Many of our leftovers get used for breakfasts or lunches, of course. But, if there are just a few green peas left or a smidgen of taco meat, in the freezer they go. They are stored in either of my two ancient, half-gallon Tupperware containers—one for the makings of my "Everything Soup," and one for chili. When the containers are full, it's time for that particular meal. The beauty of this system (other than not wasting food plus saving money and our Earth) is that most of the cooking is already done.
The freezer and its stronghold of leftovers is also my basis for making some sweet treats. For example, when cookies crumble, they go into a freezer container for reinvention as a highly desired cookie crust for key lime pie or cheesecake. However, the primary contents of my freezer slated for baking sweets is bananas.
I call these bananas, "baking bananas" … you know … the ones that are just too far gone to peel and eat, but when peeled and mashed can yield flavorful and moist gluten-free baked goods. I used to remove the peel and put them in containers, but, truthfully, it was sometimes hard to remember what was in the containers (one frozen glob looks pretty much like another frozen glob, and as for writing on the container, well, honestly, I don't always take the time). Then, I read somewhere that you could just freeze bananas "as is," with the peel acting as the only freezer protection. Well, I'd like to say this was a light bulb moment, but, true to my nature, I was still skeptical.
The first time I tried using baking bananas that had been frozen, I let them completely thaw on the counter. Mistake. The results were not pretty and I threw them away. The next time, I let the bananas thaw enough so that I could remove the peel and just the outsides of the bananas would be thawed.  Then I mashed them with my potato masher and used them in a recipe. The results were perfect! No longer would there be any guilt associated with bananas not getting eaten promptly. Plus, baking bananas would always be at hand. Yippee!
So any bananas are immediately placed in the freezer when they reach baking banana status.  Well, it occurred to me the other day that I hadn't really baked with bananas in a while. I had pulled some out a few weeks earlier and made a delicious smoothie. I knew there were quite a few more though …amid various freezer containers, ice cube trays ("old school" again), and ice packs.
I took out three more bananas a few days ago to make an old favorite, Banana Chocolate Chip Cookies. Then I decided I'd clean out the freezer and find out how many I really had. I grouped and set to the side the containers that would become my "everything soup" or chili. I found a small container  labeled "great brownie crumbs for sundae." Hmmm, my eyes lit up, a smile graced my face, and my mind started rationalizing. There were only about 2 tablespoons worth and I had no definite plans to make any ice cream sundaes. LOL A 30-second thaw on the container and those crumbs were a very delicious half-time reward for cleaning out the freezer!
Now fortified, I continued on. Two chicken livers were set aside for a small meal the next day. (Sprinkled with a little sea salt and sautéed in olive oil the next morning, they became a nutritious and tasty breakfast.)
Finally, with all the other food organized and pushed to the side or another shelf, the bananas faced me. Some singles, some pairs, and some triplets. Some large, some small. They took up one-fourth of the bottom of the refrigerator. Wow, that's a lot of bananas!, I thought to myself and laughed. Then I counted them somewhat sheepishly… 27 (remember that I had already used up 6!).  Okay, in all fairness, a friend who doesn't bake had passed on three of those bananas when I had visited her the previous week … really, I am not making that up. She doesn't bake, but knows that I do—how could I refuse? Not wasting is going green … or in this case, yellow … no, wait—it's really going brown! 😉  Anyway, it was obvious that I needed to get busy baking and/or making more smoothies!
The Banana Chocolate Chip Cookies recipe will be at the top of my baking list. I got the original recipe long ago, before I was gluten free, at a holiday cookie exchange. A co-worker had made them. Nobody was eating them. In all fairness, they did look rather anemic, but I tried one and it was surprisingly good. In fact, when I made my selections to take home, my tin was mostly filled with those cookies. Mr. GFE and Son loved them. I started making the recipe frequently.  They enjoyed it far more than banana bread. A friend of my son's requested them whenever he visited. So back then I never had an excess of baking bananas. When I went gluten free, I adapted the recipe by using my favorite GF flour mix, adding a small amount of xanthan gum, increasing the oven temperature,  and reducing the baking time. The results were better than ever.
Now Son is off at college, so baking bananas don't get called into action much. But, thankfully, Mr. GFE has pledged to do his part with the current baking banana crisis! And, then there's my mom and dad and my sister and her husband … tins of banana chocolate chip cookies were delivered to them this past weekend. 😉 Tonight, dear husband took a batch to his hand bell choir practice. (It seems attendance improves when he periodically shows up with some of my cookies—no kidding! They love GFE cookies.)
So, in the next few weeks, I will be making these cookies, plus I will be making a double batch of the Banana Maple-Nut Muffins (that I shared in my initial post) for some overnight guests. I'm also going to turn to some of my blogging friends for their banana recipes. Jill Elise at Hey, That Tastes Good at just shared her Caramel Banana Pancake Breakfast. (One reviewer said the recipe "Comes out tasting somewhere between a Dutch baby and a sticky bun. " Wow, that's an endorsement!)  Karina, better known as Gluten-Free Goddess, concocted a gorgeous Banana-Blueberry Muffin Cake the other day. (Everything Katrina makes is delicious.) Cathy at Noble Pig made a Banana Cake with with Cream Cheese-Sour Cream Frosting a while back. (Note: This recipe is not gluten free, but I easily converted it to a gluten-free recipe by using my two-ingredient gluten-free flour mix and adding 1 teaspoon of xanthan gum.  Many of Cathy's recipes are naturally gluten free and others easily converted.) Elana of Elana's Pantry baked a Banana Birthday Cake. (Like most of Elana's recipes, that one looks good for any occasion.) If I want a heartier banana treat, I can make Kate's (of Gluten Free Gobsmacked) Whole Grain Banana Bread. Last, I even have an old recipe from Southern Living magazine, Luscious Pina Coladas, which calls for a banana—rich and thick, these are a dessert drink! (While it's not exactly pina colada weather here, my friends have been known to have tropical-themed parties to make it through the big chill.) But, without further ado, here's the recipe for the Gluten-Free Banana Chocolate Chip cookies I made this evening. Oh, and by the way, Mr. GFE came home from hand bell practice with an empty tin and lots of "ooh's" and "ah's" to share. 😉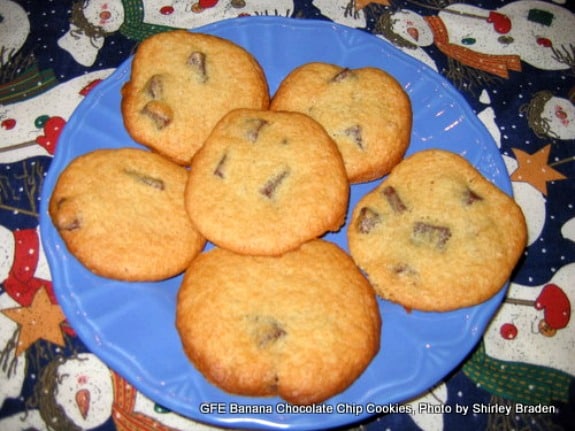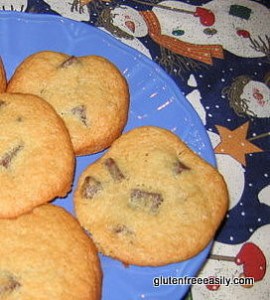 Print
Banana Chocolate Chip Cookies
These cookies are one of the very best possible ways to use ripe bananas. They might even become your favorite new chocolate chip cookies!
Ingredients
2 2/3 cups gluten-free all-purpose flour mix (I use my Two-Ingredient Gluten-Free All-Purpose Flour Mix)
1/2 tsp xanthan gum
1/2 tsp baking soda
1/4 tsp salt
1 cup light brown sugar
1/2 cup granulated sugar
1 cup butter (dairy or non-dairy), softened
1 large egg (see notes for egg substitution suggestions)
1 tsp vanilla extract
3/4 cup mashed banana (about two bananas; do not use more than this amount--if you do, the cookies will be too moist, tending to fall apart and sticking together when placed in a storage container)
2 cups semi-sweet chocolate chips, chocolate chunks, or mini chocolate chips
1 cup chopped nuts (optional, sometimes I add walnuts or pecans)
Instructions
Preheat oven to 350 degrees.
In large bowl, cream butter.
Add granulated sugar and brown sugar, mixing to form a grainy paste.
Add egg, vanilla extract, and banana. Beat until smooth.
Add gluten-free all-purpose flour mix, xanthan gum, baking soda, and salt.
Stir in chocolate chips (any size works, from mini to chunks) and nuts (if desired).
Drop by rounded tablespoon onto ungreased baking sheet.
Bake for about 10 minutes until golden brown. Let sit on bakiing sheet for one minute until cookie "releases" from baking sheet. (If it's difficult to remove the cookie from the cookie sheet with spatula, let it sit a little bit longer.)
Notes
Yield: 4 dozenReader Michelle used a flax gel egg successfully. Combine 1 tbsp flax meal and 3 tbsp water and let sit for 5 to 10 minutes to thicken before adding to the recipe in place of the egg. She said that the resulting cookies were "absolutely amazing." I believe that a chia gel egg would work (use ground chia seed in place of flaxmeal as noted above), but have not personally tried that or heard back yet from any readers who have.The original recipe called for using an electric mixer. At the end, stirring the mixture will be similar to stirring bread due to its thickness and how it pulls away from the sides of the bowl. While I have a KitchenAid and occasionally use it, I really prefer mixing with a wooden spoon whenever possible. I think it helps maintain arm strength (I switch arms while stirring) and I just like the physical act of stirring and taking my time making a recipe. In addition, I think using a mixer makes cookies too uniform, like store-bought cookies. These cookies will stay moist. In fact, you don't want to keep them in an airtight container like you do other gluten-free baked goods. If you do, they will get too moist and fall apart. I place mine in a tin, with waxed paper between the layers, and leave off the lid.I use my favorite gluten-free all-purpose flour mix that I make ahead and then measure out per recipe. Adapted from the original (source unknown)
Courses Dessert