For affiliate links and as an Amazon Associate I earn from qualifying purchases.
Today in the category of Throwback Travel Thursdays (sort of) I'm sharing a new local accommodations listing, Little Castle in Falmouth, Virginia (Airbnb). Note that this is not an affiliate link; none of the Airbnb links in this post are. We received a complimentary stay in the Little Castle but the opinions expressed in this post are strictly my own.
The Little Castle is actually part of Mr. GFE's and my personal history. More on that in a second.
It's been a long time since I've done a Throwback Travel Thursdays post. In fact, I'm re-christening my "Throwback Travel Thursdays" series to "Throwback Travel TODAY" because that's more how my brain works—when the mood strikes and life is not too busy (or too complicated) to share some travel info! Besides I always have a hard time remembering to schedule travel posts for Thursdays.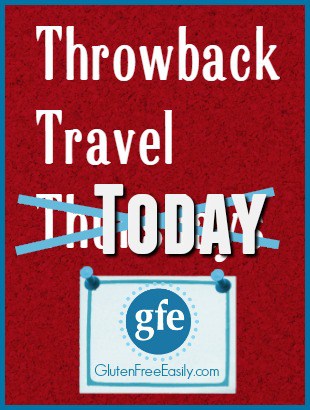 Anyway, today's post is about sharing both a personal celebration and fantastic local accommodations. Plus, I share a tiny tidbit of gluten-free information in regard to my gfe approach on living gluten free.
Another Year, Another Personal Milestone, and a Special Celebration
In June, Mr. GFE and I celebrated our 36th wedding anniversary. Wow! Sometimes it seems like we just got married a few years ago and at other times, it does feel like 36 years. Or longer. Hehe.
That's reasonable though as we also dated for 5 1/2 years before we were married. Do the math and that's a lot of years together! They've been good years though and we would not trade them for anything else or with anyone else.
Thanks to some dear friends, we enjoyed an early anniversary celebration. Our celebration was at the Little Castle in May and it was a very special celebration at that!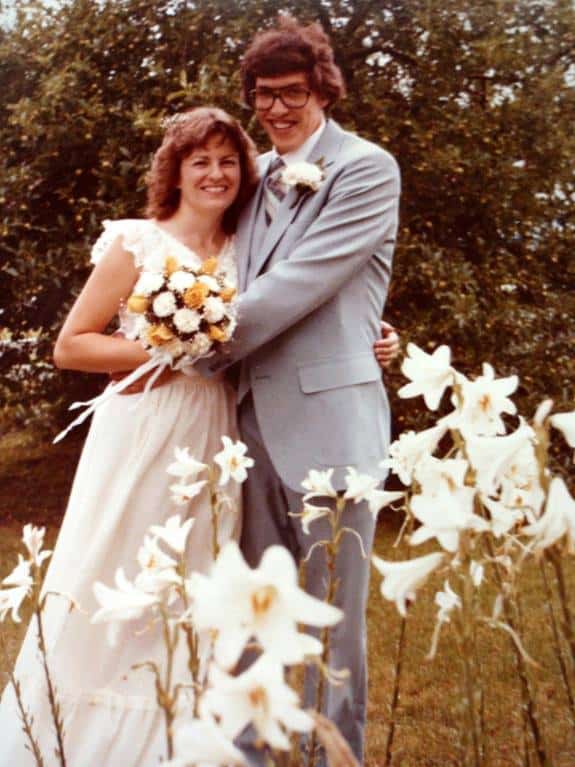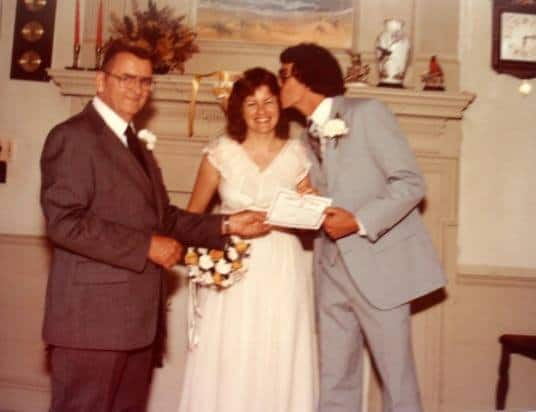 The Little Castle has such a special meaning to us. It was actually our first home as a married couple. Yes, way back when we looked like we do in our wedding photos (which are all my photos of the original excellent photos taken by our good friend Joe Parker, so please excuse any distortions).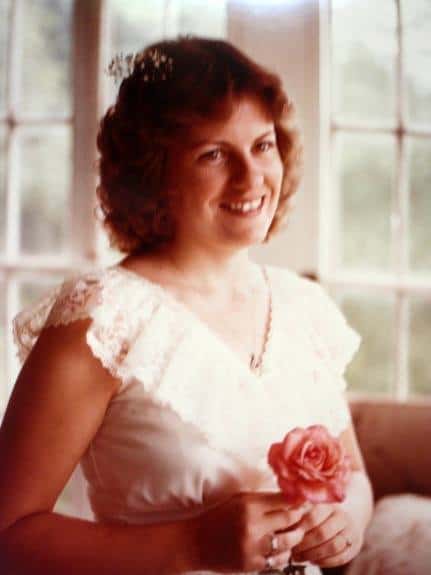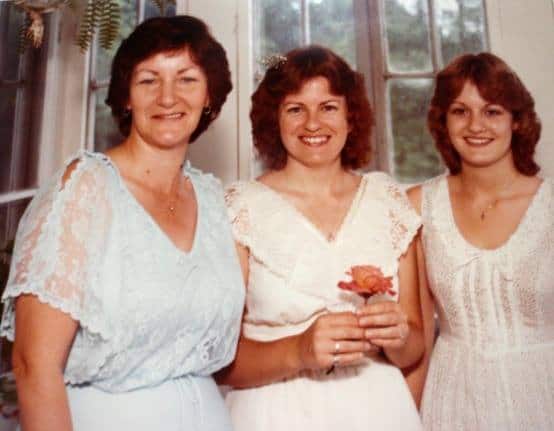 Mr. GFE had lived in the Little Castle, located in Falmouth, Virginia, for a couple of years prior to our marriage. Falmouth is a small historic area of Stafford County on the Rappahannock River across from Fredericksburg, Virginia. (The city of Fredericksburg is even more historic, with the whole area being worth a visit for sure.)
The Little Castle was special to us—both while we were dating and once we were married— for so many reasons. One of the most unique and fun things about it back in the day was its easily accessible flat roof.
It was the perfect spot for viewing 4th of July fireworks set off in Old Mill Park on the Fredericksburg side of the Rappahannock. Even if we were away for the 4th, friends would "borrow" our roof to enjoy the fireworks.
We were married in June. By September of that same year, we had left the Little Castle to move to the country to a farmhouse in King George county where Mr. GFE grew up.
We were anxious to begin our married life in King George for several reasons. One was that the Little Castle was definitely still known as a bachelor pad and party spot, which meant that folks were always stopping by. (We would have to turn off the lights early each night just to have the Little Castle to ourselves.)
Here's a photo from a Little Castle party that featured a crab feast and lots of cold beer on a sweltering July day. Hence, the shirtless guys, including Mr. GFE looking out on the crowd there and hamming it up for the camera.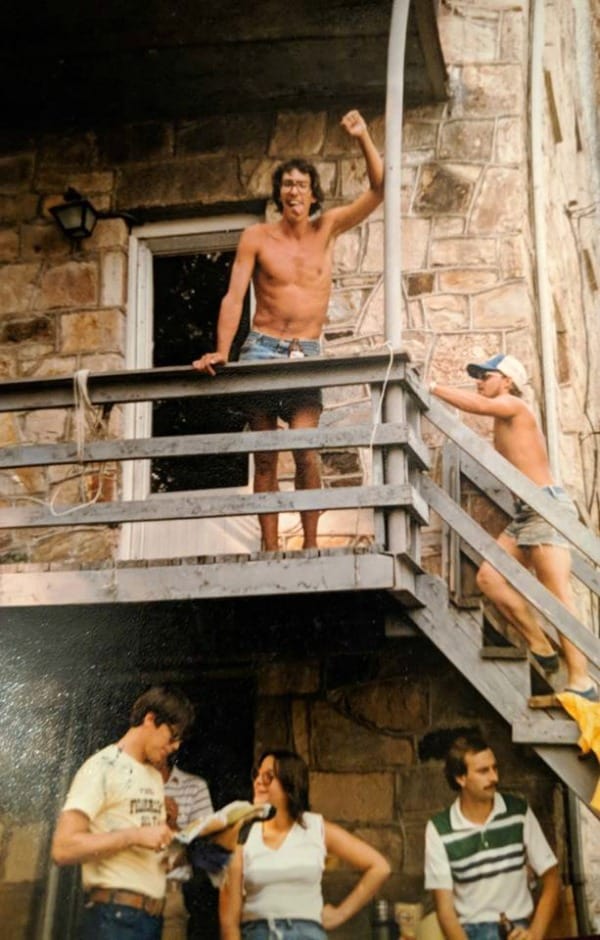 Two other reasons that we moved from the Little Castle related to our jobs. I had already been a teacher in King George for several years by that time, previously making the half-hour twice daily commute with other teacher friends. Being able to drive 20 miles round trip versus 40 each day in a carpool and finally be on my own schedule after relocating to King George was grand.
Mr. GFE had been commuting to northern Virginia doing high-rise construction (i.e., working in a safety harness while up in the air several stories). Once we got married, the goal was to keep him close to home and on the ground. Thankfully, soon after we moved, Mr. GFE also got a job working for the county—a much safer, "feet-on-the ground" kind of job.
We also wanted a space where we could have lots of pets and plenty of space. Renting out a farmhouse on 100 acres certainly gave us both of those things!
Still, the Little Castle has always held a special place in our heart. It was adventurous and fun living there (too many tales to share in this already long post though) and many of our beloved neighbors from "the bottom"—as this area at the bottom of the hill along the river is called—are still living there or nearby today.
The Little Castle property, which also included the Big Castle (as you've seen in the photos in this post), actually changed hands more than once after we moved out, with The Garmons, Carole and Kent, from Texas eventually buying it and moving in.
They first became friends of our previous neighbors and dear friends—their new neighbors—and then became friends of ours through these friends (via our Valentine's Day parties). We were so tickled when we learned that they were renovating the Little Castle and planned to use it as an Airbnb rental.
We were even more tickled when they told us that they wanted us to be some of their first guests, before they officially opened the space to the public. They said our stay would be complimentary as this was previously our home and they simply couldn't charge us.
We protested that we would gladly pay the regular rental fee but they insisted. In addition to them just being good and generous people, they know that we're travelers and they know that we like staying at all type of accommodations, including Airbnb spots. So, they wanted to both treat us to a special night there and get our unbiased feedback on the changes they'd made.
We were more than happy to oblige as we couldn't wait to see how they had updated the space. But truth be told, we only made one tiny suggestion because the accommodations are just perfect!
The Back Story on the Little Castle in Falmouth
Both castles were built in 1938 by local builder Stuart Ellis. Carole says they are built in part of Aquia Creek sandstone, which comes from what is now known as Government Island, a Stafford county quarry dating back to the late 1600s.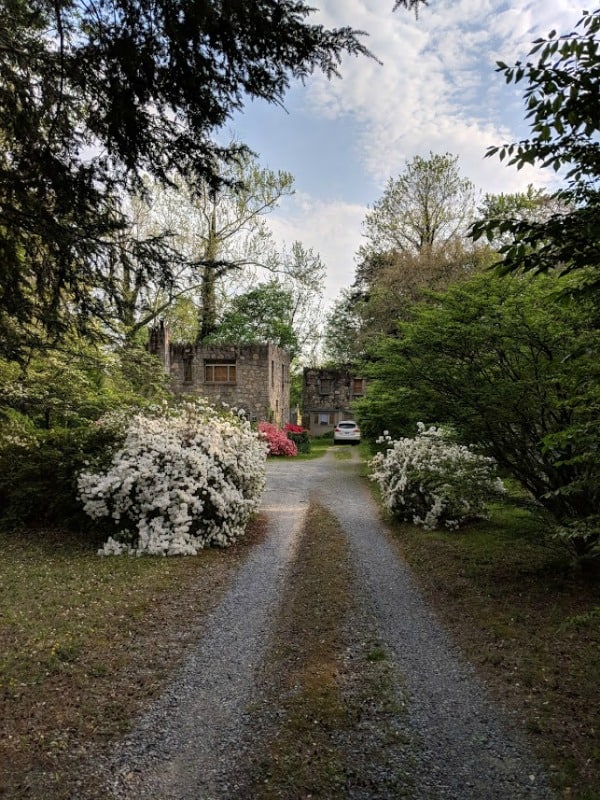 Aquia Creek sandstone is the material used in the White House (it was painted in that case) and parts of the Capitol and many other well-known buildings and structures in D.C. and Virginia.
Originally, the Little Castle had been a garage with maids' quarters above it. At some point, the garage door had been removed, the opening bricked in, and the space had been turned into a home. It was a cozy and comfortable home for sure but it was not anywhere as nice as it is today as an Airbnb space.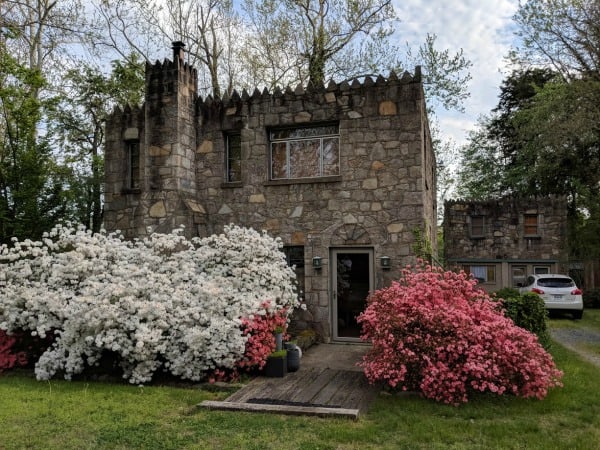 Our Recent Visit to the Little Castle in Falmouth Virginia
Admittedly, my heart felt a tug as we approached the front door with Kent and I saw the Little Castle sign. My dad, no longer with us, made the sign for Mr. GFE as a Christmas present before we were married.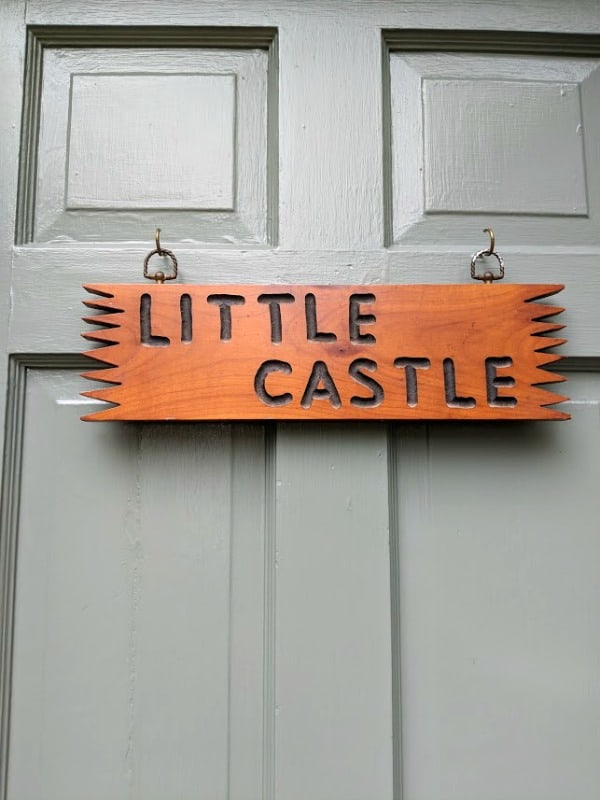 The gift had surprised and delighted me at the time as much as it had Mr. GFE. My dad had not told me ahead of time that he was making it for him.
It was a special and heartfelt gift as my dad was generally quite happy to let my mom figure out family gifts most of the time. When we moved out of the Little Castle, the sign had gone with us.
It hung over Mr. GFE's work bench for many years. First at the rented farmhouse and then in our garage here.
After we became friends with Carole and Kent, Mr. GFE passed on the sign to them so it could be returned to its rightful spot. That decision made perfect sense but over time I had forgotten that he had done that. Hence, the unexpected heart tug at seeing my dad's handiwork after so many years.
We arrived one Friday afternoon in May and Kent gave us a quick tour of the "new" Little Castle, pointing out some of the changes he'd made to make the space more appealing. It was so interesting to see our home from 36 years ago.
When we lived there, there was a lot more stuff in the house. Plus, there had been two small bedrooms and an ill-designed bathroom with the bathtub in front of a window, which was right next to the ladder to the roof. (Curtains and two shower curtains were needed!)
Kent and Carole turned the two bedrooms into a single, very spacious and very attractive and comfortable guest room. They also redid the bathroom space into an attractive and functional space. Yay!
Part of the space became a closet and part became a very nice, completely redesigned bathroom. That meant that "odd" window by the bathtub and beside the steps to the roof was stoned up. Believe me, nobody will miss it!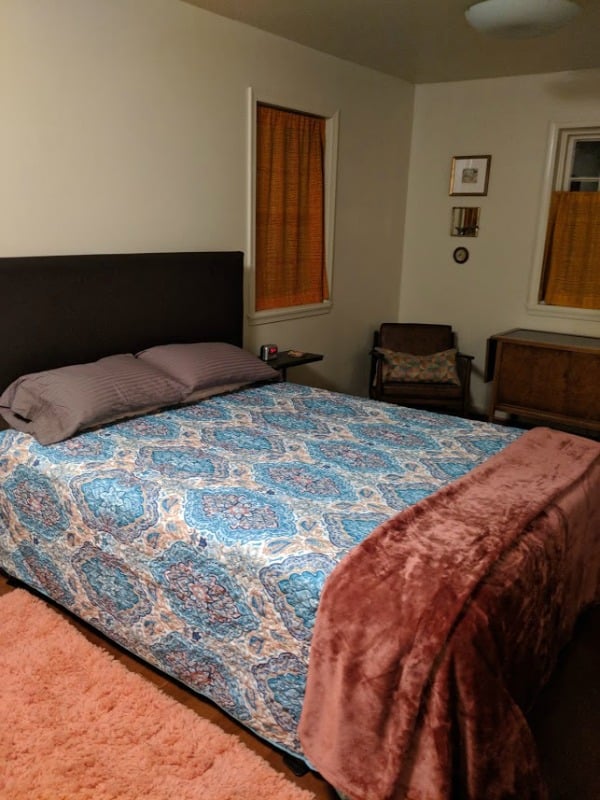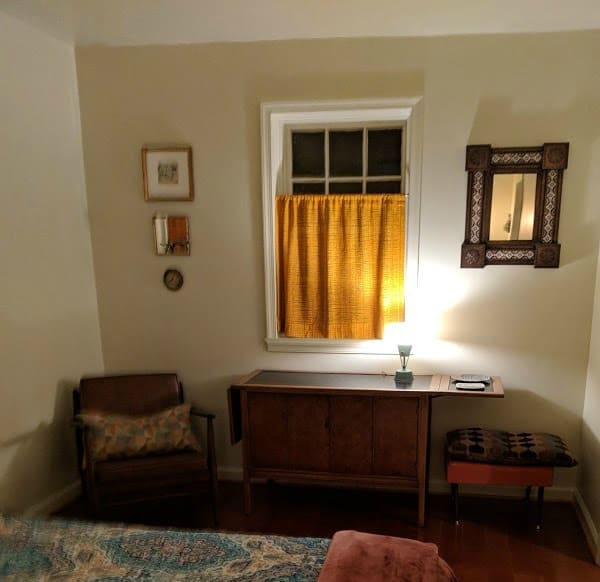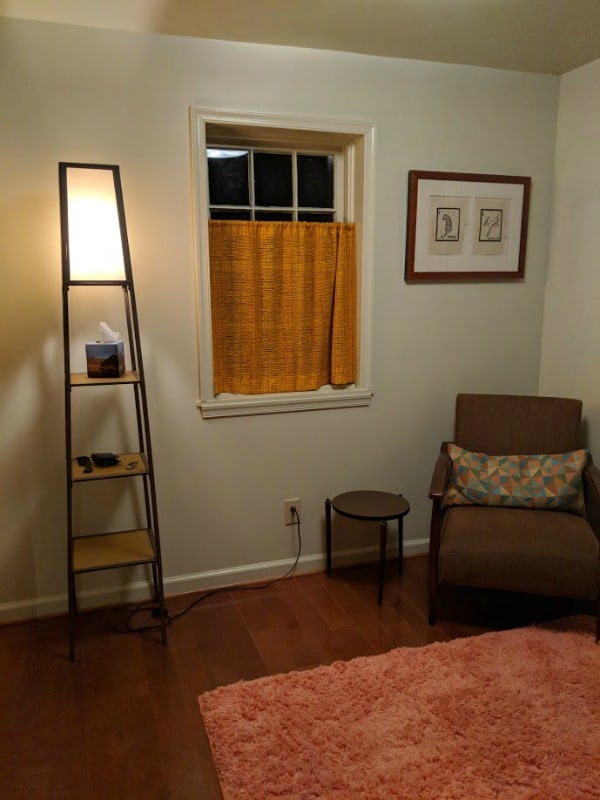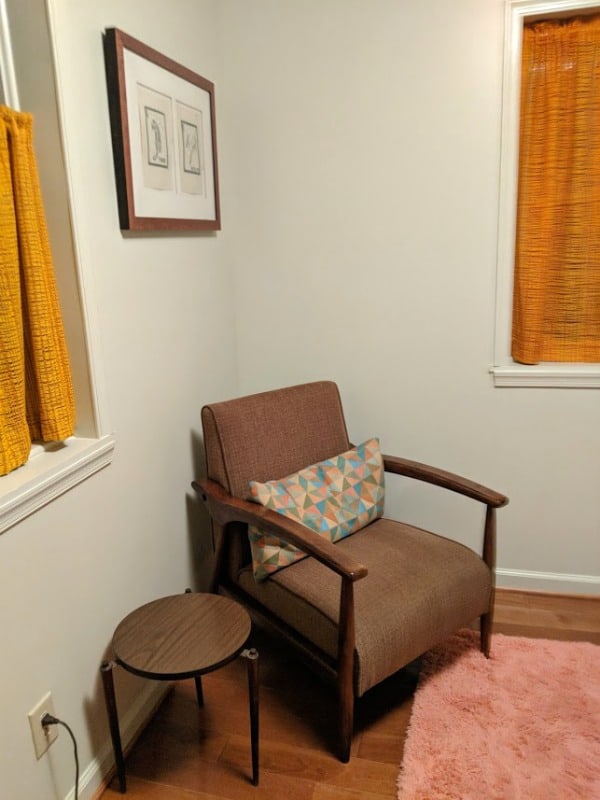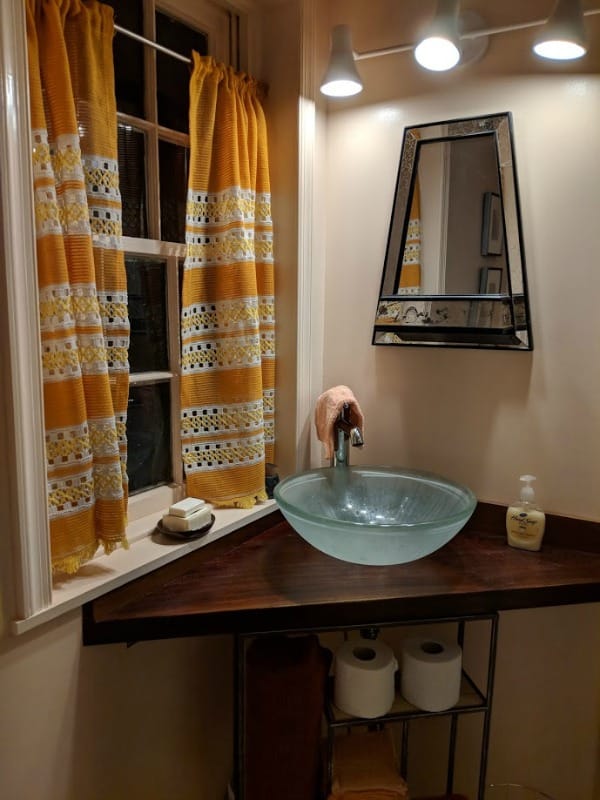 While two back porches, balconies if you will, remain, the set of steps off the kitchen was taken down at some point. The Little Castle is more secure without them and really doesn't need them.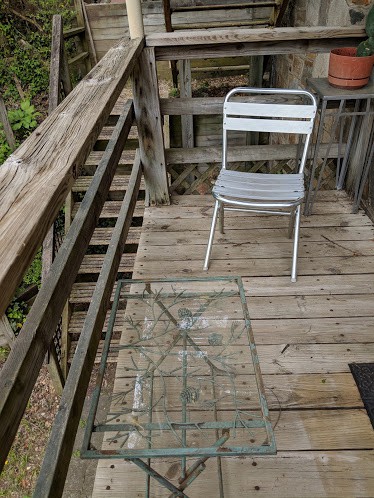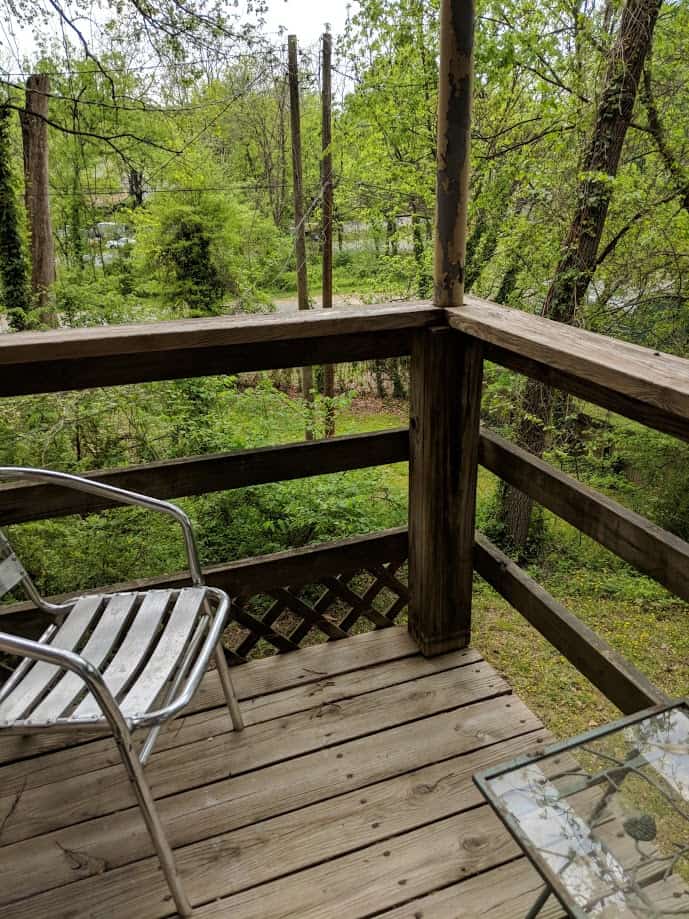 Before Carole and Kent purchased the castles, a pass through was added between the living room and the kitchen in the stairwell area. This addition really opened up the spaces on either side. (By the way, at one point, we had a huge flight cage of finches hanging on the living room side of that then solid space.)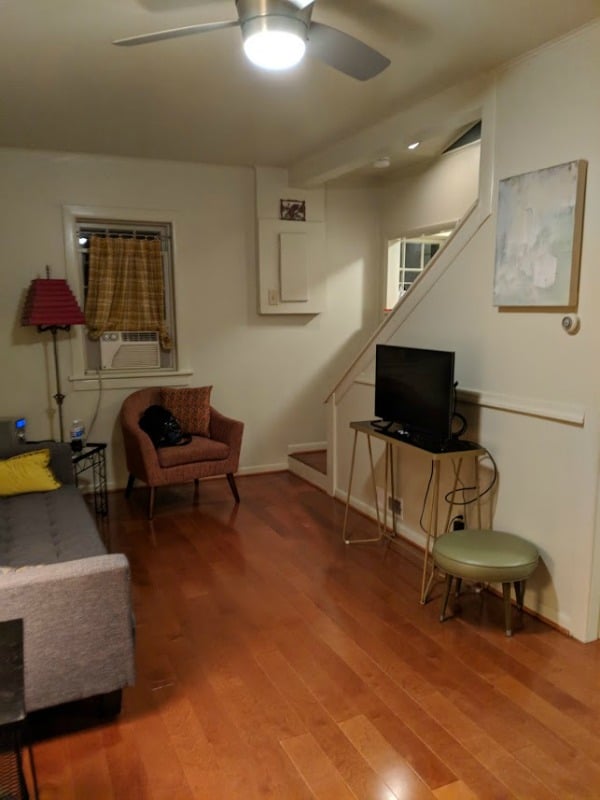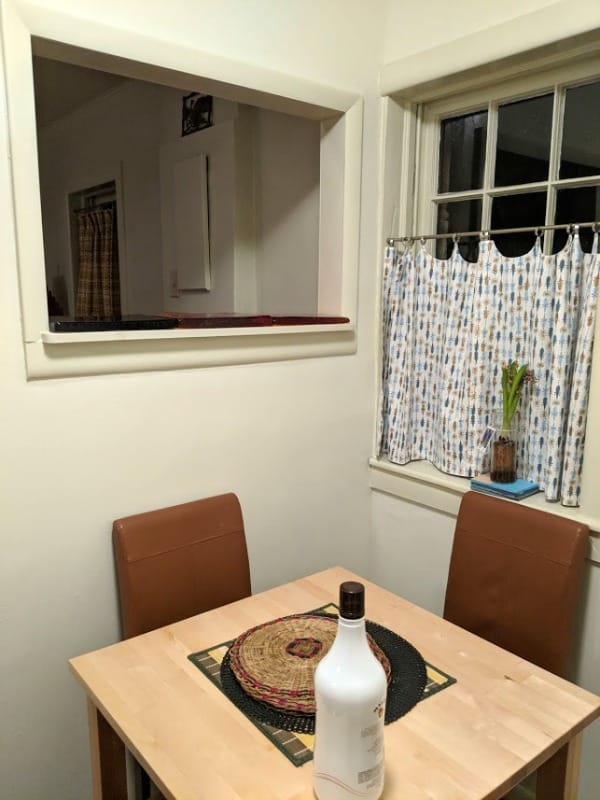 I also liked how Carole and Kent exposed some of the original wood and emphasized "the bones" of the space in the stairwell.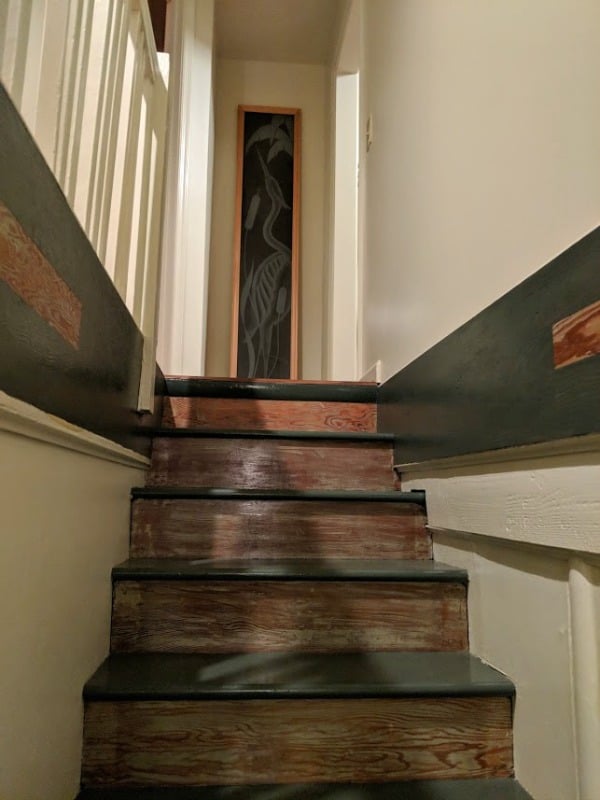 For an Airbnb accommodation, the Little Castle is just perfect. Totally charming and comfortable, as you can see from all of these photos.
You can also see that this home is filled with comfortable and even whimsical mid-century modern furnishings as well as unique art work. Most of the pieces actually come from Carole's personal collection of many years.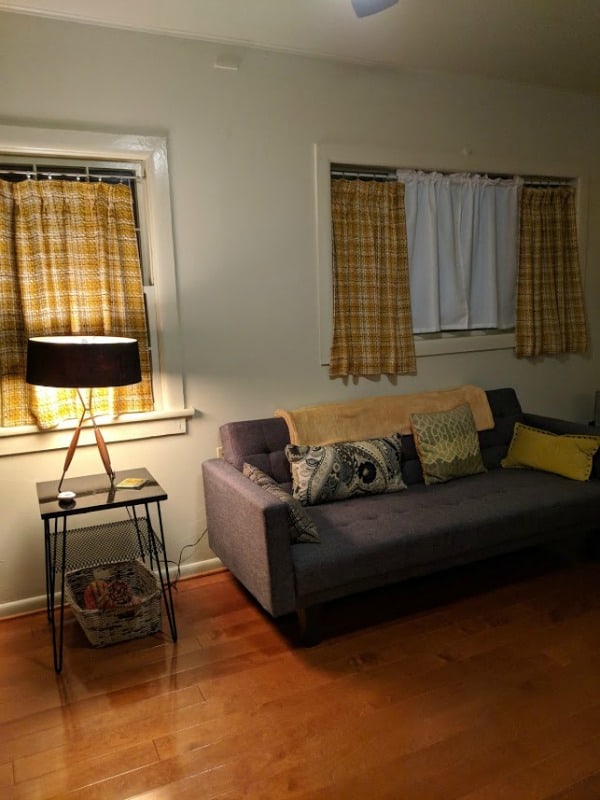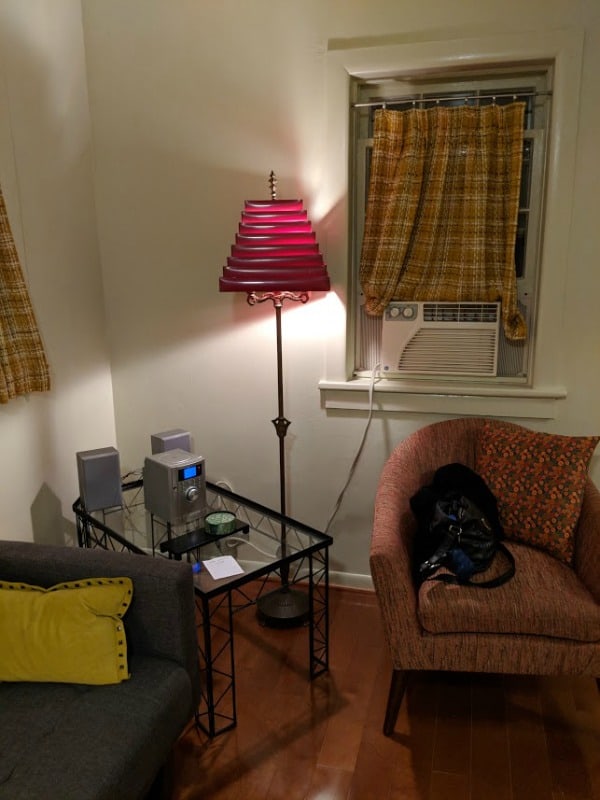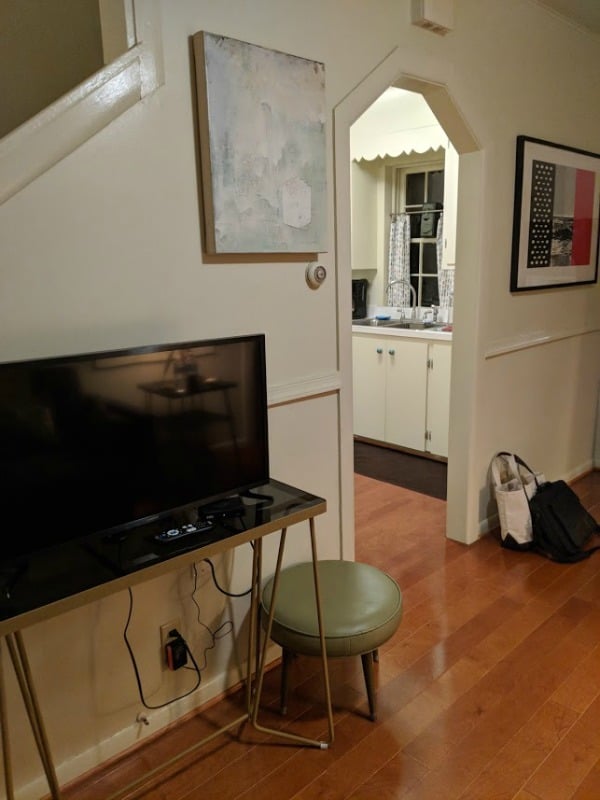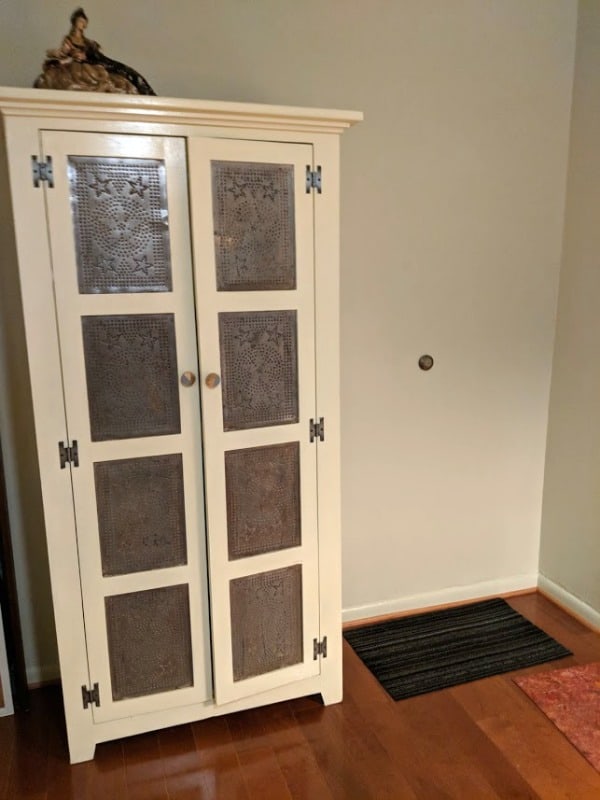 Carole, an artist herself, is an art professor at the local college, University of Mary Washington. Kent is a retired movie set designer. All their skills have come into play in creating the charm of the Little Castle as an Airbnb rental.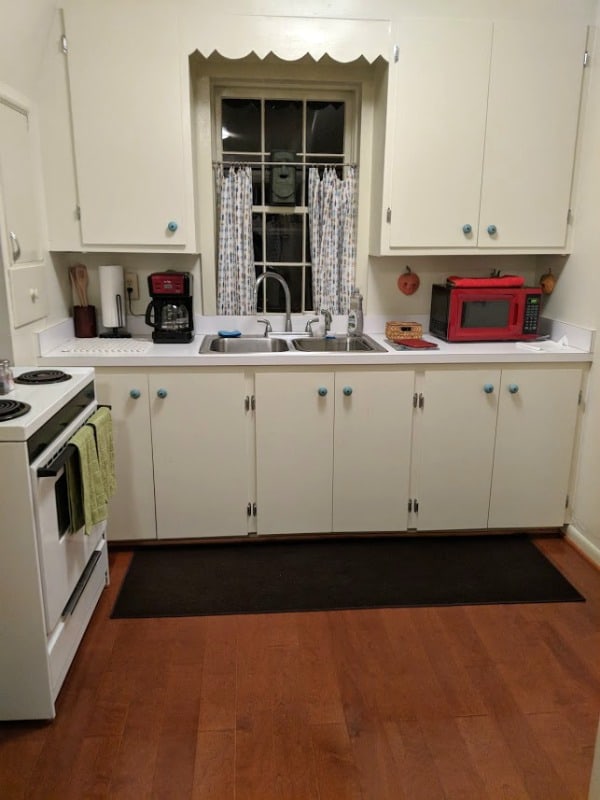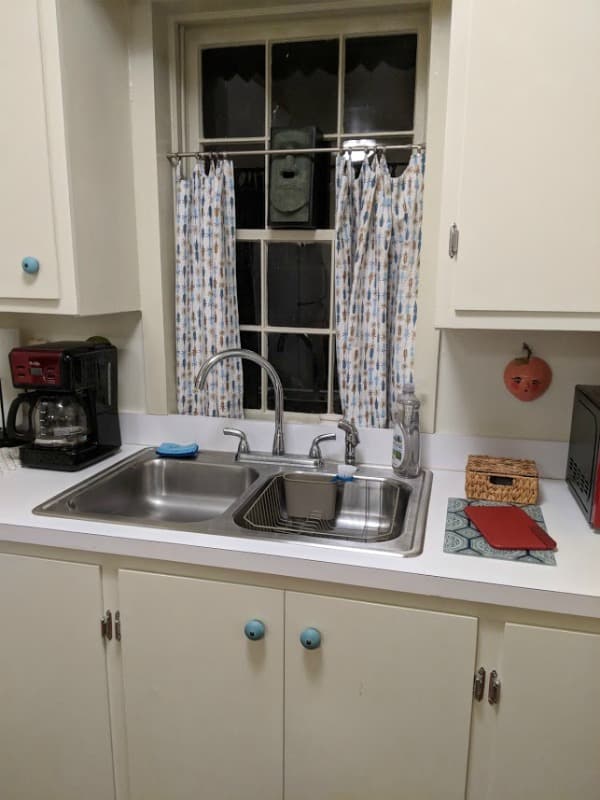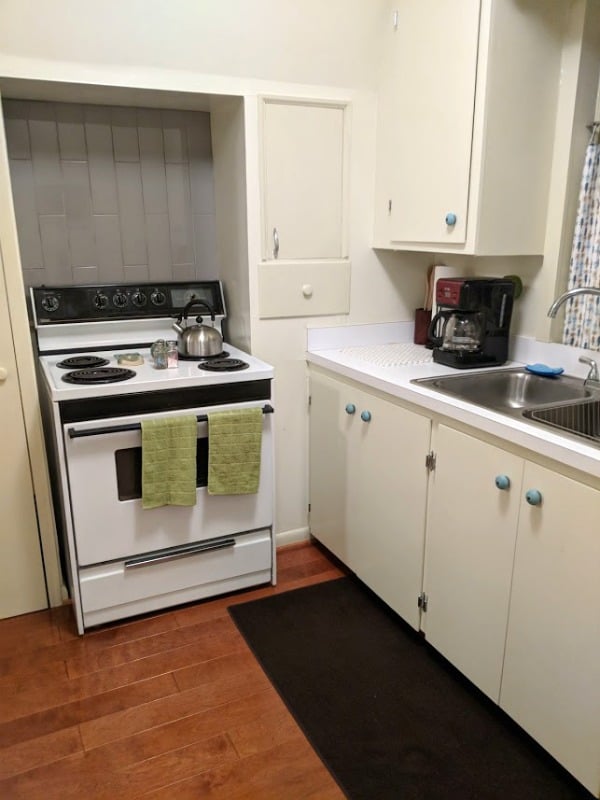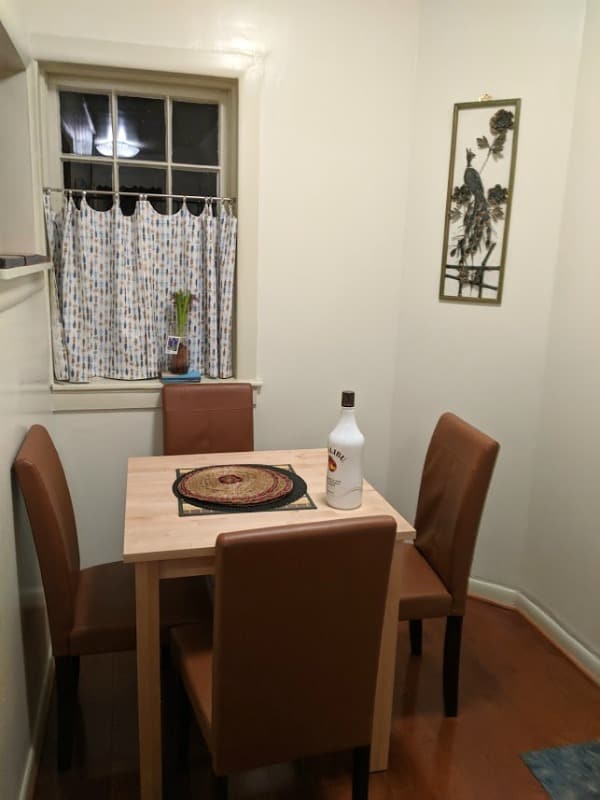 I was most captivated by the lamps in the Little Castle. (You can probably figure that out by how many photos I took of the lamps.) Several have very unique lampshades.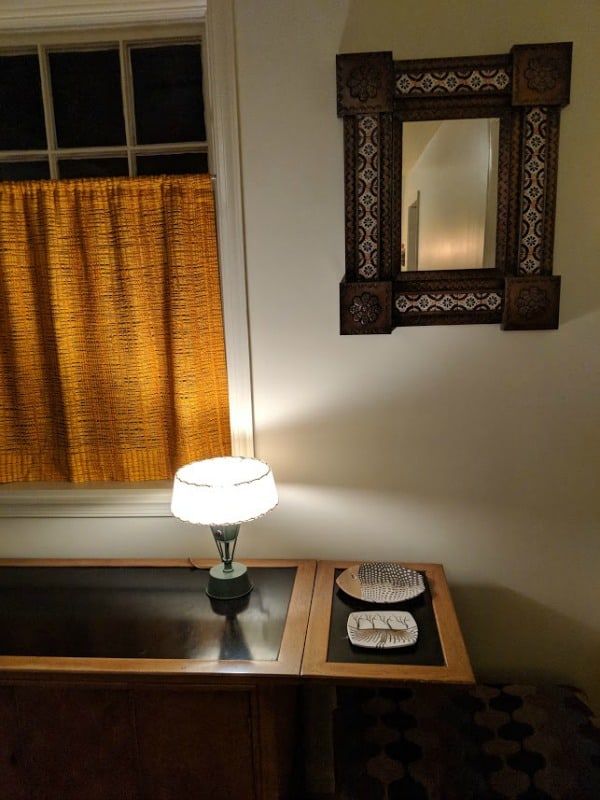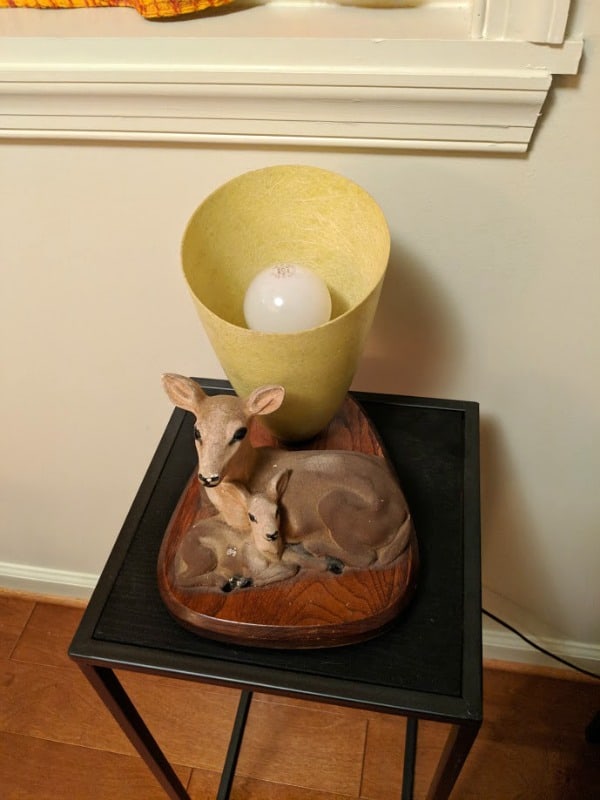 A friend who is very knowledgeable on mid-century modern decor told me that many of the lampshades of that period are made from fiberglass. I had no idea. In addition to a unique shade, this lamp in the sitting area on the second floor also sported the appearance of a desk or dresser with charming cubbies.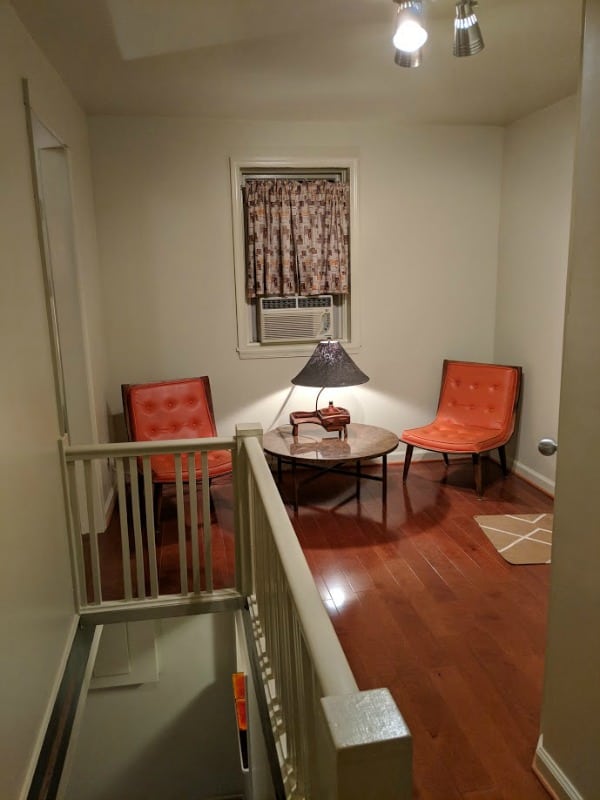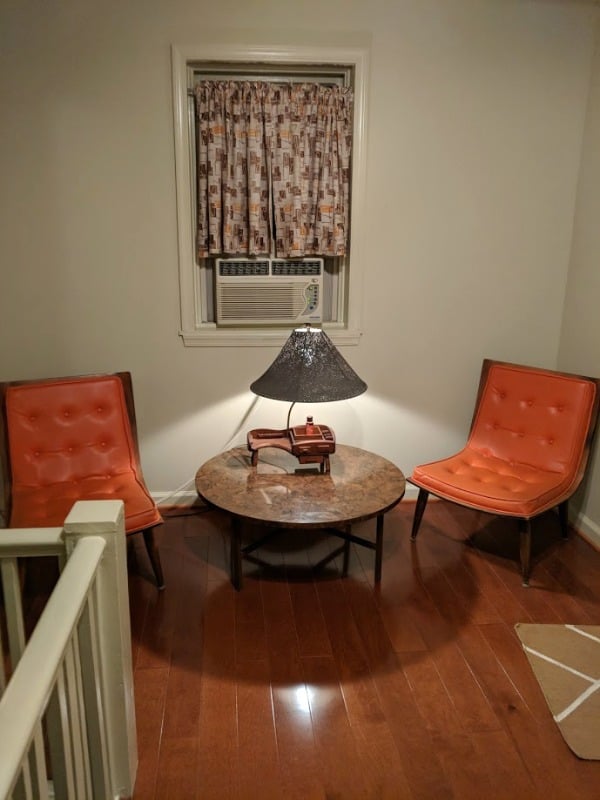 Now that the Little Castle has been renovated and is an Airbnb property, we and anyone else can visit it any time we'd like! Check out the Airbnb listing to see more photos and read all the reviews to date.
Spoiler alert: Carole has already been designated an Airbnb Super Host based on all the 5-star reviews she has received for the Little Castle! And this space has only been available for about 2 months. That really speaks to what a special spot the Little Castle is and how wonderful Carole and Kent are as proprietors!
Eating Gluten Free at Texas Roadhouse
Oh, I almost forgot … the gluten-free part of our visit. We brought our own beverages and breakfast food for the Little Castle but on the evening that we arrived, we took our friend Sandy to Texas Roadhouse for dinner. Sandy was our neighbor so long ago and still remains a neighbor to Carole and Kent—and by the way, she painted the kitchen cabinets during the Little Castle renovation!
Texas Roadhouse is not really gluten-free friendly. Case in point, when you do order an item off the menu and tell them you need it to be gluten free, your receipt will note "gluten friendly." Not "gluten-free friendly" but "gluten friendly." They really don't get what it means to be gluten free.
You can also see that's the case from their website. Like many restaurants, they're saying they can't guarantee they can keep you safe.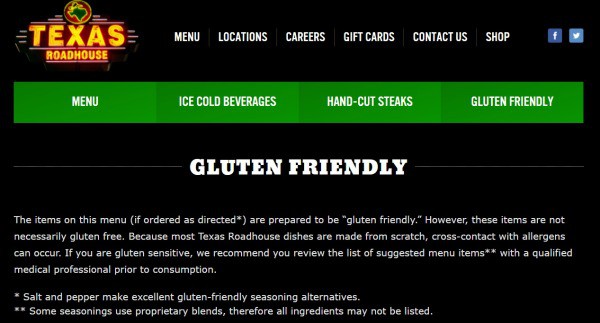 Truth be told, if we only went to restaurants that said they could keep us safe, we'd never eat out though. I prefer to do my research and take the necessary precautions on my end and continue to eat out.
There are some places I will never frequent because I know that the risk of getting glutened is too high (for example, a restaurant that serves all fried food and/or is making gluten-full biscuits 24/7) and/or they've proven in the past that they don't want my business by making no effort to feed me safely.
However, Mr. GFE loves Texas Roadhouse and I love their drinks and salads so we go there fairly often. But I order very carefully—with explicit instructions—and only order drinks and salads. I quickly learned that there was very little else that they served that I could eat without getting ill.
We also sit at the bar so I can watch the bartenders make my drinks. Because Mr. GFE always orders a beer—a regular, gluten-full beer—and they serve lots of beer, of course, I ask the bartender to wash his/her hands and make my drink, a Jamaican Cowboy Margarita, first. If the bartender forgets and pulls his beer first, I remind them to wash their hands before making my drink.
Some gluten-free individuals might be embarrassed to make such requests but I am not. That kind of cross contamination would make me very ill and I'm always very polite when I ask them to take these extra steps, which literally only take a few seconds of extra time.
Always speak up. Don't stay silent and get sick later.
When getting a salad at Texas Roadhouse or any restaurant, it's important to ask that in addition to any other necessary changes (e.g., hold the croutons) that your salad be made in a clean bowl. Lots of restaurants mix all their salads in the same large bowl.
If the restaurant also serves salads that contain croutons (or other gluten-containing items) and the same bowl is used without it being cleaned, that means your salad will end up containing gluten. That's why I not only give explicit instruction about using a clean bowl, I also always inspect my salads thoroughly before I eat them.
If I see ANY ingredient that should not be in my salad—even if it's a gluten-free ingredient—I point out the issue and send my salad back because that indicates my salad was not made in a clean bowl. For example, if I see a fleck of shredded cheddar cheese in my Caesar salad, I send the salad back and ask for a new one to be made in a clean bowl.
So, there you have it. There's my gluten-free tidbit plus my review of the Little Castle as an Airbnb accommodation. If you're looking for a special experience in Fredericksburg or Falmouth (southern Stafford), I highly recommend that you book the Little Castle!
Originally published August 5, 2018; updated May 6, 2023.