For affiliate links and as an Amazon Associate I earn from qualifying purchases.
Maple syrup, pecans, bananas. Based on those three ingredients alone, you know today's Gluten-Free Maple Pecan Banana Muffins are going to be a hit!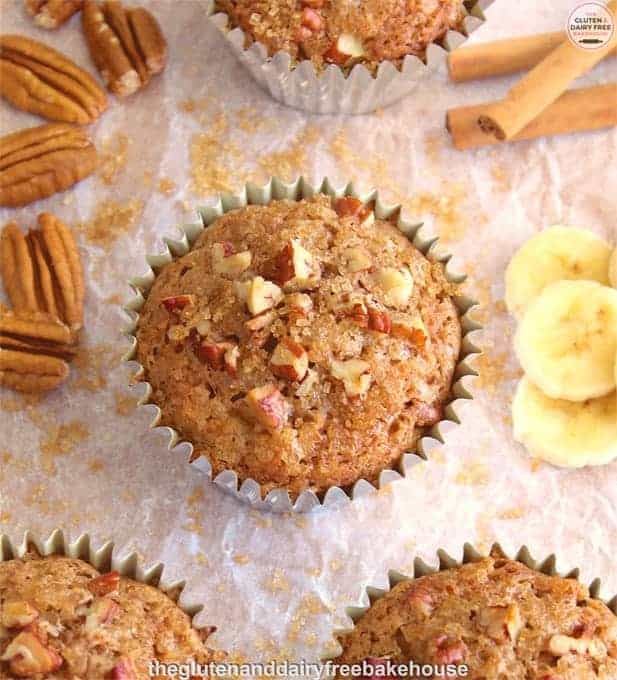 Let's learn more about this lovely variation on a muffin classic, the gluten-free blogger who created it, today's daily prizes (a subscription, a cookbook, and a baking ingredient), and, of course, the fabulous grand prize giveaway.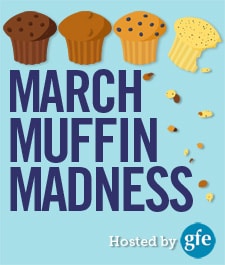 See the whole lineup of bloggers, blogs, and muffin recipes here.
The Gluten and Dairy Free Bakehouse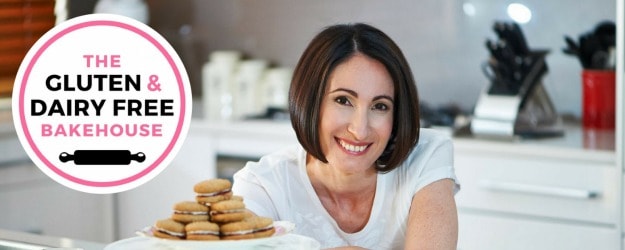 My dear friend Kylie of The Gluten and Dairy Free Bakehouse is in Australia. (Unfortunately, Kylie's site is no longer active.) We've been online friends for many years now but, sadly, have not met "in real life" although each of us is holding out hope that either she'll come to the U.S. or I'll get to Australia. In the words of Natalie Wood as Susan Walker in Miracle on 34th Street, "I believe … I believe!"
Kylie is one of the most incredibly talented gluten-free recipe creators that I know. Her recipes are beautiful and scrumptious every single time. She's a perfectionist and she's always tweaking her fantastic recipes to be even better, which amazes and delights her readers!
I've also gotten a delightful education on recipes that are loved in her part of the world because she's often re-creating them to be gluten free and dairy free or she simply puts a new spin on them. Those recipes include Ginger Creams, Raw Chocolate Caramel Slice, Decadent Lamington Bliss Balls, and Lamington Whoopies Pies. Kylie's breads are also pretty phenomenal: White Bread, Wholemeal Bread (what those of in the U.S. would call "whole grain"), Cinnamon Raisin Bread, and Focaccia. Honestly, I think you'll love everything on her site and I've linked to several of her recipes below her MMM muffin recipe, so let's get to that and then you can read on and click away!
Gluten-Free Maple Pecan Banana Muffins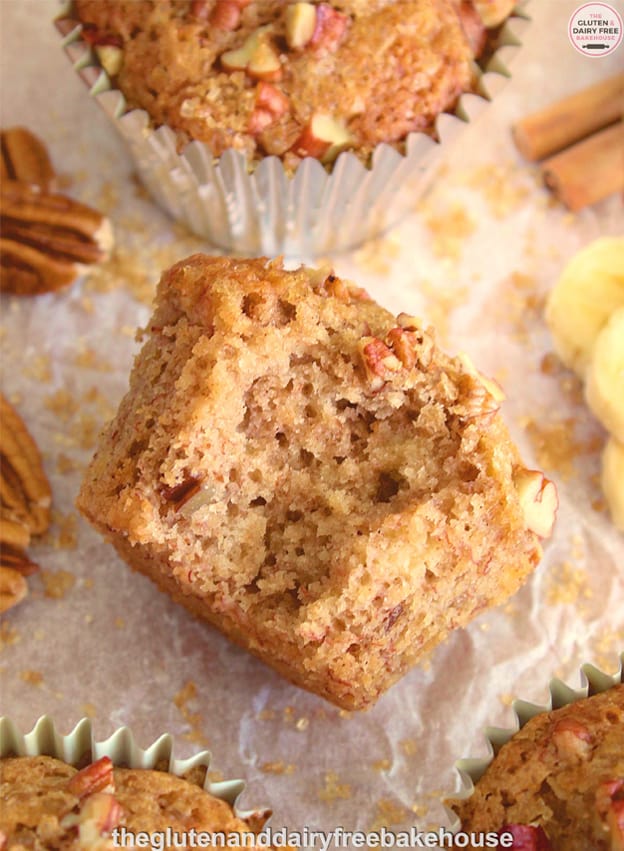 Yield: 12 muffins
Gluten-Free Maple Pecan Banana Muffins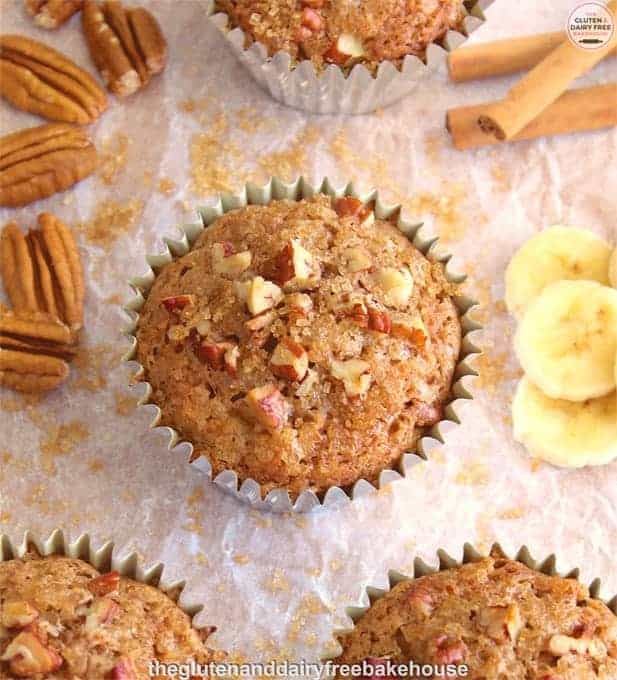 Kylie says: "Most people enjoy a good old-fashioned banana muffin. They make a tasty breakfast alternative or mid-morning or afternoon snack. However, by adding maple syrup and toasted pecans, you can take the humble banana muffin and turn it into a new taste sensation! p.s. Be sure to read my notes on cup measurements for this recipe."
Ingredients
Dry Ingredients
104g (3.7 ounces or ¾ cup plus 1 tablespoon) superfine white rice flour
50g (1.8 ounces or ⅓ cup) superfine brown rice flour
33g (1.2 ounces or 3 tablespoons) potato starch (see notes)
24g (0.8 ounces or 3 tablespoons) tapioca starch
21g (0.7 ounces or 3 tablespoons) cornstarch
132g (4.7 ounces or ¾ cup) light muscovado sugar or light brown sugar
1 tablespoon (15ml) baking powder
1 teaspoon (5ml) ground cinnamon
½ teaspoon (2.5ml) ground nutmeg
¼ teaspoon (1.25ml) salt
Wet Ingredients
228g (8.0 ounces or 1 cup) mashed very ripe bananas
104g (3.7 ounces or ½ cup) melted coconut oil
125ml (½ cup) dairy-free milk of choice
60ml (¼ cup) pure maple syrup
1 teaspoon (5ml) pure vanilla extract
Stir Through Ingredient
50g (1.8 ounces or ½ cup) roughly chopped toasted pecan nuts
Topping Ingredients
36g (1.3 ounces or ⅓ cup) roughly chopped pecan nuts
Demerara sugar for sprinkling
Instructions
Preheat oven to 400F (200 °C = 180 °C Fan = 400 °F = Gas Mark 6).
While the oven is preheating, place the chopped pecans in a cake pan or tray, toast them until lightly golden and then place in a bowl to cool.
Sift all the dry ingredients together and set aside. (Important: For accurate cup measurements, I sift the potato starch before measuring, so that there are no lumps/clumps. All cup measurements are firmly packed.)
In another bowl, whisk together the mashed banana, milk, coconut oil, vanilla extract and the maple syrup.
Make a well in the centre of the dry ingredients and pour in the wet ingredients, mixing until combined, before stirring through the chopped pecans.
Fill each liner to approximately ¾ full. Now sprinkle a few of the chopped pecan nuts over each muffin and approximately a scant ½ teaspoon of the Demerara sugar.
Bake for approximately 20-22 minutes or until a toothpick inserted comes out clean.
Allow the muffins to cool in the tin for 2 minutes, before transferring them to a wire rack to cool.
Notes
Makes 12 muffins.
All cup measurements are firmly packed. For accurate cup measurements, I sift the potato starch before measuring, so that there are no lumps/clumps.
These muffins are best served warm. 
More Gluten-Free Muffin Recipes (and More) from The Gluten and Dairy Free Bakehouse That You Should Check Out
(Because Kylie's site is now no longer active, I have linked to some of her recipes via the Wayback Machine internet archive.)
~ Raspberry and White Chocolate Muffins (part of the last MMM event)
~ Chocolate Ginger & Macadamia Snack Bars
~ Traditional Hot Cross Buns, Apple Cinnamon Hot Cross Buns, and Double Chocolate Hot Cross Buns
Today's Giveaway
Update: All the giveaways are now closed. Congratulations to the winners and thanks to all who participated!
~ Subscription:
20 Dishes: 3-Month Subscription (2 winners; sponsored by 20 Dishes)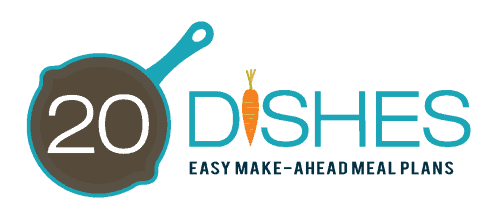 Basically, 20 Dishes is a customized meal prep plan that tells you how to prep a week of meals in about an hour. But it's more than that. We're talking meal plans, recipes, prep guide, shopping lists, etc. You have a choice of Gluten-Free, Paleo, AIP, Keto, Real Food, or Vegetarian meal plans. As you would expect by these labels, most of these plans are gluten free but not all. If you win this prize, you'll want to be sure to choose the right plan for you and your family. Even if you don't win this prize, you can give 20 Dishes a 7-day trial here. (You can read much more on 20 Dishes, including the testimonials from subscribers.)
~ Cookbook:
Sweet Paleo: Gluten-Free, Grain-Free Delights by Lea Valle (Paleo Spirit) (2 winners; sponsored by gfe)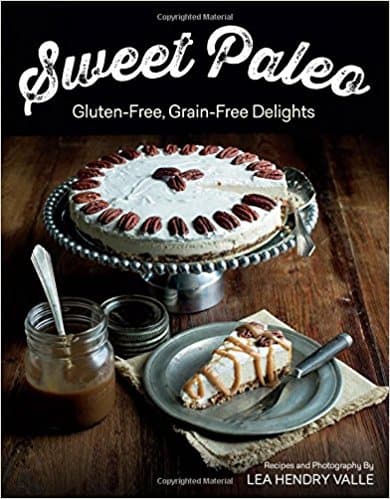 If you're a reader of Lea's site, you are already familiar with her wonderful dessert creations, like Key Lime Pie (paleo, nut free, vegan), Paleo Chocolate Birthday Cake, and Chocolate Pistachio Biscotti (yes, paleo). Her cookbook, which includes over 90 recipes, just lets you devour all her desserts at once. Figuratively, at least. Although I have no doubt, you'll jump in and start making these delights! The recipes are paleo so they're gluten free, grain free, refined sugar free, and most are dairy free (or have a dairy-free option). There are also plenty of egg-free and nut-free desserts. Click on the Amazon link above and use the "Look Inside" feature to see if this cookbook is a good fit for your sweet treat needs!
Baking/Cooking Ingredient
Authentic Foods Super Fine White Rice Flour (3-lbs) (sponsored by gfe)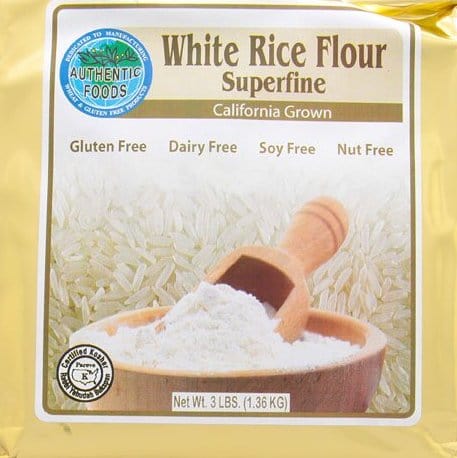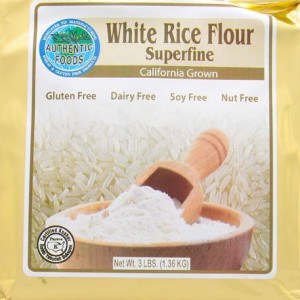 There are so many brands of rice flour and gluten-free flour mixes on the market that are gritty and unacceptable. So many times people think that gluten-free baked goods are awful and most of the time it's because gritty rice flour was used in the recipe (or in the flour mix that was used in a recipe). Authentic Foods grinds all their rice flour (and their mixes that contain rice flour) super fine, which means that grittiness is never an issue.
Grand Prize Giveaway
See all 10 prizes here. Shown are the top six prizes (per monetary value—they're all tops in my opinion). Again, this giveaway is open to everyone, everywhere!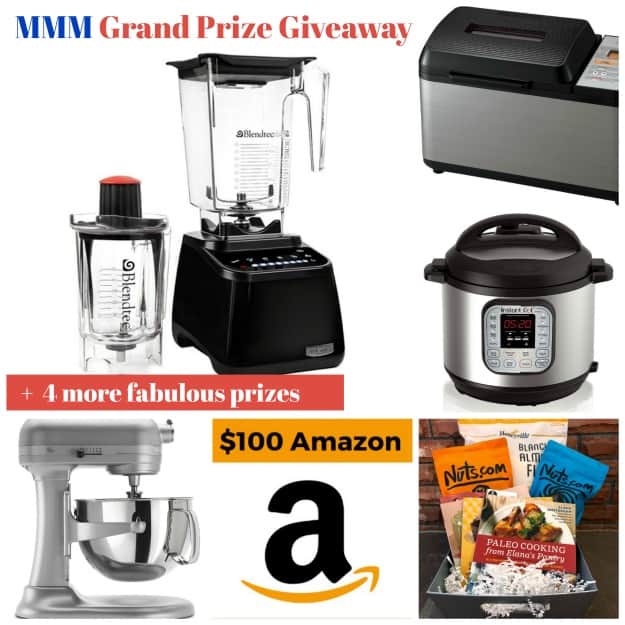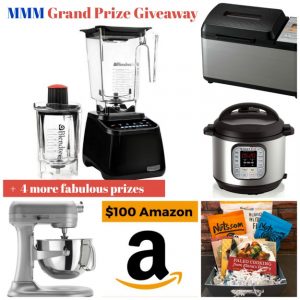 Originally published April 7, 2018; updated June 6, 2023.