For affiliate links and as an Amazon Associate I earn from qualifying purchases.
Yes, March Muffin Madness—aka MMM—is back for 2018! Are you as happy as I am about this news? I hope so! It's time to kick off one of the most fun and most delicious gluten-free blog events ever! Delicious gluten-free muffin recipes from your favorite bloggers and dozens of fabulous prizes—almost 100 prizes in all!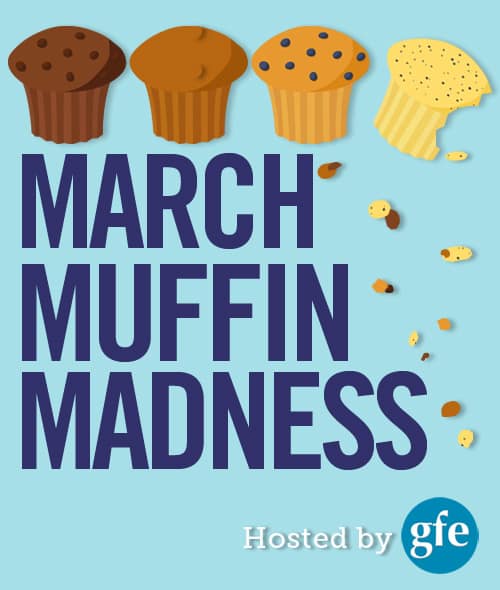 If you're a basketball fan, I hope you won't mind setting aside some time from that other March Madness and its brackets to focus on these muffins and prizes.
This year all the muffin recipes will be shared right here on gfe so be sure to visit gfe every day to get your new gluten-free muffin recipe! Subscribe to gfe so you won't miss out on any recipes or prize announcements!
There will be new giveaways offered each day here on gfe as well as an overall giveaway with all the winners announced at the conclusion of MMM. Entries will be accepted both via Rafflecopter and comments. Each and every comment submitted during the event—on today's post and on all the MMM posts—will be an entry for the overall giveaway! (The first comment on each post that is. Leaving multiple comments will not get you additional entries.) So please be sure to follow MMM every day and enter every day, every way!
Right now, I want to share the MMM schedule and all the participants. I'm thrilled that these gluten-free bloggers are joining in! You'll see many of your favorite folks in the gluten-free community and you will also probably see a few who are new to you. Introducing gfe readers to "new" blogs and/or cookbook authors that are new to them is one of my very favorite things about hosting MMM!
Note that I'll be updating the following listing with the links to all the gluten-free muffin recipes once they're posted so if you miss a day or two, you can refer back to this post to catch up!
Blogs Providing Gluten-Free Muffin Recipes for March Muffin Madness
Thursday, March 22 ~ Tessa, The Domestic Diva (Tessa) ~ Paleo Chocolate Butternut Muffins
Friday, March 23 ~ Everyday Gluten-Free Gourmet (Cinde) ~ Gluten-Free Muffins That Taste Like Donuts
Saturday, March 24 ~ Go Dairy Free (Alisa) ~ Gluten-Free Chocolate Banana Split Muffins
Sunday, March 25 ~ Plant Power Rising (Debbie) ~ Gluten-Free Tropical Pineapple Ginger Muffins
Monday, March 26 ~ Predominantly Paleo (Jennifer) ~ Paleo Mini Muffins for Kids (Allergy Free)
Tuesday, March 27 ~ The Spunky Coconut (Kelly) ~ Paleo Shredded Coconut Blueberry Muffins
Wednesday, March 28 ~ Nourishing Meals (Ali) ~ Gluten-Free Banana Almond Butter Muffins
Thursday, March 29 ~ Free Range Cookies (Linda) ~ Gluten-Free Lemon Yogurt Muffins
Friday, March 30 ~ Elana's Pantry (Elana) ~ Low-Carb Pizza Muffins (Keto)
Saturday, March 31 ~ Carol Fenster Cooks (Carol) ~ Gluten-Free Lemon Poppy Seed Muffins for Two (and More Flavors)
Sunday, April 1 ~ Learning To Eat Allergy Free (Colette) ~ Gluten-Free Blueberry Muffins with Sugar Crunch Topping
Monday, April 2 ~ In Johnna's Kitchen (Johnna) ~ Gluten-Free Hummingbird Muffins in the Instant Pot
Tuesday, April 3 ~ Healthful Pursuit (Leanne) ~ Low-Carb Snickerdoodle Muffins (Keto)
Wednesday, April 4 ~ She Let Them Eat Cake (Maggie) ~ Gluten-Free Carrot and Banana Streusel Muffins
Thursday, April 5 ~ Keto Karma (Suzanne) ~ Gluten-Free Blueberry Mug Muffin (Keto)
Friday, April 6 ~ Zenbelly (Simone) ~ Paleo Strawberry Chocolate Chip Muffins
Saturday, April 7 ~ The Gluten and Dairy Free Bakehouse (Kylie) ~ Gluten-Free Maple Pecan Banana Muffins
Sunday, April 8 ~ The Nourished Caveman (Vivica) ~ Low-Carb Cinnamon Swirl Muffins (Keto)
Monday, April 9 ~ Fearless Dining (Sandi) ~ Paleo Butternut Squash Muffins
Tuesday, April 10 ~ Gluten Free Easily (Shirley; that's me!) ~ Gluten-Free Ginger Cream Muffins
Wednesday, April 11, midnight Eastern, drawing of all daily prizes (except for last drawing, which will be held on Thursday, April 12, midnight Eastern) and GRAND PRIZE DRAWING!!! (This giveaway is now closed.)
~ Wrap-up of prizes ~ Announcement of all the winners.
~ MMM muffin recipes roundup
I'll be updating this page with links to the gluten-free muffin recipes for MMM after they're shared so if you miss a day or two and want to catch up, this will be the post to revisit.
In my next post, I'll tell you all about the prizes! Both the daily giveaway prizes and the overall prizes, including the grand prize. Trust me, you'll want to be entered for all these giveaways. I can't wait to tell you about them!
Originally published March 20, 2108.