For affiliate links and as an Amazon Associate I earn from qualifying purchases.
Goodness, folks, here we are at the next to the last day of March Muffin Madness (MMM) recipes. It's all gone by so fast but here's today's marvelous recipe, Paleo Butternut Squash Muffins. As this recipe is paleo, that also means that it's a gluten-free, grain-free, dairy-free, and refined sugar-free recipe. Today's recipe also includes a unique ingredient, a type of flour, which might be new to you.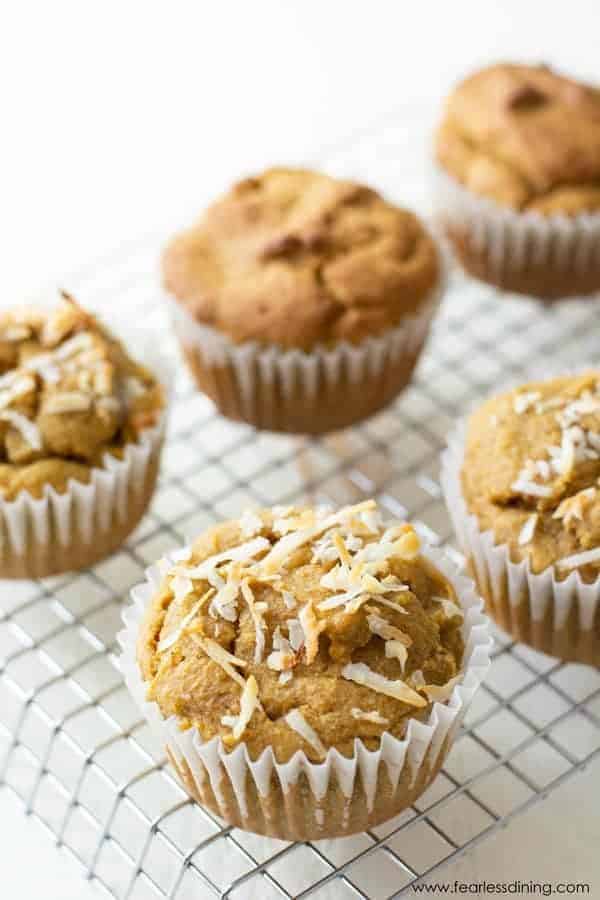 So you'll want to read on to learn more about these muffins and the paleo ingredients used in them and check out today's daily prizes (there are a bunch!). See the whole lineup of bloggers, blogs, and muffin recipes here.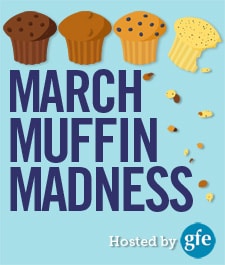 Fearless Dining

My friend Sandi of Fearless Dining is the creator of these beautiful Paleo Butternut Squash Muffins. She creates lovely, delicious recipes and she's a prolific recipe creator! So much so that she also started another blog, Grandma's Recipes Made Gluten Free, several months back. She says that her "new blog is more of a side project to bring my family's recipes to those who need to be gluten free." If it's "old school" recipes that Grandma made that you're looking for, check that out. If newer more innovative recipes, like today's muffins, appeal to you, check out her original site.
By the way, I initially found Sandi's Fearless Dining blog several years ago via her database of restaurant reviews for the San Francisco Bay area. I can never resist a good restaurant review, even if it's been a few years since I've been to the Bay area (and will probably be a few more before I make it back). Sandi has visited and reviewed over 650 restaurants, documenting their practices for handling gluten-free customers. If you're in that area or planning to visit and need to know about safe gluten-free dining options (as well as places to steer clear of), definitely check out the wealth of information she has there!
More Gluten-Free Muffin Recipes (and More) from Fearless Dining That You Should Check Out
~ Cheddar Herb Muffins (featured in the last MMM event)
~ Easy Paleo Healthy Strawberry Muffins
~ 7-Layer/Magic Bars: (Caramel Magic Bars, Gingerbread 7-Layer Bars, Peppermint 7-Layer Bars, Pumpkin 7-Layer/ Magic Bars, and Valentine's 7-Layer Bars)
~ Edible Chocolate Chip Cookie Dough
Paleo Butternut Squash Muffins Recipe
Sandi says: "I have been experimenting a lot with tigernut flour and other paleo flours because we are trying to take more grains out of our diet. These sweet Paleo Butternut Squash muffins make a deliciously nutritious breakfast or snack."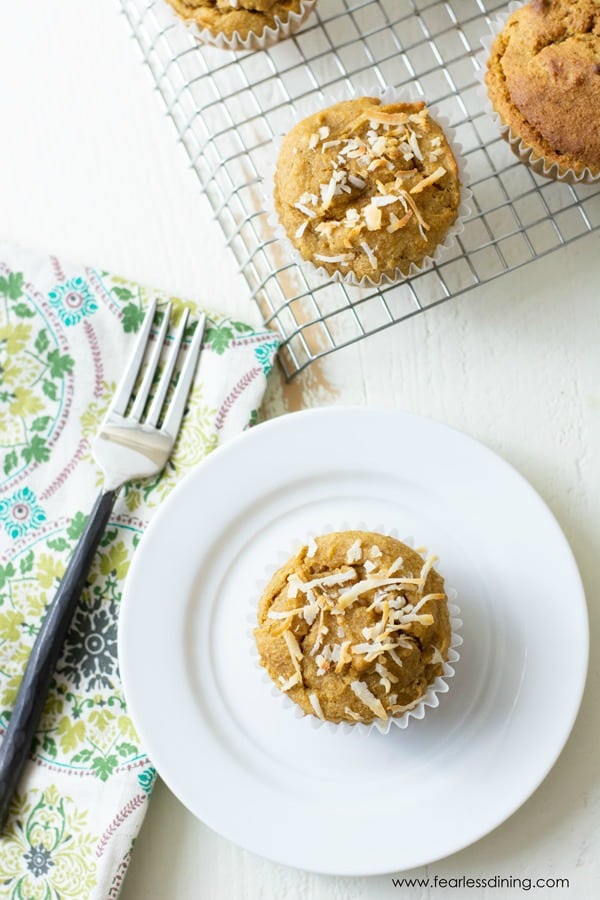 Sandi added that her daughter liked these super healthy muffins. Score! We all need family approval for our recipes, right? Especially when we're making changes that up the "health quotient" of our recipes.
Yield: 12 muffins
Paleo Butternut Squash Muffins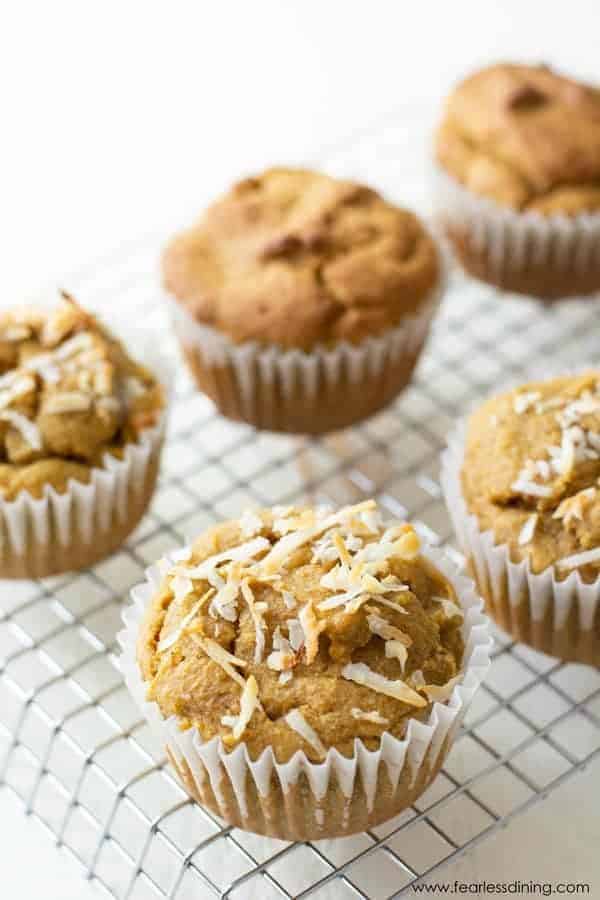 Sandi says: "I have been experimenting a lot with tigernut flour and other paleo flours because we are trying to take more grains out of our diet. These sweet Paleo Butternut Squash muffins make a deliciously nutritious breakfast or snack."
Ingredients
Batter Ingredients
1 cup pureed butternut squash (I use canned organic because it is super smooth and creamy, not lumpy)
1/3 cup walnut oil or avocado oil
1/3 So Delicious coconut milk beverage
1/2 cup coconut sugar
1/2 cup tigernut flour
1/2 cup arrowroot powder/flour
1 cup almond flour
1 teaspoon xanthan gum
1 teaspoon baking powder
1/8 teaspoon salt
Topping Ingredient (Optional)
1/3 cup unsweetened shredded coconut
Instructions
Preheat oven to 350F degrees.
Add wet ingredients to a bowl and mix well.
Add the dry ingredients to a bowl and whisk to blend.
Pour the wet ingredients into the dry ingredients and mix gently. Don't overmix these too much or your muffins won't be light and fluffy.
Sprinkle coconut on top, if desired.
Bake for about 25 to 30 minutes.
Notes
Makes 12 muffins.
Reminder: Don't overmix these too much or your muffins won't be light and fluffy. 
Shirley's note: The folks at Tigernuts USA say that tigernut flour can be substituted for regular flour and gluten-free all-purpose flour mix one for one so if you don't have tigernut flour, you can most likely substitute gluten-free all-purpose flour mix for the tigernut flour in this recipe for an equally delicious non-paleo version.
Today's Giveaway
Update: All the giveaways are now closed. Congratulations to the winners and thanks to all who participated!
~ Cookbooks:
Down South Paleo: Delectable Southern Recipes Adapted for Gluten-free, Paleo Eaters by Jennifer Robins (2 winners, co-sponsored by Jennifer Robins and gfe)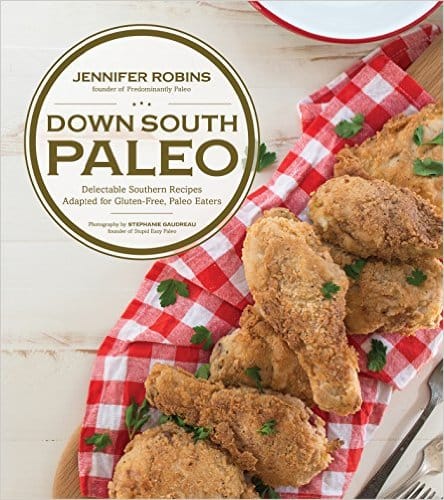 Jennifer Robins (Predominantly Paleo) is one of the most creative paleo recipe creators ever. She really did write a whole bestselling book of recipes re-creating Southern classics to be paleo. They're exactly the recipes you'd expect, too—or Jennifer's version, which is always much better! Some of the recipes include: Mama's Fried Chicken (shown on cover below), Southern Fried Chicken and Waffles, Corned Beef Hash with Brown Gravy, Paleo Pecan Waffles, Lump Crab Hushpuppies, Lemon Pepper Fried Okra, Rodeo Funnel Cakes, Chicken Fried Steak, Soulful Collard Greens, and Deep South Fried Pickles. (Incidentally, you can find the giveaway for Jennifer's other three cookbooks—just in case, you missed them—here and here.)
The Everyday Ketogenic Kitchen: With More than 150 Inspirational Low-Carb, High-Fat Recipes to Maximize Your Health by Carolyn Ketchum (2 winners, co-sponsored by Victory Belt Publishing and gfe)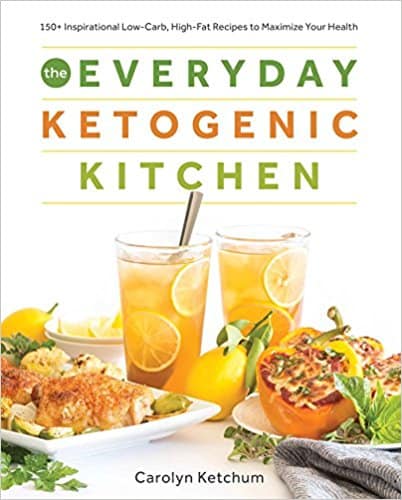 As promised, here's Carolyn Ketchum's (All Day I Dream About Food) first bestselling cookbook (Carolyn's newest cookbook, Easy Keto Meals, was part of yesterday's daily giveaway.) Carolyn is another person who adopted low-carb, keto eating for therapeutic healing—specifically, a diabetes diagnosis. Initially, it was gestational diabetes, which disappeared and then reappeared and "stuck around," as Carolyn says. Carolyn is a little different from some low-carb, keto followers in that although she makes fabulous main dishes, salads, and sides, she also excels at incredible desserts that work for this way of living. Maybe that's why this cookbook gets all 5-star reviews on Amazon and raves that use words like "masterpiece"!
Keto Comfort Foods: Family Favorite Recipes Made Low-Carb and Healthy by Maria Emmerich (3 winners, co-sponsored by Victory Belt Publishing and gfe)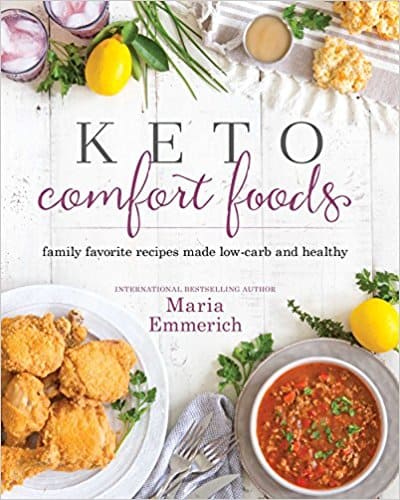 No matter what diet/healthy lifestyle we're following, we will always want comfort foods. Whatever comfort foods that come to mind, you'll find a recipe for them in Maria Emmerich's (Keto Adapted) highly praised book. I was drawn to a recipe that's a new take on a classic, Tiramisu Muffins. I'm sure that doesn't surprise any of you who are following March Muffin Madness!
Use Amazon's "Look Inside" feature to peek inside all these fantastic cookbooks!
~ Baking/Cooking Ingredient:
Tigernut Flour, 1 lb (1 winner, sponsored by gfe) (Note: Brand name may vary depending upon availability at time of prize award.)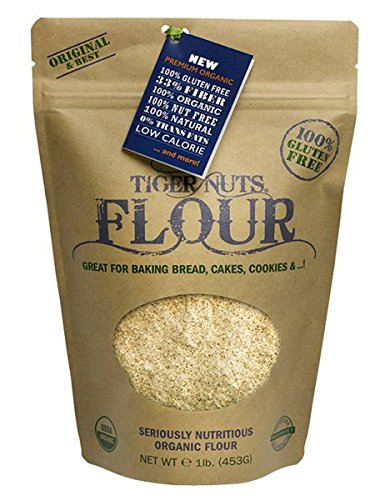 Despite what you'd think by the name, Tigernut flour (also called Tiger Nut Flour and Tiger Nuts flour) is a grain-free, nut-free flour. It's made from what are called tiger nuts, which are actually tubers (tiny tubers, unlike other tubers, such as potatoes) that are full of slightly sweet, nutty-tasting fiber.
Grand Prize Giveaway
See all 10 prizes here. Shown are the top six prizes (per monetary value—they're all tops in my opinion). Again, this giveaway is open to everyone, everywhere!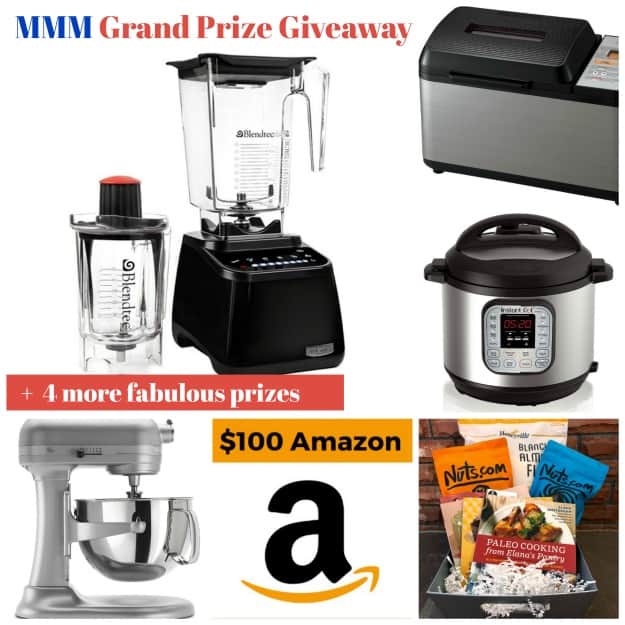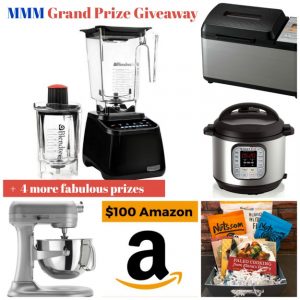 Originally published April 9, 2018; updated February 14, 2020.