For affiliate links and as an Amazon Associate I earn from qualifying purchases.
The last recipe for March Muffin Madness (MMM) is these gluten-free Ginger Cream Muffins, which is my recipe—a gfe recipe. These Gingerbread Muffins have a cream center. They're absolutely delicious but not overly indulgent because they're muffins, not cupcakes. That makes sense, right?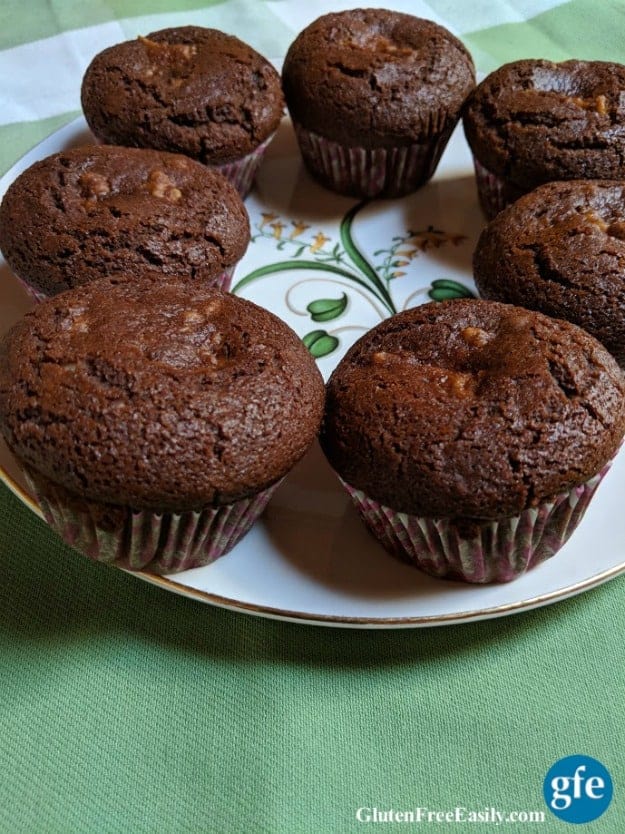 Read on to learn more about my new muffin recipe and see all of today's daily prizes (there are several and such a variety!).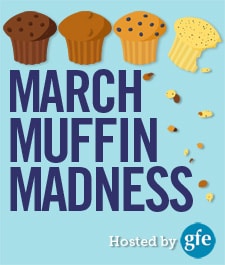 See the whole lineup of bloggers, blogs, and muffin recipes here.
Gluten Free Easily (gfe)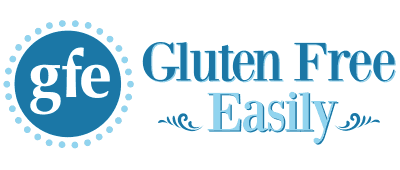 So now it's my time as well as my site's time in the spotlight. If you're new to gfe, let me tell you a little about me and my gfe approach. I went gluten free in June of 2003 so my 15-year gluten-free anniversary will soon be here (wow!).
In 2004, I started a gluten-free support group with—and at the urging of—a gluten-free friend. (She helped get our group going well and then moved on to concentrate on raising her son who had some health issues. He's a thriving high school student now, thanks to dietary changes and more.) I retired my support group after 10 years to focus on more spontaneous living and travel with Mr. GFE (woohoo!).
In the middle of that time period—at the end of 2008—I started this gfe blog, which celebrated its ninth anniversary this past December (it's still hard to believe that gfe has been going that long).
Those are simply stats though. What I really want to tell you about (or remind you of if you're a longtime reader) is that my gfe approach for living gluten free easily (i.e., gfe) is to focus on real, whole foods—and recipes and meals made from those foods—first and foremost.
Think meat, seafood, milk, cheese, vegetables, fruits, and safe spices. Simple dishes and meals like steak, potato and steamed vegetables; grilled chicken and salad; and hummus and vegetables for dipping, for example.
Add in some mainstream processed foods that are naturally gluten free (always do your due diligence in checking labels, of course). Products like mayonnaise, salad dressing, safe ice cream, and safe potato chips and tortilla chips. Last, you can include a few gluten-free specialty products, such as gluten-free flours, ready-made gluten-free bread, and ready-made gluten-free pasta.
Living the gfe way makes gluten-free living simpler and easier, less expensive, healthier, and delicious for all (no need to make separate meals/recipes for gluten-free and non-gluten-free family members). I believe in following the gfe approach when eating out as well. Keep meals as simple as possible.
I'm re-sharing my gfe approach because two recent studies showed that gluten-free individuals are getting far more gluten on a daily basis than is safe for those who eat gluten free for medical reasons. How much gluten is safe to consume? No more than 10 mg of gluten each day. How much are folks getting? In the 244 to 363 mg range!
Yes, that data is very, very scary. It also explains in part why so many who go gluten free never fully heal and may even develop other conditions, even other autoimmune diseases, as time goes on.
Note that one of the studies cited in the article I'm referencing was co-authored by the founder of Glutenostics. Glutenostics is the maker of Gluten Detective testing, which is one of the sponsors of the grand prize drawing for MMM. Gluten Detective testing kits are one of the prizes. Check them out if you're concerned that you are continuing to get glutened above the safe threshold.
Please stay safe out there. I believe that following the gfe approach can help you do that. Now let's get to those yummy muffins!
Gluten-Free Ginger Cream Muffins
These gluten-free ginger cream muffins are ginger muffins with a surprise cream cheese filling. While these muffins would be just fine on their own (with no filling at all), the filling makes them a very special treat. Sometimes the filling doesn't end up exactly in the middle of the muffin (as you'll see in the photo above). There are tools for coring and filling baked cupcakes and muffins that allow you to place a filling dead center but, really, who needs another rarely used kitchen tool?
Most of those tools also remove too much of the cupcake/muffin which results in way too much filling in my opinion. I just wanted a little bit of indulgence in these muffins. And I like the muffins when they're still warm from the oven with that small bit of a warm, soft center.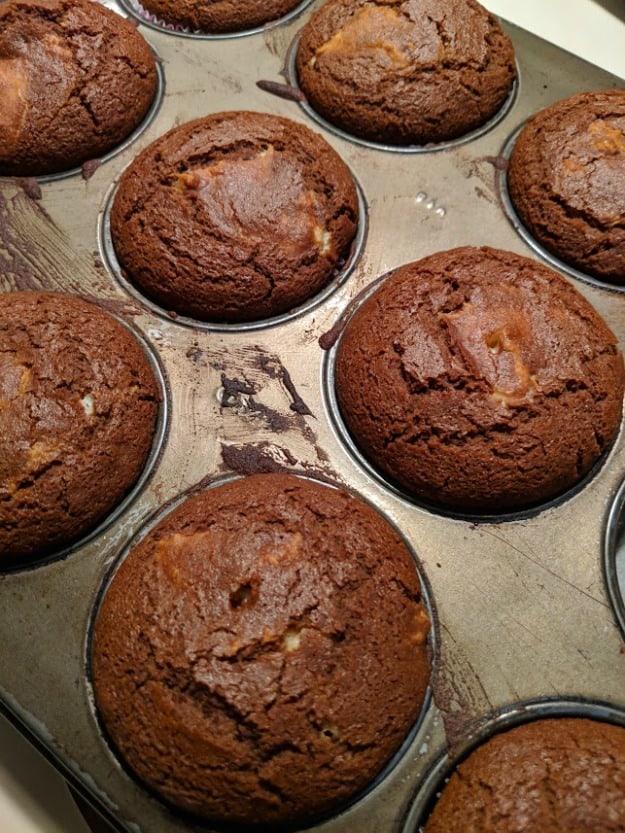 Plus, Mr. GFE says not knowing exactly where the filling will be in any given muffin adds to the surprise factor. And if you use coconut sugar in the cream cheese filling, the filling rather looks like peanut butter versus the mellow cream cheese-sugar combo that it is. So that's another surprise for the muffin consumer.
More Gluten-Free Muffin Recipes and Discussions from Gluten Free Easily That You Should Check Out
~ Powdered Sugar Donut Muffins (featured on gfe)
~ 11 Gluten-Free Recipes That Make You Want To Eat Gluten Free
~ How To Recover from Being Glutened
~ Top 20 Gluten-Free Bread Recipes
Gluten-Free Ginger Cream Muffins Recipe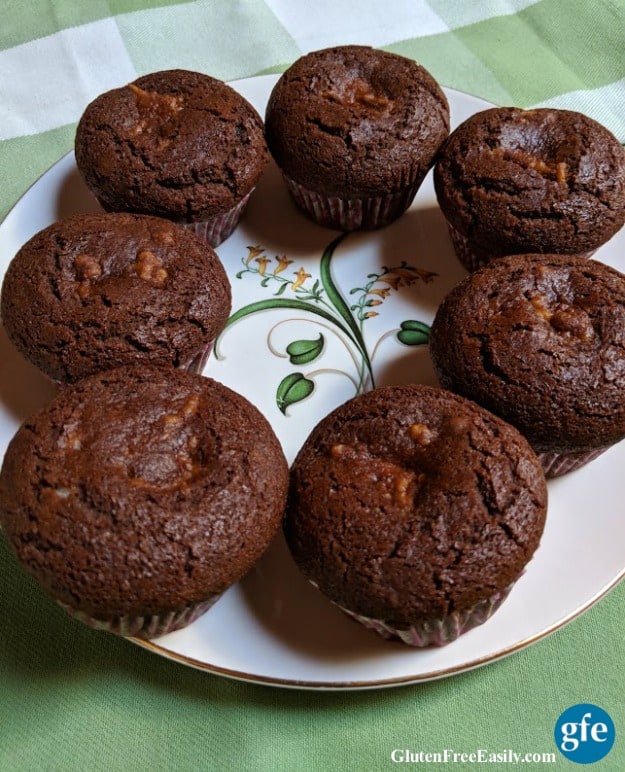 Yield: 12 muffins
Gluten-Free Ginger Cream Muffins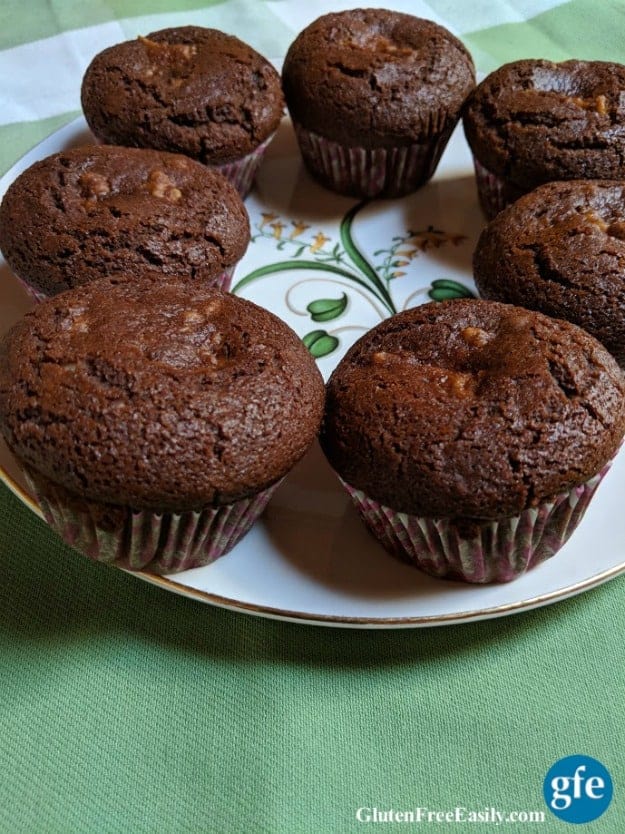 These gluten-free Ginger Cream Muffins are ginger muffins with a surprise cream cheese filling. While these muffins would be just fine on their own (with no filling at all), the filling makes them a very special treat.
Ingredients
Batter Ingredients
½ cup mild flavored vegetable oil
½ cup coconut sugar (or ¼ cup granulated sugar and ¼ cup light brown sugar, packed)
1 cup molasses
1 large egg
3 cups gluten-free flour mix (I use my Two-Ingredient Gluten-Free Flour Mix)
1 ½ teaspoons xanthan gum (omit if using a mix that already contains xanthan gum)
1 ½ tsp baking soda
1 tsp cinnamon
1 tsp ginger
1/2 teaspoon salt
1 cup water
Cream Filling Ingredients
8 ounces cream cheese, softened
½ cup powdered sugar (or double sifted coconut sugar; see notes)
Instructions
Preheat oven to 350F degrees. Grease or line 12 muffin cups.
In a large mixing bowl, beat the oil and sugar.
Beat in the molasses and egg.
In a separate bowl, combine the flour mix, xanthan gum, baking soda, cinnamon, ginger, and salt.
Stir flour mixture into molasses mixture alternating with adding the water---adding a little of each and stirring well after each addition.
Fill muffins cups about a third full.
In a separate bowl, combine cream cheese and powdered sugar. Mix well.
Drop a dollop of the cream cheese mixture, about a heaping teaspoonful, onto the batter in each muffin cup.
Add enough batter to cover cream cheese mixture fairly well, almost filling muffin cup to the top. Note that you can press the filling down with your finger if needed but it doesn't hurt for a little of the cream cheese mixture to show through the top of the muffin.
Bake about 20 to 25 minutes. Test with toothpick for doneness but be sure to test outside the filling area as the toothpick will not come out clean if you accidentally test the filling itself.
Cool at least 10 minutes in pan before removing to rack for additional cooling or before you sample one.
Notes
If using coconut sugar in the cream cheese filling, sift and resift coconut sugar before mixing with the cream cheese to ensure it's finer than usual.
Store in airtight container to prevent muffins from drying out. Refrigerate any muffins that you will not be eating immediately.
Today's Giveaway
Update: All the giveaways are now closed. Congratulations to the winners and thanks to all who participated!
~ Subscription:
Gluten-Free Watchdog (3-month subscriptions) (2 winners, sponsored by gfe)

Gluten-Free Watchdog is the only independent testing agent of gluten-free products. Owned and operated by Tricia Thompson, Tricia not only shares testing results for gluten-free products that subscribers use on a daily basis (and can request that any such products be tested), she also continuously advocates for the entire gluten-free community. You can see sample product reports on GFW's home page here and the specifics on the testing done in GFW's FAQs. You can see examples of GFW's advocacy efforts to keep us all informed in the News section of its site and on its Facebook page.
~ Cookbook:
Easy Dairy-Free Ketogenic Recipes: Family Favorites Made Low-Carb and Healthy by Maria Emmerich (3 winners, co-sponsored by Victory Belt Publishing and gfe)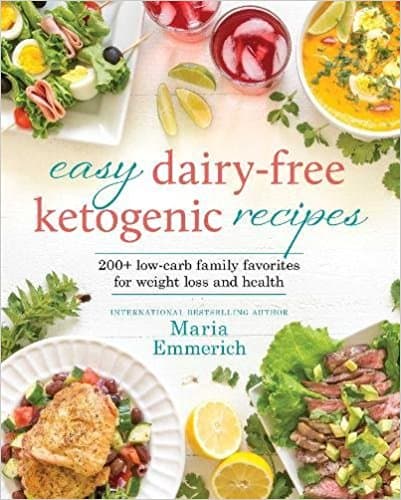 As dairy is usually a large part of the good fat focus of a ketogenic diet, the fact that this cookbook from Maria Emmerich (Keto Adapted) has 200+ 5-star reviews on Amazon is quite impressive. There are also 200+ recipes in this cookbook. I loved reading reviews that said family members who didn't eat a specialized diet loved each and every recipe as much as readers who were on a keto (or low-carb diet). That's always the goal as it means one meal that works for everyone—no need for separate meals or recipes.
~ Children's Resource Books:
Mommy, What Is Celiac Disease? by Katie Chalmers (1 winner, sponsored by gfe)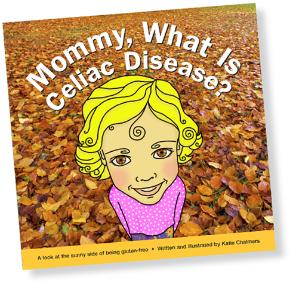 I've loved Katie's book from the moment that I first saw it. I'll repeat my original review: "Katie's book is beautifully written and illustrated. Written for children who have been diagnosed with celiac, it focuses on the disease in simple terms as well as all the wonderful real food that those who are gluten free can eat. Of course, I don't need to tell you that I love that approach. That's the gfe way and it works. Along with the text, Katie has created some truly captivating illustrations. I've never seen any others exactly like them before."
Bagels, Buddy, and Me by Melanie Krumrey (1 winner, sponsored by gfe)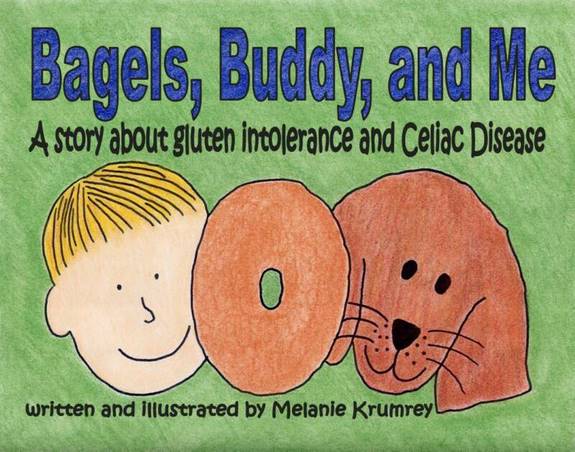 This is another terrific book that I've shared here before. Bagels, Buddy, and Me: A Story About Celiac and Gluten Intolerance talks about celiac and gluten sensitivity—and offers an element of surprise—was written and illustrated by Melanie Krumrey. From my earlier review: "This is a terrific book that offers an easy-to-read introduction to celiac and gluten intolerance. Both written and illustrated by Melanie, it offers her family's personal story. While geared towards children, this book is also helpful for adults who don't necessarily want to read about statistics or studies but want a simple understanding of celiac and gluten intolerance. As you can see from the cover, it's a very appealing book."
Use Amazon's "Look Inside" feature to peek inside all these great books!
Grand Prize Giveaway
UPDATE: This giveaway is now closed. See all 10 prizes here. Shown are the top six prizes (per monetary value—they're all tops in my opinion). Again, this giveaway is open to everyone, everywhere!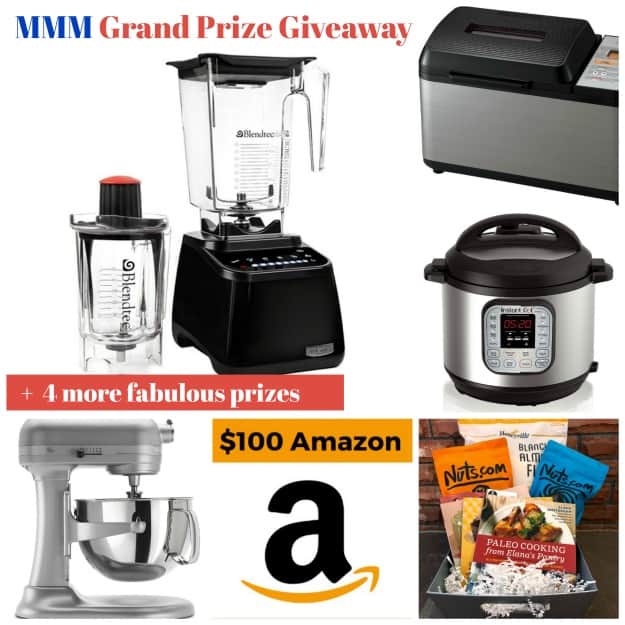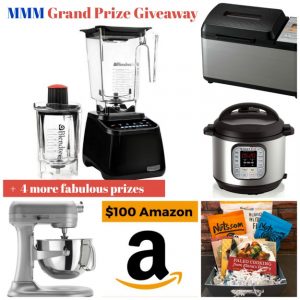 Originally published April 11, 2018; updated November 28, 2021.