This post may contain affiliate links. If you purchase through them, your cost will stay the same, but gfe will receive a few cents for every dollar spent. Thanks for supporting gfe!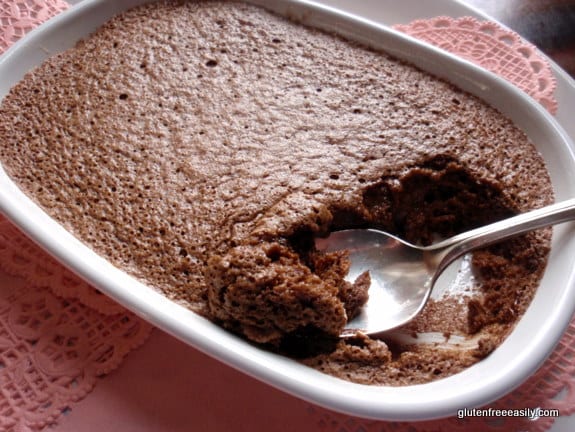 What do you get when you are making Molten Chocolate Cake and you leave out the butter (or in my case, coconut oil)? Well, you don't get Molten Chocolate Cake, but you get something pretty wonderful. At least that's what I and my three co-workers think! I started out making Molten Chocolate Cake—a recipe from Brooke Parkhurst, the owner of the dedicated gluten-free Triple Oak Bakery—before work this morning. (I like baking in the mornings because it's very quiet and I can catch that early morning light.) It was going to be today's entry for Suite of Sweets for Sweethearts. However, as I was folding the chocolate mixture into the whipped egg whites, I saw the coconut oil still sitting on the stovetop. Uh oh! I had a secondary flash of panic, but then I thought of chocolate mousse and lighter desserts like chocolate pavlova, so I told myself to "roll with it, Shirley" and continued on. I'm very glad I did. I enjoy Molten Chocolate Cake as much as the next person, and it can feel like you've won the lottery when you discover it on the dessert menu at fine restaurants (always ensure gluten-free status, of course). But sometimes dessert should be lighter, but naturally so.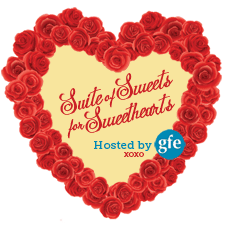 This accidental dessert, which I'll call Un-Molten Chocolate Cake, is similar to a chocolate mousse or classic flourless chocolate cake in texture and its lovely chocolate taste, but it's much lighter overall. It's airy and somewhat sponge like, but delightfully so. My presentation of this dessert is obviously very simple, but if you want something more eye-catching and impressive, you can easily dress this Un-Molten Chocolate Cake up with some raspberry coulis, some sliced strawberries or whole raspberries (in a heart pattern, perhaps?), a drizzle of a dessert wine, or a dollop of coconut whipped cream (either Honey Whipped Cream or Honey Cinnamon Whipped Cream would make a lovely topping).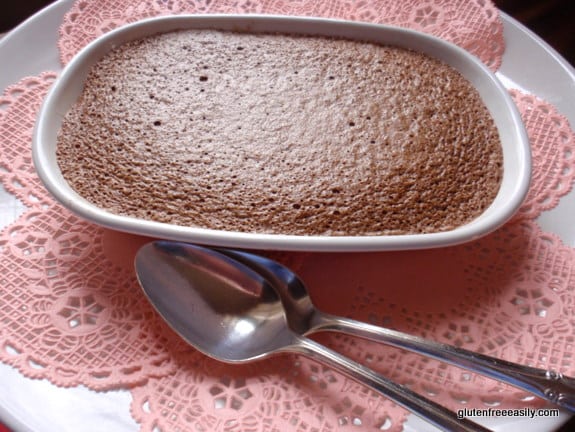 You can scroll down to get both recipes—"mine" and Brooke's—immediately, if you like. But let me share a little more about Brooke Parkhurst. Brooke has celiac disease and has been gluten free for many years now. She previously served as the pastry chef at Four and Twenty Blackbirds, an acclaimed, but now closed restaurant near where she lives. You can read more about Brooke here. Her Triple Oak Bakery has been in operation a few years now. It's in charming Sperryville Virginia in Rapphannock Country, which is considered the foothills of the Blue Ridge mountains.  We pass by it going and coming on the way to our mountain property (but usually not during its hours of operation).
Brooke gave a great baking presentation to my support group last year. She shared her own culinary history, favorite resources, and tips with us … talking away, all the while making scones. To create scones, she simply uses her favorite biscuit recipe but alters it slightly by adding ¼ cup to ½ cup of sugar (amount is dependent upon personal taste and/or what other ingredients were being added) and forms the dough into a thin circle before cutting into wedges. One of our families (long-time friends of Brooke) had brought some of their own fresh blueberries to share for our group meal, so she added about a cup of those to the dough to make blueberry scones. As we were nearing the conclusion of our meeting, she pulled the scones out of the oven. Yes, hot blueberry scones for our dessert and "closing" that evening. They tasted so good and we were so grateful! Brooke also brought severalother of her baked goods, some to share and some to sell. There were Chocolate Chip Pecan Cookies, Brownies, and more that I can't recall, but my favorite was her Lemon Poppy Seed Cake.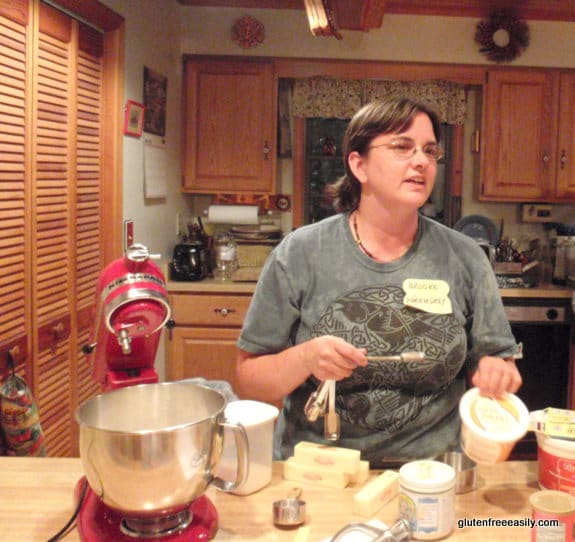 Here's a quick synopsis of what Brooke shared with my group.

~ She has always relied on her own gluten-free all-purpose flour mix; it's a mix of rice flour, potato starch, and tapioca starch/flour. More recently, she has used arrowroot powder instead of potato starch to accommodate regular customers who can't tolerate potatoes. When baking, she usually adds ½ tsp xanthan gum for every 2 cups of her flour mix.

~ There are lots of ways to "glue" gluten-free baked good together besides xanthan gum. Brooke suggests adding another egg, using ground or whole chia or flax seeds to make "chia eggs" or "flax eggs." She says that you can also add one packet of unflavored gelatin for every 2 cups of flour mix. Agar, a gelatinous substance from seaweed, may also be used. Last, sour cream, cream fraiche, or yogurt may be used instead of liquid to moisten and bind baked goods.

~ When looking for new recipes, explore cuisines that may use less wheat; e.g., Indian, Thai, Japanese, Afghani. Adapt recipes to be 100% gluten free. Changes may not even be needed.

~ Always look for dishes that have little or no flour as they will convert more easily with fewer or no texture issues. She cited Sponge Cake and Angel Food Cake as easy recipes to "convert," and, of course, Flourless Chocolate Cake.

~ Some of her favorite online resources are Epicurious, Tastespotting, Cooks Illustrated, and Cooks Country.
Many thanks to Brooke for sharing her Molten Chocolate Cake recipe and her tips! You can find Triple Oak Bakery "in real life" in Sperryville Virginia and their baked goods in numerous other locations. They even deliver twice a month to the Northern Virginia area; read more here. You can also sign up for Triple Oak Bakery's emails, in which Brooke shares what the bakery is offering that week, her schedule of cooking classes and other events, some recipes, and lots of inspiration. Incidentally, Maren, my support group's youngest regular attendee and our farmers market gluten-free baker learned how to make apple turnovers from Brooke last year in a one-on-one cooking class. Maren's been making them every week as one of her offerings at the farmers market and everyone loves them!
Here are both recipes—my adaptation that is pictured with all the photos and Brooke's original recipe. Both are naturally gluten free and naturally grain free. And both can easily be made dairy free and/or refined sugar free.  I don't think you can go wrong with either!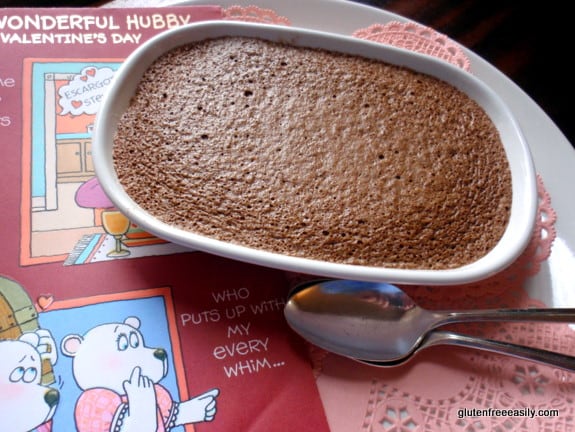 My Un-Molten Chocolate Cake
Instructions
Preheat oven to 400 degrees Fahrenheit. Lightly grease 3 ramekins with butter.
Separate three eggs.
Melt the chocolate in a double boiler and let cool just a tad.
In one medium-sized bowl, beat the egg yolks and sugar and mix into the chocolate.
In a large bowl, beat the egg whites until they form soft peaks.
Fold the chocolate into the egg whites.
Pour the batter into the ramekins until they are about ⅔ full.
Bake in a preheated 400F oven for about 7 minutes.
Let cool according to your personal preference or schedule. Eat right out of the ramekin with a spoon.
Notes
Dress up/fancify with some raspberry coulis, some sliced strawberries or whole raspberries, a drizzle of a dessert wine, mocha syrup, or a dollop of coconut whipped cream (either
Honey Whipped Cream
or
Honey Cinnamon Whipped Cream
would make a lovely topping).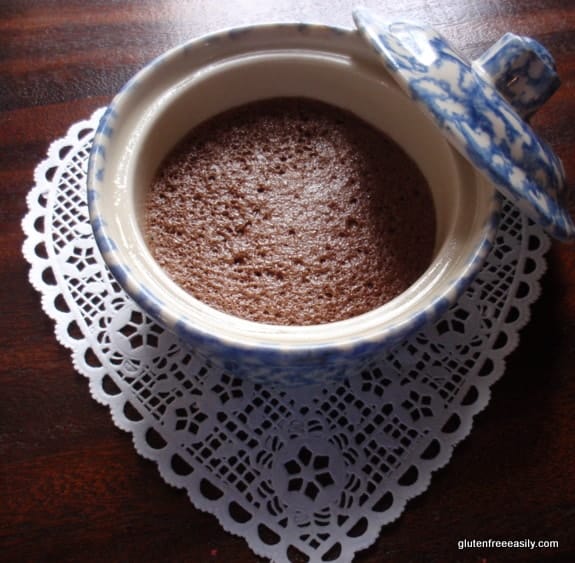 Brooke's Molten Chocolate Cake
Ingredients
4 ounces bittersweet chocolate
½ cup unsalted butter
3 egg yolks
¼ cup granulated sugar
3 egg whites
Instructions
Lightly grease three ramekins with butter.
Melt the chocolate into the butter in a double boiler and let cool just a tad.
Beat the egg yolks and sugar and mix into the chocolate.
Beat the egg whites in a bowl until they form soft peaks.
Fold the chocolate into the egg whites.
Pour the batter into the ramekins, no more than ⅔rds full.
Bake in a preheated 400F oven for about 7 to 10 minutes. The outside will be set and possibly crack and the inside will still be liquid.
Let cool for a few minutes and then run a knife round the edges and tip onto a plate. (Optional; feel free to eat it right out of the ramekin with a spoon.)
Notes
Some nice variations on this are adding chili and cinnamon for a spicy flair (as seen here), a raspberry coulis or perhaps some delicious whipped cream. This dessert is so simple that anything you put on it will taste absolutely marvelous. In addition, you can prepare the batter days ahead of time and cook it the night of. One warning though, I've found that it is sometimes a little difficult to get them out of the ramekin so if you find a way to do it better, then please tell me!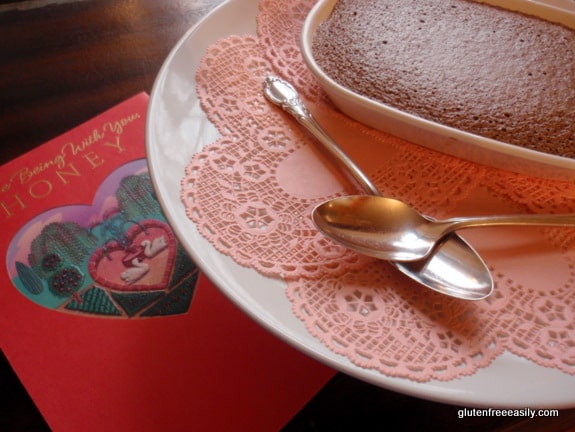 This post is linked to Gluten-Free Fridays.