For affiliate links and as an Amazon Associate I earn from qualifying purchases.
Today I'm sharing my New Gluten-Free Never-Fail No-Roll Press-In Pie Crust recipe. Or you could call it by its slightly shorter name, my New Gluten-Free Never-Fail Pie Crust. Or why not simply, the Best Gluten-Free Pie Crust?
Why am I sharing this recipe today? Because it's Valentine's Day! Happy Valentine's Day to you and yours! Now allow me to explain further because I'm guessing that many of you would not associate Valentine's Day with pie crust or perhaps even pie.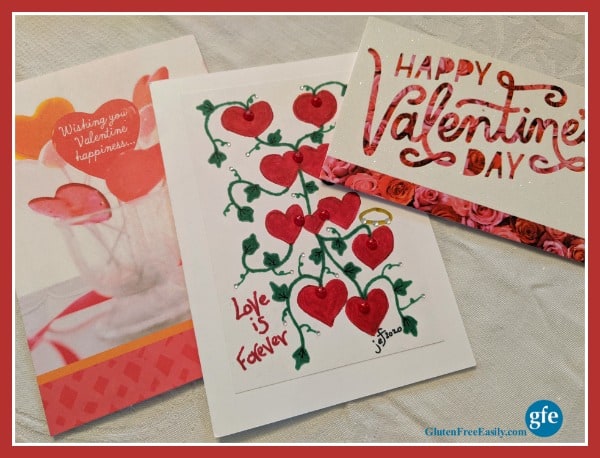 Valentine's Day has always been a very special day for our family. It's never been solely focused on the single traditional sweetheart or significant other for us. It's simply another special day to show love to all the people you care for by celebrating with them and making their favorite dishes, including desserts. For our family, it's almost always about pies when it comes to favorite desserts. Enter this new gfe pie crust recipe.
At Christmas time, I mentioned on Facebook that longtime reader Sherron had shared her new and improved version of my original Gluten-Free Never-Fail No-Roll Press-In Pie Crust in a comment on gfe. She stated that she had tried the original version and also a version made using both gluten-free flour mix and almond flour. Then she shared her ruling on which one was the "best":
"The almond flour mix won for two reasons—it was easier to work with (more moist than the other crust) and we loved the nutty flavor that it added. It wasn't crumbly at all—it was perfect. It worked great for the sweet potato pie and the lemon meringue. I am so relieved to have found THE pie crust that I have been looking for! Thank you!"
I followed up with a question on which specific gluten-free flour mix Sherron had used. I was so happy when she told me that it was my Two-Ingredient Gluten-Free Flour Mix! (I always love it when I learn that folks are using my super simple, very inexpensive gluten-free flour mix because it really does make one's gluten-free life so much easier.)
As proof that a lot of things take time to come to fruition on gfe, I must tell you that Sherron actually left this comment 8 years ago (!). I had read and responded to her comment at the time and even tried a variation made with a mixture of gluten-free flour mix and almond flour myself at that time.
Personally, I knew that I wanted to tweak it just a bit. However, I totally forgot about using almond flour in this pie crust until this past Christmas Eve when I was preparing to make my original Gluten-Free Never-Fail No-Roll Press-In Pie Crust and in referencing my recipe on gfe came across Sherron's comment again.
I decided to try a different ratio of gluten-free flour mix and almond flour—1:1. In other words, half gluten-free flour mix and half almond flour. Now that version was the winner for me!
Incidentally, I was also pushed to try a new variation that included almond flour—and more of it—because I was at the very bottom of my bag of almond flour. I always keep almond flour on hand because I use it for a lot of my baking. I just wanted to finish my old bag because I already had a new bag of almond flour—which was also a brand of almond flour that was new to me—that I was eager to try.
Am I the only one who's like that? I don't like little bits of things hanging around in my refrigerator or pantry. I want to use them up as soon as I possibly can. I guess that's why I have created recipes like Clean-Out-the-Fridge Quiche and Everything Soup. But I digress.
You may be asking how much of a difference subbing in half the total gluten-free flour mix with almond flour can make in this pie crust recipe. It's a reasonable question and the answer is that it makes a whole lot of difference! Honestly, I wouldn't be sharing this new version if that were not the case.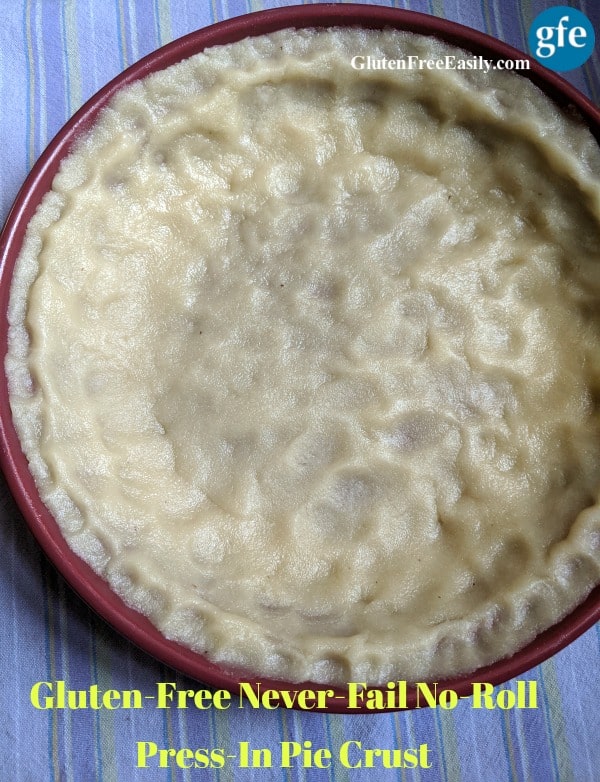 With the inclusion of almond flour in the recipe, as Sherron noted in her original comment, there is no concern about the pie crust being crumbly. The new crust also seems lighter to me than the original—probably because of both the ingredients and the fact that the resulting pie crust is not very thick. Which means more emphasis on your luscious pie filling. Yay!!
It's also important for you to know that the process for making this pie crust is exactly the same as the original. Both versions are so very easy as you'll see per the instructions in the recipe and the step-by-step photos below.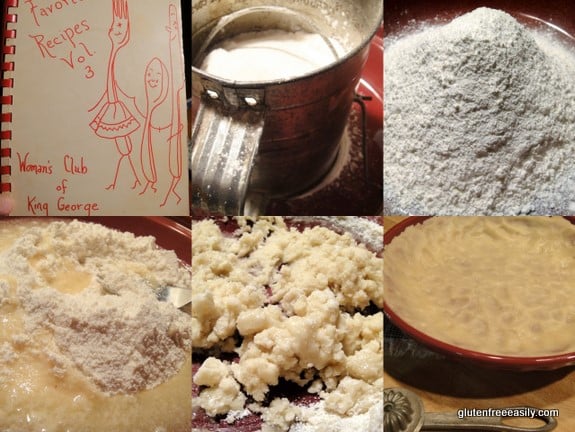 You can believe the description in this recipe's full name. There is no rolling of dough required. You simply mix the dough in the pie plate and then use your fingers to press it into place. Last, and most importantly of all, this pie crust never fails!
As mentioned earlier, I first used this New Gluten-Free Never-Fail No-Roll Pie Crust on Christmas Eve. For my Chocolate Silk Pie. I was only able to snap a single photo before we headed out the door for our celebration at Mom's. I bet you won't be surprised to hear that the crust—and the pie—were a huge hit!
However, I made this new pie crust again last month to make my Best Ever Pumpkin Pie for a winter celebration with friends. I baked my pie a wee bit too long, hence, the slightly darker-than-I-would-like crust. But it still tasted just fine and the pie was met with smiles and mmms of approval!
Folks this New Gluten-Free Never-Fail No-Roll Press-In Pie Crust is the easy wonderful pie crust recipe you've always needed. Scroll to the bottom to grab it. Please make a pie for your loved ones and report back! Last, I hope you have a wonderful Valentine's Day weekend—whether you make a pie or not, of course!
Other Favorite Gluten-Free Valentine's Day Treats
~ 50 Ways to Leave Your Lover … Satisfied with Chocolate (every possible chocolate treat your loved one might desire)
~ Angel Food Cake (better than any gluten-full Angel Food Cake I ever had back in the day)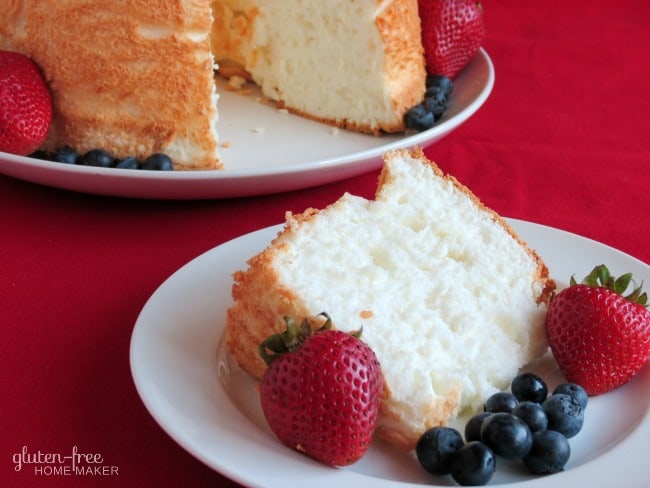 ~ Chocolate Fondue (easy dairy-free option)
~ Cream Cheese Cut-Out Cookies (use your heart cutter, of course!)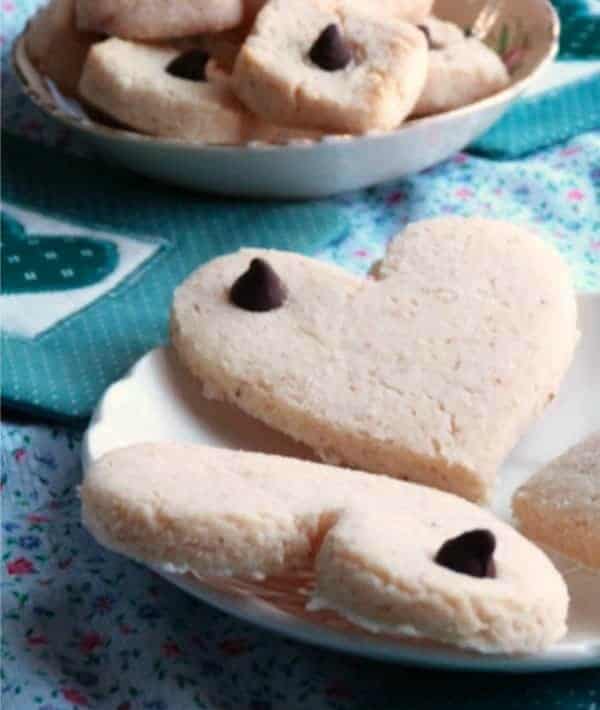 ~ Flourless Chocolate Cake (this is the dessert that is always labeled "To Die For" or "Death by Chocolate"—incredibly easy to make)
~ Homemade Gluten-Free Turtles (Rolo Turtles)
(so quick so easy, and better than store-bought turtles IMHO)
~ My Favorite and Best Gluten-Free Pie Recipes
~ Over 100 LOVE-ly Valentine's Day Dessert Recipes
~ Pom Sherbet (pink and refreshing!)
~ Pretty in Pink Gluten-Free Desserts Made Using Freeze-Dried Strawberries
~ The Ultimate Chocolate Cake (a picture is worth a thousand bites … almost)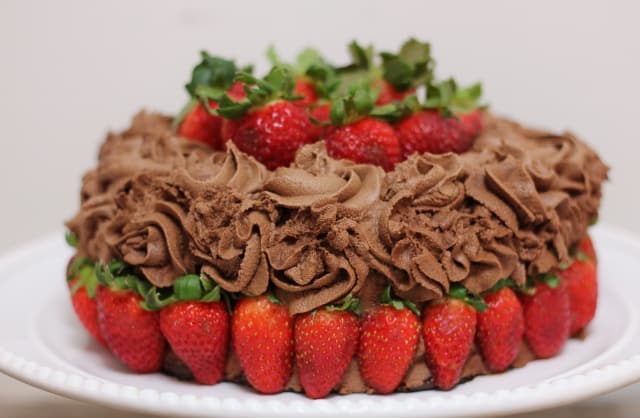 New Gluten-Free Never-Fail No-Roll Press-In Pie Crust Recipe (The Best Gluten-Free Pie Crust)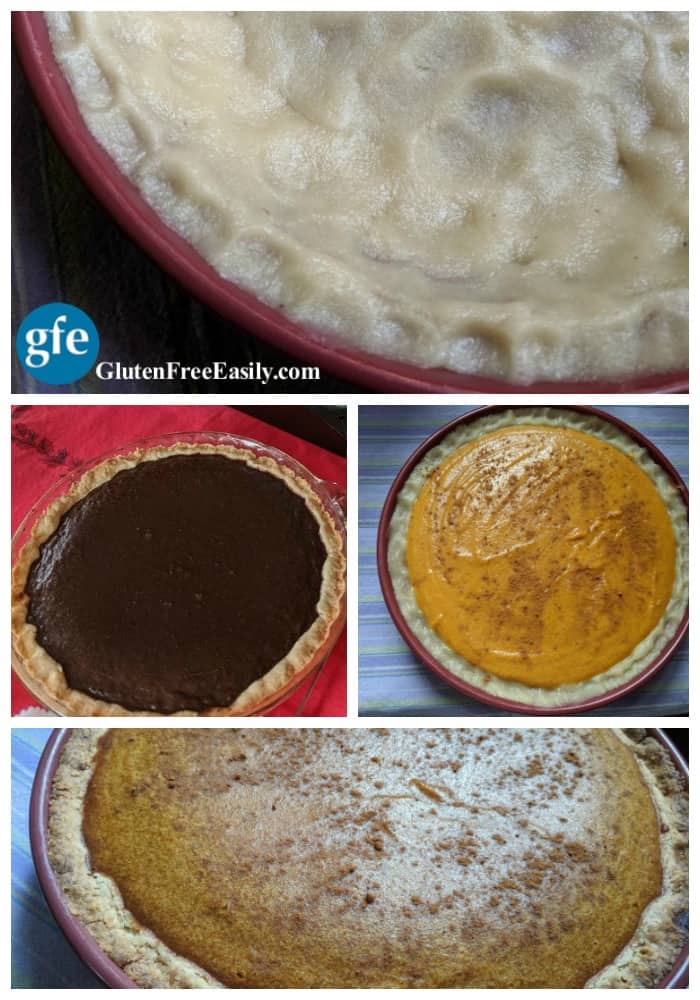 Yield: 8 slices
Gluten-Free Never-Fail Pie Crust (The Best Gluten-Free Pie Crust)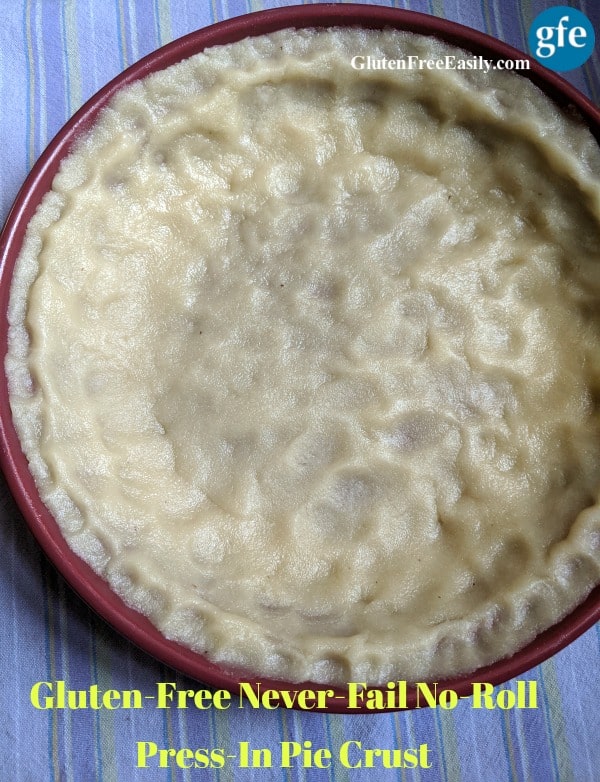 This Never-Fail No-Roll Press-In Pie Crust really is the Best Gluten-Free Pie Crust! I mean who wants to or has time to roll out a pie crust? Pretty much nobody. This pie crust is made by adding ingredients to a pie plate, mixing them with a fork, and then using your fingers to press the dough down to form a pretty crust. So easy and the results are delicious!

Prep Time 10 minutes

Total Time 10 minutes
Ingredients
3/4 cup gluten-free flour mix (I use my Two-Ingredient Gluten-Free Flour Mix)
3/4 cup blanched almond flour (a finely ground brand like this one or this one)
1 tbsp granulated sugar
1 tsp salt
½ cup vegetable oil
2 tbsp milk (dairy or non-dairy)
Instructions
Sift flours, sugar, and salt into a 9-inch pie plate.
In a separate small bowl or large glass measuring cup, add the milk to the oil and stir vigorously with a fork until oil turns into little droplets. (I usually measure my oil in a glass measuring cup and then add the milk to that cup.)
Pour milk and oil mixture over dry ingredients and mix. (I just use the same fork that I used to mix the oil and milk. It works great.)
Pat crust out with hands, trying to make thickness the same throughout and extending crust as high as you would like on the sides of the pie plate. Use fingers to press a pretty edge all the way around, if you like.
Fill and bake per your pie recipe's instructions on oven temperature and baking time.
Originally published March 10, 2022.