For affiliate links and as an Amazon Associate I earn from qualifying purchases.
I have a confession. I don't make cut-out cookies during the holidays. Not sugar cut-out cookies. Not butter cut-out cookies. Not ginger cut-out cookies for gingerbread people. Not even the gluten-free cream cheese cut-out cookies that I'm sharing with you today.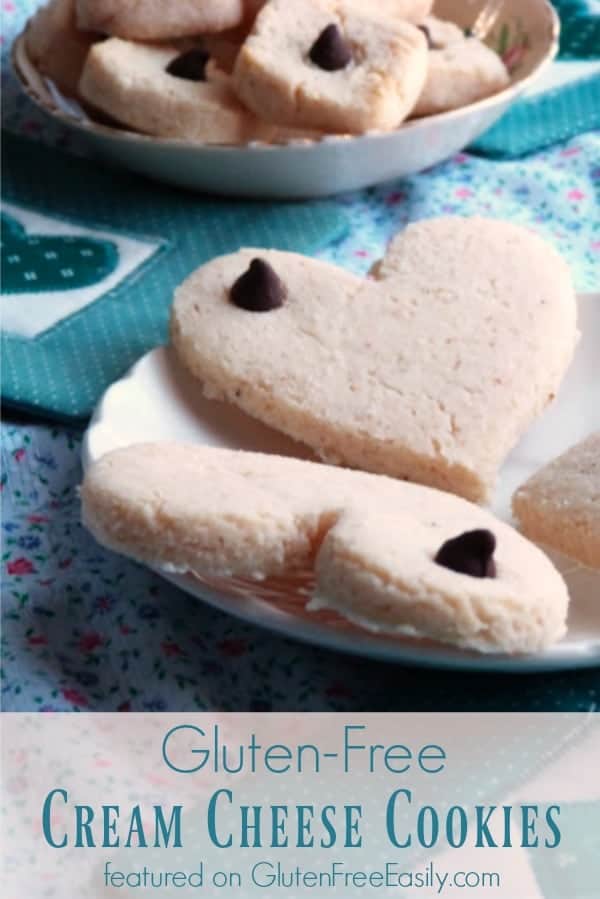 Oh, don't get me wrong … I get as excited as the next person when I see a plate of beautiful cut-out cookies at Christmas—especially when they're gluten-free! But it's simply too busy during the Christmas and New Year holidays for me to have a relaxing experience baking cookies. And I really want my cookie baking time to be a relaxing and enjoyable experience.
January and February, which both come with a much slower pace than Christmas, have always been my favorite months of the year to make cut-out cookies. Snow days are absolutely my favorite time to make cut-out cookies but, of course, snow days don't always materialize—even when you're in an area that gets snow. Baking cut-out cookies for Valentine's Day has always been a favorite activity for me. I love using my heart cookie cutter and seeing a plate full of pretty heart cookies!
Actually, even when it's not Valentine's Day, I love making heart-shaped cookies. So when I saw my good friend Iris Higgins' (Your Fairy Angel) gluten-free cream cheese cut-out cookies in heart shapes—with a perfectly placed single chocolate chip on each cookie—I was completely smitten! That was just by looks alone. When you consider that these are basically cheesecake cookies, I am sure you will be as well!
Note that this recipe is another one that Iris has graciously agreed to share with gfe readers. You can see all of the recipes that Iris has shared with gfe readers to date here. (They include Lemon Bars, Vegan French Bread, and Paleo Zucchini Coconut Waffle Wraps, and a few more of her recipes will be coming to gfe in the future!) By the way, Iris is also the author of the highly praised gluten-free cookbooks The Essential Gluten-Free Baking Guide Part 1 and The Essential Gluten-Free Baking Guide Part 2.
Now let's get back to those delicious cookies! I suggest using not only heart cookie cutters, but any others that will result in cookies that your sweetheart will love. I have many cookie cutters that have special meaning for Mr. GFE! They include a camel, which was his college mascot; a moose (after years of motorcycling in Maine, we finally saw one!); a guitar (we love music); a bear (he's happy to eat bear cookies, but would prefer not to see any when we're camping); and a house (we love our home).
Happy Valentine's Day!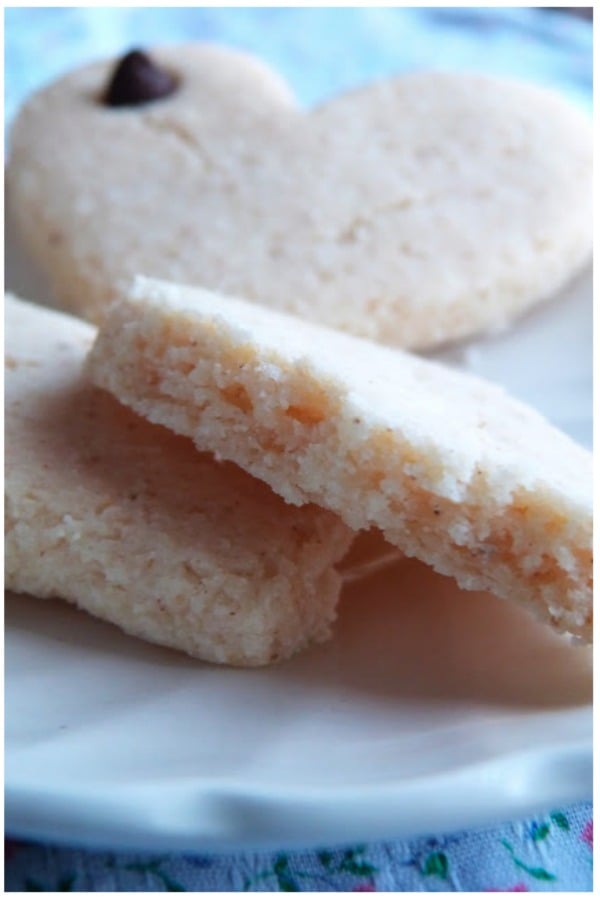 Gluten-Free Cream Cheese Cut-Out Cookies Recipe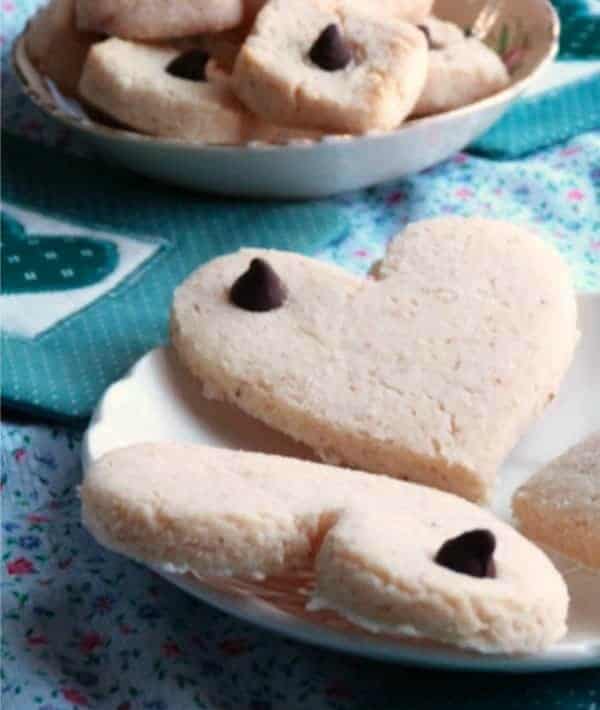 Yield: About 17 cookies
Gluten-Free Cream Cheese Cut-Out Cookies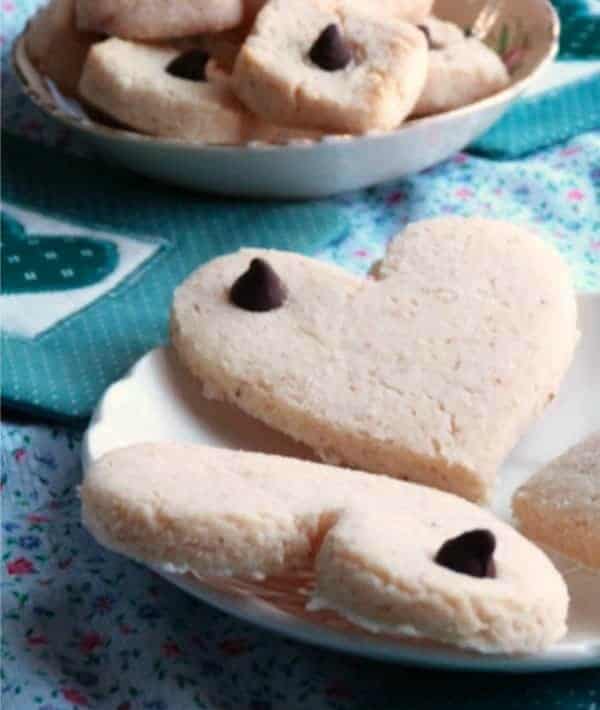 Iris says:  "My grandma's cream cheese cookies have never tasted so good. It's been years since I've eaten her gluten-containing cookies, but my mom tells me these are just as good, and perhaps just the teensiest bit better. All I know is I no longer feel like I'm missing out." 

Prep Time 10 minutes

Cook Time 10 minutes

Total Time 20 minutes
Ingredients
1/2 cup cream cheese, slightly softened
1/2 cup butter or Spectrum Organic Palm Shortening
1/2 cup granulated sugar*
1 teaspoon pure vanilla extract
2 tablespoons whole psyllium husks
1/3 cup coconut flour (40 grams)
1/3 cup white rice flour (52 grams)
1/3 cup tapioca starch (40 grams)
1/2 teaspoon fine grain sea salt
1/4 teaspoon baking soda
Instructions
Preheat the oven to 350 degrees F. Set out two baking sheets.
Using your food processor or an electric beater, beat together the cream cheese, butter, sugar, vanilla and psyllium husks.
In a medium-sized bowl, whisk together the coconut flour, white rice flour, tapioca starch, salt, and baking soda. Once well mixed, beat into the cream cheese mix until a ball forms.
Roll the dough out to about 1/4 inch thick between two pieces of parchment paper, sprinkling some extra rice flour on both sides of the dough if necessary. Cut into whatever shapes your heart desires. Bake for 10-12 minutes.
Notes
*The above photos were made with regular cane sugar, but you can also use coconut palm sugar or another granulated sugar. The flavor and color will be different, but they will still be delicious!

Yield: This batch made 17 cookies of varying shapes and sizes. 

Iris Higgins, MA, is a certified hypnotherapist with a passion for delicious gluten-free food. You can download 11 of her favorite gluten-free recipes (like her waffle and pancake guide that works with any gluten-free flour!) HERE. She also loves teaching women how to trust their intuition and create the life that's just right for them. You can join in on her free challenges, meditations, and e-courses at www.yourfairyangel.com.
Originally published February 12, 2017; updated November 28, 2021.